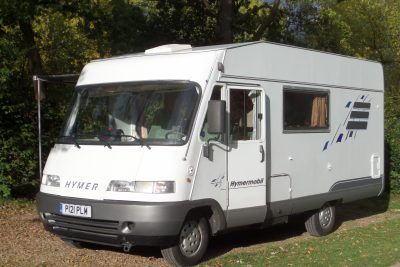 Bertie is a 1997 Hymer B564 that we bought from Ikonic Kampers on 4th October 2015. We are Tim & Eileen Heaps and this is our first motorhome. We have run our own internet business for almost as long as Bertie has been around as we published our first website in 1998! By the middle of 2017 we had handed our business over to our son and taking a much more minor (semi-retired) role that will give us lots more time to travel in Bertie.
Tim had spent the previous six months researching the motorhome idea – largely inspired by Our Tour  which is a wonderful blog by Julie and Jason Buckley recording in detail their adventures in Dave (their first Hymer) and now Zagan (a slightly newer Hymer from 2001). It soon became clear that whatever we went for it had to be a Hymer and  it had to have a bed that could be kept made up but was not too awkward to climb into ( we are not as young as we were!). We visited a motorhome dealer in Lincoln and, although they were plainly not interested in our business as we did not have enough money to spend, they did let us look at all their stock in detail. This established that a coach built motorhome was not for us as the driving position was wrong with the top of the windscreen too low for Tim to see out without stooping! We also decided that an overcab bed was too high and awkward but a drop down bed was possible. A fixed rear bed was attractive but made the van too long. Every thing pointed to an older Hymer. Hymers are very well made and last very well and our £20,000 budget would give us quite a bit of choice. Jason and Julie's epic two year tour of Europe and North Africa in Dave their 20+ year old Hymer and also the exploits of Hetty the Hymer meant that it is perfectly reasonable to expect a vehicle of this vintage to do everything we might want it to.
So for months Tim was glued to Ebay and Gumtree and watched several interesting and possible vehicles come up and get sold but we were not ready. He had been especially interested in Ikonic Kampers who always had some interesting motorhomes and we decided that we would have to go and see them and look at the options.
Driving home (then in Suffolk) for a few weeks with "the bairns" in Scotland we would be passing close to York so took the opportunity to pay Ikonic Kampers a visit.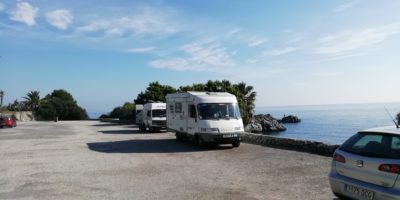 The first Hymer we looked at was Bertie! At £14,995 he was well under budget. He is a B564 with a middle door and was not quite the (B544 rear door) layout we had planned but the big ski locker was a plus and the additional cupboard space and separate shower sold him to us. The odometer read 111,000 kms (approx 69,000 miles) which was well under our top limit of 100,000 miles that we had set. We also looked at two later Hymers (a B544 and B534) but felt that nice though they were they were not £8,000 nicer!
Ikonic Kampers offered a full warranty against any vehicle or habitation warranty and we felt we could go ahead with out the delay of an independent inspection. We paid a £500 deposit and agreed to transfer the remaining funds in the next few days and return within the week to collect our first Hymer.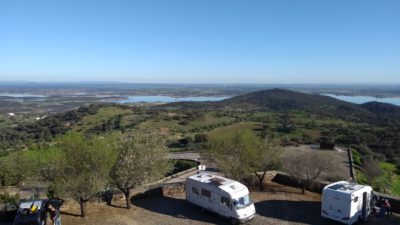 We drove home dazed with what we had just done! As soon as we got home to East Suffolk we got to grips with insurance, road tax, arranging parking and booking rail tickets for the collection. What a whirl that was! On Monday 5th October we drove Bertie out of the yard at Ikonic Kampers and started the 200 mile journey south. We thought we would pop in to Morrisons at Brough to stock up and get some lunch which seemed a pretty neat idea until we arrived and found that it has quite a small and busy car park – Bertie felt HUGE as we circled the parking area and eventually tentatively backed in to a space.
The big plan was to do various smallish UK trips in the autumn and winter of 2015. Then when we have refined our technique and we are happy that we have the right kit and know what we are doing we are off to the continent on some much longer trips. We also want to spend some time exploring the North and West of Scotland. In practice it has not worked out quite like that but in our first two years with Bertie we travelled widely in the UK from Cornwall to Caithness and covered over 20,000kms. In the Spring of 2018 we spent 60 days exploring France and Belgium which was amazing. In 2019/20 winter we headed south again into Spain and Portugal. As I write in March 2020 we have slept more than 370 nights in Bertie since we bought him five years ago.