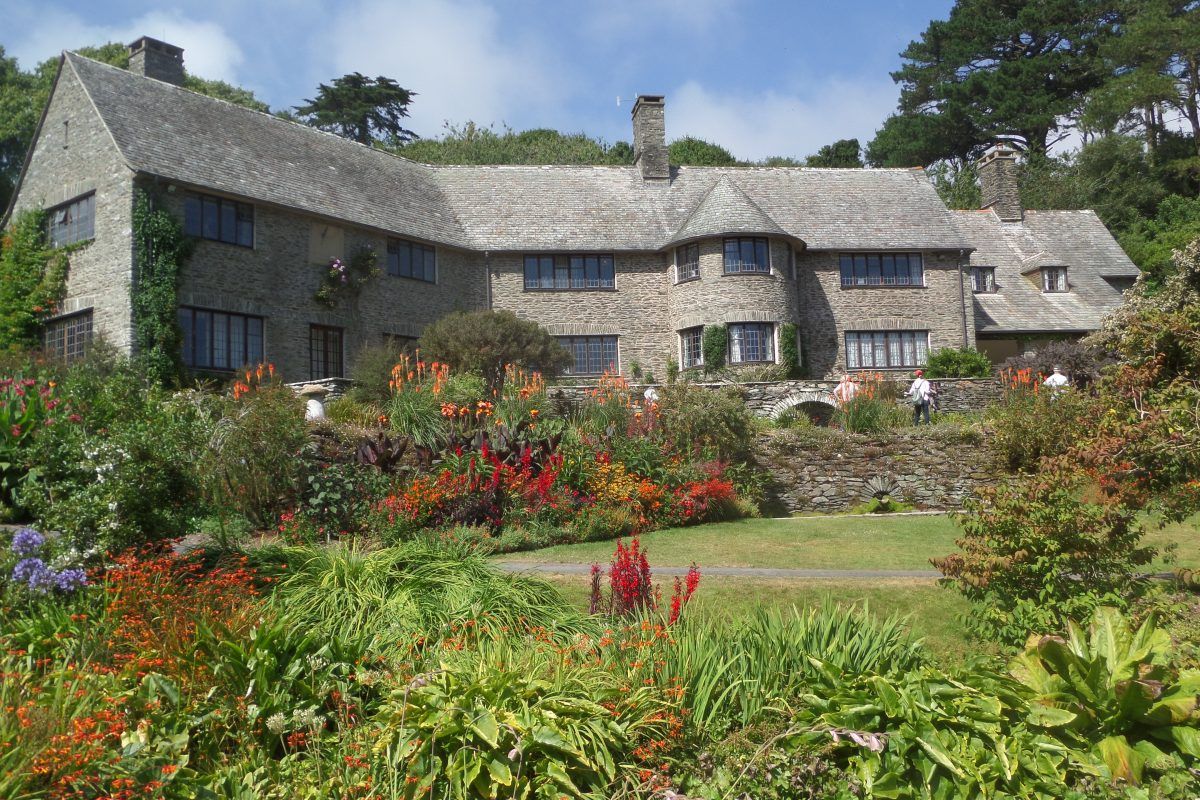 This was planned as an easy day as we were within 2 hours drive of Plymouth and did not need to be there until about 3pm. So we had time to visit Eileen's Mum and Grandma in the churchyard at Kilmington just across the road from the Britstop. From here we bumbled through some tiny lanes to the pretty small town of Colyton where Eileen's great grandfather was born. We hoped we might have been able to find the cottage (Fishery Cottage) mentioned in the 1871 census but no luck. Getting out of Colyton was quite a challenge as the satnav did not make it clear which direction she wanted us to go until we were moving in the wrong direction and that meant we needed to turn around in streets we could barely get through and much excitement was had by all!
Once back on the main road we headed to the South Hams having decided that we had plenty of time for a quick visit to Coleton Fishacre. The superb Arts & Crafts house was built in the 1920s by the D'oyle Carte family. We had not reckoned on summer traffic around Torbay and especially Paington where we were caught in stop start traffic for three miles and well over half an hour. As we approached Coleton Fishacre the roads got narrower and narrower until Bertie's mirrors were brushing the hedges both sides! Some more fun was to be had on arrival as the main car park was full but we did not find this out until we were actually in it! The overflow car park was a sloping field a few hundred yards back up the steep hill and was approached by a seriously narrow gravel track with a right angle bend in to the field. Bertie took two shunts to get around the bend!!
The house was worth the walk back and we wished we had had the time to wander around the gardens too. Must come back and spend more time in this area. From Coleton Fishacre we took the shortcut to Plymouth using the historic Lower Ferry between Kingswear and Dartmouth.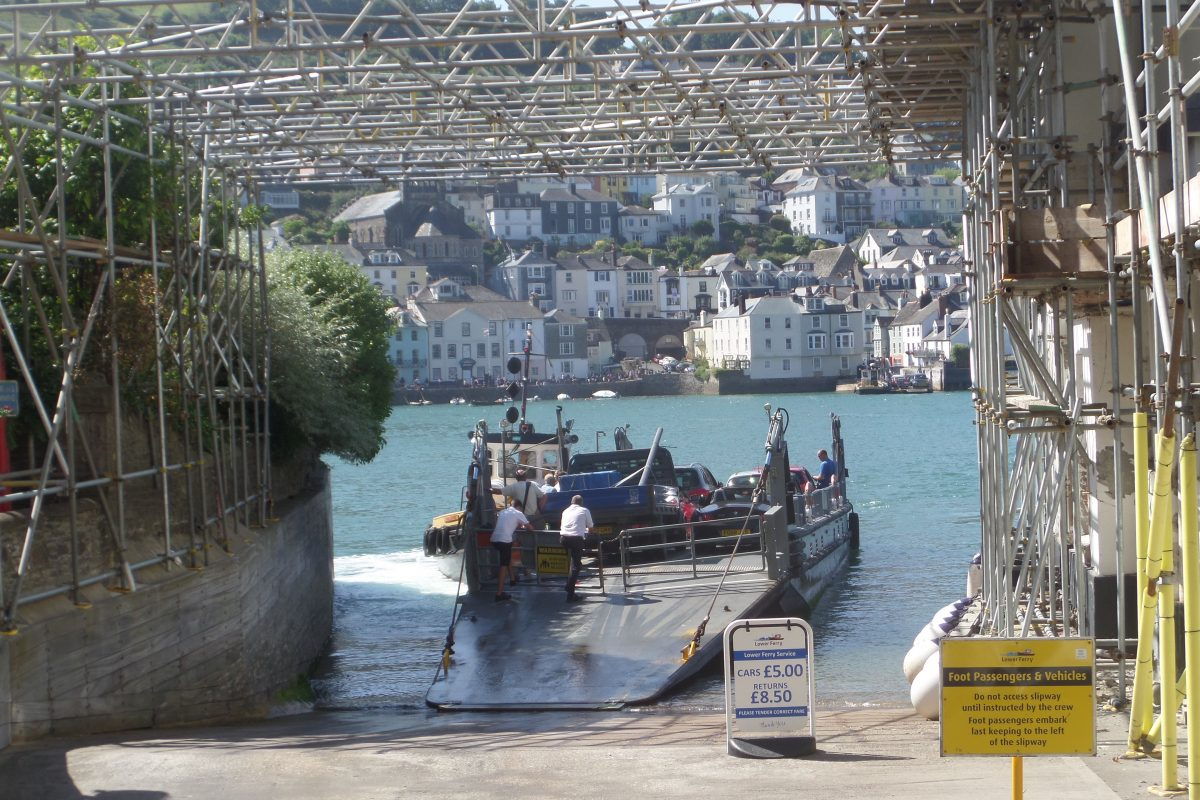 What an amazing way to approach Dartmouth! The road down to Kingswear is really steep and you catch occasional glimpses of the river and Dartmouth but you don't get a proper view until just before the ferry. We just missed a ferry and then could not fit on the next ferry as we were too big but in total we only waited about 10 minutes. The ferry is very basic – just a floating platform that can take about a dozen cars at most and each of the two ferries has its own, separate tug boat that pushes it across the river. The fare for Bertie was just £5 which is the normal car fare. We were first on board our ferry and so we had an excellent view as we crossed. Dartmouth was well busy and so we could not linger but drove out of town toward Plymouth. Foolishly I had assumed that a red A road would mean an easy drive – how wrong I was. The road to Plymouth through Kingsbridge was narrow and twisty and busy – defintely a white knuckle ride. Well that is until we got Plympton just outside Plymouth where roadworks brought the traffic to a halt and we spent 45 minutes in stop start traffic as we patiently waited our turn to go through a short section of single alternate line  traffic. So instead of arriving at the hotel at 3pm as we had originally hoped it was actually after 5pm and the car park was alerady full up. We squeezed Bertie in to an unofficial space which the hotel agreed to to let us use as long as we were prepared to move at any time if anyone had difficulty getting out.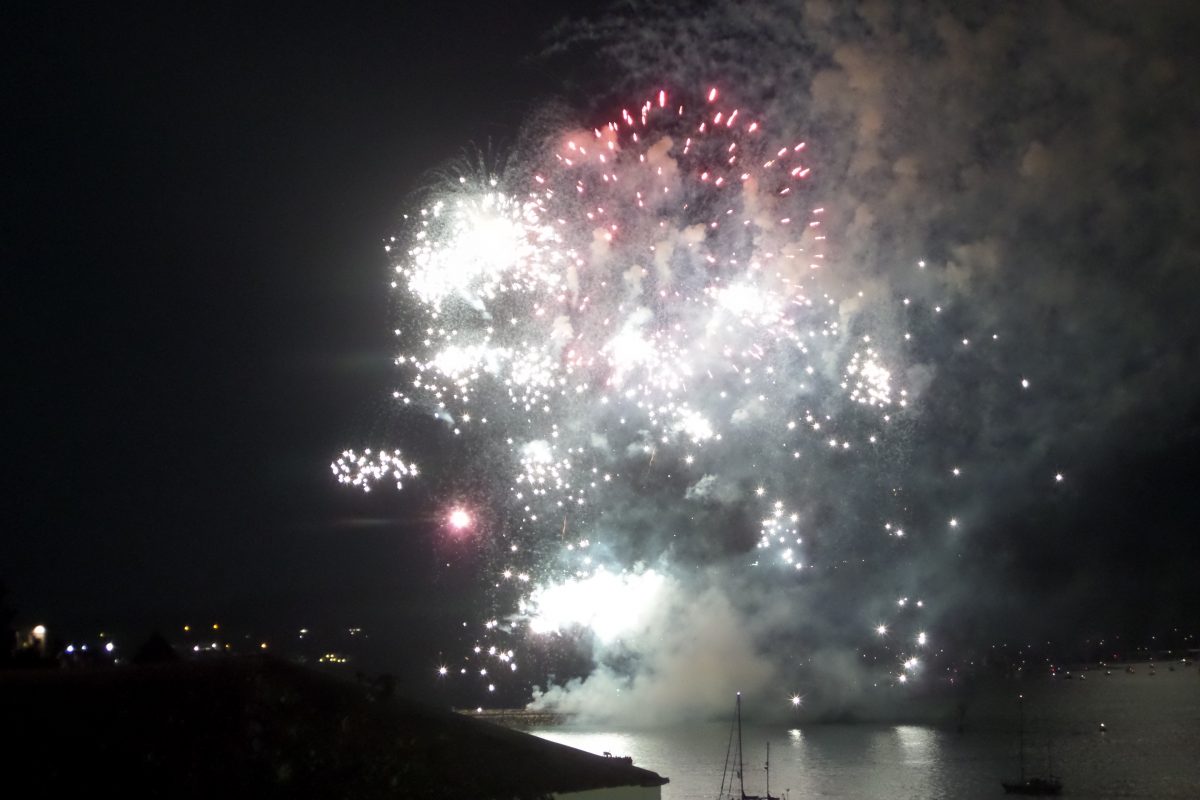 After a much needed bath and a rest it was time to go down for our hotel dinner. We had booked two nights at the Duke of Cornwall Hotel as it is a Best Western and it is very handy for the Hoe. The British Fireworks Championship is held in Plymouth every August and it is an amazing event when 6 companies compete over two evenings to show off what they can do. The fireworks are launched from the Mountbatten Breakwater and the best views are from the Citadel and the Hoe were thousands of people gather to watch the free show from 9:30pm to 10:15pm. Each company has a ten minute slot with ten minutes between them and there are three displays on each evening. Tonight was perfect with a full moon and just a light breeze. The fireworks were extraordinary as they were last time we came. I wish our photos could do justice to this amazing event.
Mileage reading tonight: 118883kms
Mileage covered today: 153kms
Mileage total so far: 689kms
Busy day ends with a bang!