We arrived home on Friday 13th March at 5pm! We had covered 9,855 kilometres since we left home on 18th October 2019. 148 days away in total. We have never been away from home for that long before in our lives!
We stayed on 76 locations in France, Spain and Portugal and 4 locations in UK. Most stopovers were for 1 night but many for were for 2 or 3 nights whilst a handful were for longer including 12 nights at the Dunes Camper Park in Daimus and 8 nights on the car park at Almeria. We also spent 8 nights staying with fanily and friends in the UK – so 140 nights spent on Bertie.
We had two good days in Suffolk – it was very strange to be back. Even though it was only just over two years since we were last here it feels so much longer ago. If the virus situation allows us to go away again later this year I would like to plan a longer Suffolk visit to see all those old friends that we had to miss this trip.
On Monday we left Suffolk and drove to my sister's house in Tickhill near Doncaster. Quite a long run (for us) and the 175 miles seemed to take ages! English roads felt to so busy and so fast after all those months bumbling around the continental roads.
We had three nights in a proper bed(!) with my sister and good wind down and relax. We left her on Thursday aiming for Jedburgh that night. That was a tough drive as although the initial section up the A1 was easy but the A68 as far as Carter Bar was affected by heavy rain and very strong side winds. The forecast spoke of gusts up to 50mph and I can well believe that. At one point I glimpsed that something had changed in the rear view mirror and decided to stop and get out and check the reflective panel on the bikes. I struggled to get the drivers door open against the wind! I was quite scared standing at the back trying to hold on to this big flat sheet of metal as I untied the four corners and brought it on board. I had visions of it being torn out of my hands and causing huge damage as it lashed around. In fact the wind was kind and I completed the job without incident. That panel had been in place without a problem since we left Cabo de Gata at the very start of January! Once we topped Carter Bar and were in Scotland the weather eased as we descended into the wind shadow of the hills. Jedburgh car park was the same as ever although we were the only motorhome there. We treated ourselves to fish and chips from the excellent chippy by the Abbey – recommended.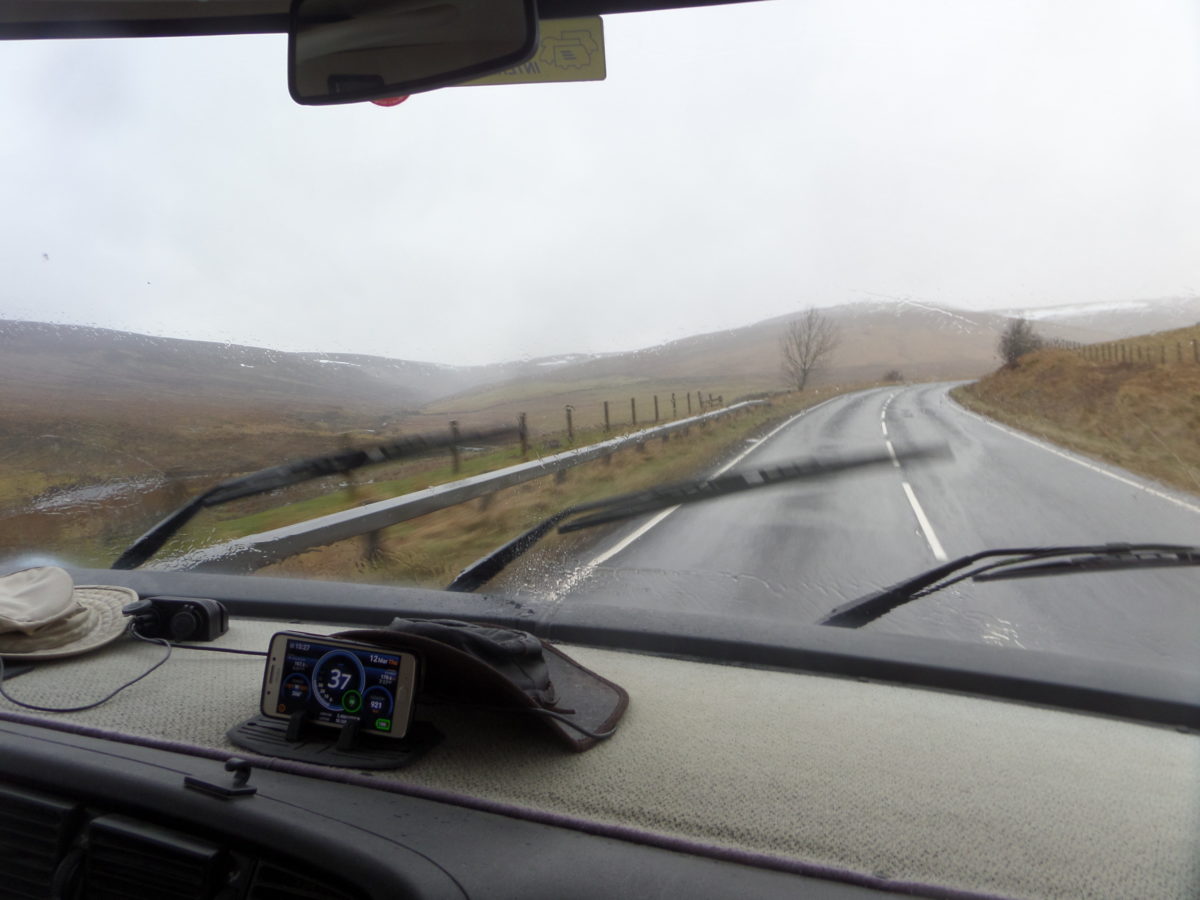 Yet another cold night but we struggled up in good time as I was keen to make it home on Friday without another overnight. My back had been grumbling for the last few days and I was worried that if I did not get home on Friday I would have to rest up somewhere for days! Although a long drive (215 miles) home it was a lovely sunny day and the traffic was reasonably light. We stopped for coffee at Kinross services (grotty little dump with dreadful roads) and we had a late lunch at Ralia Highland Gateway which is a nice car park and picnic spot just off the A9 before Newtonmore. That left us a mere 50 miles to do to get home. We were surprised by the amount of snow beside the road on Drummochter pass on the A9 – the most snow we have seen all winter! There was even snow on the ground at the picnic site.
We trundled around Aviemore and turned off on the A95 to Grantown and then over Dava Moor and down in to Forres and were home by 4:30pm. We off loaded the perishable food stuffs and our wash bags but everything else could wait until tomorrow. By now my back was in full protest mode and I could barely walk – so glad we made it back that day. I am writing this on Wednesday 18th and that delay is simply that I have not felt able to sit at the computer for long enough to get this written before.
The coronavirus crisis is ramping up day by day. As I write this they have announced all schools will close in Scotland on Friday, almost all events are cancelled. We went to the supermarkets and were stunned by the sight of all those empty shelves. The last time I saw shelves like that was in the old Eastern Bloc before the fall of the Soviet Union! Fortunately we had good stocks at home and Bertie was quite well stocked too. We live in "interesting times".
I may dream about a new trip later in the year but I rather doubt we will be able to go far again in the foreseeable future. It is hard to see much light at the end of this tunnel.