We left Marvão on Tuesday as the mist was lifting. When we got up the mist was quite thick and we could not see the valley below us or the village above us! As we drove down the mountain the cloud was just hanging on to the top of the castle. By the time we stopped for coffee by a small reservoir about 12 miles away we could look back and see Marvão clear in the distance. The next few days are really just travelling days – not huge miles but bumbling along and covering ground. We usually do about 100kms per day and stop twice for coffee and later for lunch. Even though we do so few miles these are often on lesser roads and often at quite modest speeds. We typically average about 25mph over the day! These roads are so quiet that our modest progress is rarely a problem for other vehicles and I always pull over to let faster vehicles past as often as I can.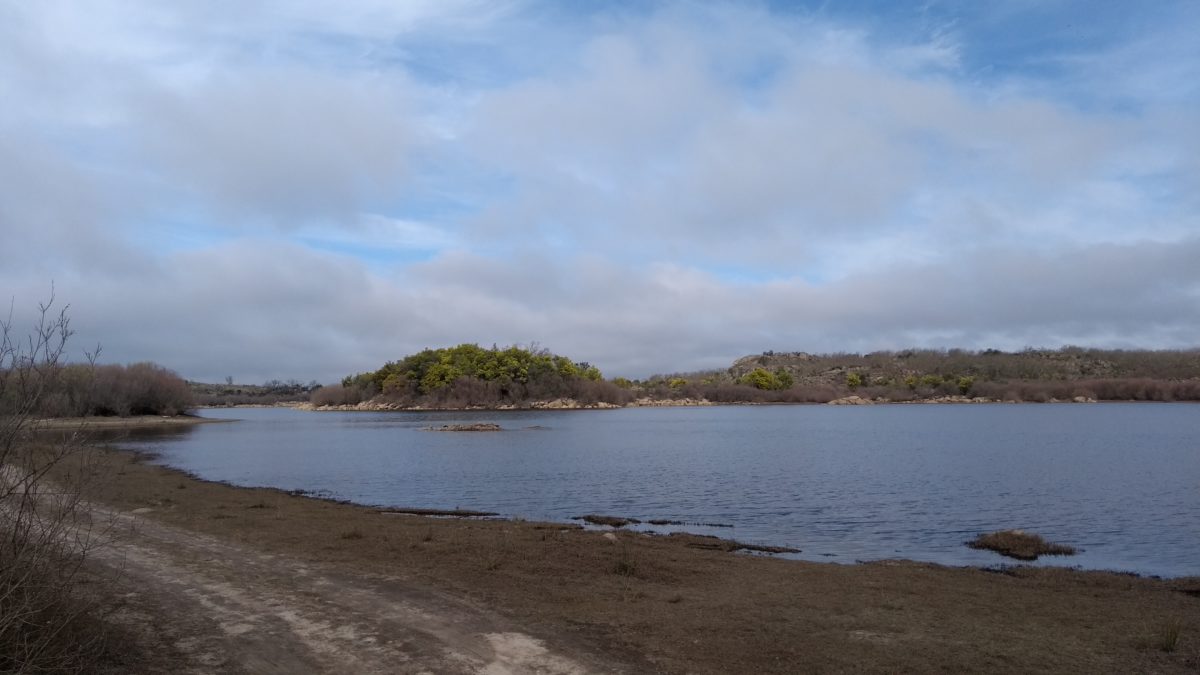 Tuesday's journey took us out of the Alentejo region and into Beira Baixa. The roads are a bit better than they were last week – still a few sections of cobbles but on the whole the tarmac has been OK. We are mainly using National roads but even so we see very little traffic and most of that is light local traffic. It is a real pleasure to bumble along fairly slowly enjoying the scenery and keeping an eye open for interesting birds and flowers etc. We arrived at our Tuesday stopover in quite good time and we had a late lunch there. I had chosen a free aire at Vila Velha de Ródão which is a small industrial town right beside the Rio Tejo (aka River Tagus) close to the point where it enters the Ródão Gorge. This is one of the major Iberian rivers that rises in the middle of Spain and flows out to the sea at Lisbon. By this time we are almost halfway on our journey north through Portugal. The little aire is close to the river and they have developed the riverside with moorings, a cafe and a short promenade. In the season there are boat trips on the river but these did not seem to be running at all today.
Wednesday was grey and gloomy and threatened rain. The highlight of the day was shopping at Lidl which tells you all you need to know really! Portugal continued to roll by – small roads, country towns, olive trees, eucalyptus trees, goats, sheep even cows occasionally. Lunch stop was in a picnic centre on the edge of a small town. Our stopover that night was another picnic area at Benquerença beside a small river. This picnic area is much bigger with a cafe (closed), play area, loos, BBQ area and a motorhome service point (free!). Actually a really nice place and at least three of the four other vans here were staying for awhile. Two of those vans were British which is refreshing as we have not seen any other Brits since Monsaraz over a week ago. Both Steve and Martin had been coming here for years and stopping for several days on the way south and also on the way back north. It certainly was a peaceful spot with all the essential services and just a mile or so outside a pleasant little village with a good bar (we hear). It was good to have a natter to another motorhomer or two again. Steve gaves us some pointers for some good places to see as we go north.
Thursday was an excellent bumbling day – the weather is still not perfect and the afternoon was grey and chilly with a little rain too. However most of the day we have been driving above 2,000ft so it is not going to be warm! We only had 50 miles to do today. The coffee stop I picked was the car park by the dam at the Barragem de Sabugal and this was a super spot close to the dam and with a great view across this big reservoir. The sun shone although the air was cool. A peaceful spot although the birds were quite noisy which was lovely.
After leaving Sabugal we dropped down to the river and then climbed back up again and the land changed once more. Now we are driving through a landscape littered with huge granite boulders – mile upon mile of fields littered with boulders the size of houses. In some cases people had managed to cultivate around these boulders and planted olives or there were goats or sheep. Great excitement at one point when we spotted a pair of golden eagles hunting close to the road. We pulled over and watched them for quite a while until they moved out of sight.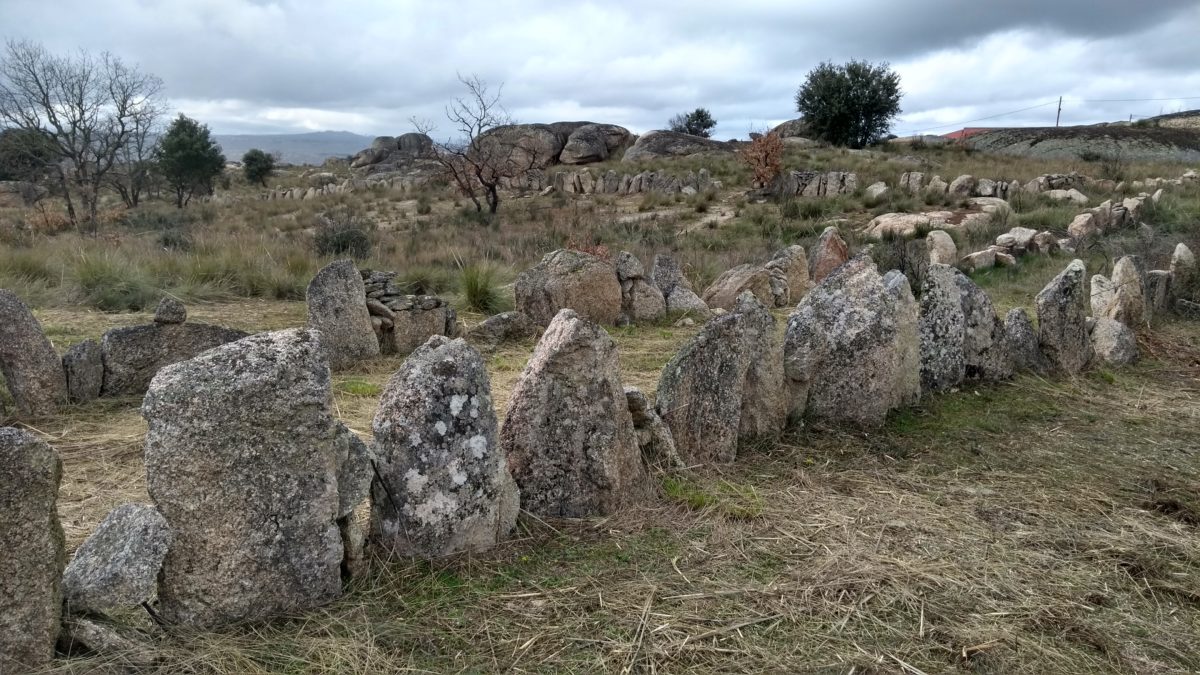 We also finally managed to put a name to an attractive bird we have seen quite often over the last week or so. This was the Azure Winged Magpie. Very distinctive bird with a black cap, pinky beige chest and blue wings.
Lunch stop was very special. We parked at the entrance to a tiny medieval village of Castelo Mendo (Bertie would not have fitted through the archway anyway!). The whole village was perched on the top of rocky promontory with the land falling steeply on three sides. After lunch we went for a walk around this tiny village. The settlement dates back to the bronze age but the present (ruined) castle and the fortifications date from C13. The tiny little village was very quiet with few people around. At the far end the castle was a ruin but offered great views.
Our stopover tonight (Thursday) and probably Friday too is in the municipal motorhome aire on the edge of the small town of Almeida. This town is like a small version of Elvas in that it is completely enclosed with "star" fortifications that we hope to explore tomorrow. This aire has 20 pitches each with its own electric hook up point and a full service point too and all for free!! So we have the luxury of mains electric tonight and that means I can use the laptop for as long as like!