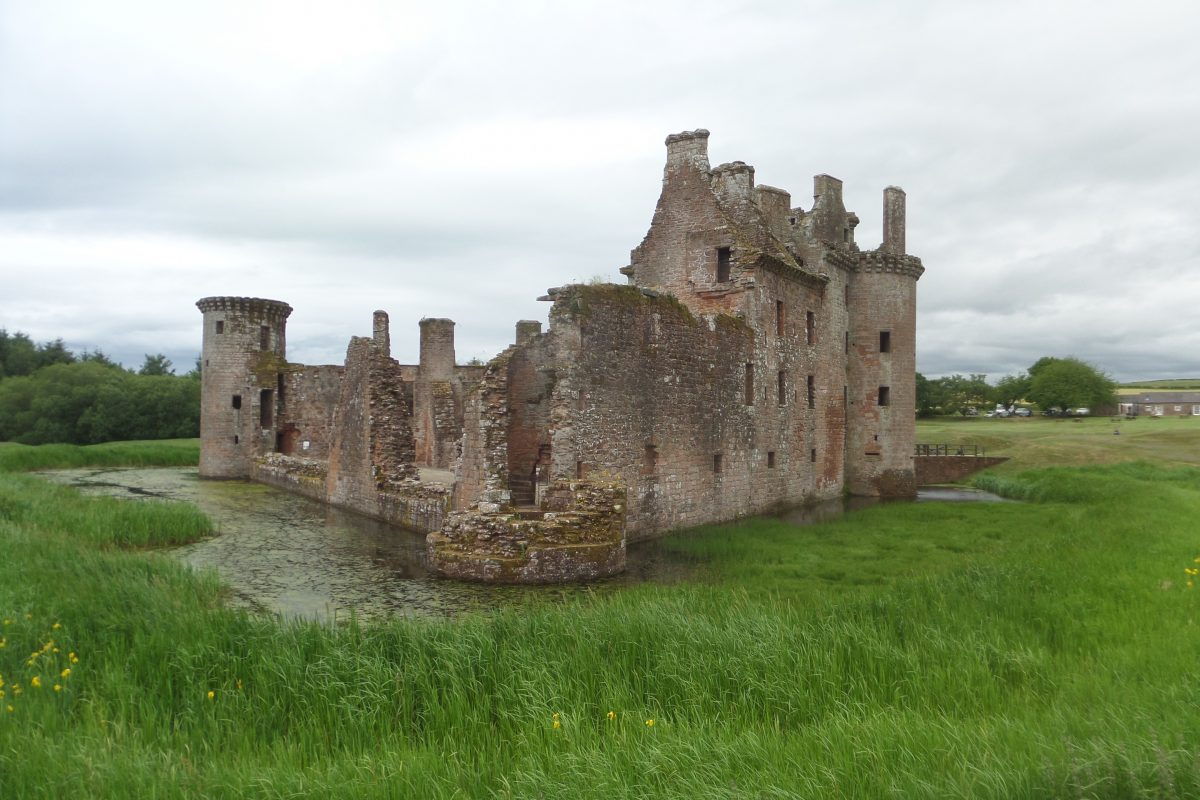 Made a good get away this morning and we were on the road at 09:30 to Caerlaverock Castle a couple of miles away. We last came here in 2000 on a family holiday to Southern Scotland. We were interested to discover Old Caerlaverock Castle this time which is the remains of the first castle here before the one that we know was built in the C12.
Leaving Caerlaverock at 11:30 we chose the minor road along the Solway Firth in preference to main Gretna – Dumfries road and that was a good call. Even though the minor was much slower, narrower and bumpier it was more interesting with occasional views across the firth to the hills on thge Lake District. However once again we were aware of the need to cover the ground and did not feel we had the time to explore the little town of Annan which looked interesting and worth a stop. Clearly this was an important location on the old road to Dumfries but is now so effectively bypassed you would not normally know it was there.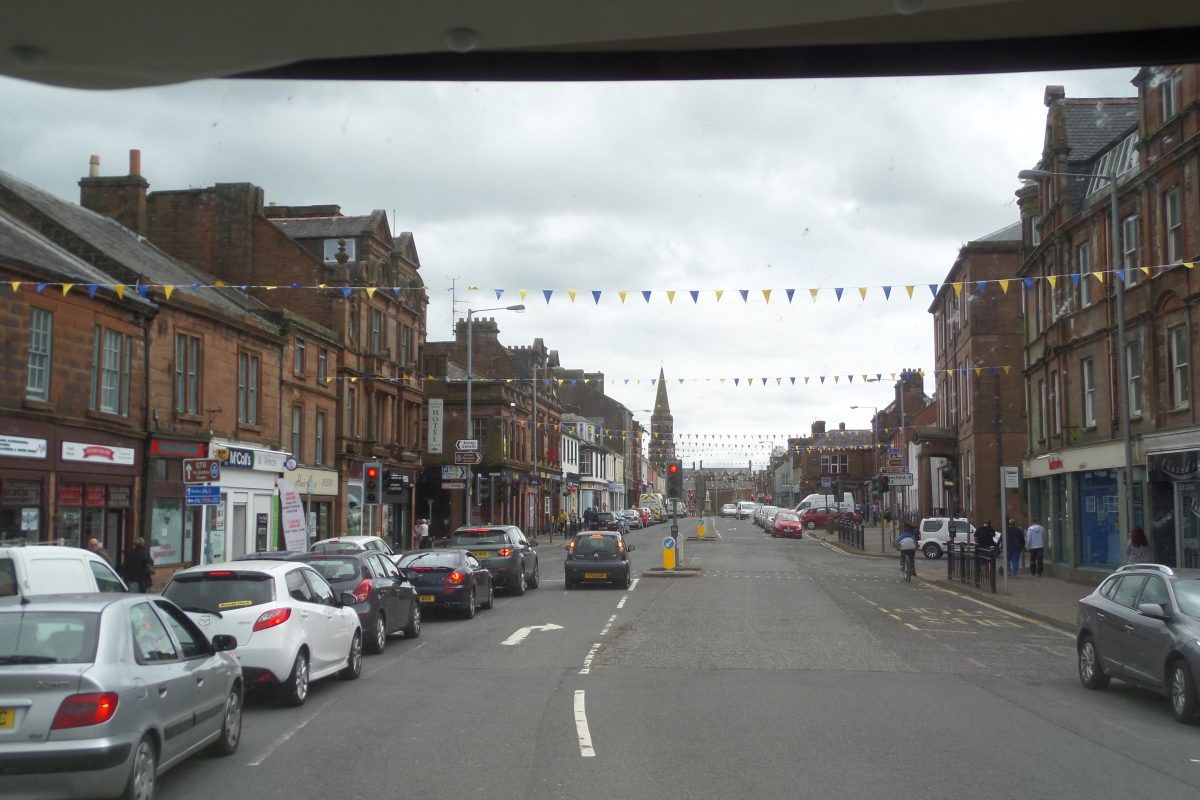 We got on the motorway at Gretna to get passed Carlisle and then turned off on to the A6 thinking that this would be really quiet as all the main traffric would use the M6 which is close by. In fact the A6 was very busy with a lot of trucks and cars moving. This was not a problem until we started to look for a lunch stop and found only laybys directly beside the road or were too sloping for us. We found a spot on the top of hill with great views but Bertie rocked as the lorries thunder past.
After lunch we drove through Preston (sadly no time to stop and visit the castle although we went right past) and then climbed up over Shap and through Kendall. Our destination tonight is Bashall Barns near Clitheroe. I took the decision to use the shorter route via the A65, going clockwise around The Forest of Bowland instead of using the M6 to get Preston and approaching Clitheroe the other way around Bowland. This was not a good choice. The road was scenic but very busy, very slow and very twisty. We fond our way to Clitheroe fine but getting to Bashall Barns was exciting as the road got narrower and narrower. It was worth the drive though as the farm shop car park was on top of a small hill with wonderful views east to Pendle Hill and across the Ribble Valley. The farm shop istelf was a bit disappointing but we did get some good cheese.
We had an interesting chat to a couple in the only other motorhome there. They were from Hastings and were slowly heading back after a big tour of Scotland's west coast. They had left home in March! We were so jealous of the freedom to travel like that.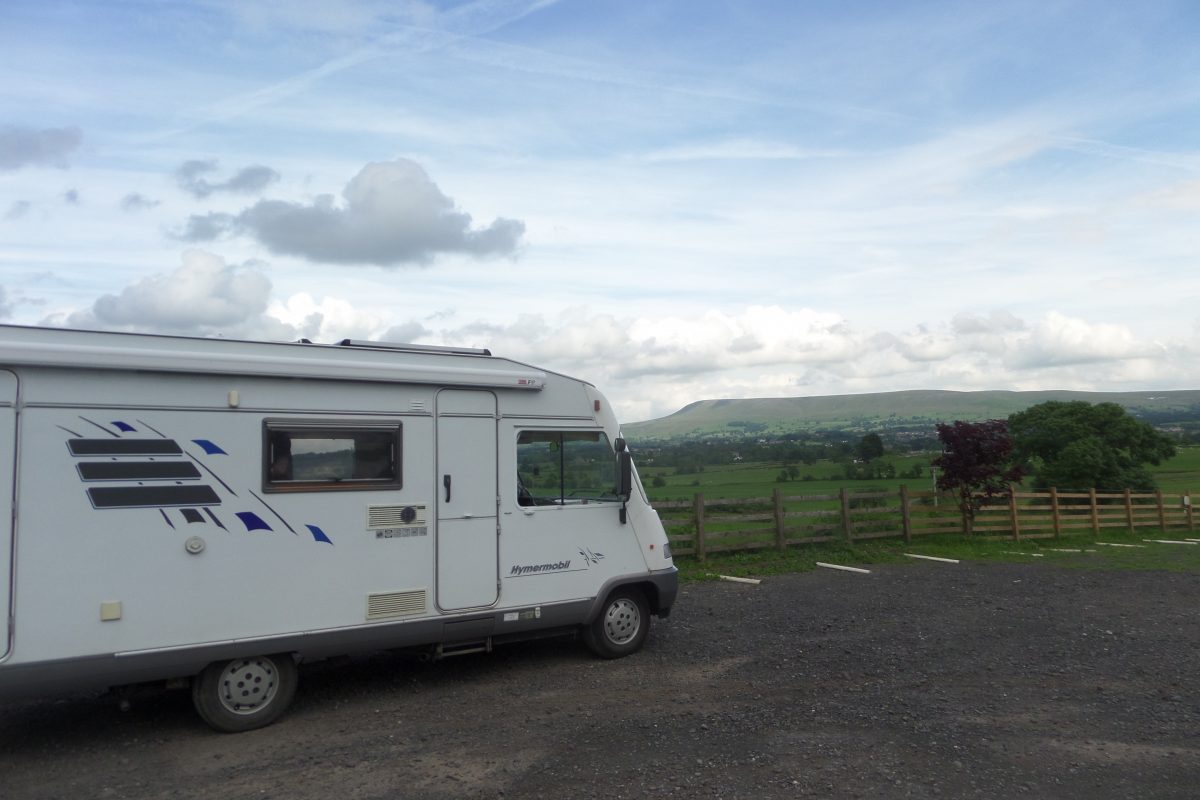 Odometer reading leaving Forres: 116661
Odometer reading at Bashall Barns: 117382
Kilometres today: 215kms
Kilometers from Forres: 721kms
Kilometres this trip: 2259kms
26th night on Bertie
Along the Solway Firth to Cumbria and Lancashire