On Wednesday morning we were up bright and early (the alarm was set for 7am!) in order to get up, have breakfast and service Bertie in time to be rolling up the road by 08:30. All went perfectly to plan and we paid for our short stay and the power used. We arrived at Carlos Rita's yard in plenty of time and pulled up in front to wait for them to open up. As we waited to we spotted Margaret and Shirley from the Love Motorhoming Blog who had recommended this workshop to us and I toddle over to meet them for the first time. I have read their blog for several years but never actually met them before.
Pedro came and had another look at the door and explained they were very busy but they would try and fit us in – perhaps after lunch! There was an area of waste ground just down the way and within sight of the workshop so we decided to park up there and relax for an hour or so. Pedro came to get us about 3pm ("after lunch"!) and we drove Bertie into the workshop. Two guys came and looked at the hinge and chatttered away to each other. Then Pedro came and apologised that his metalwork fitter is off today and his other guy is too busy with other jobs. He could fit us in at 9am tomorrow as long as his metalwork fitter is back! We reluctantly agreed and returned to our spot on the waste ground to relax even more!
True to his word Pedro indeed had us back in the yard shortly after 9am and his metalwork fitter got stuck in. They managed to fabricate a new hinge bracket from a bit of a new bracket riveted onto the stump of the old bracket. They had some issues getting the door to hang properly but it closed OK (ish). I reckoned I could probably fine tune it myself later (and in fact I did so that afternoon and it is working fine now). I am sure these guys are first class at bodywork but they are not ideal for all habitation repairs. Rather regret using them now.
We left Quelfes and the Carlos Rita Body Shop about midday and started the long journey north! The first leg of which would take us to Ameixial just 30 miles up the road stopping to revittle at Lidl in São Brás de Alportel. It was just past São Brás de Alportel that we first noticed the change of scenery. We are leaving the coastal strip and moving in to inland Portugal slightly off the main tourist paths. We will also be climbing quite a bit as the aire at Ameixial is over 1400 foot in altitude!
The landscape gets quite hilly and is thickly forested in pine trees, cork oaks and tall eucalyptus trees. We even see a few golden wattle trees in full bloom. There is also more and more almond blossom around and Spring is defintely on the way here. They tell me that January is the worst month for weather and it warms up in February!
The road is OK but not as smooth as Spanish roads, but we are taking it quite steady and there is very little other traffic around. Bear in mind that this is the N2 – ie "National Road Two" – and one would assume therefore it is more than a country road although that is what it feels like. I wonder what we will find when we start bumbling on the minor roads in the Alentejo! Ameixial is on the northern border of the Algarve region which stretches across the southern part of Portugal.
We arrived on the free aire on the old footbal ground at Ameixial in late afternoon. This place has room for quite a few vans, There were about 20 there when we arrived. The French vans were all lined up on one side and the others (German, Dutch and British) were on the other side. We had quite a long chat to a British couple in a huge American RV and to a Dutch couple living full time in a basic home converted van. Both had been there for many weeks and they told us that many of the vans here had been there since before Christmas. It is a nice place, very scenic and with way marked hiking routes. I find it hard to understand the appeal of this windswept location for that long apart from the fact it is free and some pitches can access free electricity and there is water and waste disposal. I was happy to stay the night and if we had had more time perhaps we could have stopped for a day or two to go for walks in the countryside. However the idea of months here is hard to get to grips with. To be fair the Brits in the RV had a motorbike with them and used to that to get around.
We left Ameixial on Friday 31st (Brexit Day sadly – I am trying not to think about that too much as it just make me both sad and very very angry!) rather later than we had meant to as we got chatting to our new friends again! Anyway by noon we had Bertie serviced (lovely hot showers this morning) and full of water again ready for a few days away from services. Our destination at Mértola is just over 40 miles away but some of that will be on lesser roads so we will probably need a couple of hours. After all the traffic and general busy-ness of the coastal area it was delightful to be driving on quiet (if rather bumpy) country roads through "real" Portugal. The first section was very twisty indeed as we dropped down from Ameixial and then climbed up again on to the plateau.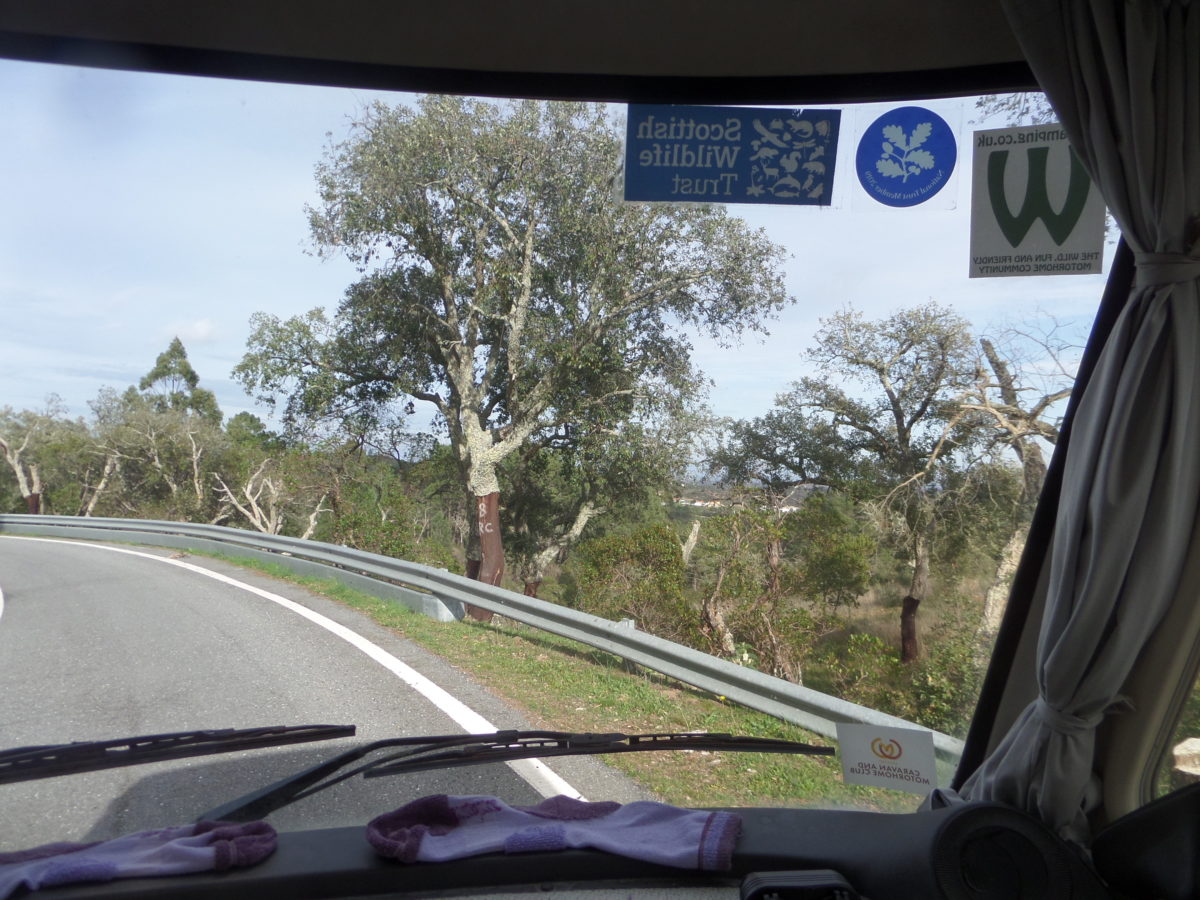 The downside of minor roads is that they are not expecting long distance or tourist traffic and there are very few laybys or pull offs to stop for coffee or lunch. There was one by the bridge over the Rio Vascão which marks the border between Algarve region and the Alentejo region but there was a motorhome there already and he filled it (normal motorhome but tiny parking area!) so we pressed on until we found a simple flat area beside the road that we could pull off for coffee. I was intrigued to see several trees beside the road that were covered in lichen – just like the trees at home in our part of Scotland. This is an indicator of clean air as lichen is very susceptible to air pollution.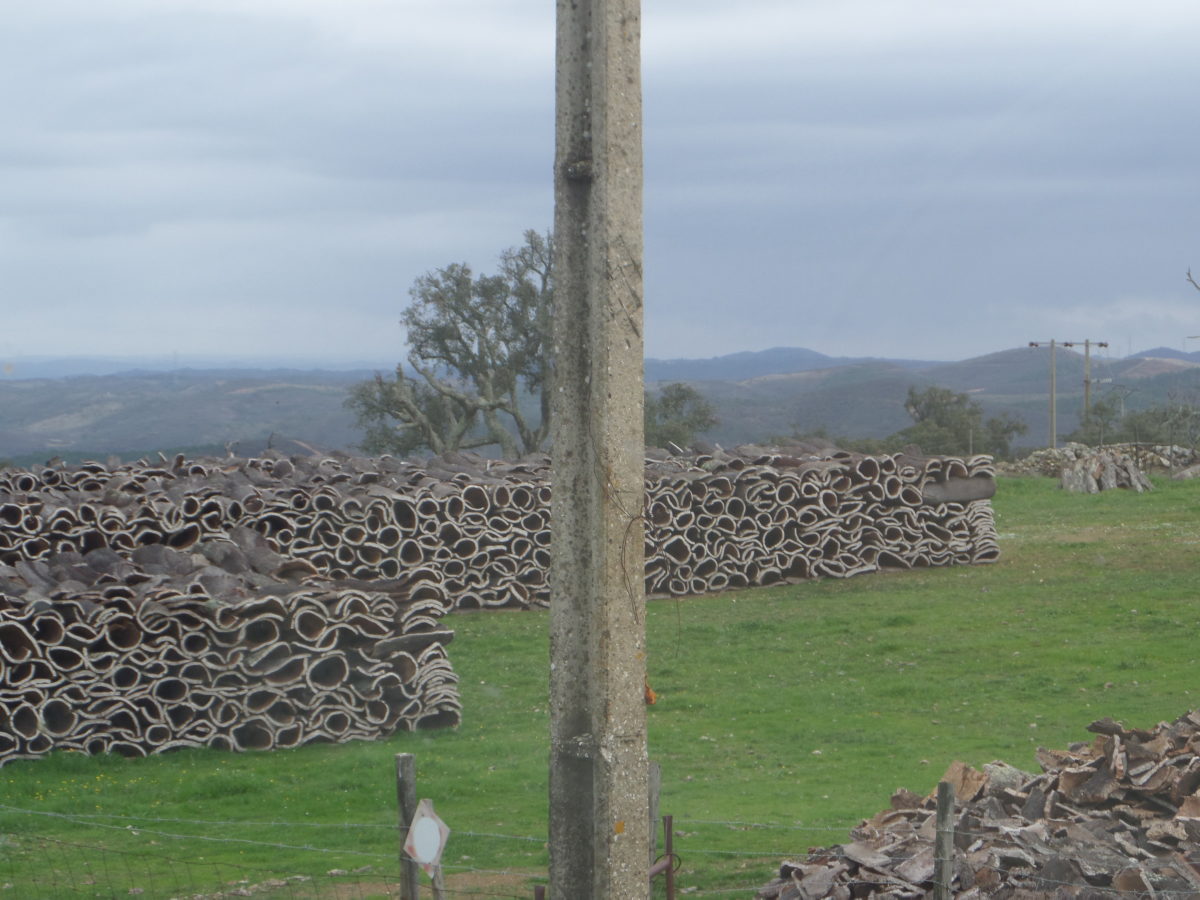 We arrived at Mértola in the afternoon and found our way to the flat area below the dramatic town walls beside the River Guardiana (they call it the dock area but I think that is overstating it).  The river is one of the great Iberians rivers and flows for over 500 miles and the last section forms the border between Spain and Portugal. Mértola is about 25 miles upstream and is the limit of navigation as there are rapids and waterfalls just beyond. Here the river is still tidal and so we are actually back at sea level (being parked beside it) despite driving north for a few hours through the mountains. It is certainly noticeably warmer here than it was high in Ameixial.
The old town of Mértola is built on a high ridge of rock between the River Guardiana and a smaller river that joins the Guardiana here. It is a perfect strategic location and has been settled by the Phoenicians, Carthaginians and the Romans. It was an important place in Arab times from 711 until the reconquest in 1238. Given its location this place is going to be important to whoever happens to hold it! Now it is an idyllic tourist town in a relatively untouristy area.
On Saturday morning we woke to find that the river was almost hidden by the mist! It did give the area a lovely mystic atmosphere. Our plan to day was to explore the little town and especially to climb up to the Castle above the town. In fact we spent 5 hours walking the length of the old town and exploring the castle, the archealogical site of the old arab dwellings just outside the castle, the church (converted from a mosque) and also the little market in the small square just outside the old medina where we bought fresh fruit and veg and some more olives. We also came back here to have lunch in a tiny cafe bar that had a small balcony with a few tables jutting out from the city walls directly above where Bertie was parked. I could have sat there all day just drinking in the view, watching the storks soaring above the river and hearing the jingling of the bells on the goats grazing the far side of the river. Here are a few photos to give you an idea.