Time to move on from the campsite. Time to see some of the real Spain away from the coastal strip. It was a bit of a slow start this morning and a number of jobs to do to get Bertie ready. We did try topping up the water with the folding water carrier but the tap was really slow and pouring the water direct in to our tank was a messy business. We gave up after two cans full!
First stop was a supermarket. It was a bit confusing finding our way through the maze of streets but in the end we found somewhere to park and we went into the big Carrefour in Callela. We had quite a list of things to get and things to checkout. Once again our limited Spanish made things slow as it takes ages to work out what the labels are saying. We are a bit disappointed how expensive so much is here. We had always heard that Spain was cheap and it is a little bit cheaper than France but not by much. Some things in that supermarket were more expensive than the same things in a Carrefour in France. The biggest mistake was the loaf of bread we bought which turned out to be 2.8 euros when we thought it was going to be 2.2 euros and that was a bit much. Anyway we got all the important bits we needed and managed to resist the temptation to get pastries (actually they did not look that good!) and we were on the move again but rather later than I had hoped.
Today I had planned the day in detail and looked up somewhere to stop for coffee and somewhere for lunch and put them all in to the satnav. That worked quite well and we were soon at my coffee stop in Arenys de Mar. This was a big car park beside the beach just outside the town. This was nice and we had a walk down over the grit (it can't really be called sand) to say goodbye to the sea as we are heading inland for a few days.
Our next planned stop was up in the hills inland from Barcelona. That meant using the autopista (toll motorway) to go around Barcelona's northern outskirts and then on to the Barcelona ring road. What a contrast. The toll road was new and smooth and not too busy but the ring road was free and hectic and mainly underground. This last gave our satnav a headache and she had a hissy fit at junction 6 and gave up trying to locate herself. I could see that I needed to get off at junction 9 but having duly turned off I had no idea where to go and I could not pull over any where to reset the satnav. Anyway I guessed (wrongly of course) and turned sharp right up the the hill from J9 as that was the direction I knew was roughly where we wanted to go. That took us up a very very steep road to a school and then petered out! However I could now stop OK and I reset the satnav and talked quietly to her until she got her breathe back and she managed to workout where we were and how to get us back on track. I am sure the road back down the hill to the big roundabout at J9 was even steeper than the way up – we went down it in 1st gear at 15kph! Now back under satnav guidance we returned parallel to the ring road to the roundabout above J8 and found the correct road up another very very steep hill – this one just kept on rising and rising. Bertie managed about 25kph in 2nd gear most of the way. Then we found ourselves out above the houses and way above Barcelona and, to our great relief, we found a big layby with a stunning view point. Be aware that this was high but actually only half way up the hill. Anyway we stopped for a breather and took some photos.
From here it was a short drive but a very steep drive to our planned lunch stop at the picnic area at the top of the pass. Cracking views in both directions. We took the time to cook and eat a nice lunch and were on our way again a bit before 4pm. Of course the next few miles were very steeply downhill and were almost as slow as the big climb up. Fortunately there were very few other cars around and most of those managed to get past me. What we saw lots of were cyclists – serious cyclists with fancy looking bikes. Did I mention how steep the roads were? These people were cycling up those hills and down the other side. There were no gradient signs but we must have come up 1:5 or 1:6 for several miles.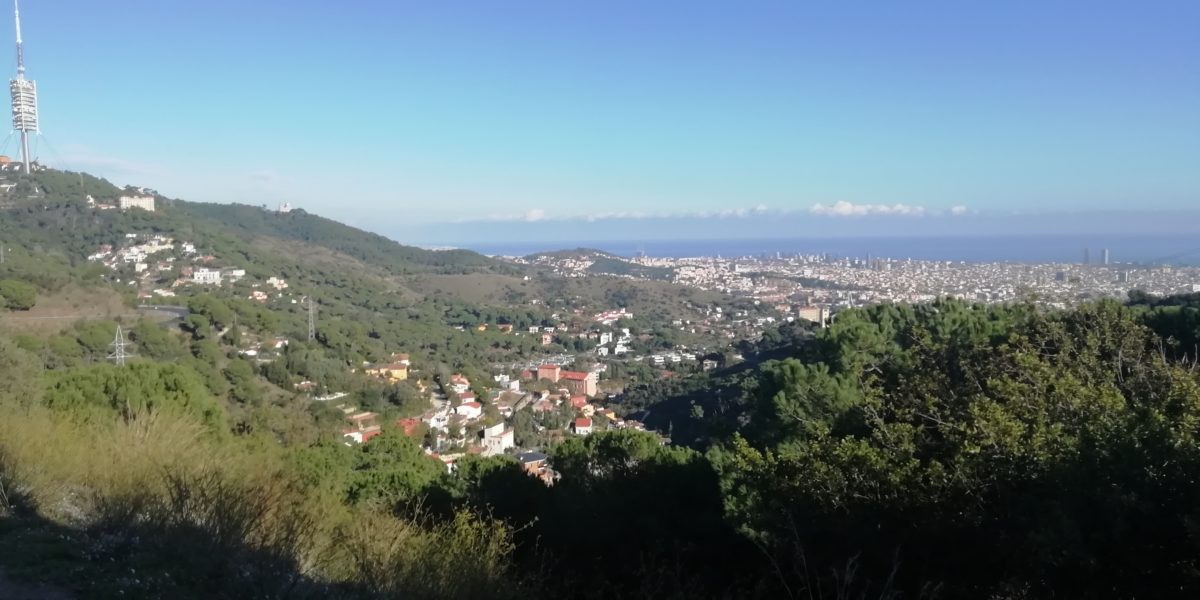 At the bottom of the hill we found ourselves in a medium sized town and that was interesting. However coming out the other side I managed to miss a turning on to the autopista and the diversion took us miles in very heavy traffic (in both senses – lots of it and lots of big trucks) before we could rejoin the motorway. I was surprised to see a big road sign across a gantry telling us that it is the E15 route! The UK does not label E roads but they exist nonetheless and the E15 is the Inverness to Algeciras road and includes the A9, A1 and the M2! That road was very busy with lots of freight and all of it in a hurry. We were relieved to turn off at Villafranca de Penedes and get back on to ordinary roads with much less traffic.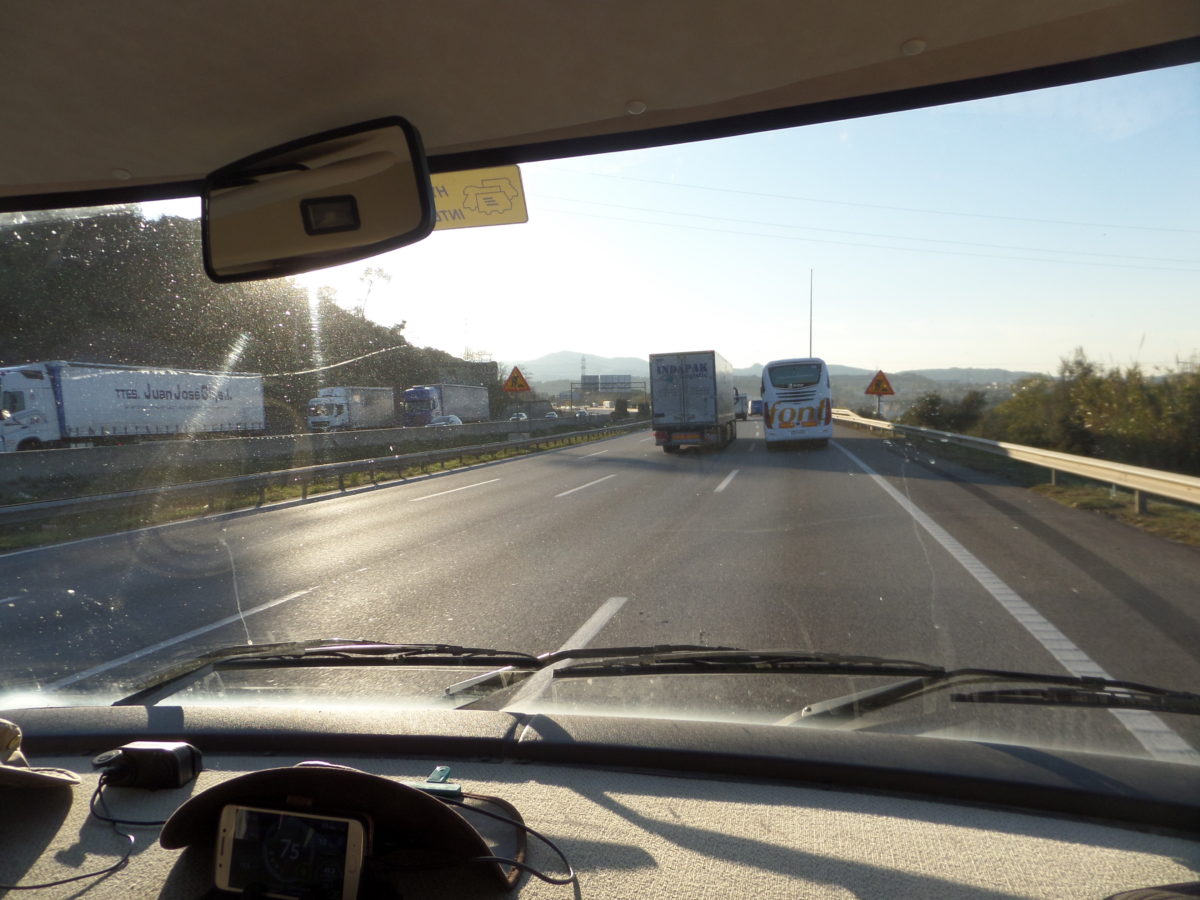 Our destination tonight is a brand new aire in the little town of Sant Marti Sarroca. The Penedes authority has set up 12 brand new motorhome aires in small towns around the region. They are free and have free water and waste disposal which is too good an offer to miss. We arrived here as the sun was going down and so we won't explore tonight. However the town looks interesting and we might stay for two nights and have a good explore tomorrow. The forecast is set fair for two days but heavy rain is expected here on Saturday so we will move on before that. This is serious wine country and there are vines everywhere!
We have done 139kms today on a wide mix of roads. The steep mountain roads were quite fun but I did find the heavy traffic in Barcelona and later on the E15 quite tiring. I was glad to get here and especially to make it before dark. We really notice as we get south how fast it gets dark once the sunsets. No extended northern dusks here!
Barcelona, views and inland