The main Spanish holiday at this time of year is from Christmas day to Three Kings day on 6th January. We have found that the atmosphere in the area around the car park has changed since the weekend. The traffic is noisier, there are more emergency sirens at all hours and the firecrackers and bangers are getting more and more frequent. All in all our little car park retreat is not quite as idyllic as it was when we arrived! We have decided that it is only going to get worse over the New Year period itself so we have moved 30kms along the coast to another car park on the edge of a small village right beside the beach in the Cabo de Gata national park. This car park is quite busy with 20+ vans (including 5 Brits) but there is room for many more. We will stay here until New Year at least as by then we will need to get services again.
We have enjoyed the last few days in Almeria. On Saturday 28th we woke up to find that half of this huge car park had been taken over by a vast weekly market! We spent much of the morning at the market – in fact we got so carried away we had to go back to Bertie for more cash!! There were hundreds of stalls. Many selling clothes, shoes and household goods but also some specialist stalls selling food with numerous fruit and veg stalls, two olive sellers, one charcuterie and cheese stall, one herb and tea seller and three or four stall selling a huge range of nuts, snacks, dried fruit, crystallised fruit and sweets. One of the big attractions was the large truck running a churreria. A churreria is a business that makes and sells churros. Churros are uniquely Spanish and you can get hooked quite easily. Churros are rather hard to describe but are a sort of deep fried dough/batter served with either sugar or best of all with thick hot chocolate for drinking or dipping. Sadly my photos did not work too well so I will need another opportunity to sample and report on this cultural highlight. We are both hooked and may need help to reduce our dependence when we get home.
We spent over 30 minutes queuing up at one of the olive stalls. There was one guy selling hard and he never had less than 10 people waiting very patiently for service. They knew this guy and in some cases he knew what they wanted and they wanted a lot – many people leaving with quite large bags filled with several kilos of olives and similar goods. Prices seemed reasonable at between €5 – €8 per kilo and we had plenty of time to try his free samples and choose our olives. We bought three 500gr pots and he gave us an extra small pot of anything we liked. That was quite a lot of olives and we will be back there next week for more.
We also bought some gorgeous, but hideously expensive, slices of crystalised pineapple which turned out to cost €1 per slice!! Really really yummy though. We bought a new, larger coffee pot as our old one will only do two mugs and is difficult for use with visitors. Eileen bought a new belt and had it customised with new holes as she waited.
On Sunday we went back to the Repsol garage on the motorway to empty waste tanks and refill the water. This was quite a slow process as there were several motorhomes needing this. Further delays caused by the service point failing to deliver fresh water so we had to use a tap at the back of a pump across the forecourt. So we queued to dump waste at the main services and then queued up again to get water from the tap! On the way back we stopped at Lidl for heavy shopping. We have stopped using Spanish tap water for making tea or coffee as the strong chlorine smell ruins it and so we need to buy the big 8 litre bottles of drinking water. These are cheap enough at €0.73 but are quite heavy to carry around! The afternoon's entertainment was yet another load of laundry at the laundrette. Life in a van is a constant round of fun!
This morning we decided to move on – our friends Chris and Anita are especially tired after a second bad night so will move anyway. Today they are driving to Malaga in search of a solar panel. I have not heard from them yet so I do not know if that worked out. We wanted to go back into the city and visit the cathedral before we move to our new coastal location.
We needed cash today and our online research suggested that there are few banks in Spain that offer ATM withdrawals with out charge. We took a rather circuitous route to the catherdral via several possible ATMs. The end result of our tour is that Ibercaja and Cajasur both offer free cash withdrawals but they are very much in the minority!
Before we got to the cathedral we explored the Central Market – a modern, covered market selling fruit, veg, meat and cheese upstairs and fresh fish downstairs. The fish market was winding down by the time we got there at about midday but there was still quite a bit to see (and smell). We bought some custard apples and we restocked with pineapple slices.
The cathedral was built in 1522 after a bad earthquake destroyed the old one that was built after the reconquista in 1489. It was built to a fortified plan as the town was still suffering from occasional Berber attacks from the sea. So the cathedral is deliberately low profile with the aisles and nave the same height, the outer walls are heavy and strengthened with towers and the whole thing has a flat roof that can bear cannon!! There was a small charge for entry but that did include a free english audio guide. Photos below.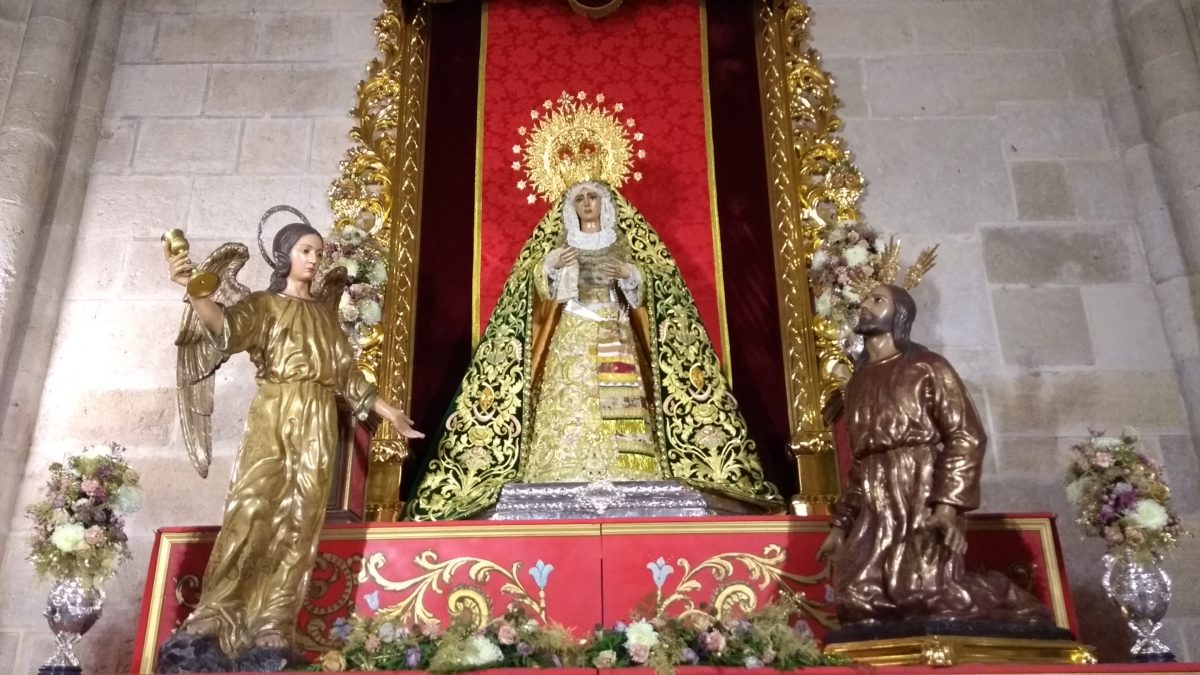 I have to admit that I wimped out and suggested that we got a bus back to the car park! We had a quick lunch on Bertie and were rolling out of town shortly after 3pm. It did not take long to do the 30kms to Playa St Miguel de Cabo de Gata and we were luck enough to get a place in the second rank of vans with a clear view of the sea. We understand that there are flamingoes on the lagoon behind us so we will go and investigate those tomorrow. This beach faces due west back across the bay toward Almeria and as the sun went down in to the sea and it got dark we could see the lights of Almeria.