In the end we stayed two nights in Cadiz. That is despite the late night serenade from the Cadiz Brass Band who held a major rehearsal for all 100 players right beside the car park from 9pm to 11pm both nights! We think this zeal is to do with the fact that the Cadiz Carnival is coming up quite soon and they are taking part. To be fair they did make a really good sound albeit quite unlike a UK brass band. We walked over to watch them both nights. They were tucked under the high promenade outside the front of the Momart Theatre. This gave them shelter from the breeze and gave them space to let rip! I made a couple of videos on my phone but the sound was just too loud and the microphone could not cope.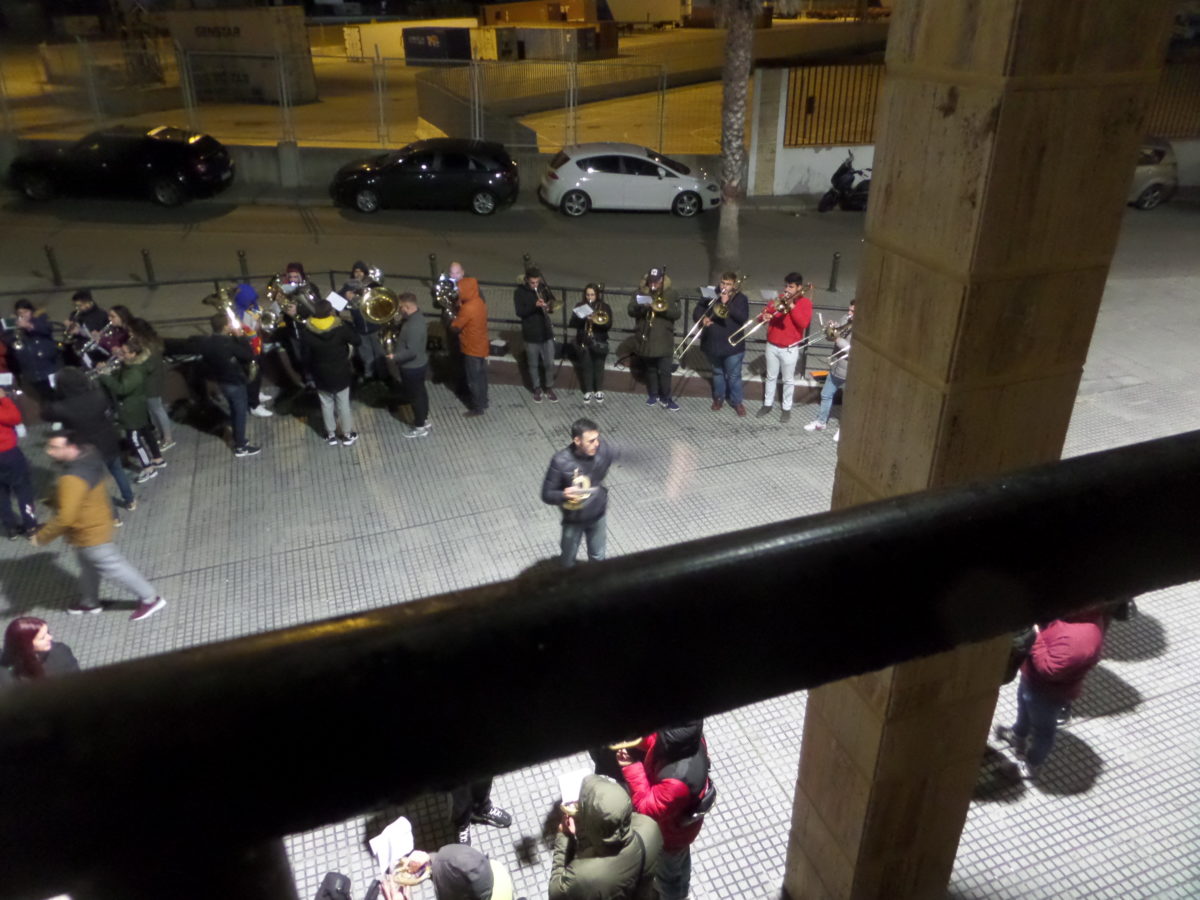 On Tuesday the sun shone and the city of Cadiz did look inviting. We decided we needed a leg stretch anyway and if we wanted to see Cadiz it was today or not at all. The weather forecast for the next few days is for rain and more rain which fits with the planned couple of travelling days planned to get us to Portugal on Thursday afternoon. We set off by climbing up on to the top of the aforementioed promenade and following that around to the ramparts around the old city. Cadiz claims to be the oldest continuously inhabited city in Europe and was founded by the Phoenicians in 1100BC (they called it Gadir), then it was Carthaginian, Roman, Moorish and finally Spanish. However most of the old city to be seen today was the result for remodelling done on the 17th and 18th centuries. You have to go to the museum to see the really old stuff.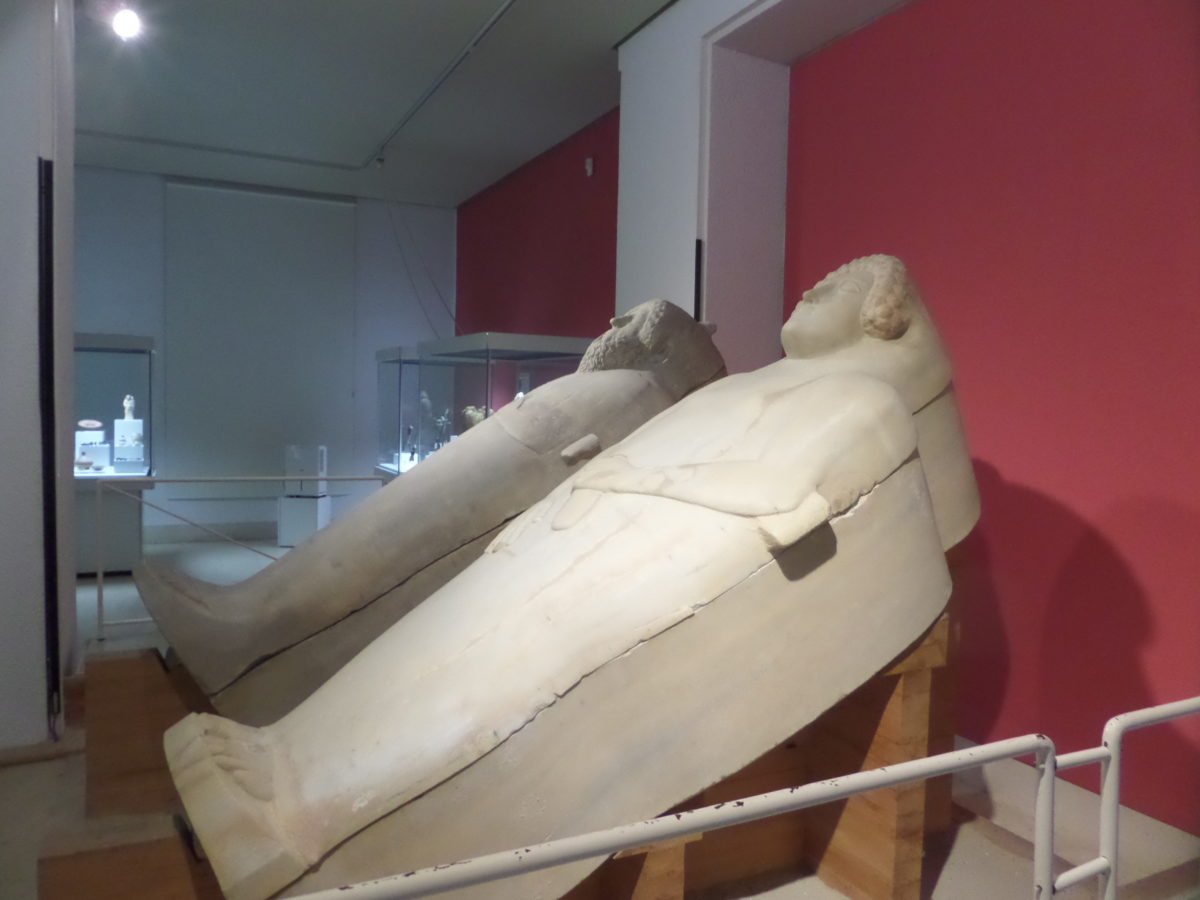 We had a good wander around the ramparts/promenade which runs right around the city. We did not go all the way. It was good and the views across the bay were lovely but it was also cold and windy. Along the promenade there were small parks and huge trees. Really, really huge trees. We do not know what they were but they were huge – both tall but also with an amazingly broad canopies and very large trunks. The biggest were in a small park opposite the port area but just around the corner from there we found the Parque Genoves. This is a large formal park created in the late C19 and stocked with lots of exotic trees. Some of these are quite big too – especially the New Zealand Iron Heart tree that is a very important specimen in its own right. We were very taken with the grotto – we have seen artifical grottoes like this in Victorian parks in the UK but this one was exceptional probably due to the exotic planting.
From the park we walked back through the city enjoying the long narrow streets lined with tall houses all with oriel windows liked closed in balconies and often with highly ornate iron work. In the big square in front of the Gran Teatro Falla we saw a chalk board outside a tiny bar offering a Menu del Dia for €9 – 3 courses, bread and drink. It was tiny and quite busy with locals. We could not resist. The staff spoke very little English and were very busy but took time to help and explain carefully. We chose salads for starters and tuna cooked with onions for main course. Slight wobble as the salad turned out to be a tuna salad but was really nice. The main course was really tasty two with big chunks of fresh tuna stewed with onions and herbs and served with some lightly sauted potatoes. Just after we sat down the bar filled up with workers on the lunch break – this was no tourist bar. It was all lovely and made the whole day special.
After our lunch we walked slowly through a few more narrow streets to the Cadiz Museum, stopping off at a little panaderia to get some bread (and some gorgeous cakes as well – you know how weak we are in such matters). Once again the staff were busy with locals and spoke no English but took time to help as much as they could. We have picked up some Spanish in the last few months but it is very very basic.
The museum was free and well laid out but had very little information in English. The display of phoenician artefacts was interesting and things on display were so perfect and so fine that it was hard to believe they were so old. We spent a good hour in the museum but we would have got more out of it had we understood the details of the exhibits better.
By the time we got back to Bertie we had walked several miles and been out for over 4 hours but at least I did not have to cook a meal.
Wednesday morning was quite gloomy and wet and it was time to move on. The route from here took us over a huge bridge across the bay – too wet and gloomy for good photos though. It is a long drive (100 miles) today inland to Seville and then westards toward Portugal. We are not going to stop and see Seville this time. Maybe another year. The weather is against us and we are keen to get on to Portugal.
Wednesday night stopover was a free aire in the small town of Umbrete just west of Seville. There were quite a few vans there and a big French van was on the services.We had a chat to two British ladies in a car and caravan. It is quite unusual to see a caravan on an aire but not completely unknown. They told us they did this a lot and their total rig (car and caravan) is 10m and thus about the size of a big motorhome. Some of the big motorhomes we have seen are themselves towing a small car on a trailer so I guess a car towing a caravan is almost the same as a motorhome towing a car! They gave us some useful tips for Portugal but they are heading the other way.
We wanted to empty waste and fill up with water but it was not urgent so we decided to do services in the morning. Big mistake! It started raining heavily that night and it was still pouring with rain when we left at 10:30 with no sign of it letting up. I had identified another aire with free services 50 miles to the west which is outside the heavy rain zone. We arrived there about midday and went straight in to the services – waste emptied and water filled so Bertie is happy again. As we drove back on to the motorway we passed a Dia supermarket and pulled in as they had lots of room in the car park (many Spanish supermarkets have very small car parks) and we had skipped the planned stop at Lidl earlier due to the heavy rain. It was a bonus to find that the supermarket had a laundrette in the car park! We put the washing on before we went shopping and it was just finishing as we came out. Then through the drier whilst I put it all away.
Just 30 miles to go to Portugal. At the border we had to pull over and go through a toll booth to register a credit card for Bertie. Most Portuguese motorways use ANPR to recognise the vehicles using the motorways and automatically charge the registered credit cards. If you do not register a credit card they still charge you but add an extra penalty for having to chase you through the international police database!
In practice we probably won't use many toll motorways at all but it is safer to set up auto payments. It took us a while to work out why the recipt from the toll booth seemed to think we had arived an hour before we actually did. Then the penny dropped – Portugal is in a different time zone and is thus an hour ahead of the rest of Western Europe which is uses Central European Time.
Our first aire in Portugal is in Castro Marim a small town with a big castle just a mile or so from the border. There is official parking here for about 20 vans and we were lucky enough to grab one of the two empty spaces. Once we had parked there was a steady stream of vans cruising past looking for space. The main car park is just around the corner and there are very many more motorhomes there too. However these may need to move tomorrow as there is a big market there on two Saturdays in the month. Not sure if we will have two days here or if we will move on. Ideally I would like to go and see the big castle and also the churches look good too (but may be closed). We need to do reconnaissance later.
We arrived in Spain on 15th November and have spent 69  days in the country.  This is day 98 of the whole trip from home and we have about 60 days left. In that time we have driven over 5300kms and I estimate we will do at least 3,500kms more before we get home.