After we got back from Cornwall on 20th September Bertie went back to Appleton Engineering for an engine service, new LED running lights and to have the leaky hot water manifold fixed. We got Bertie back last week and decided to have a quick weekend away to test out the various jobs especially the water leak. As Eileen has quite a serious eye operation due next week it is not likely that Bertie will get a trip again before Christmas and so this was a last chance for a few months.
After quite a bit of discussion we decided that we fancied exploring the Stour Valley (aka "Constable Country") but first we would go and have a look at Ickworth House (NT) near Bury St Edmunds. We left home on Friday 8th October in good time having prepped Bertie the day before, in any event packing for two nights away is no big deal. We got to Ickworth in time to have lunch in the car park. We could have chosen a better day as there was a major craft event on in the grounds and the place was heaving. No chance of getting on the main car park and we were waived on to the grass overflow area (actually I think it was the overflow for the overflow!) and I was a bit concerned as Bertie is not always very happy on grass and has been known to refuse to move without help. Anyway we carefully parked on traction mats just in case – much to the consternation of the young air cadets who "supervising" the parking.
I am sorry I have no photos of the house – we will have to go back and take some piccies another time. It was worth the detour however and there was quite a lot more to see than we had expected. The house was quite busy but nothing like the car park as most of those folk had gone to the craft fair.
From Ickworth it was a very short drive to Depden Farm Shop Britstop – our second visit here having stayed here on our way to Devon in August this year. A warm welcome again and quiet spot in the back car park. We thought we would treat ourselves to a chocolate brownie each from the shop – they were so good we went straight back and bought some more for another day!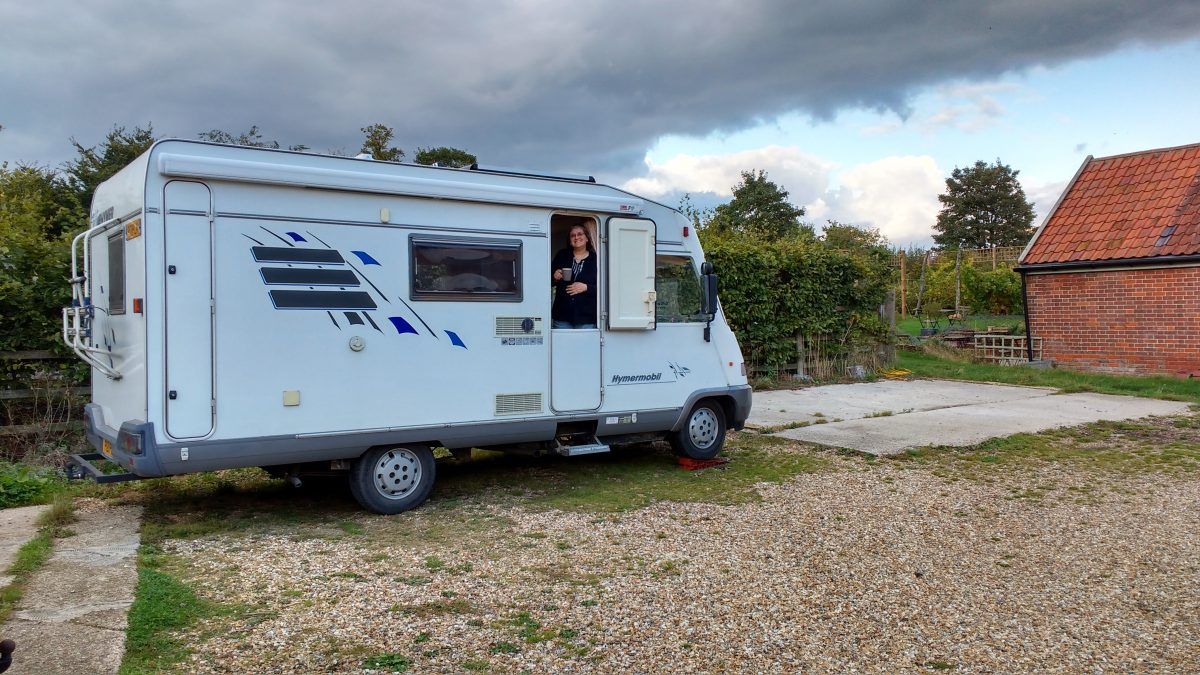 On Saturday we made our way south to Dedham on the River Stour and the heart of Constable Country where John Constable painted many of his famous landscapes. Whilst the weather was not perfect it looked as though there should be an opportunity for a walk this afternoon. After lunch on Bertie parked in Dedham car park (very good car park right in the middle of the village with loads of space and only £4 for the whole day) we followed the footpath along beside the river to Flatford Mill about 2 miles away. It only rained once and we were able to huddle under a tree to avoid most of it! This is a major tourist area and people come from all over the world to see the places that John Constable made so famous. Flatford was quite nice and it was interesting to see Willy Lotts Cottage almost exactly as it appears in the Hay Wain, as well as the dry dock, the lock etc etc.
You do have mentally edit out the 20 century touristy intrusions – notably the large and very busy National Trust Tea Room. A little sunshine would have helped but we were grateful it was not actually raining most of the time!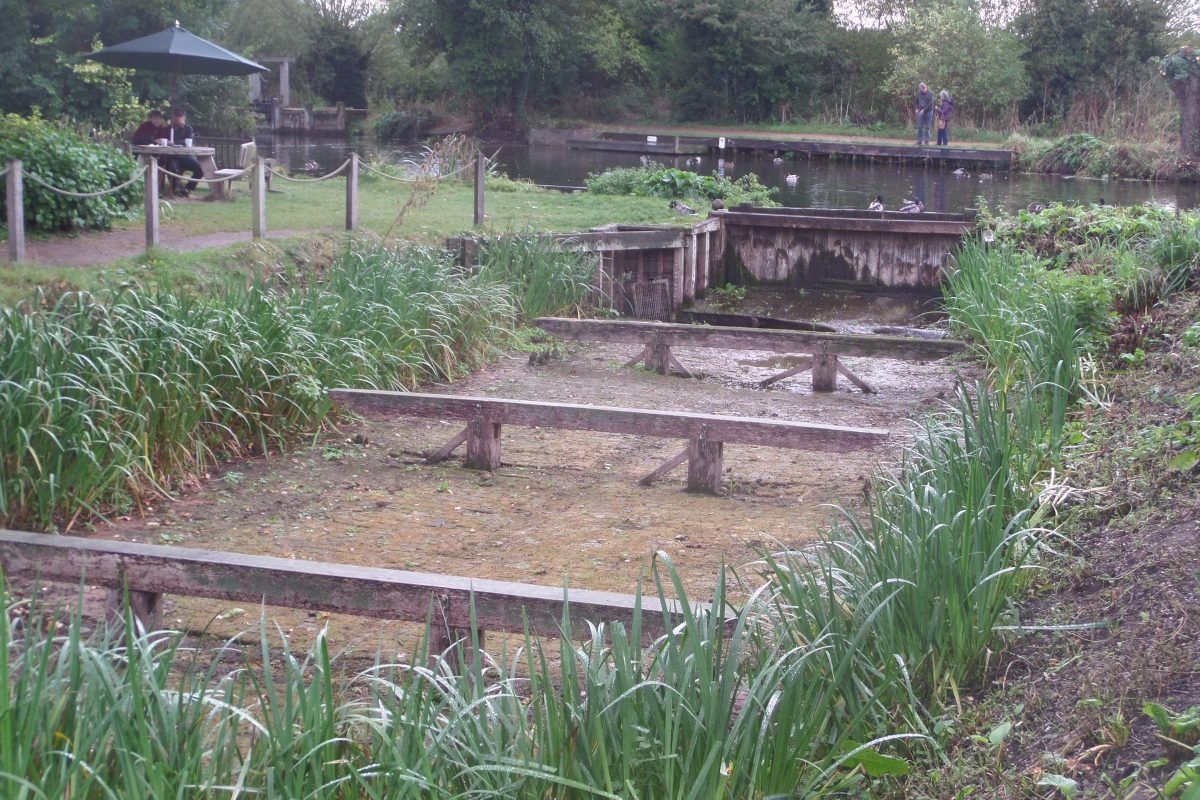 As boaters we were especially interested in the restored river lock at Flatford as this is a very simple, old fashioned design and very similar to the locks painted by Constable. This design of lock is also what would have been used on the River Blyth at home on the navigation that linked Halesworth to the sea at Southwold. Virtually nothing remains of the River Blyth locks although with care you can locate the sites of all five of them.
As we walked back across the fields to Dedham the sun finally came out! However we were both too lazy to go back and take some more photos. From Dedham we drove a couple of miles back to Stratford St Mary to our Britstop at The Anchor Inn. Stratford St Mary is a very pretty little village on the River Stour as long ago I drove service buses for Eastern Counties Omnibus Company through the village on the route between Ipswich and  Colchester. The village is on the old A12 which was the bus route but most traffic thunders by on the dual carriageway that runs just to the east.
We had a nice meal in the pub and got chatting to a lovely local couple who were the only other customers in the bar!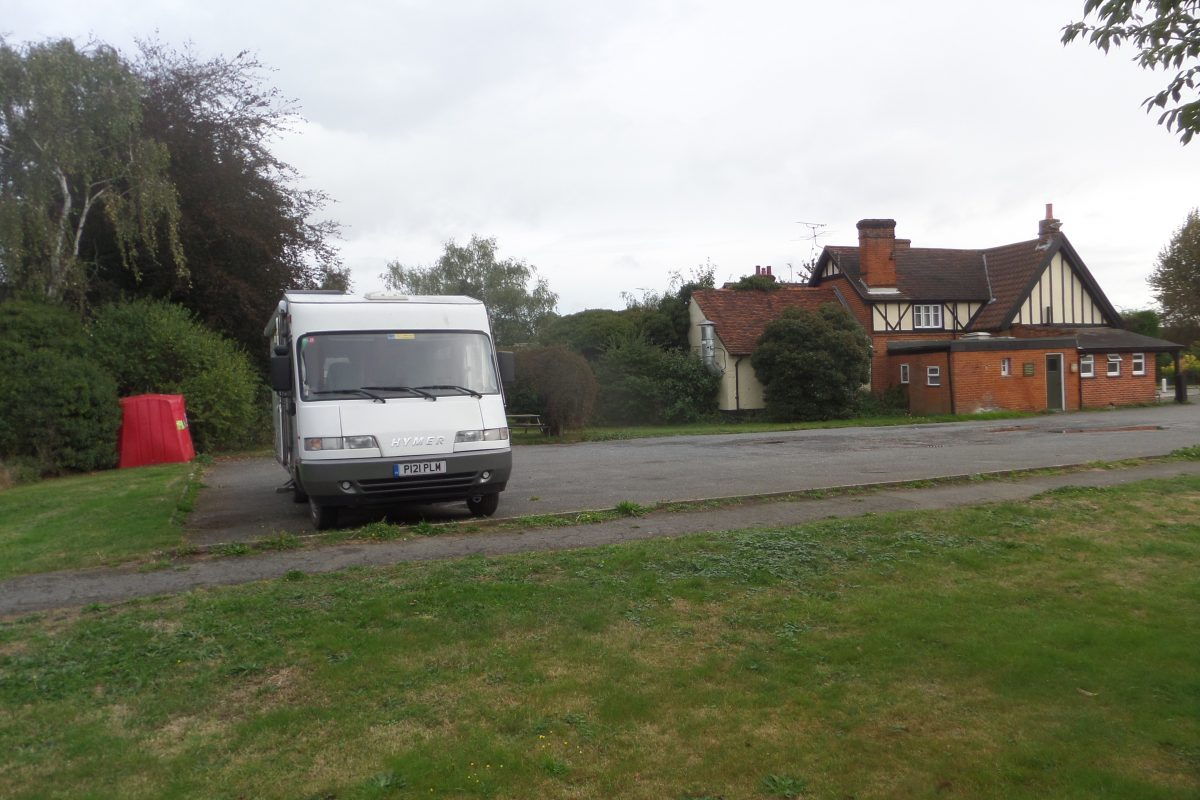 The next morning the sun finally came out and we took the opportunity for another walk. This time we walked west upstream from the village (away from Dedham) to Higham and then back across the river through the water meadows behind Stratford St Mary – about four miles altogether.
We decided that we would not stay in the Anchor car park for lunch but drove east along the valley, back through Dedham and on to Manningtree and then to Cattawade. Here there is a lovely little car park and picnic spot beside the river Stour just before it flows through the sluices to become the tidal Stour Estuary. Had we had more time it would have been good to have walked along the tidal estuary river wall but that will have to wait for another time.
We took the scenic route home avoiding as far as possible the busy A12 and we made it home about 4pm via Claydon, Coddenham and Earl Soham, where stopped for a last coffee and guzzled the final piece of chocolate brownie from Depden!
| | |
| --- | --- |
| Mileage reading tonight: | 121892 kms |
| Mileage reading at home: | 121527 kms |
| Mileage today: |  235 kms |
Constable Country Weekend