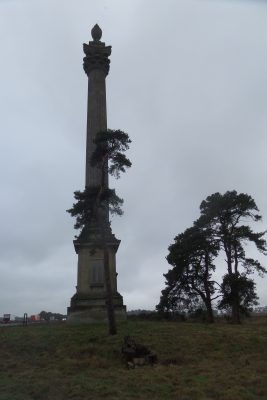 The plan for this trip was to deliver Martin to Luton Airport in good time for him to catch his evening flight back to Inverness. That is a longish, cross-country drive from East Suffolk and the weather was gloomy and rainy. We broke the trip at Elveden on the A11 partly becuase we fancied a leg stretch but alos becuase in all the years we have lived in East Anglia and driven right past this impressive erection we have never stopped and visited it. Today was perhaps not the best day to choose but never mind. Martin and Eileen braved the wind and rain to wander over from the layby to inspect the edifice. It turns out it is a war memorial to mark the fallen in WW1 and WW2. From its design I had always assumed this was rather older as it looks more Regency or early Victorian to me. I had thought Trafalgar or Waterloo was more likley event to have been commerated by such thing.
Suitably refreshed we headed on for Luton arriving just after 5pm. The traffic was very heavy on the approach to the Airport and we could see it was going to be even slower on the way back. Dropped Martin off fine and return the maelstrom of Luton's rush hour! Our destination tonight was the George and Dragon at Graveley on the old A1 just north of Stevenage. These days the traffic thunders along the A1M and bypasses Stevenage and Gravely but until that was built in the late twentieth century all traffic going north from London toward Edinburgh used the old turnpike road which connects up the towns and is liberally supplied with hostelries. The George and Dragon was one such and offered a warm welcome and large, secluded car park. We were not sure what expect given the relative proximity to the A1M and a railway line but in fact we had a peaceful, although rather cold, night. We also had a nice meal in the George and Dragon.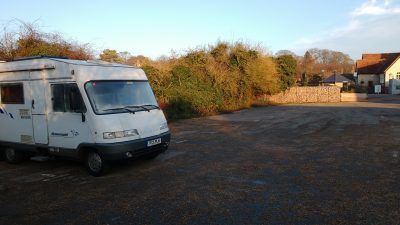 We took our time getting up the next morning telling ourselves that we needed to let the day warm up and dry the windywarmer before we did too much! We left at 9:45 for the drive back to Bury St Edmunds and were delighted to find that was plenty of space at Ram Meadow Car park with only one other moho in residence.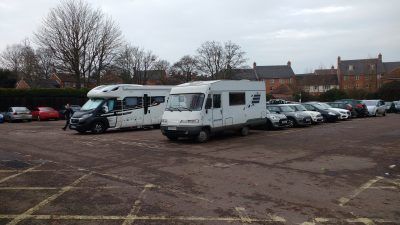 We spent two relaxed days here enjoying the delights of being in the centre of a large town (well large to us country bumpkins) and we went to cinema, stocked up at the market, visited the grave of Mary Tudor in the church. Mary Tudor was the daughter of Henry 7th and she married Louis 12th of France so this was quite an important lady to have quite a modest tomb.
We left Bury St Edmunds on Thursday 22nd December to visit a few more locations connected to Eileen's ancestors. Our first stop was in Barrow (just west of BSE) and then to Pentlow although this visit was aborted as it was impossible to park Bertie. We paid a nother visit to Hawkedon Church where there are several burials of her ancestors and all with clear headstones. We actually spent a little while here as the church is very interesting.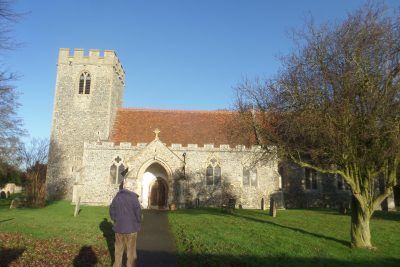 From Hawkedon we drove to Long Melford where we found a lovely spot to park for lunch near the church with a super view over their enormous village green.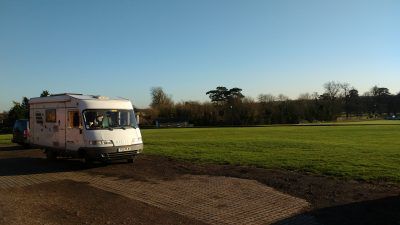 From here it was short hop to our last night at The Bell in Castle Hedingham. This pub had a great write up in the Britstops book and their website promised Turkish dishes on the specials menu as they had a Turkish cook. This last was not to be as said cook was in Turkey!! However once agian theer was  a very warm welcome and nice quiet car park and they let us fill up with fresh water. As it was still early we went for a walk around the village intending to find out when the castle opens (Easter!!) and we were charmed by this really cute little village. We had walked up a bit of an appetite and enjoyed our  meal at The Bell promising ourselves that we would return another day when the chef was back.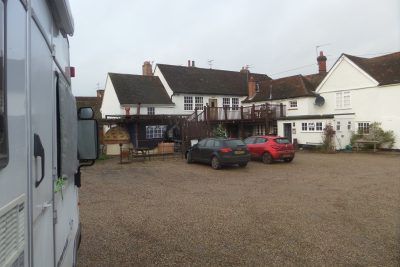 Another lazy start and we on the road about 10am. We have to go home today as it is Christmas Eve tomorrow but we could fit in another couple on ancestry visits on our way. The first was the village of Ashen but the church was closed and we could find nothing of interest in the graveyard so we turned east to Newton-by-Sudbury. We had been to this church before which is up a cul de sac off the main road east from Sudbury however Eileen had dug some more information that she wanted to checkout. From Newton it is a easy drive home although we did take the pretty route cross country eschewing the delights of the A12.
| | |
| --- | --- |
| Mileage reading on return: | 123453 kms |
| Mileage reading at start: | 122958 kms |
| Mileage this trip: | 495 kms |
Return from Luton and Bury St Edmunds