Our last night in France for some weeks (maybe months) was typically cold. We woke to a cold grey morning and only the knowledge that warm, sunny Spain was just around the corner was enough to get us moving! We had to be up and about in good time this morning as we knew that the policeman would be along at 08:15 to collect the 6 euro overnight fee. Indeed he (they actually as there were three of them) arrived exactly on the dot and issued us a proper receipt too. I am sorry to report that a big, expensive Belgian motorhome had already left before the policeman could collect his money.
It was a nice enough aire with plenty of space and free basic services and the little town crowded around the bay looked really interesting. Worth remembering for another time when it is warmer and the sun is shining.
We filled up with water and were on our way before 10am which is good going for us. Our destination tonight is a privately run aire at Cabanes just north of Figueres. Another recommendation from the ladies of Love Motorhoming as they stayed here a few days ago. We do not have many miles to go (maybe 60) but much of it will be really slow and very twisty as we follow the coast road around the end of the mountains.
As we drove out of the aire we could see that there was snow on top of one of the peaks straight in front of us! In fact we saw light snow on a couple of peaks today. It must be said the mountains are quite high and drop very steeply down to the sea. From Port Vendres we climbed up and then dropped down into the next bay with the small town of Banyuls-sur-Mer. This was a fashionable wintering resort in the late C19 and early C20 as it is very sheltered, is a long way south and has a good railway line as the main line to Spain comes through here (through being the right word as it seems to be mainly in tunnels!). The road however twists and climbs quite remarkably with only a few modern tunnels. We stopped for photos a couple of times. Once just outside Banyuls-sur-Mer and once more at the Cap de Cebere immediatley before the border. We spent quite a while at the Cape. The views were incredible, the sun was shining and we could see right back toward Montpellier to the north and south to the Cap de Creus near Cadaques to the south.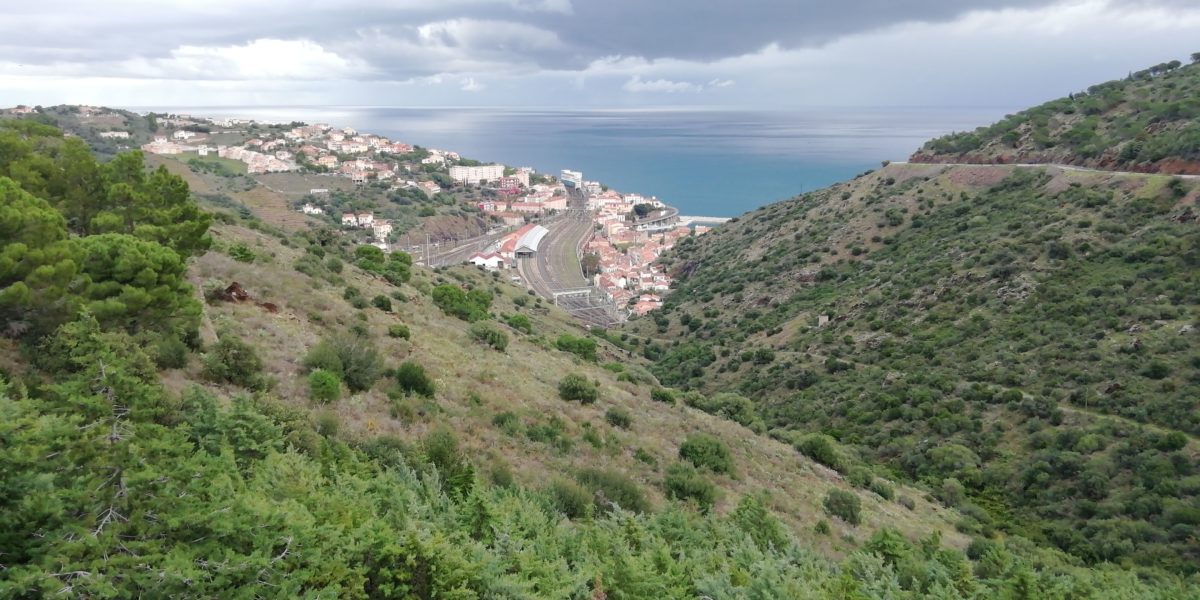 The border point is set on a pass behind Cap de Cerbere at 499m (that is almost as high as the Drummochter pass on the A9 which we reckon is quite high). There are no permanent customs here any more but there were some police there taking a detailed interest in an old van they had pulled over. We slipped through hoping they were too busy to worry about us! The drop down the other side was dramatic and incredibly convoluted with so many really tight bends – so tight I had no idea what was coming up the other way and if it had been a heavy truck or a bus it would have been tight to squeeze past. It gives you an idea if I told you that most of these bends had 40kph (24mph) speed limits on them and some even had 30kph (18mph) speed limits!
In fact there was very little traffic at all either way once we crossed the border. There had been quite a bit of local traffic in France but not much coming in to (or out of) Spain.
The change in temperature and especially the vegetation was immediate. This side of the mountains is obviously much drier, the ground cover is less dense and scrubbier, it all looks less green. As we dropped lower it got warmer too. Within quite a short while we came down out of the mountains to fairly flat land around Figueres. The plan was to go to a filling station I had identified on Mylpg.eu that sold LPG and although we found it easily they had no LPG today. They did have diesel and it was £1.09 per litre so we filled up. We had been paying around £1.25 in France so a nice saving. The next job was a supermarket shopping trip – we understood that Spain is cheaper than France and we had been delaying shopping until we got over the border. There was an Aldi near the filling station so that seemed the obvious choice. We spent quite a awhile wandering the aisles. Prices are indeed better than France but not that low – probably roughly on a par with UK prices. Any way we stocked with a few things – notably bread, veg, fruit and some local cheese. I have to say I do feel slightly intimidated by the fact that I have almost no Spanish at all and have no idea at all what people say to me. This is Catalonia which has its own language (Catalan) and so I do not really know whether what we see or hear is Castillian ("normal") Spanish or Catalan. Anyway what we bought looks good and we will enjoy finding out what is good and what is not!
The aire we wanted was only a short drive from Figueres and we were parked up on site by 2:15pm. This is effectively someones garden that they have converted to cater to motorhomes. The large garden in front of their house has room for perhaps 50 vans although there are less than a dozen today. We could get quite close to an electric point and got plugged in and we are nice and level. Time to cook lunch. The proprietor came to collect the 10 euro site fee and gave us the wifi code. Yup free wifi as well as electric hook up and water and everything we need. We paid for one night but could stay another night here as it is quite pleasant and relaxing. There is a small village a few yards up the road and I would like to explore that before we move on. We need to discuss the plan from here on but I fancy having a few days on a campsite by the beach somewhere and not move for a few days – perhaps even get the bikes out. There is no pressure now – we are in Spain and south of the Pyrenees, the weather seems a little warmer and that sun has shone most of the day.