Appledore is a real treat. The car park is perfect – right beside the river and in the middle of the village with walks along the South West Coast Path to be had in both directions. Who would have thought you could have such a nice holiday in a car park. Bertie is not moving at all today as we can park here for two days (£3 for daytime and £5 for overnight). On Tuesday we will need to move on before 10am.
Last night we went to see the Carnival parade which was quite amusing – plenty of floats and lots of enthusiasm even if the chilly wind and grey skies detracted from the scene. There was quite a crowd out to see them and the car park was well busy that night with nine campers of which two were huge German vans each taking up two parking spaces.
We woke to a dry but overcast day today and went for walk along the Coast Path toward Westward Ho! (the exclamation mark is an official part of the town's name). We walked out on to Northam Burrows which is the sand and shingle spit across the mouth of the estuary and largely protects Appledore from the worst of the Atlantic weather. There was a stiff breeze blowing in from the west which made it hard going in places and the grey skies did not help.
Our big treat today was a Deluxe High Tea at Susie's Tea Rooms in Market Street. This is so good you have to order it at least a day ahead as she makes the meringues specially. It was every bit as good as we had hoped with sandwiches made from proper bread, and real tea with leaves in a tea pot, some loveley scones – a plain scone with jam and clotted cream and a cheese scone with cream cheese and chutney (remarkably good that was), some small but luscious cakes and meringues with clotted cream and a strawberry. All for £16 for the two of us.
At 4:30pm we joined a guided walking tour of Appledore led by the local historian. That lasted 90 minutes and took in most of the village with a huge amount of information about how the place developed. Especially interesting was to learn how the village grew outwards as successive rebuilding on the river quay wall pushed the quay further and further out in to the river until a whole block of houses could be built in front of the C16 building line. Below is a photograph of Market Street and the houses on the right are on the old quay side and the house on the left are on reclaimed land – the river is now at least 50 yards away.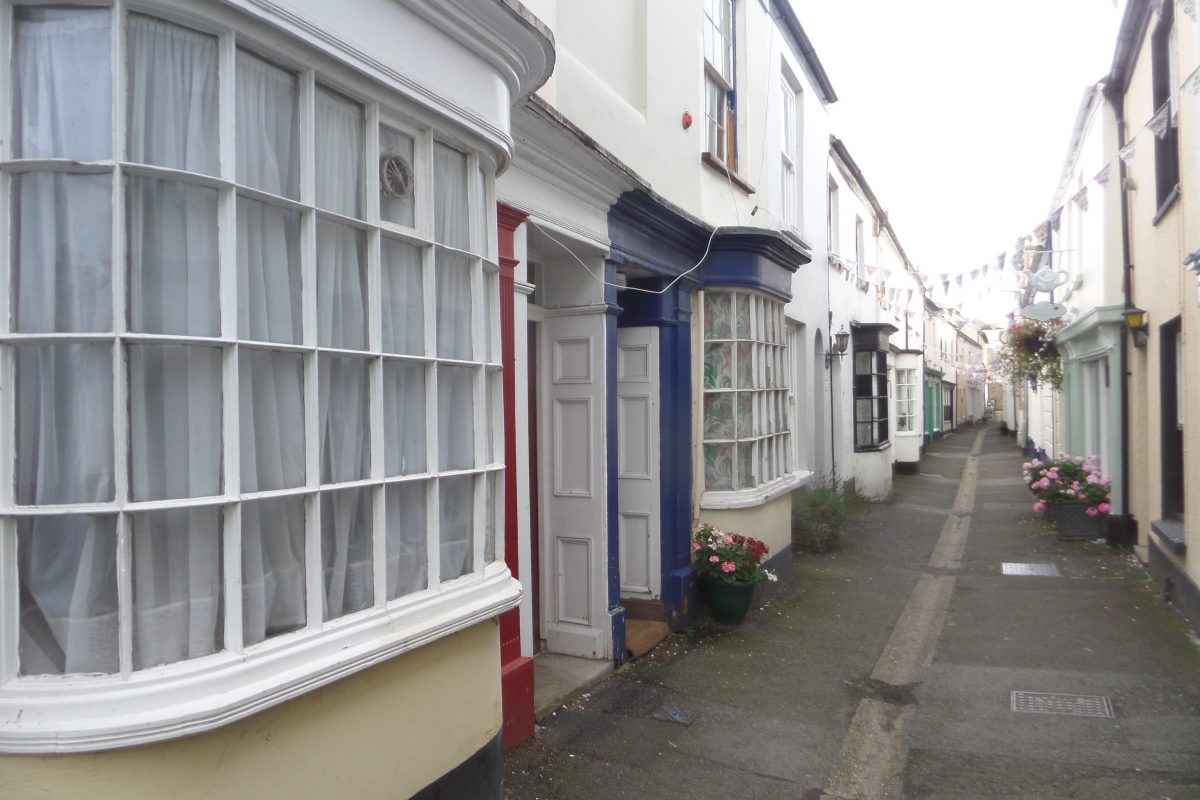 Tonight is our last night in Appledore. Tomorrow we have to get  Bertie looked at as he has sprung a leak. We have noticed a drip from the floor near the main door a few days and after some digging around and tracing the wetness along the floor we found a collections of pipes and manifolds under the floor of the wardrobe which appear to weeping fresh water. We found a caravan and motorhome repair firm in Chard that offer Britstops. We called them and they have agreed to have a look at Bertie on Wednesday morning and are welcome to stopover on Tuesday night. We shall be sorry to leave Appledore and the area as there are two more car parks (Westward Ho! and Great Torrington) that are both inviting so we will have to return another time.
37th night on Bertie
A day at leisure in Appledore