We had a quiet night at Vallon Pont d'Arc and since the exit barrier was still raised in the morning we took this to indicate that the site was free out of season. The sun was shining and the forecast was good. The first stop was the car park where we had hoped to stay last night as this is right beside the famous rock arch. We parked up and walked down the path on to the river beach. The famous rock arch across the Ardeche river is huge, it is hard to get that scale to show in a photograph, but it has to be over 100ft high in the middle and the whole river goes through it. We stood on the beach for ages and took numerous photos. This is one of the few places you can easily get right down in to the gorge without taking a canoe trip down the river.
Eventually we tore ourselves away and headed off on the "route touristique" along the gorge. 32kms of seriously scenic road with numerous viewpoints and, today, almost no traffic. This last is important as that road is not very wide, has several tunnels cut through the rock and lots of very steep drops that are totally unguarded. I will let photos speak for themselves. In all it took us five hours to complete the twenty miles and we did not quite stop at every viewpoint. We did stop for goats on the road twice!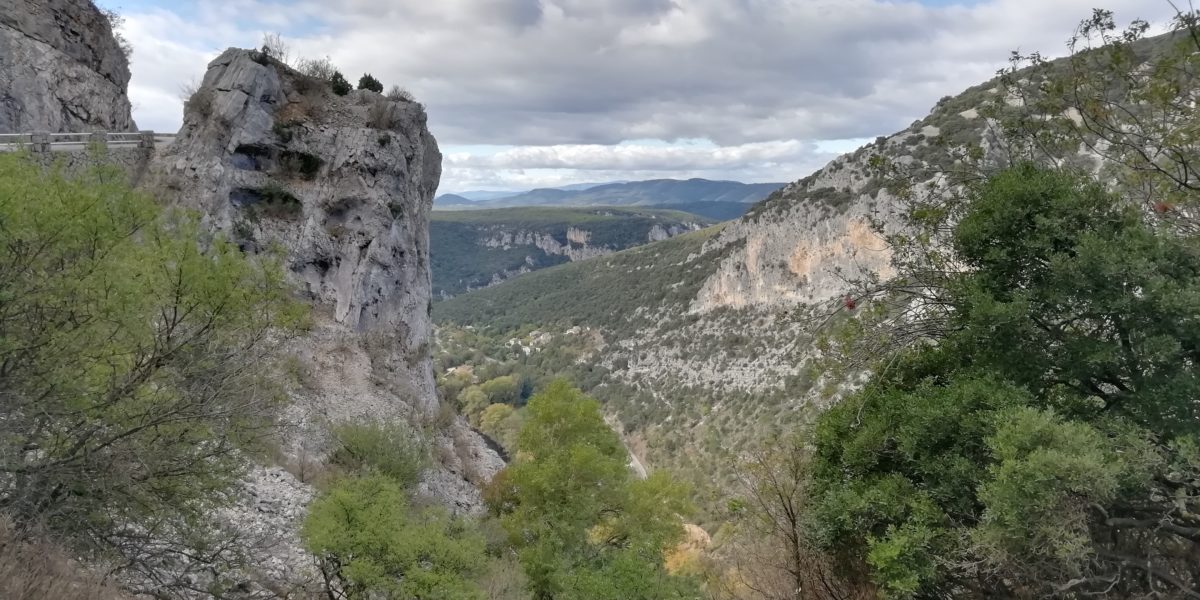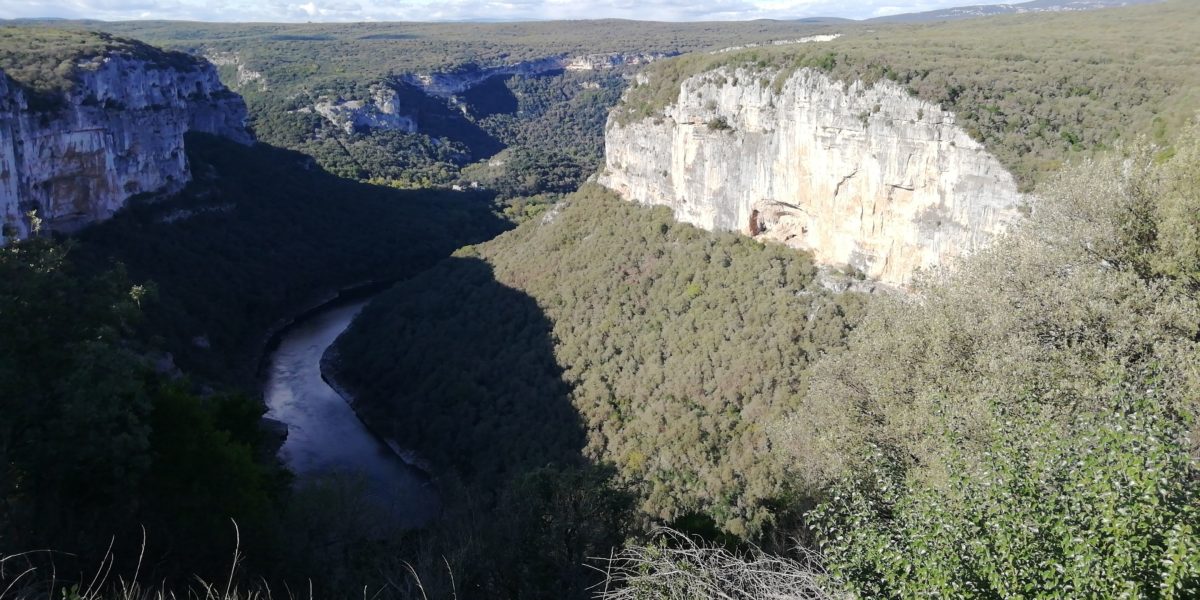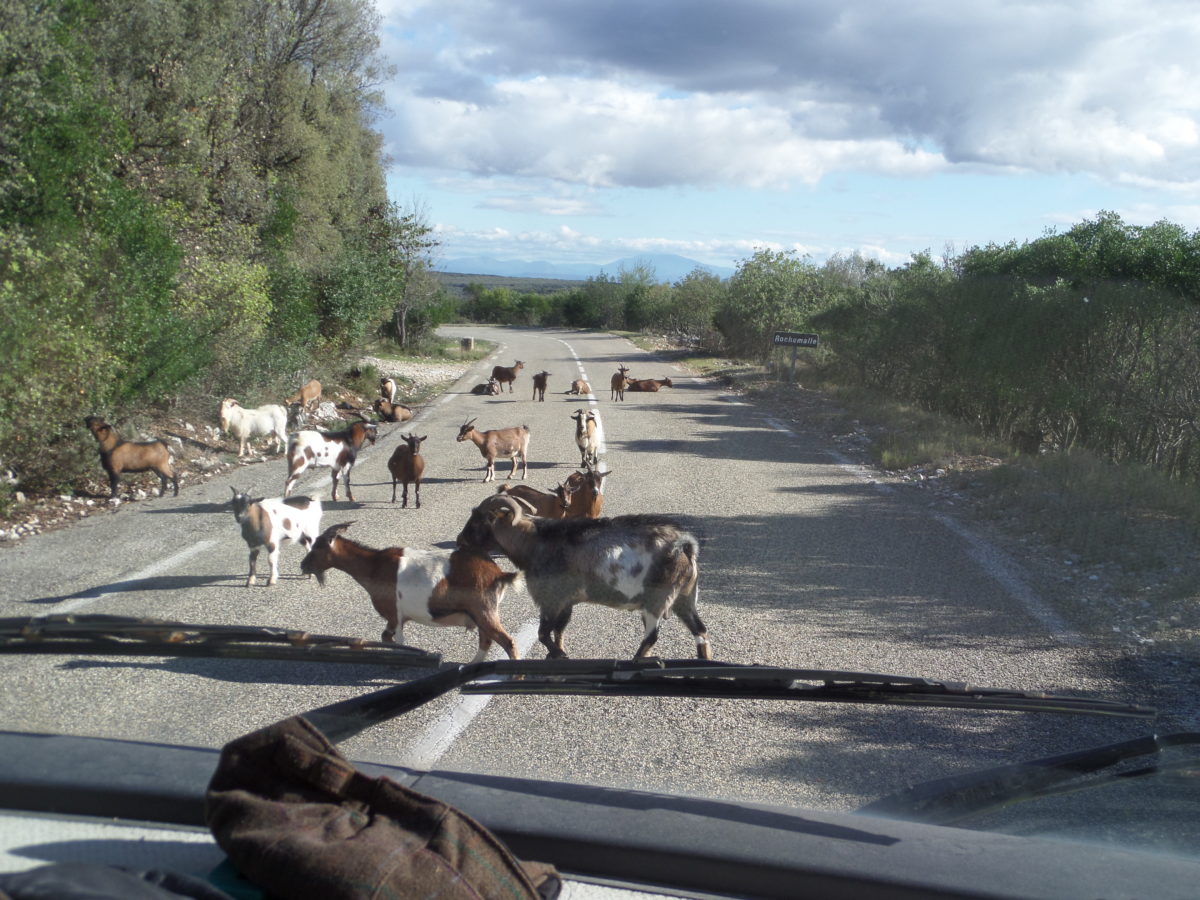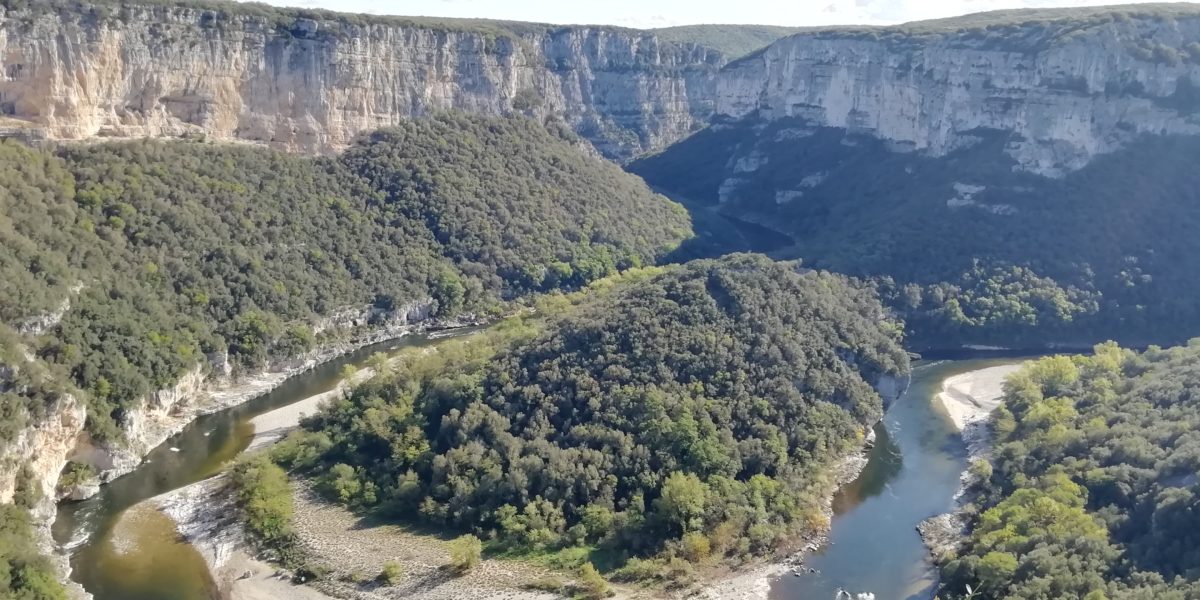 Once out of the gorge we were down on the flat Rhone valley. It was like arriving in a different country. The temperature rose sharply and the traffic increased, the houses were different, there are vines everywhere and palm trees too. After a stop at a Carrefour supermarket for essential items including just a couple of yummy cakes, we drove through a couple of small towns and are soon at our aire at Chusclan. This is a big, popular aire run by the vineyard cooperative. We must visit their shop tomorrow. There are 16 vans here which makes it the busiest place we have stayed so far but we are still the only Brit. We have not seen any other British cars or vans since leaving the Pas de Calais, not any at all.
After we had parked and were tucking in to a well earned piece of tarte aux poire there was a knock at the door. It was an older French lady with a coolbox of her own goats cheeses for sale. We bought two and after a quick taste I went and caught her up and bought two more.  The fresh,  very young,  cheeses were like delicately flavoured cream cheese whilst the older cheeses were tastier but nothing like as dry as goats cheese I have bought before. We ate quite a bit of two of the cheeses with supper!