What a change today. We slept late this morning as it was too cold to get out of bed! Eventually I got up and unpacked our electric heater. We can use this as we are plugged in to mains electric. With the thermometer showing 8c indoors and 3c outdoors Eileen agreed that this was definitely a porridge morning. Still the sun was trying to come out and it looked hopeful.
We serviced Bertie and were were on the road by 11am. Not that far today but very slow roads. I had planned a very scenic route through the Ardeches Mountains. The first section was grey and gloomy with the occasional bit of drizzle. No colour at all which was a shame as you could see that the views could have been terrific. After 10 miles we turned off the main road (N102) and set off across country. The smaller road was rather poor quality but we could afford to take it slowly. Almost no other traffic on this road at all so my slow progress was not an issue. In total we crossed four passes. The first (1266m) was just before the turn off and over the next 40kms we climbed up over three more passes. The highest was over 1450m (4750ft). We were still largely alone which was a mercy as the road, whilst nominally two lane, was quite narrow and some of the bends quite tight. We rarely managed more that 40kph (25mph) and often much less. The last pass (the Col de Meyrand at 1370m) was by far the best because as we came over the top the sun came out! As soon as we safely could we pulled over to gaze at the wonderful views. We could see line after line of mountains and way down below us was the valley that we would be following for the next hour or so. Time to put the coffee on and get out the honey cake.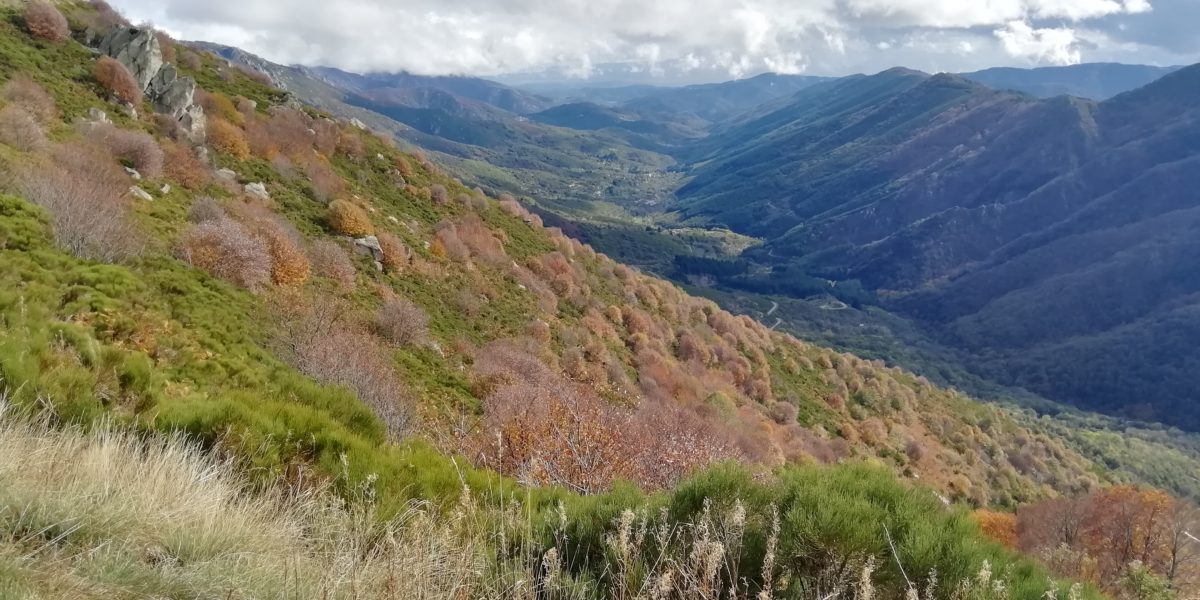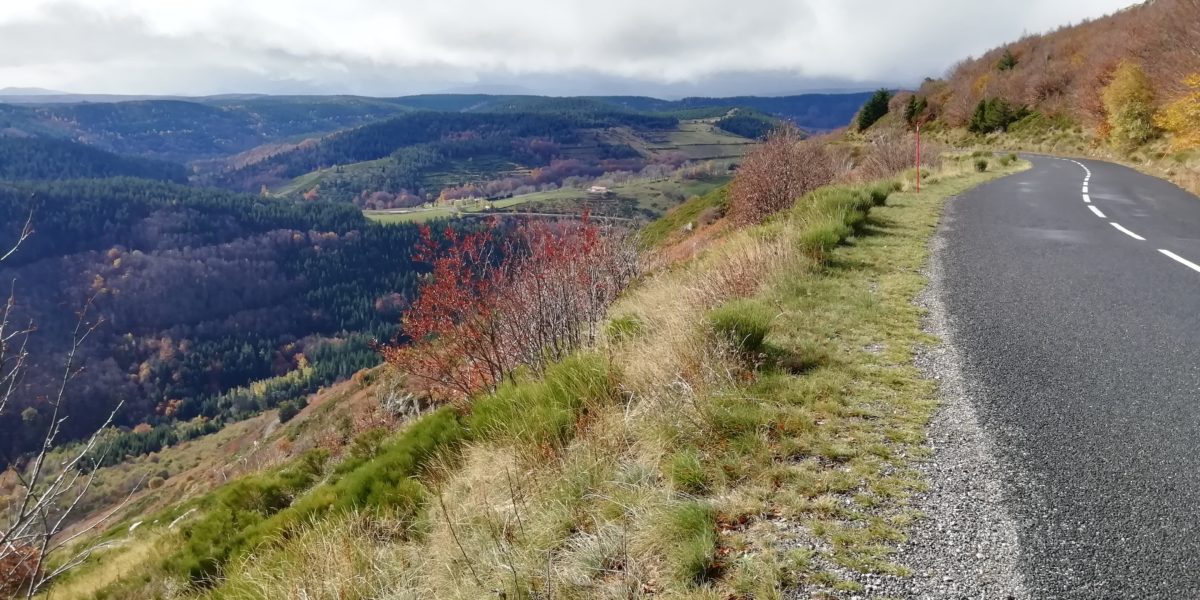 We could tell almost at once that we were in a different world. The sun was shining most of the time, the temperature was rising, the trees were changing and the leaves were back and mainly green. We passed through sweet chestnut forests to begin with and then we started to see vines again. We stopped in the little village of Valgorge as it had a post office and we needed stamps. Their post office only opened on Tuesdays and Wednesdays so we were lucky there. We looked in the food shop hoping for bread but found that they closed midday between 12:30 and 16:30! We must be in the South if the shops take 4 hour lunch breaks.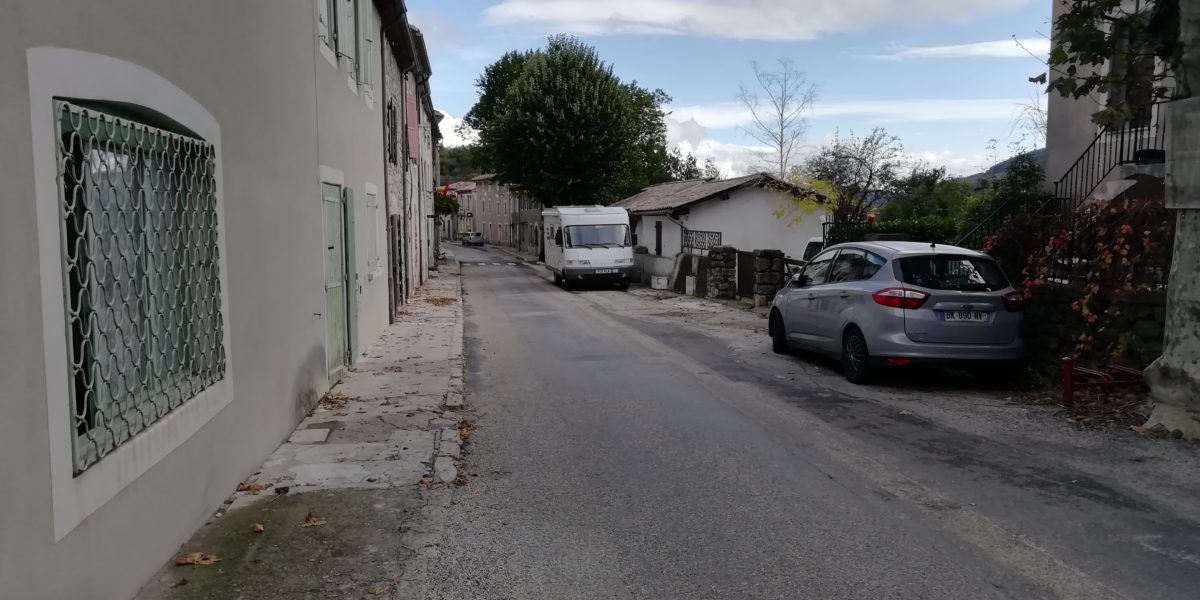 After Valgorge the valley narrowed  into a gorge – we can see how the village got its name. In some places the road and the river filled the valley floor. I would have loved to stop and take photographs but there was no where to pull in. The river was completely clear and foamed white over the rocks just below us.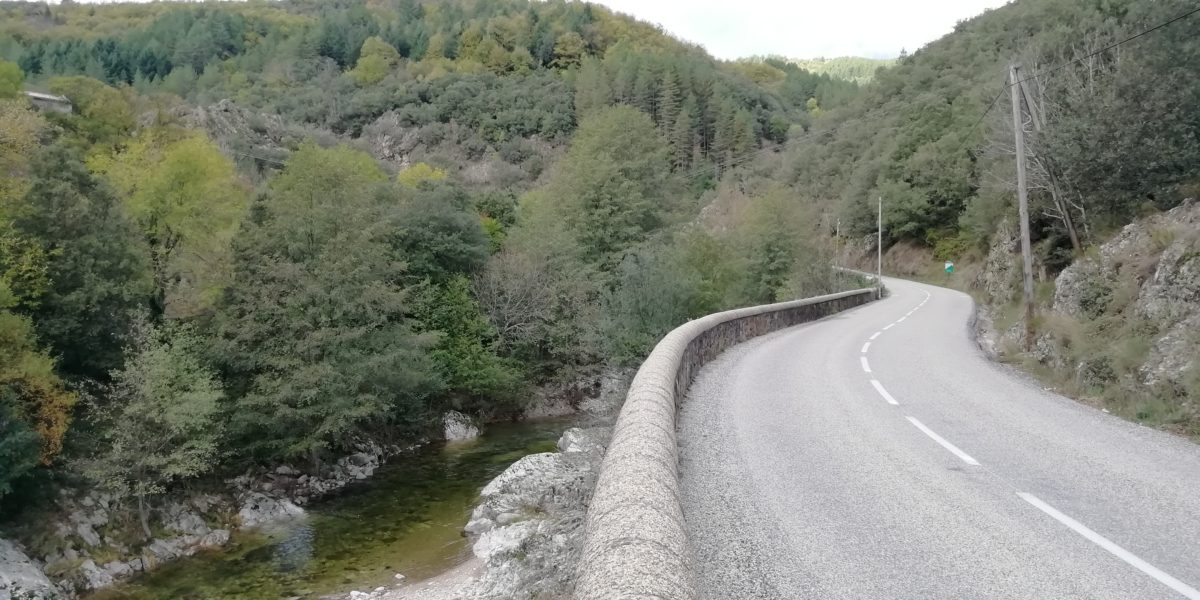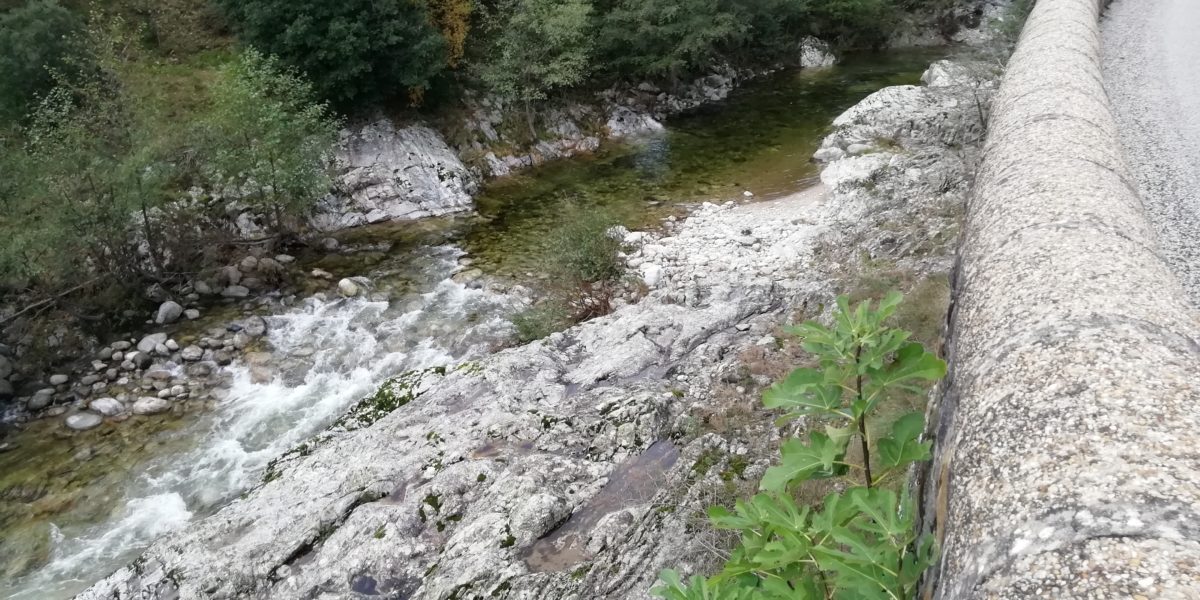 At Largentiere, a larger town but still squeezed between river and cliff, we found a supermarket that was open all day and we could get bread and a few other goodies. We really must remember from now on that many shops will be closed in the middle of the day. Shopping needs to be done before 12:30.
The plan tonight was to park at the free car park beside the Point d'Arc just beyond Vallon Pont d'Arc. It should have been perfect and had been well reviewed on Park4Night. When we arrived it was empty and had several "Private Parking. No overnight parking" signs up. We can't stay there! So we turned around and headed 3kms back to the commercial aire in the town. 8.80 euros for a dedicated parking lot on the edge of the old town. Ok but disappointing. Tomorrow we will tackle the gorge proper and will take our time enjoying this famous site as our next stopover is less that 40 miles away at a vineyard!