Tuesday morning was bright and sunny giving glorious views as we drove east to Stirling along the base of the Ochils. We had discussed today's activities at length and in the end chose to visit Bannockburn Battlefield Centre over Stirling Castle as time is short and we have quite a few miles to do today. We had enjoyed Culloden visitor centre which is also NTS run. Sadly Bannockburn was nothing like that. A serious amount of money had been spent on the place but it did not really tell you much historical detail. The main attraction here is the 3D interactive display which is done in timed guided visits and culminates in an opportunity to reenact the battle as a group using their computerised battle gaming system. That last was quite fun but bore little relation to the real event.
From Bannockburn we drive to Morrisons in Falkirk in search of cheap LPG and diesel and lunch which we ate in the car park at the Kelpies. It was too cold and windy by now for us to want to walk over the see the Kelpies again.
We still have 60 miles to drive this afternoon and it is about 3pm as we move off. I worry that this means the Edinburgh bypass will be slow and indeed traffic is heavy and does grind to a stop once or twice but we soon turn off toward Penicuik and Peebles. The roads from here are not good. With rough, noisy surfaces and quite a bit of traffic Bertie rattles and grumbles along but makes reasonable progress. After Innerleithen we turn off the main road at Traquair on to a minor road across the hills between the Tweed valley, which flows from west to east and the valley of the Yarrow Water which flows from east to west and flows in to the Solway Firth. Bertie loves these little roads as he can slow down and bumble along enjoying the view!
We join the A708 near Mountbenger and a few minutes later in failing light we pull in the our wild camping spot beside the Loch of Lowes and we have the whole place to ourselves. Sadly the little cafe across the road is only open at weekends in October so no cooked brekkie for me tomorrow! This is our last night in Scotland for a couple weeks and we enjoy the peace and the views sitting in Bertie watching the light change across the Loch. I love this aspect of Bertieing being able to stop in this amazing locations and look out at wonderful scenery.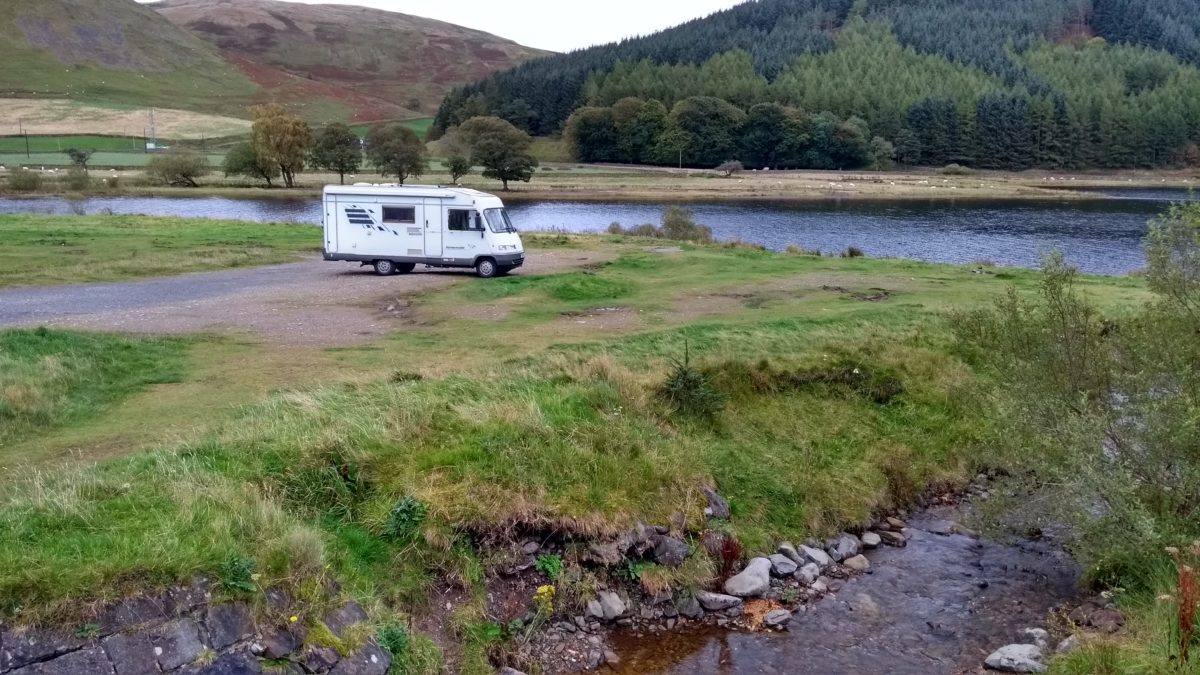 | | |
| --- | --- |
| Mileage when we stopped | 131255kms |
| Mileage when we started | 131094kms |
| Mileage so far this trip | 161kms |
| Nights in Bertie so far | 96 |
Bannockburn disappoints and a rough drive through the Southern Uplands