We were up and about in good time this mporning as we wanted to top up the water tanks and empty the loo before the car park got busy. We were on our way to Didcot around 9am! I had been rather looking forward to spending much of the day at Didcot Railway Centre which has all sorts of stuff about the Great Western and in particular Brunel's broad guage track and rolling stock. However the visit was not to be. The satnav tried to take us through a bridge that was way to narrow for us but did not tell us until too late and then took us on a 3 mile diversion GRRRR!! Then we failed to find the DRC car park and it took three passes through Didcot town centre before we finally realised that the DRC does not have its own car park and in fact has no direct road access. You have to park in the station car parks (expensive) and then walk across the railway bridge and pay all over again to get in. I was well cross by then so we decided to vote with our feet and get out of Didcot as soon as we could.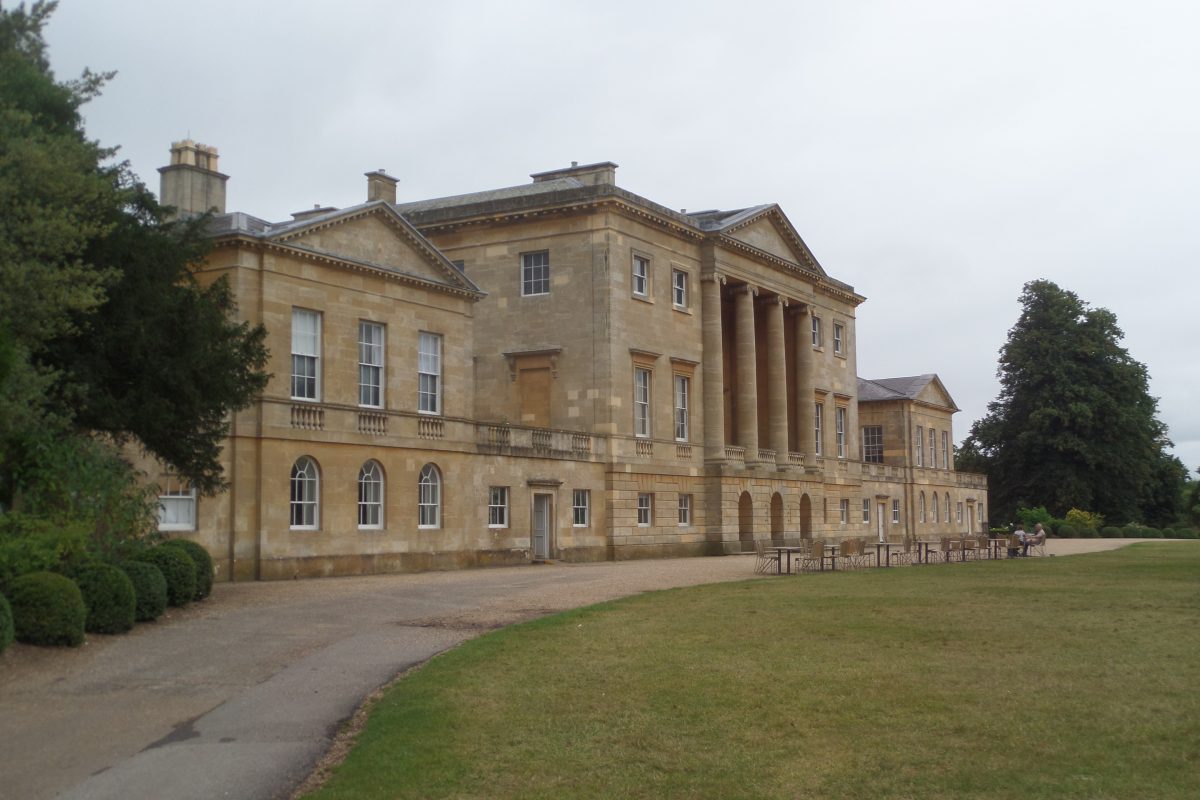 Instead we decided to visit Basildon Park as it was close by and we knew nothing about it. What a difference – an easy drive later we were parked up under an apple tree in the NT car park at Basildon Park. It turned out we were just in time to join the 11:30 guided tour of the house pointing out the various rooms used for filming such things as Downton Abbey, Pride and Prejudice and several other films. That was fascinating and we did recognise a couple of rooms from Downton Abbey episodes.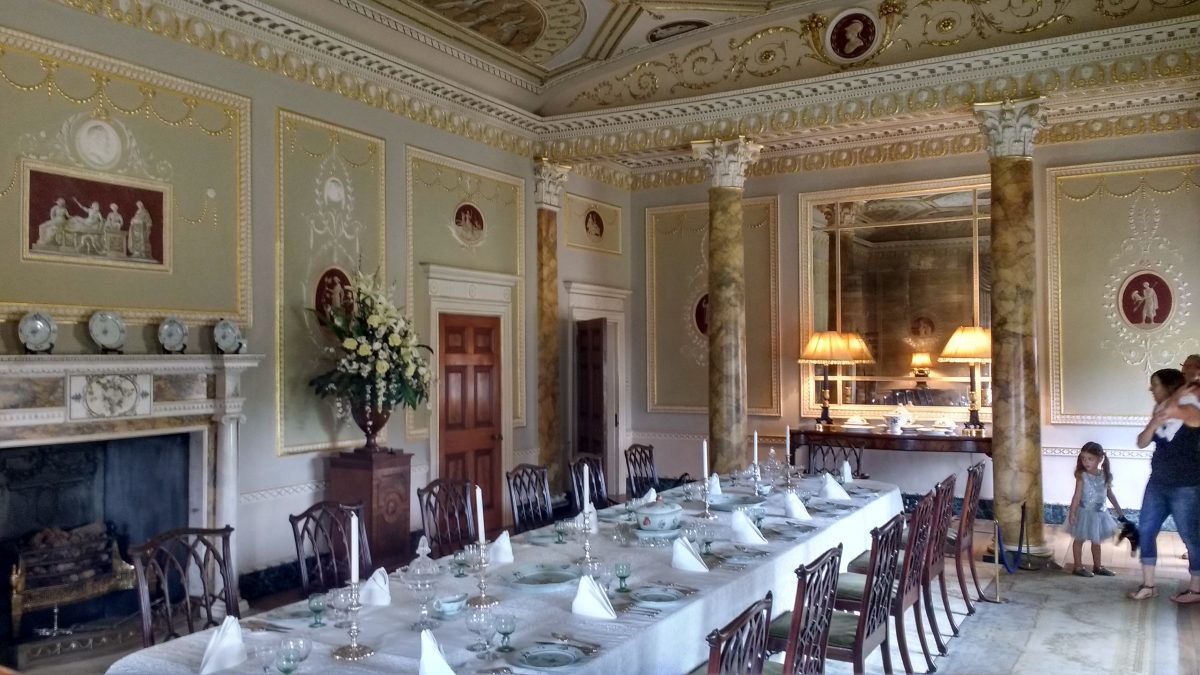 The house was originally Palladian but had several periods when it was allowed to decline. It was empty and almost derelict when it was bought by Lord and Lady Iliffe in the 1950 and they spent the next 25 years restoring it to its former glory before giving it to the National Trust.
After the film tour we indulged in a pot of tea (courtesy of a voucher from our daughter!) and a sticky cake to give us strength for our own more detailed tour of the house. After lunch in Bertie in the car park (including a windfall apple from the apple tree!) we moved on to the New Forest.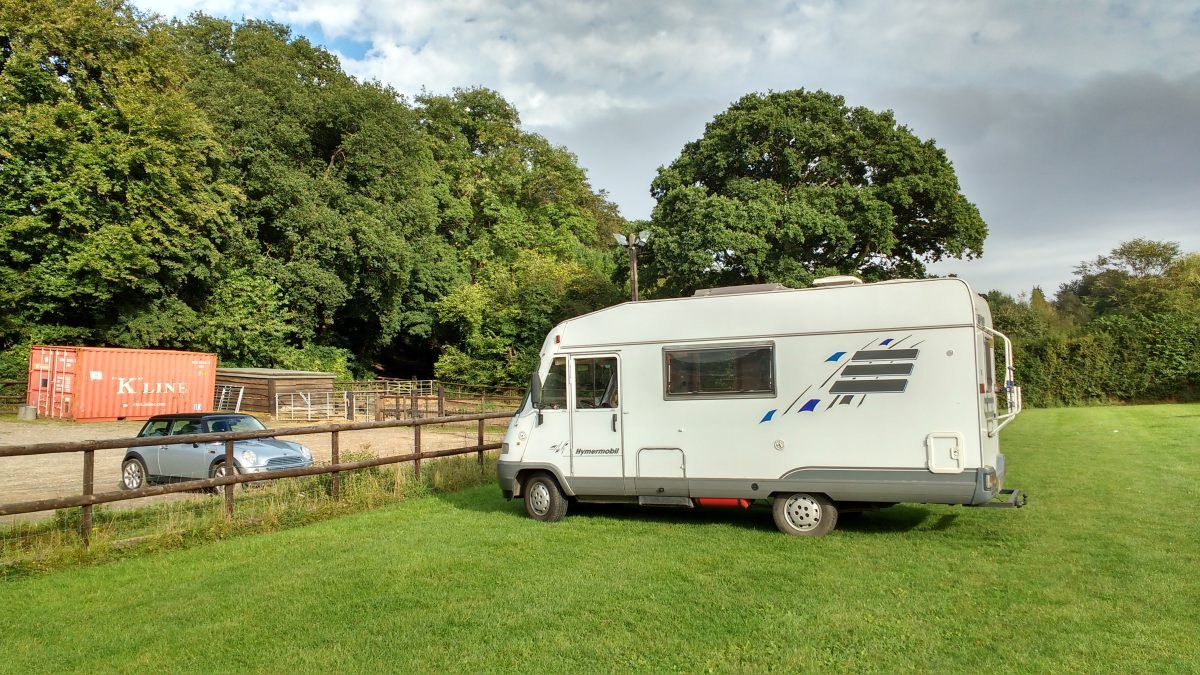 Our Britstop tonight is the New Forest Cider Shop in Burley in the depths of the New Forest. We rang ahead to book our space as they only take 2 Britstoppers at a time and only if you pre-book. It was a longish drive but we arrived well before the shop closed so we had a chnace to sample their ciders and buy some pressies. The smell of apples and cider in the shop was gorgeous.
The Britstop paddock is separate from the main car park and was shared with a few geese and some guinea fowls and there were some small pigs in the pen next door. A gate across the car park led straight on to the New Forest itself and with minutes of walking down the path we were out on the heathland amongst the heather and the ponies.
| | |
| --- | --- |
| Mileage reading tonight: |  120,200 kms |
| Mileage reading at home: | 119,740 kms |
| Mileage today: |   176 kms |
| Mileage total: | 460 kms |
Basildon Park and the New Forest