Today was the day that we left our house in Suffolk for the last time as residents and the next time we come her it will just be as visitors as we prepare to sell it. From now on our home will be in Forres, Moray and this journey was to move Bertie to his new home. We had taken the car north just a few days before and had flown straight back from Inverness to Luton by EasyJet for the princely sum of £9.95 each – although the taxi from Luton to Wenhaston was over a £100! All that was yesterday and today we loaded Bertie as much as we could and still be able to liove aboard. The shower was full of plants and chairs, half the space under the table was taken up by boxes and every bit oif spare cupboard space was crammed with "stuff". That still left quite a bit to move but we would be back later in the Summer and worry about that then – we had enough to get started in our little house in Forres.
The plan this trip was to make it a journey as much as anything with very limited "tourist" time. We wanted to have just two overnights on the 600 mile journey which meant quite long days driving which otherwise we try to avoid. It was one of the hottest days of the year as we left Suffolk with Bertie recording over 32C in the old gas locker and in fact it was stil 28C when we parked up at 6pm.
Our stopover the first night (Wednesday 21 June 2017) was a Camping and Caravan Club site at a leisure centre at Newton Aycliffe in County Durham. A good site with a huge field and we could park anywhere – actually it was not very flat and we motored around a bit finding a flat enough bit to park without needing ramps. At £10.75 it was reasonable and they offered water and a loo drop etc which we did not need. They also had EHU at the top of the field but with Bertie's solar panel enjoying the long sunny day we did not need that!
We were underway again just befor 9am on Thursday  as we had a fair distance to cover again today. Given the extra load in Bertie we decided to take the longer route via the A1 rather than our usual route over the hills via Jedburgh. We stocked up at the big Morrisons at Berwick on Tweed and fuelled up too. Our lunch stop today was Preston Mill near Haddington to the east of Edinburgh. It looks quite dramatic – especially to our southern eyes as we do not expect water mills to have kilns! However Scottish mills are for grinding oats into oatmeal and not grinding wheat in to flour. Oats need to be dried before they can be ground and thus most mills north of the border have kilns attached and that is why this mill has that conical building looking a bit like a kentish oast house. Entry is by guided tour and they showed us everything and the mill ran too. We decided against the walk across the fields to the doocot as they warned us it was very muddy indeed!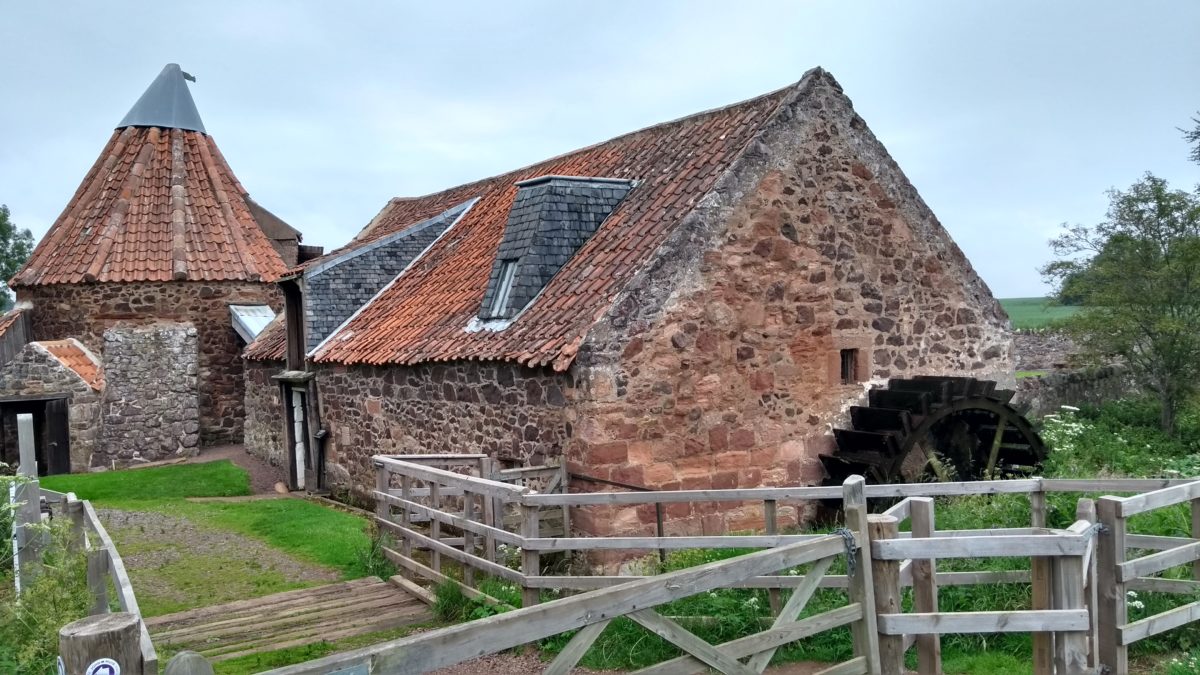 After the Mill we headed on past Edinburgh heading for a car park in the Lomond Hills (No – nothing at all to do with Loch Lomond which is about 60 miles to the west!). This  small range of hills are in Fife just across the Forth from Edinburgh, they rise quite dramatically above the surrounding countryside and can be seen from a fair way away. The ridge is crowned by two prominent hills, West Lomond and East Lomond, and the car park we were making for was in the saddle between them. Access is via a minor road that is a bit steep in places – especially on the north slope. The plan was to get here in good time and then have a walk along the ridge to East Lomond.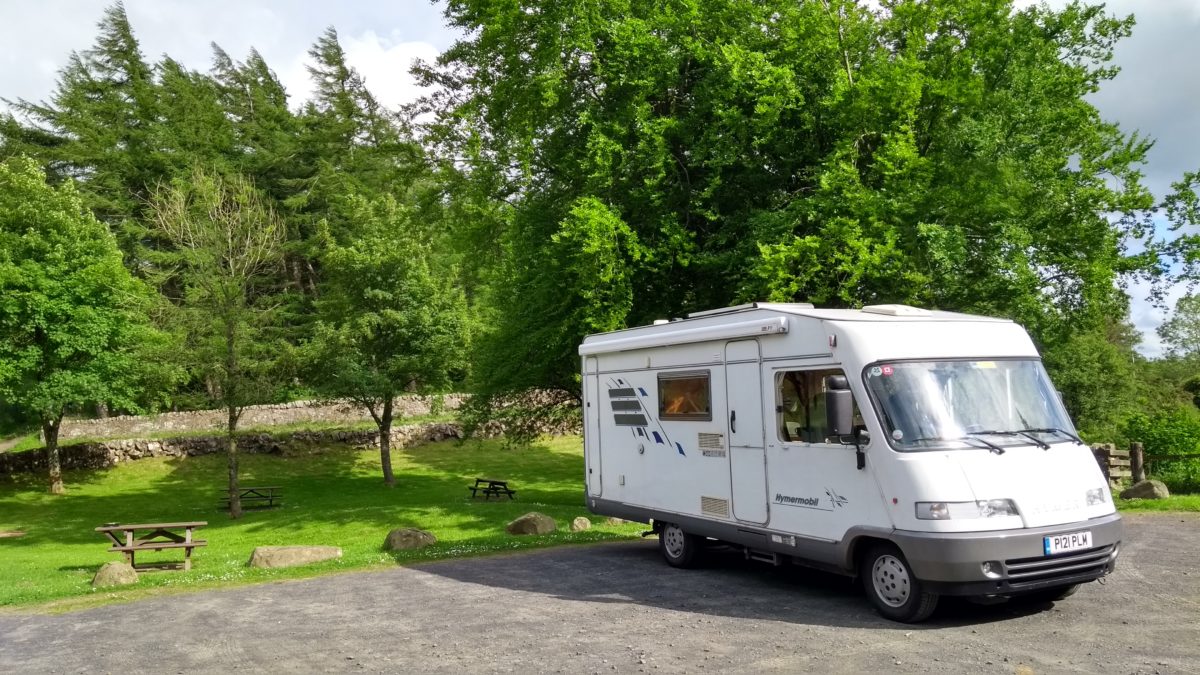 The car park was quite busy with familes and walkers but quitened down later. We had a short walk but decided against the climb up East Lomond as it looked a bit steeper that we had expected once we got there! What we did find was an old lime kiln which we explored. There was a bit of breeze when we settle down that night but we did not worry about it too much – what we had not realised when we parked on the flattest spot available was that being in a narrow gap at the top of the ridge any strong southerly wind would funnel through that gap! At 3 am we gave up trying to sleep and put the bed away and drew back the curtains and moved Bertie across the carpark and into the shelter of the trees! As a result we slept in a bit the next morning!
We were under way again at 10am and our last leg of this trip. Not too far to go today and plenty of time to do it but a few hills to climb as the main road to Moray crosses several mountain ranges! Our lunch stop today was the The Hermitage near Dunkeld. This dramatic waterfall is overlooked by Ossian's Hall which was built ion 1757 as the centrepiece The Duke of Atholl's 18th century pleasure gardens. Ossian's Hall looks like a simple stone building as you approach from the landward side but once inside you can see it was designed to maximise the drama of the water falls as you can't see the waterfalls until you go through to the balcony on the far side which is directly above the main falls. There are several other "rustic" buildings close by to complement the effect.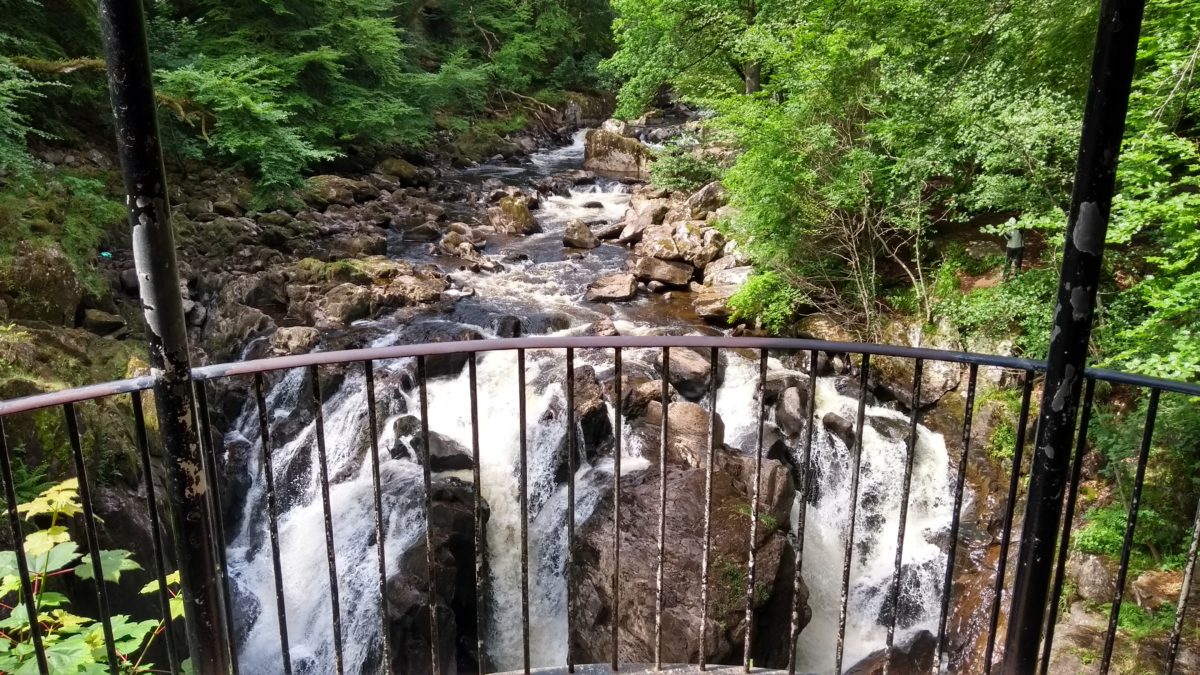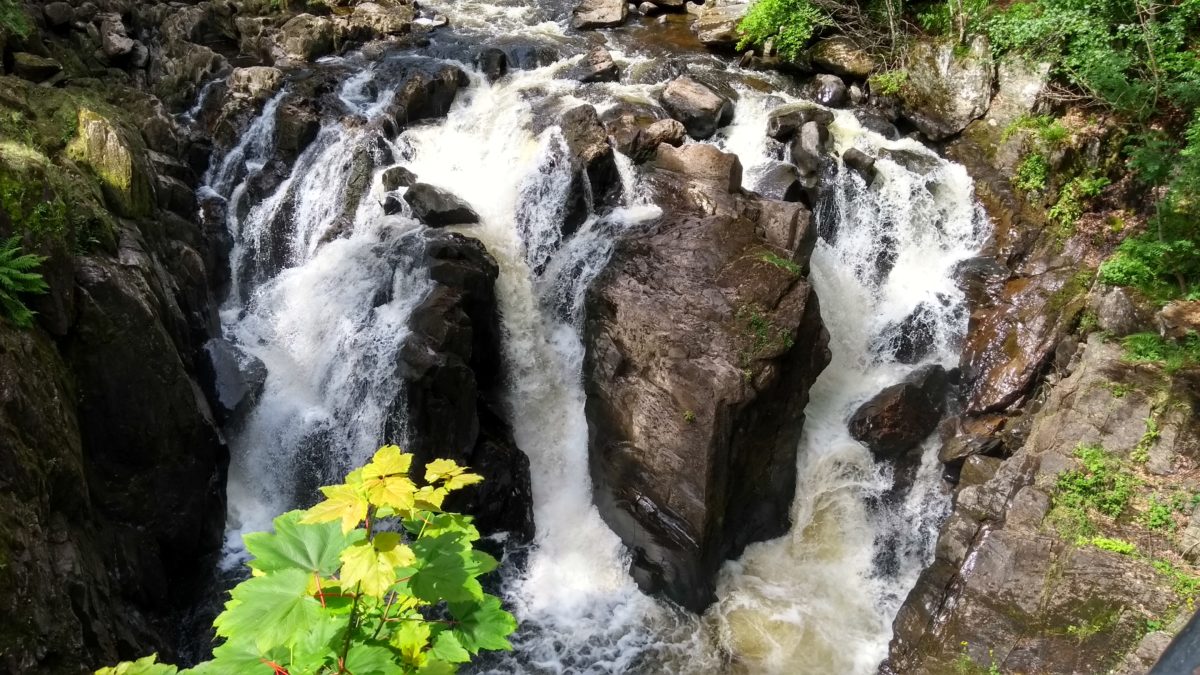 We had seen the sign for The Hermitage on the A9 every time we drove up and down that road but had never stopped before – we stop here again as it makes a good leg stretch stop and the falls will always be worth a visit.
Trip Statistics
| | |
| --- | --- |
| Mileage reading at end: | 128443 kms |
| Mileage reading at start: | 127426kms |
| Mileage this trip: | 1017 kms |
| Nights in Bertie: | 2 |
| Total Nights in Bertie so far | 82 |