We had only been in Scotland a few days when my wife was offered the chance to attend a family reunion of her mother's family – people she has never met before but with whom she has been corresponding through her family history researchs. These opportunities do not come up very often, the sun was shining and Bertie was keen to be off. The meet up was in a large house with a big garden near Rugeley and we would be welcome to park Bertie in the garden for a few days – how could we resist! So just 5 days after we arrived in Forres we were heading south again – no hurry and we could take several days to do the trip and could explore some new areas both going south and returning north.
The weather was bit variable and there was quite a bit of rain as we climbed up over Drummochter on the A9 and continued as we turned west along the Tay valley – there were some lovely views along the way and the rivers was running well at Killin Falls in the middle of Killin village. Our stopover tonight was at the Trossachs Woollen Mill near Callander (a Briststop). They were just closing when we arrived so we parked up on the far side of the carpark hoping we were out of the way. We had called ahead and the office were very relaxed and told us to come and see them in the morning. We had some good views across the fields and it was a quiet spot – limited walking options due to busy road and the rain!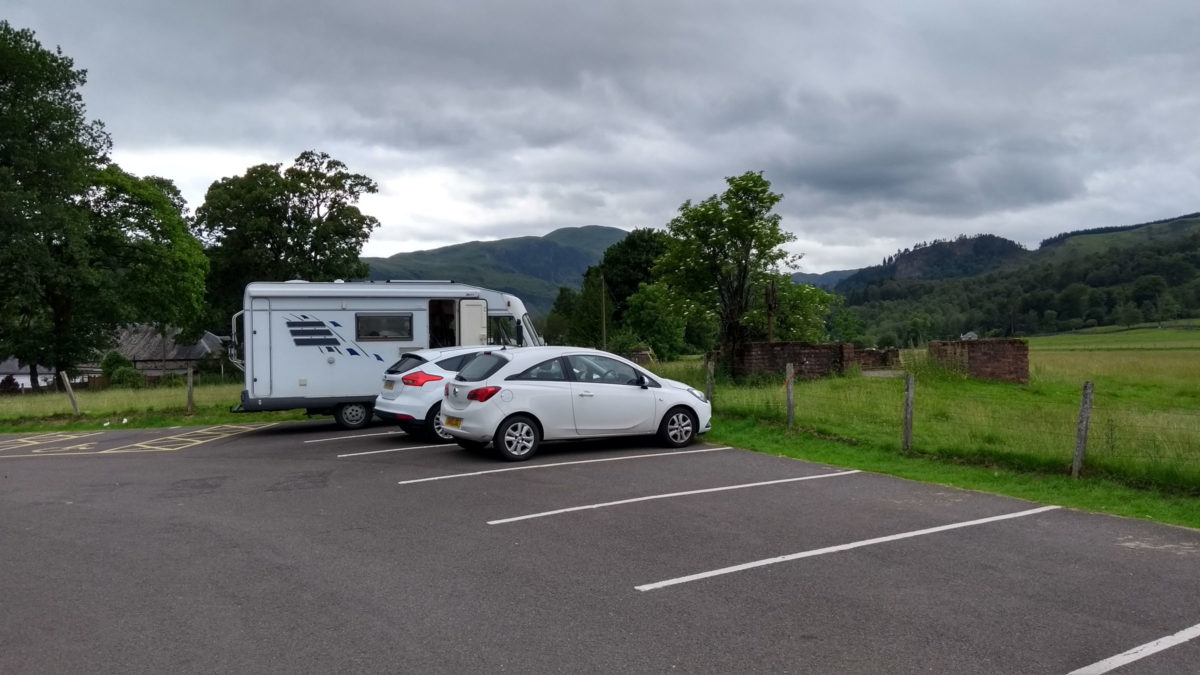 We popped in the shop next morning but timed it badly as the coaches started arriving rather earlier than expected and it was very busy – never mind I doubt they noticed we did not buy anything! A driving day today with few stops of note. Our route today took us around Glasgow and on to the M74 and thus to the M6 as far as Penrith where we turned off on to the old A6 and then onto minor roads looking for our booked campsite near Shap. The sat nav conned us smoothly on to a minor road that looked perfect until we saw the 6ft 6″ width limit!! No way Bertie was that slim so we turned around and went back to the main A6 intended to approach the campsite from the south turning off in Shap. Eeeek! Another width limit sign at that end too – it seems we cant get to our campsite without ignoring the sign. Looking at it again we note the "Except for Access" board which means that the road does not have a physical width limit but they want to scare off big vehicles. Since we want to access a booked camping site we feel justified on proceeding along the road despite the width limit. It was rather scary drive with stone wals either side of the road but quite a good view too so we could see what was coming. We pulled in to let several on coming vehicles passed but no one seemed too bothered!
The campsite was in a field by an old stone house with open country all around – a lovely spot indeed. We were here in good time so had a relaxed evening and little walk up the road a bit. In the evening the swallows and swift gave a us an amazing aerobatic display around the trees by the campsite wall.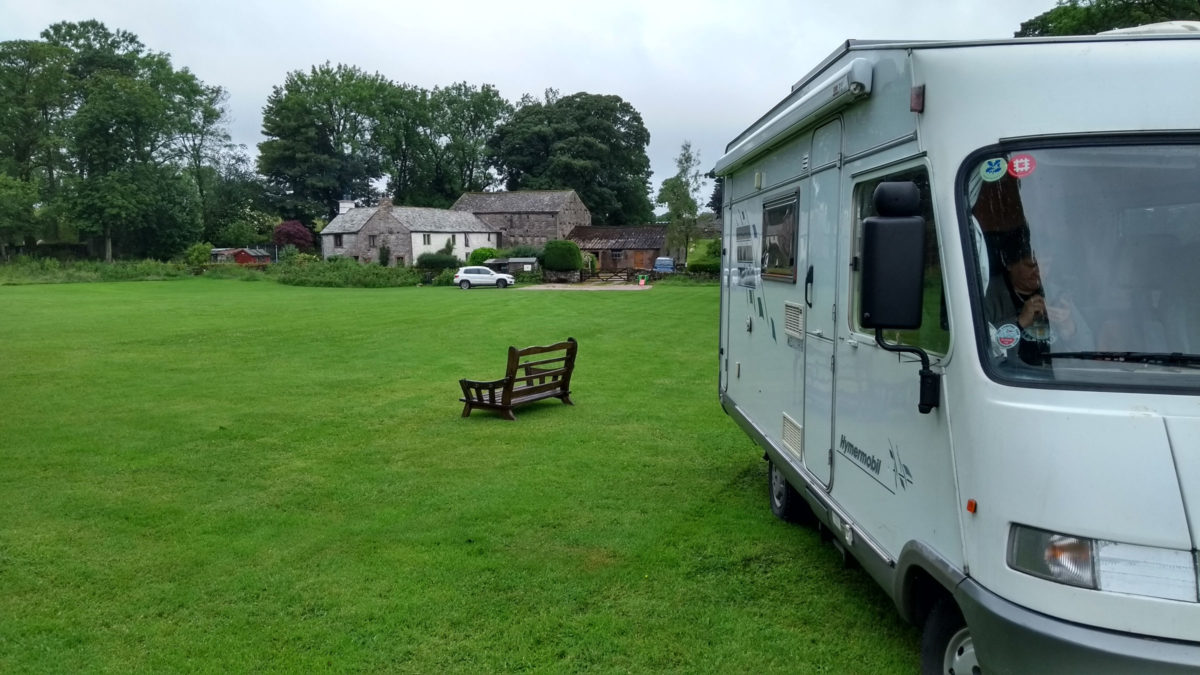 Another mainly driving day today – back on the M6 for a  while before turning off to Liverpool to visit Speke Hall (NT) which we had never seen before. An amazing tudor manor house built in the 1530s and much of the old house still survives albeit extended and updated over the years as successive families left their mark.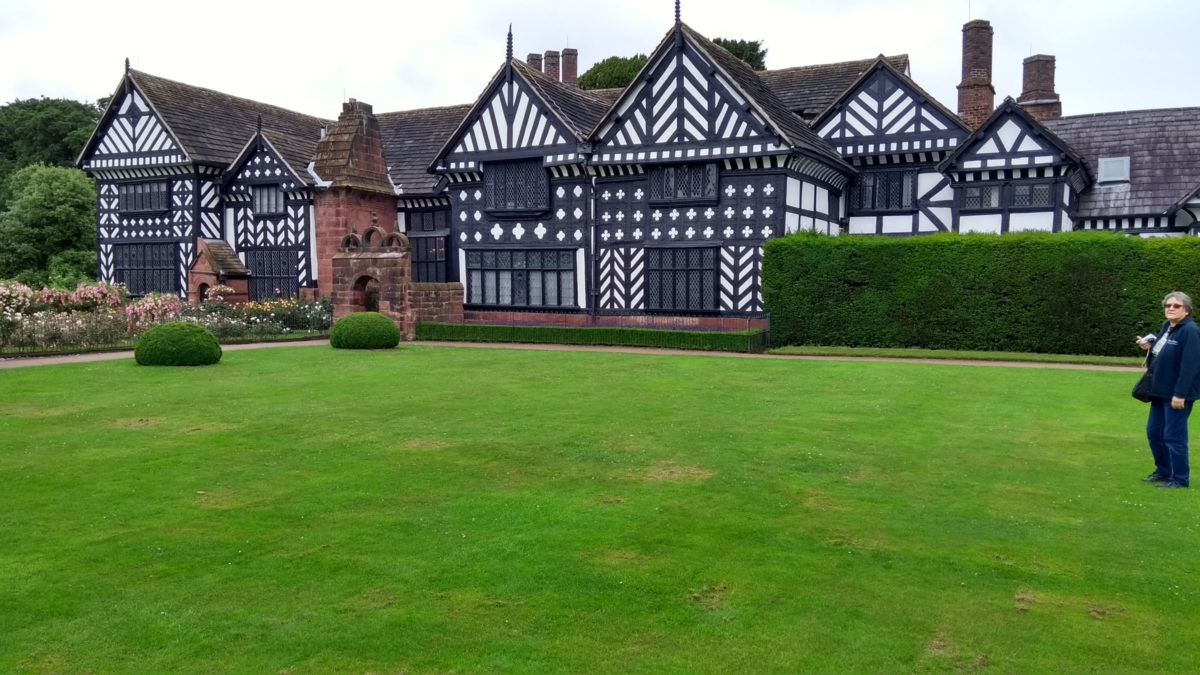 From Speke it was an easy run to our hosts at Mavesyn Ridware – a tiny hamlet beside the River Trent near Rugeley. All the years that we had our share in Debdale which was based on this very stretch of canal and we had no idea Eileen had relatives so close by! If we thought the road to the campsite last night was tight it had nothing on the lane to Mavesyn Ridware – half a mile of hedges rubbing the mirrors both sides. If anyone had been coming the other way there would have been nowhere to go. We found the house easily and their garden was huge and we were warmly welcomed. We stayed here for two nights as the families compared notes, watched presentations from different branches of the family and welcomed long lost relatives from across the world.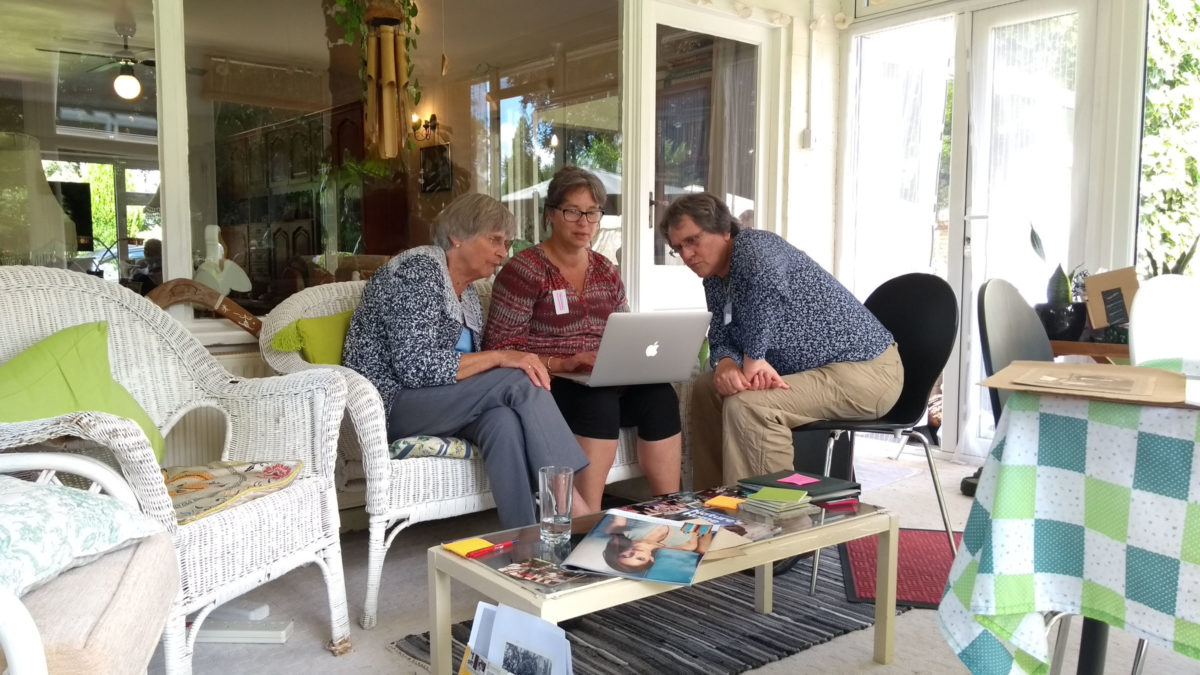 The sun shone as we moved off on Sunday 2nd July heading home. Our plan was to take our time and stay off the main roads – we had come down quite quickly but were determined to wend a scenic way home! Our visit destination today was Lyme Hall on the edge of Manchester and our route there took us over the Peak District through Buxton (nowhere to park which was  shame). Lyme Park was even more dramatic than Speke Hall and it was good to have plenty of time here.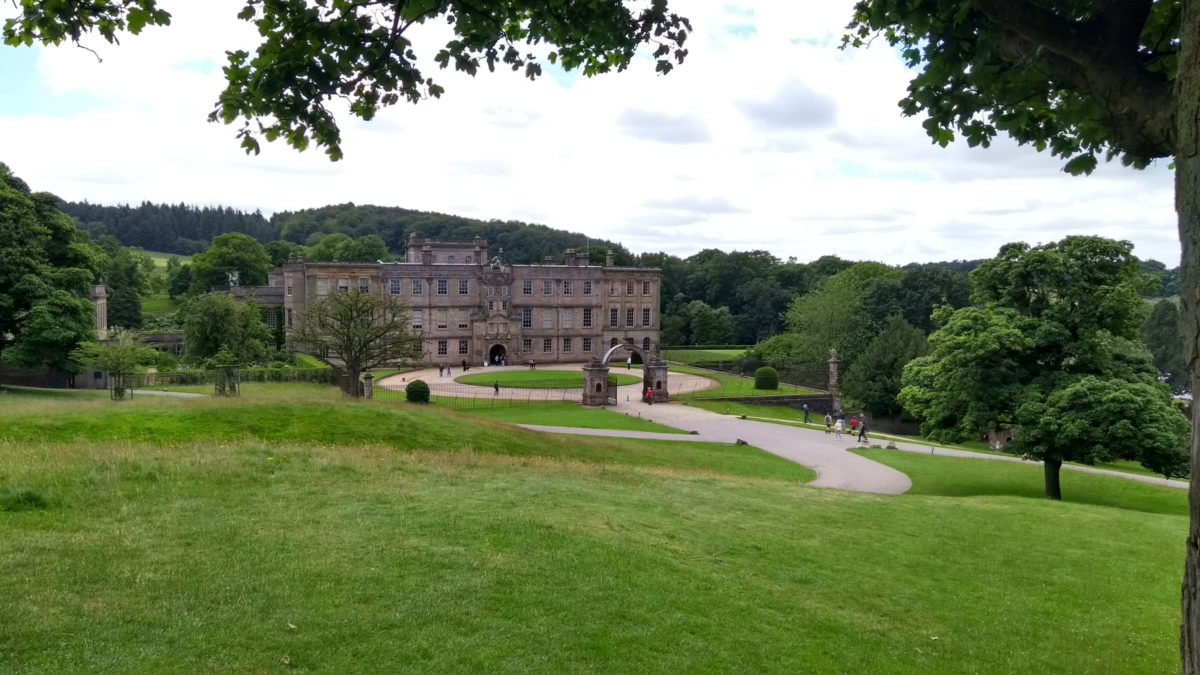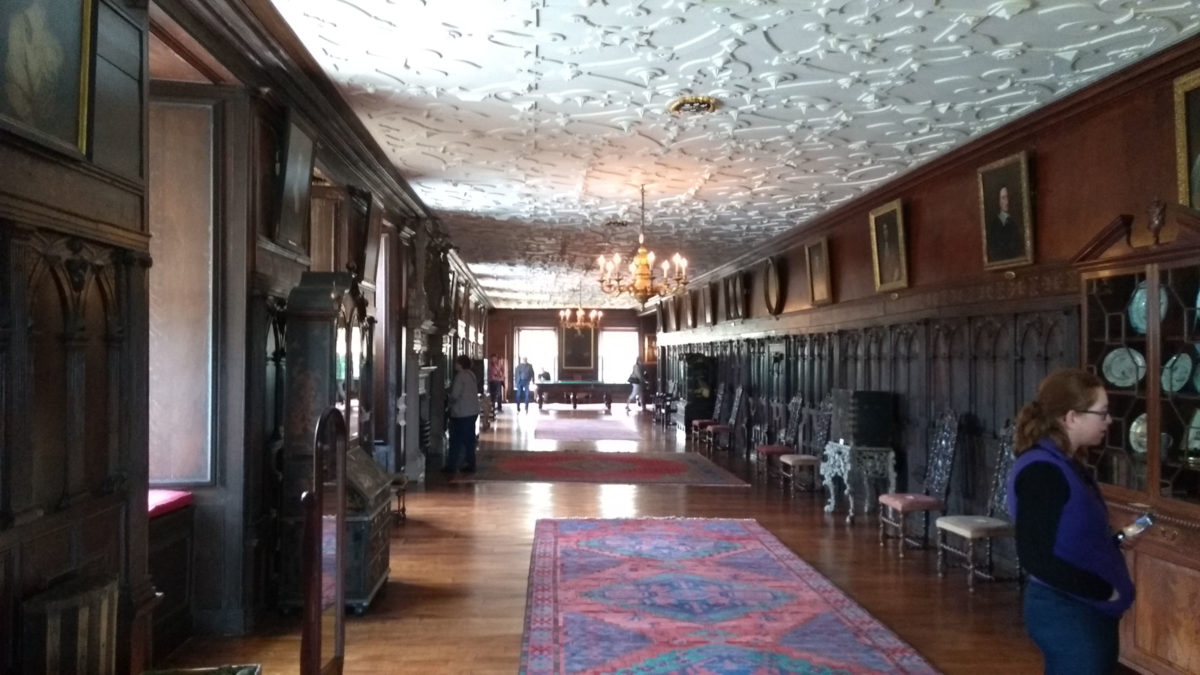 After a late lunch on Bertie at Lyme Park we turned north again heading for a small campsite just outside Bowes. Here we found a brand new campsite for five vans all with hard standing and EHU (which we do not need). We had it all to ourselves. There was some minor traffic noise from the A66 which is nearby but we slept well.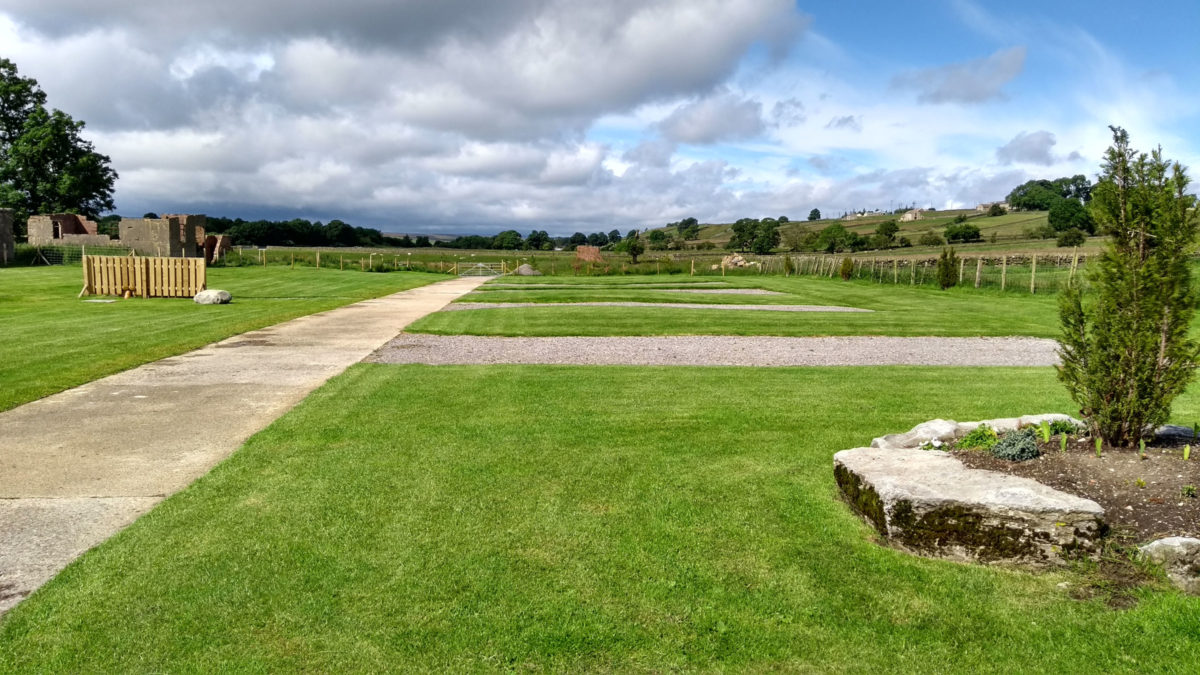 After a lazy start we drove  afew miles into Barnard Castle. Now we had tried to visit this castle twice before and failed. The first time for lack of parking as it was carnival time and the next time because it closes in the winter. We had done our homework this time – it was summer and not carnival time! We found a good parking space just below the walls and we had plenty of time. It was a bit of a climb up to the castle as it stands in a very impressive location atop a steep cliff above the River Tees so once on the walls the river is way down below.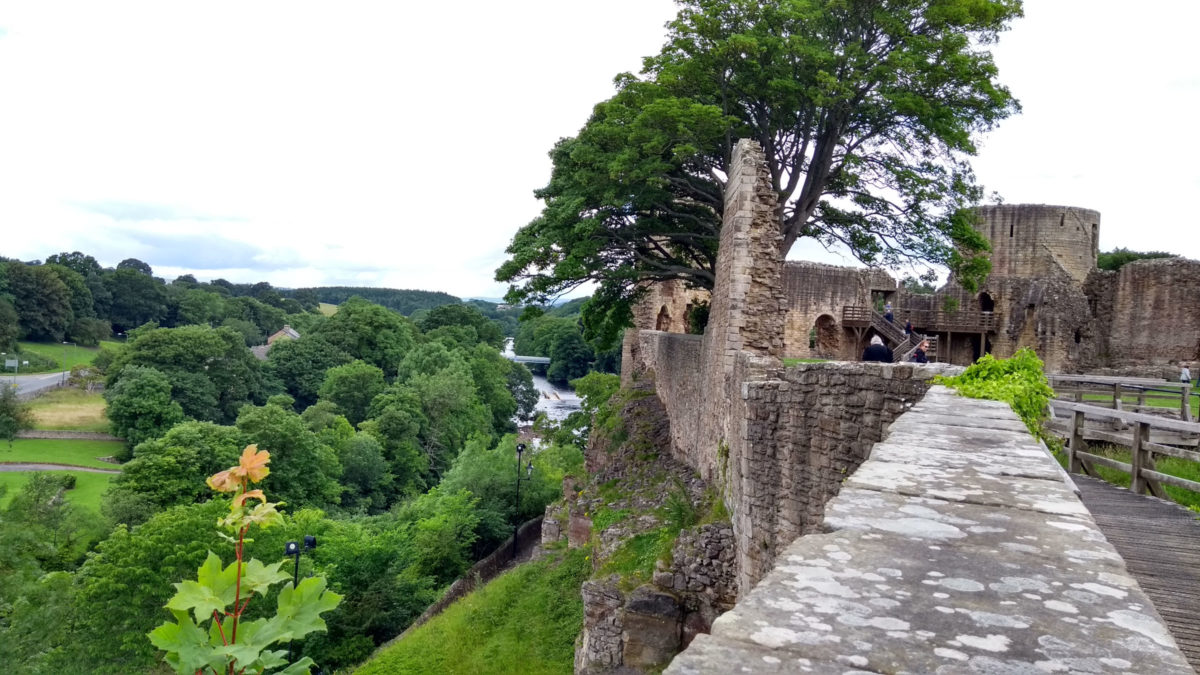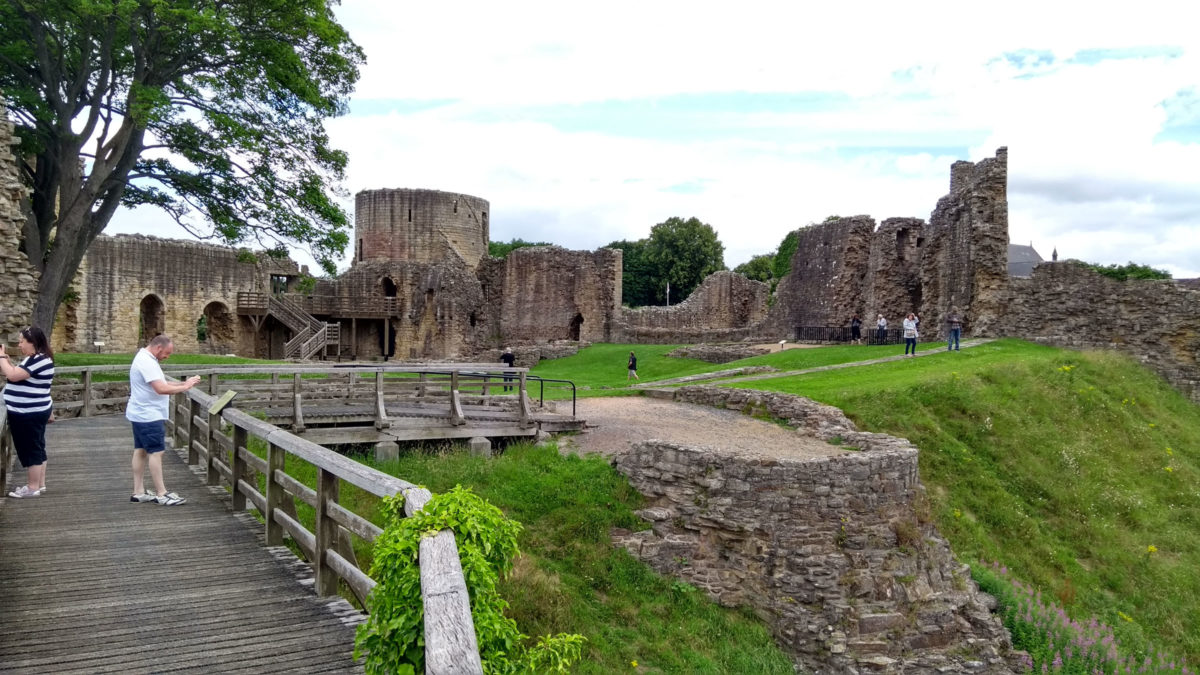 After a good hour or so strolling around this large castle we started north again – along a favourite road that we have travelled several times before across the moors to Stanhope. We pulled in here for lunch and as always had a walk back to the famous stepping stones across the River Wear. It is a lovely spot although locals have told us the river can rise substantially if there is heavy rain on the moors.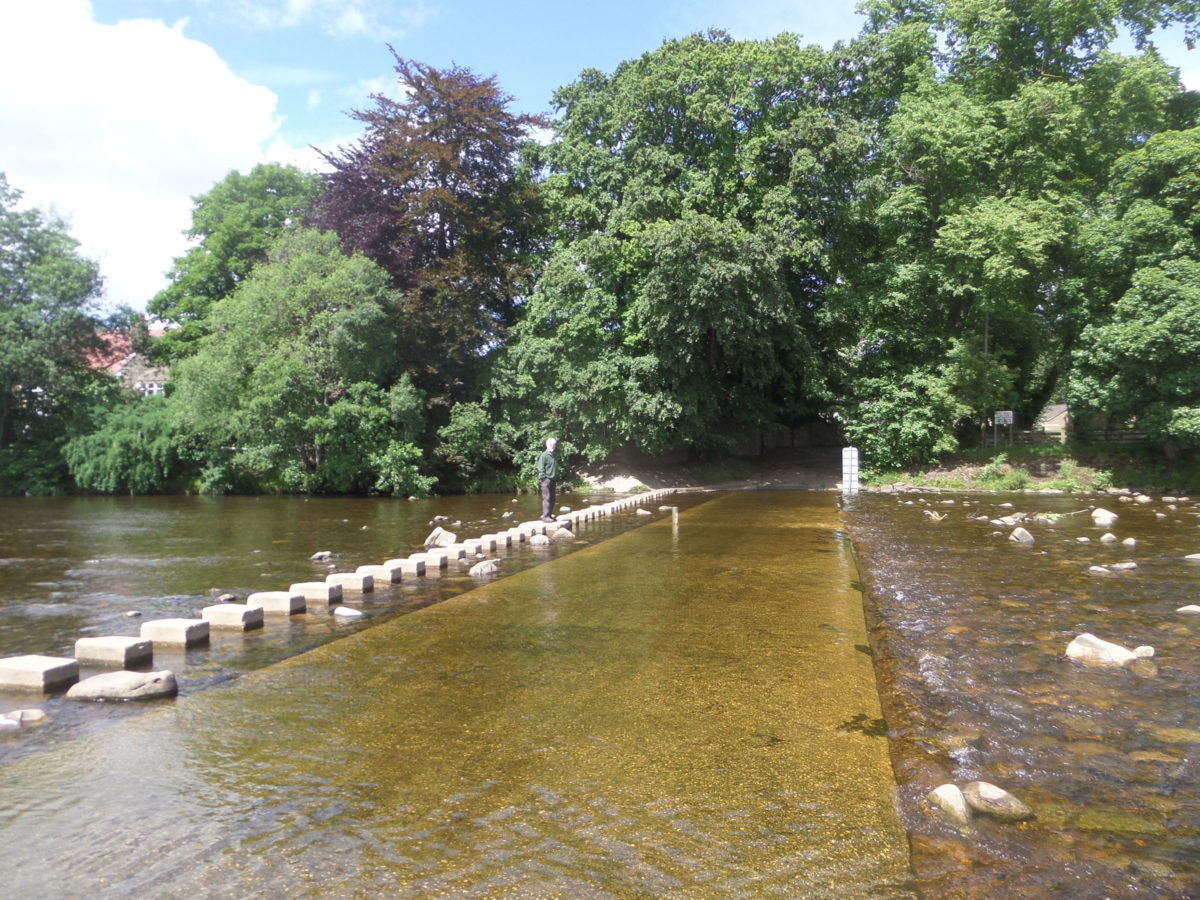 We walked down the river a bit and were delighted to be able to watch dippers fashing in the river. These amazing birds stand on rocks in the flowing water and actually dip below the water after food. You can't believe how they hold on and are not swept away as they are tiny little birds that can't weigh very much at all.
From Stanhope it was gorgeous drive up in the suns over the moors toward Northumbria and the border at Carter Bar. This where Bertie is at his best – the high driving position gives such an amazing view, we are not in a hurry and can bumble along drinking up the views. We try to pull in to let traffic past as often as we can as we know that not everyone is as laid back as we are!
Our stop over tonight is a Wild Camping site in a car park on the edge of Prestonpans beside the Firth of Forth. What a relief to be back in Scotland where they understand about motorhomes and you are OK parking up almost anywhere as long you do not cause a nuisance. This large gravel car park had several motorhomes already including several overseas visitors too but we could still find a space directly above the beach with gorgeous views across the Firth. We walked along the beach into the town and then back along the road. The town was quiet and rather run down but showed signs of a significant historic past – aside from its fame as the site of the Battle of Prestonpans where Bonnie Prince Charlie routed a much larger Hannoverian force as a result of a surprise attack made possible by detailed local knowledge on the part of a junior officer. The car park of had the extra benefit of being very close to Lidl!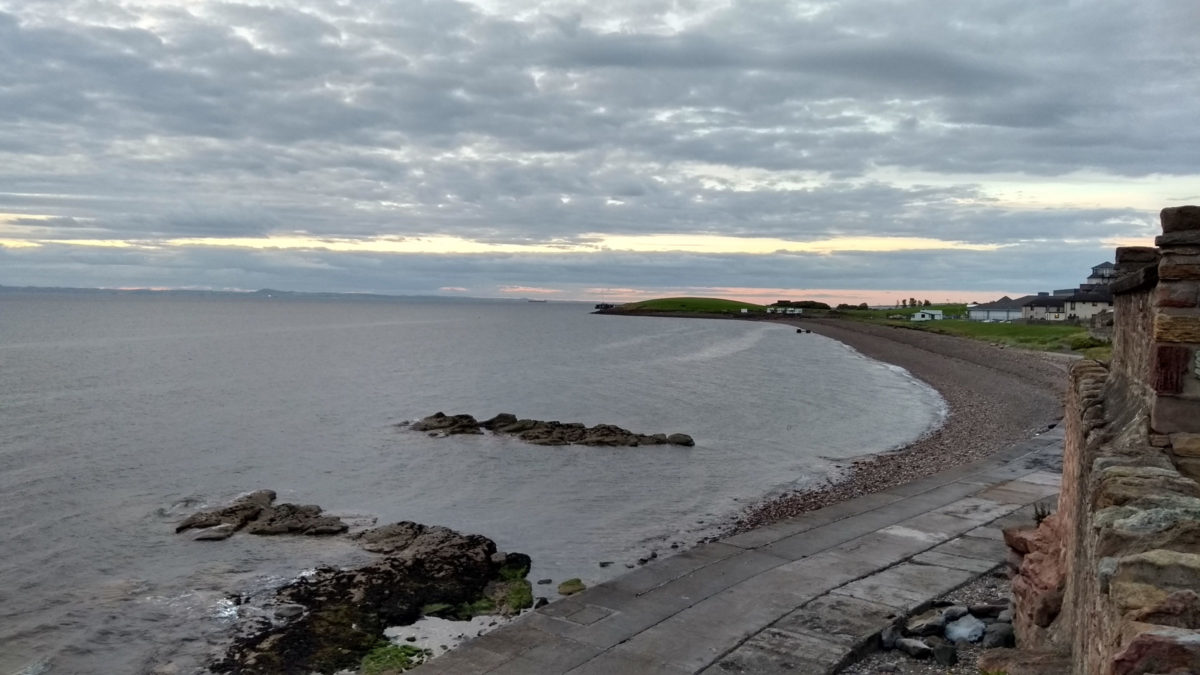 After a lazy start from Prestonpans we pushed on around the Edinburgh bypass heading north over the Forth Road Bridge looking across enviously to the new bridge wondering when it would be open – they had promised it for Summer 2017 but no sign of it happening any time soon.We had read about the Pictish cross preserved in the old church of St Serf in the little town of Dunning between Stirling and Perth and this was to be our midday stop today. We found our way there using a lovely road up Glen Devon across the Ochils. The Ochils are quite a dramatic line of hills that are not especially hig but they rise steeply out of the surrounding land and run north eastward from Stirling toward Perth.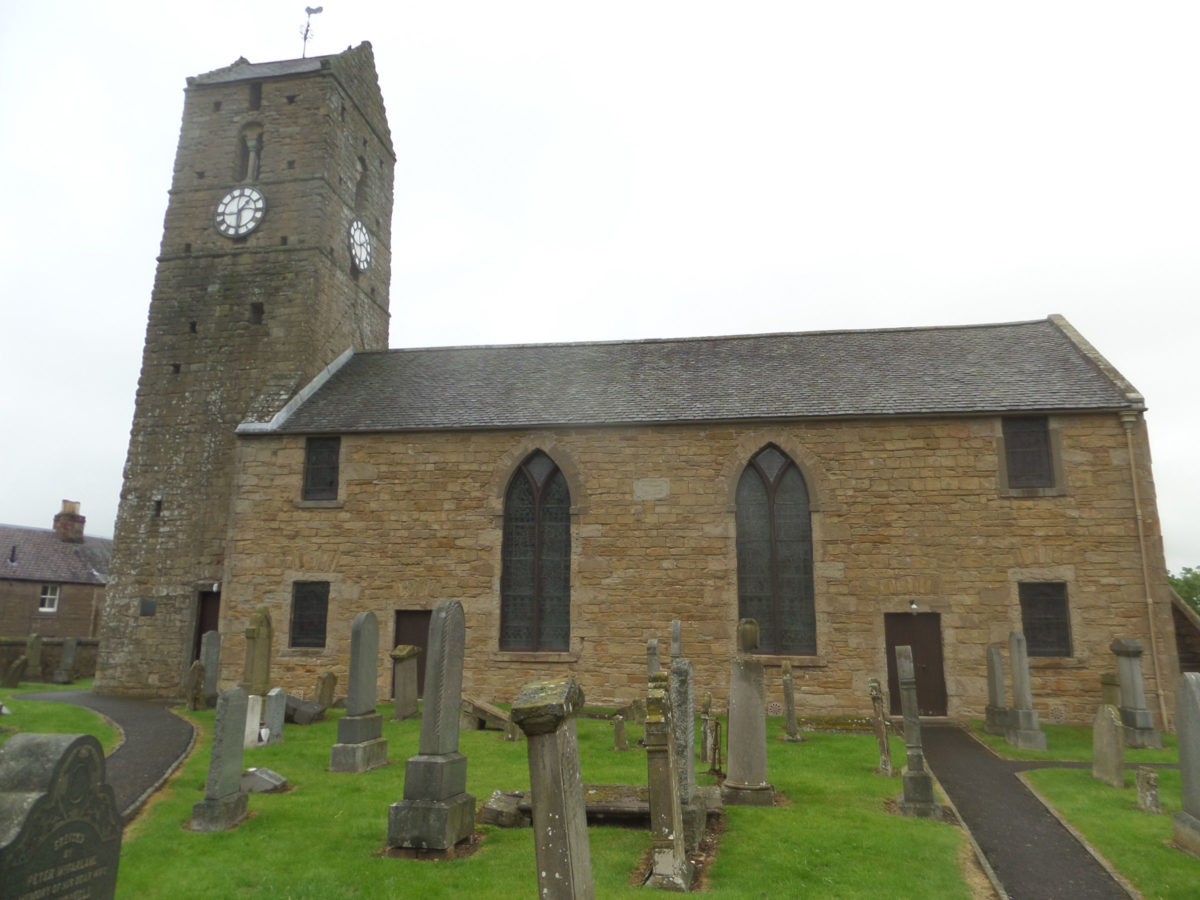 Having made our way to Dunning and found St Serf's Church we were less than pleased to find that the famous pictish stone was kept in the church and the church was closed! Grrr. Must go back some time but check with Historic Scotland that the church is open first! Anyway we had a nice walk around the little town and had lunch on Bertie.
Our planned stopover tonight was at the top of the Cairnwell Pass near the Glenshee Ski Centre. We had been told that you can stay over in the huge, empty car park at Glenshee and I was keen to try this out. The road over the Cairngorms through Breamar and Tomintoul is the most dramatic bit of highland road in the area and I love it. Slightly longer, and much slower than the A9 it is packed with scenery and worth the detour.
As we climbed (slowly) up to the summit of the Cairnwell Pass which is 670m (2199ft) high and the highest main road in the UK! That last stretch up to the pass is a long grind which Bertie has to tackle in 2nd gear. So we had plenty of time to discuss the merits of the various possible parking locations – most were already occupied by one or more motorhomes and those before the pass had quite steep and rough access roads. On the principle that the next place is always better we kept going over the top the Glenshee Ski Centre. We found a nice level spot by a wee burn well away from the buildings but after awhile we became aware of intrusive engine noise coming from some buildings a little way away so we moved to the upper car park about 200m away which was much more peaceful and we had it all to ourselves!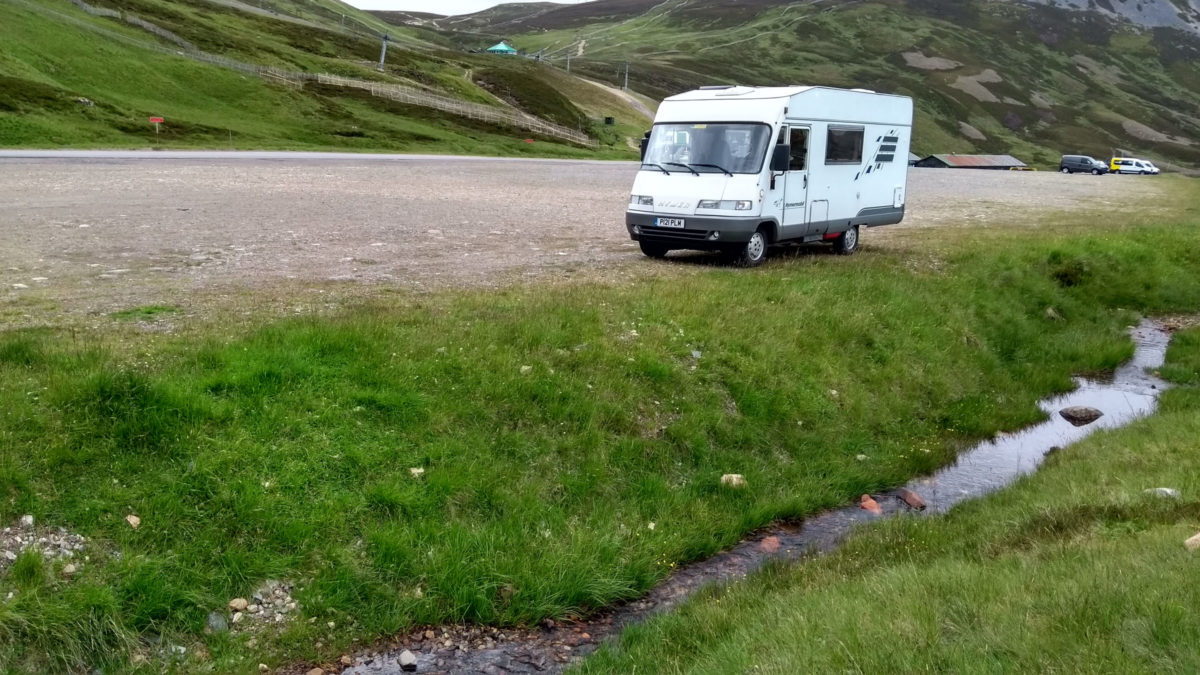 Probably the highest overnight spot we have used in Bertie but we slept well although it was quite chilly in the van next morning!
Not very far to go today and we are nearly home. The sun shone and it was a glorious day as we trundled down from the pass. Just over the top of the next ridge after crossing the Dee near Balmoral we pulled over for a coffee stop and a chance to drink up the view.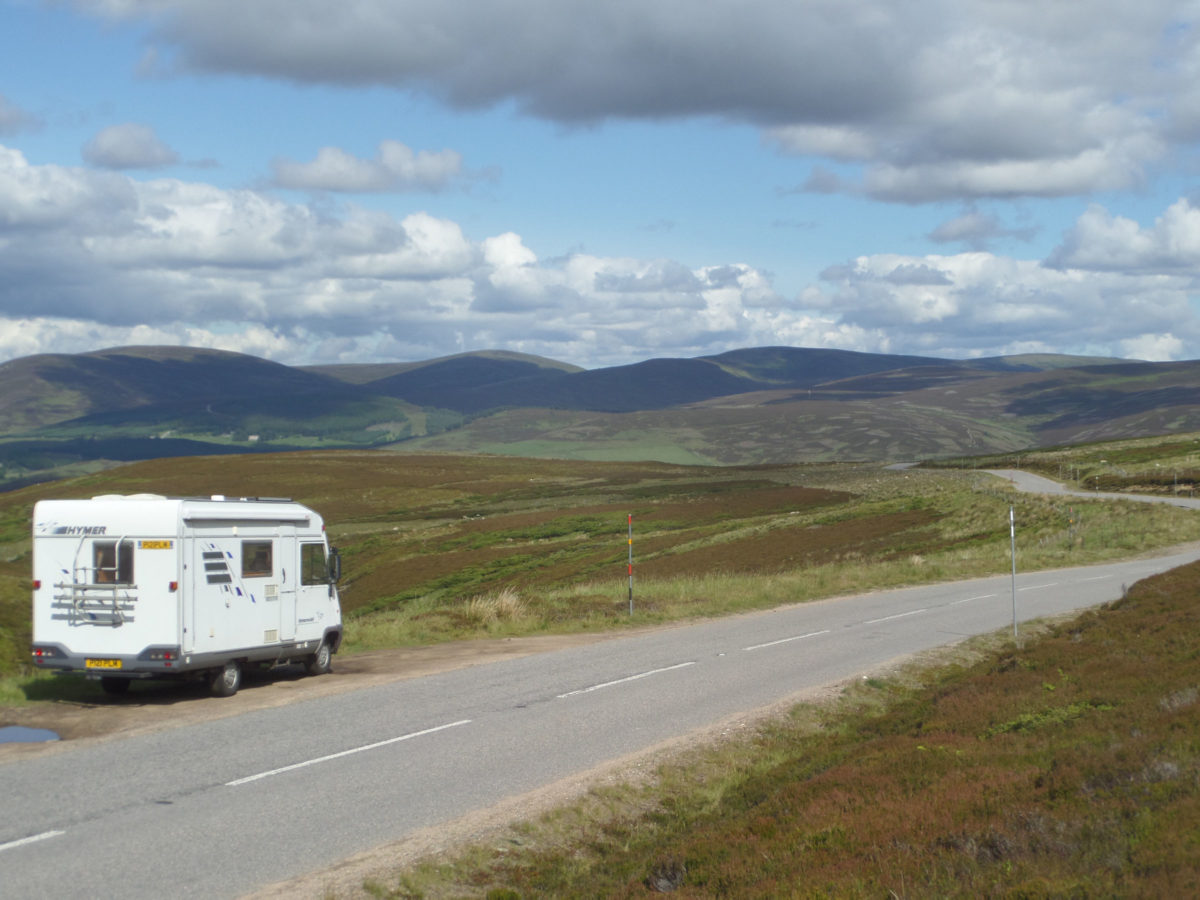 At Grantown on impulse we detoured back toward to Aviemore to visit the Loch Garten Osprey Centre run by the RSPB where thye have a visitor centre close to an osprey's nest. We had heard about the place but never been before. The centre was busy and well staffed with people who told us all about the Ospreys and the amazing migration they make and how they come back to this nest year after year. Sadly the male osprey from this nest had gone off to hunt and never returned and the chicks had died. The female osprey was still on the nest and we could see her on the CCTV or using the telescopes set up for visitors. Very interesting visit as we do see ospreys hunting at Findhorn as there are several pairs that nest in the area.
Trip Statistics
| | |
| --- | --- |
| Mileage reading at start: | 128443 kms |
| Mileage reading at end: | 130240kms |
| Mileage this trip: | 1,797 kms |
| Nights in Bertie: | 8 |
| Total Nights in Bertie so far: | 88 |
Unexpected trip south to Staffordshire