Over Scotland toward Skye!
Eileen's cousin Irene and her husband Bill were having their annual holiday in their caravan at Sheildaig on the west coast of Scotland. They had been in touch suggesting that they drove over to see us in Forres but on a wild impulse we thought let's take Bertie over and have a night with them at Sheildaig! We did not want to be away for long as our daughter was expecting to give birth to our first grandchild quite soon.  However she thought nothing would happen for a few days yet and we were clear to have four days away!
We left Forres quite late as we thought we should wait for bin men to empty our bin so that we could put it away before we left. In the event it was almost 3pm as we rolled out of Forres heading east. We stopped briefly at the outdoor shop in Nairn to stock up with midge spray (Irene had got us some midge hoods) and so we felt equipped to face the infamous midge hordes of the west.
We rolled passed Inverness (just stopping to fuel up at Tesco) and over the Kessock bridge and on toward the Highlands proper.  Just past Strathpeffer we stopped for a leg stretch at Rogie Falls. We had stopped here several years ago on a day trip to Ullapool and loved it. The falls are quite good and there are some nice walks. This time we went the longer way round and approached the falls from upstream which offered quite a different view.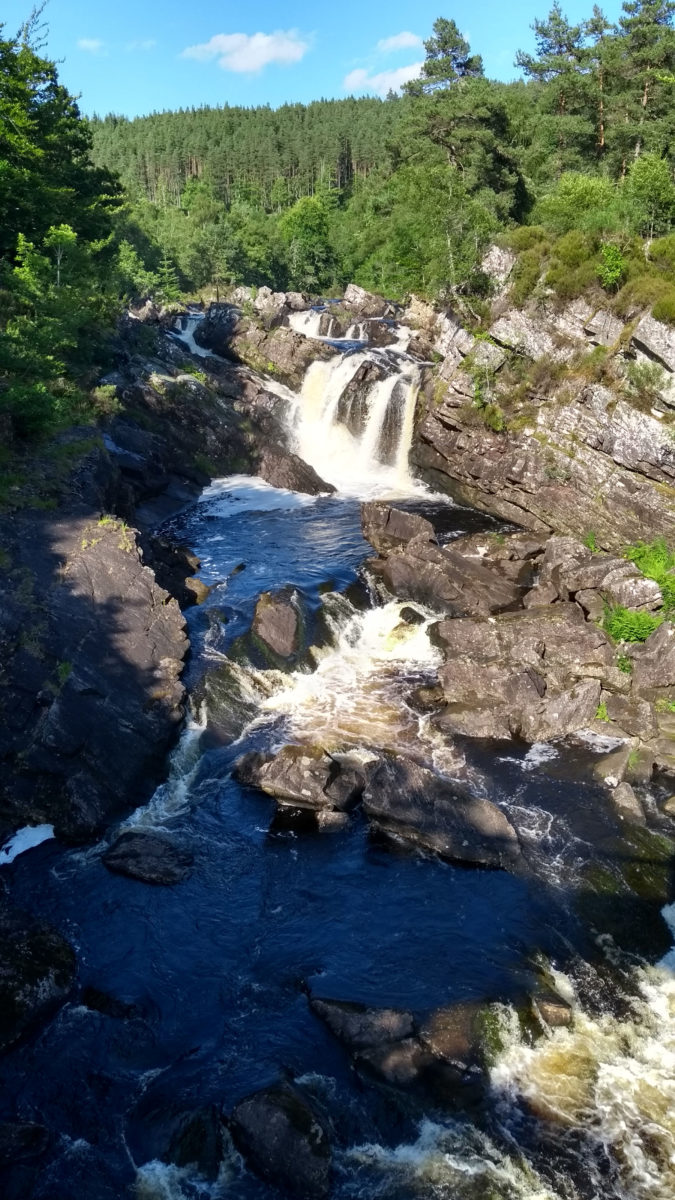 After Rogie we rolled on into the mountains. I had several stopovers in mind but having never driven these roads before I was not sure where to head for.  I had located a couple of likely spots on Wildcamping and Search for Sites but actually we spotted Grudie Car Park as we drove past and it looked so inviting that we turned around and went back to have a look. It consisted of four small parking bays around a central area, it was surrounded by woods and was deserted. We chose a level bay that was not directly visible from the road and parked up. It was almost 7pm so a good time to stop.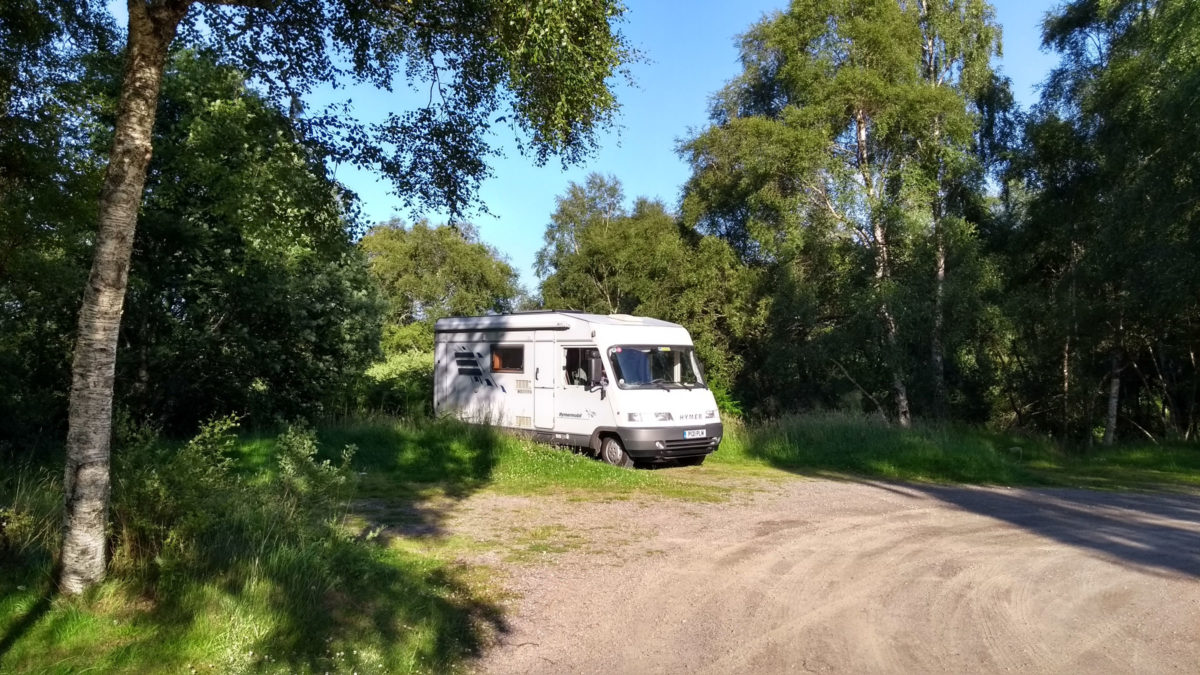 After supper we had  a little walk around and found that there was a path down to the river and several sets of picnic benches each in their own secluded glades. We like this place and I think it will be a regular stopover point when we get around exploring this part of Scotland properly.
Next morning we were on our way in good time. The sun was shining and views were glorious. Initially the roads were excellent with little traffic. This was not to last! I had planned out the route on the map and it was A roads all the way – simple I thought. All went well and we had a couple of stops, one by Loch O Chroisg just past Achnasheen when we walked down to the loch side and revelled in the views of the mountains all around. Just a little bit past the lake we climbed up out of one valley and started the long descent in to Glen Docherty and could not resist the lure of viewpoint with a car park. This was truly stunning – an amazing vista right down the valley, a little burn running right beside us, waterfalls to be seen on the valley sides and Loch Maree in the distance.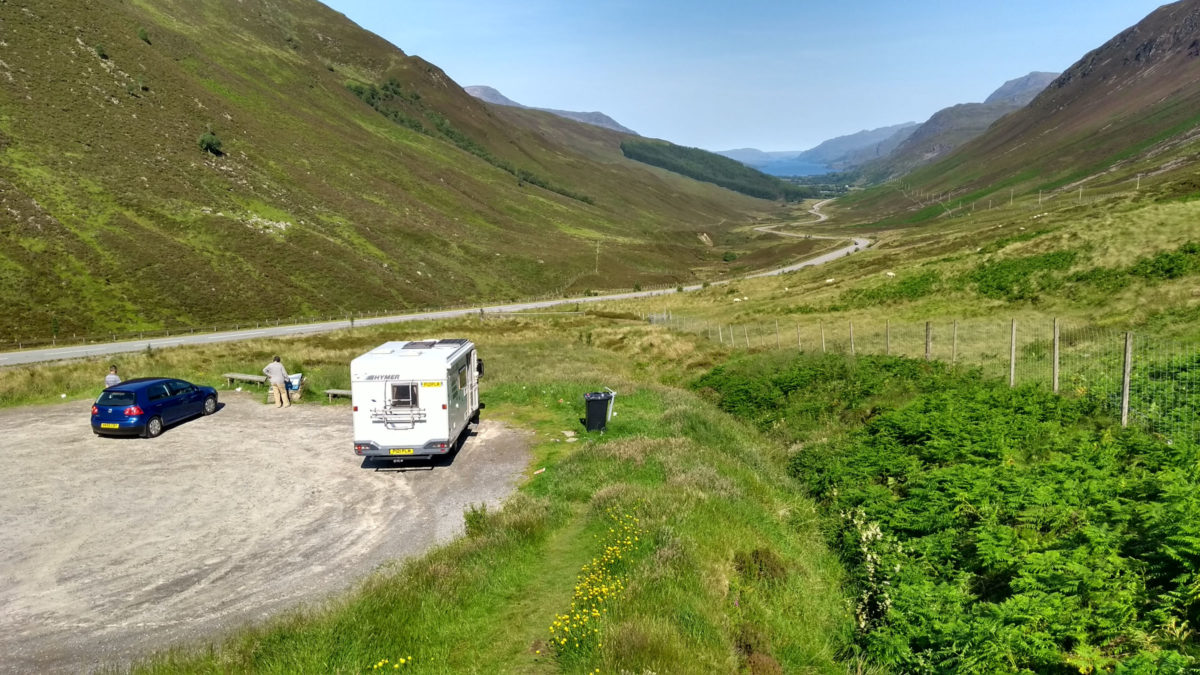 Wow this is good we thought. The road was still OK – basic two way A road. Half way down the Glen all that was to change. At Kinlochewe we turned of the A832 on to A896 and slowed right down! This was a single track road with passing places. We are used to these and they do not worry us – at least not when they are minor back roads with no traffic. This was a main A road that linked a whole section of Scotland with the rest of the world and it was single track with passing places and lots of traffic! Bertie filled that road. We averaged about 15 mph along that road and some times we could keep rolling past several passing places without pulling over! As long as we were meeting other local drivers we knew how these roads work it was little problem. The trouble came with the visitors who did not really understand the necessary frame of mind in which these roads are to be handled – they were ina hurry and and if they could steam through they would even if they passed a passing place without making sure there was a free one available ahead of them. Then there were the twits who though that you had pulled over just to let them get passed and did not think about the oncoming traffic. Ok rant over – but it has made me think again about tackling the NC500 – we will need to go out of season.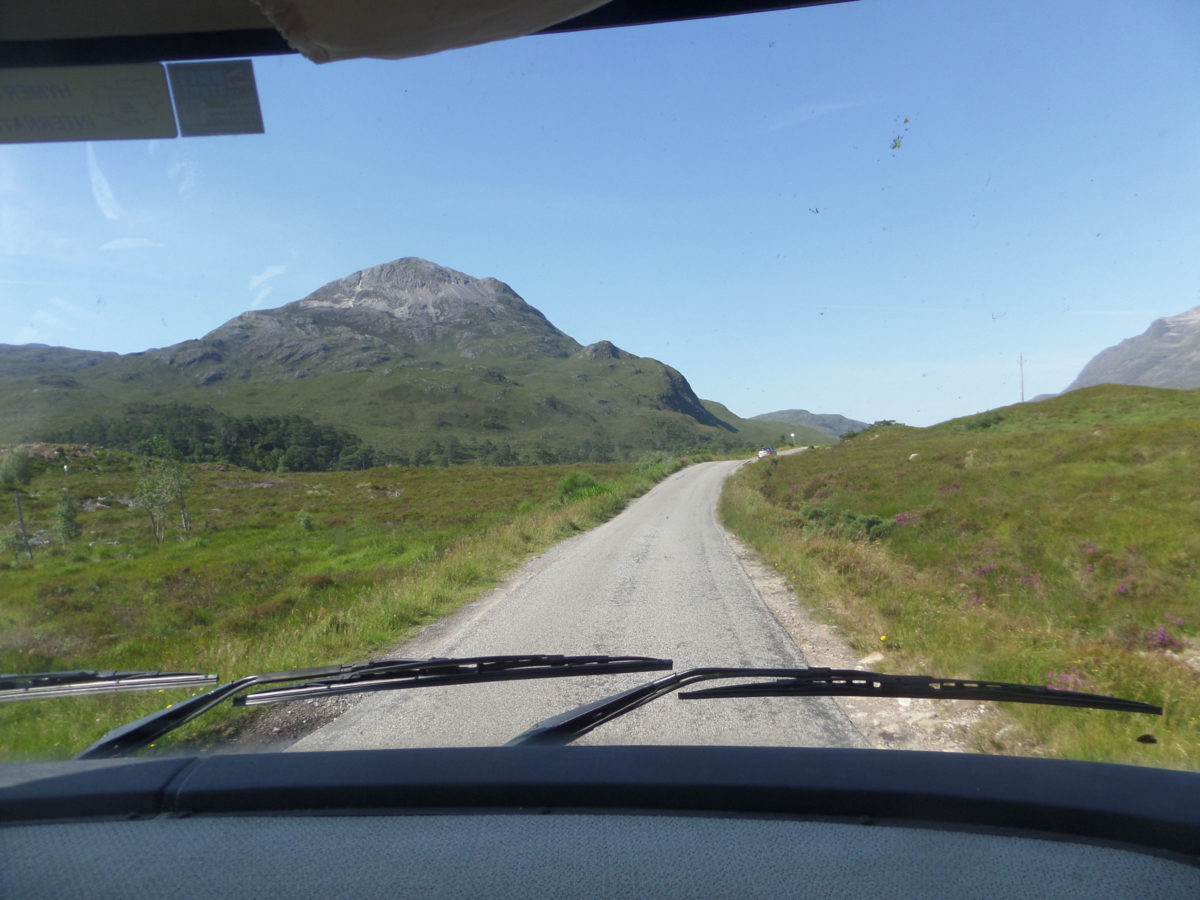 However despite the busy, narrow road we did have time to enjoy the spectacular scenery which got better and better as we went west. The Beinn Eighe massif rose to well over 3,000ft on our left and ahead we could see the Torridon Massif with Beinn Alligin which is a similar height. These are serious Munro mountains.
We found another view point car park on the south side of Loch Torridon and had to pull over and take photos. We decided against a lunch break here as the car park was quite slopey.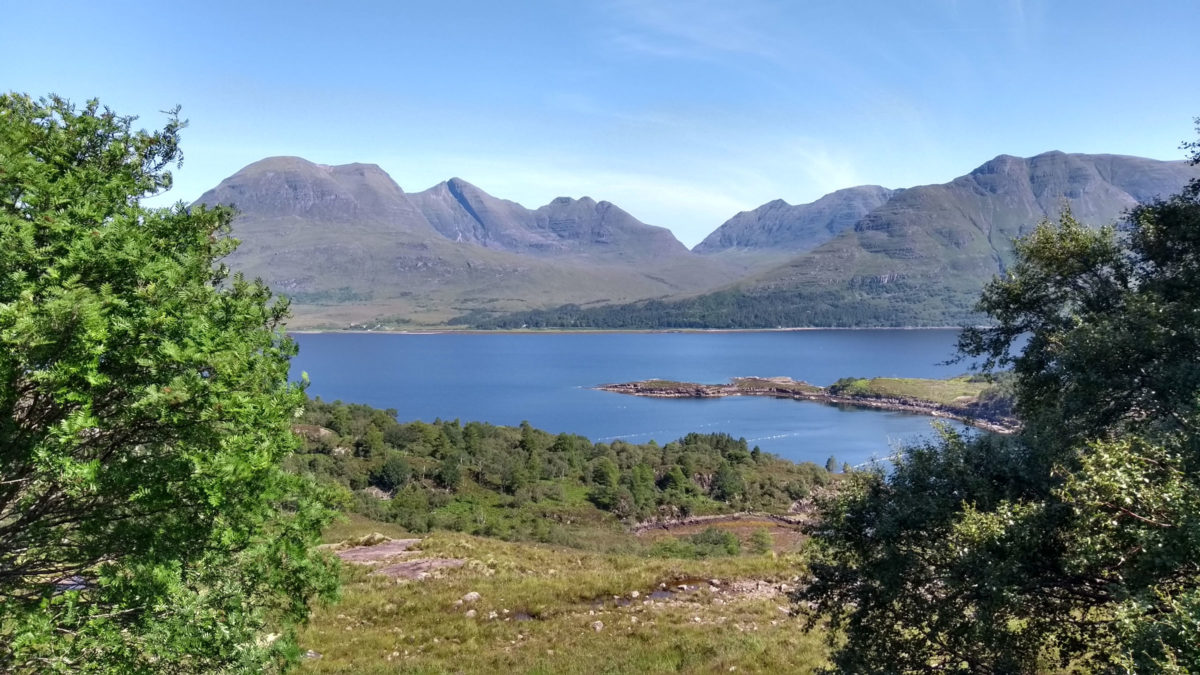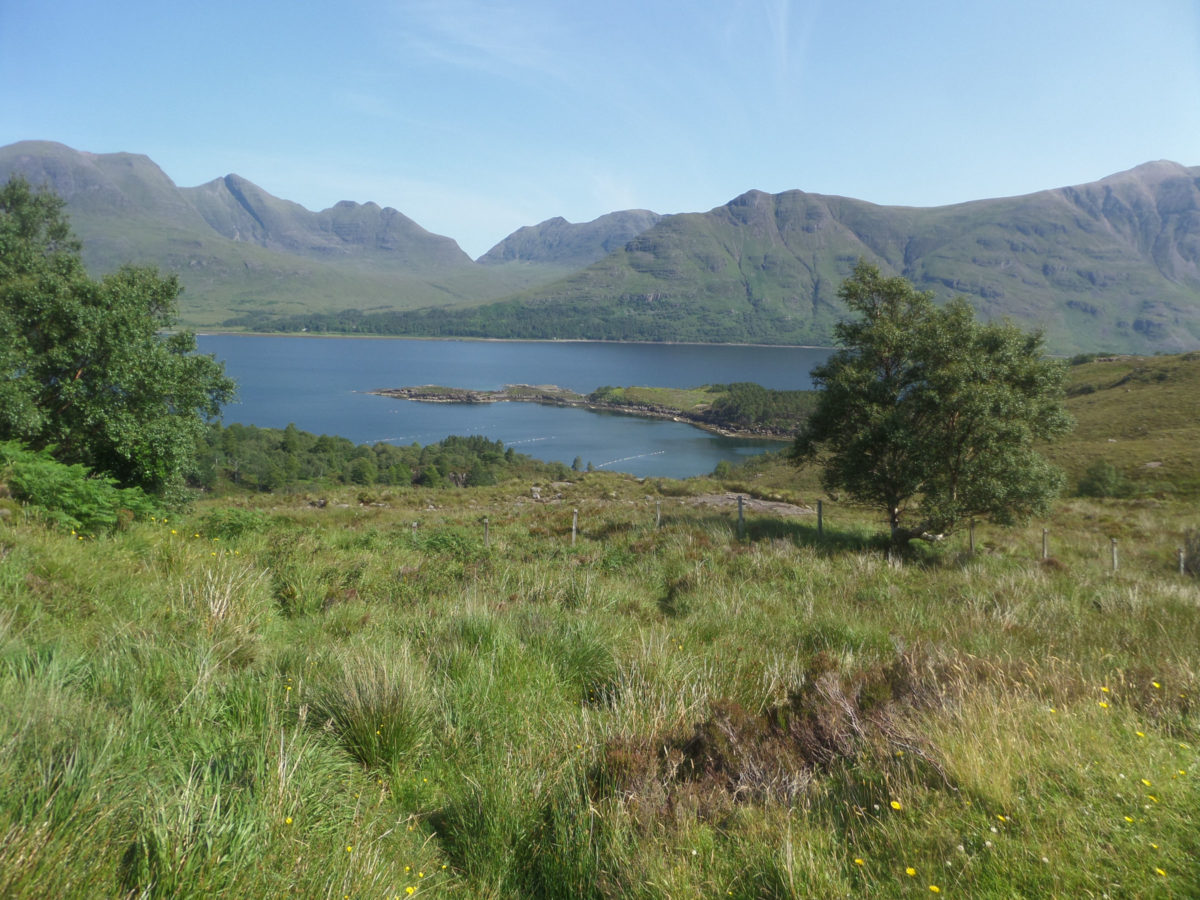 A little further on we found a nice level parking area with even better views and we had it all to ourselves which was even better. Lunch with a view.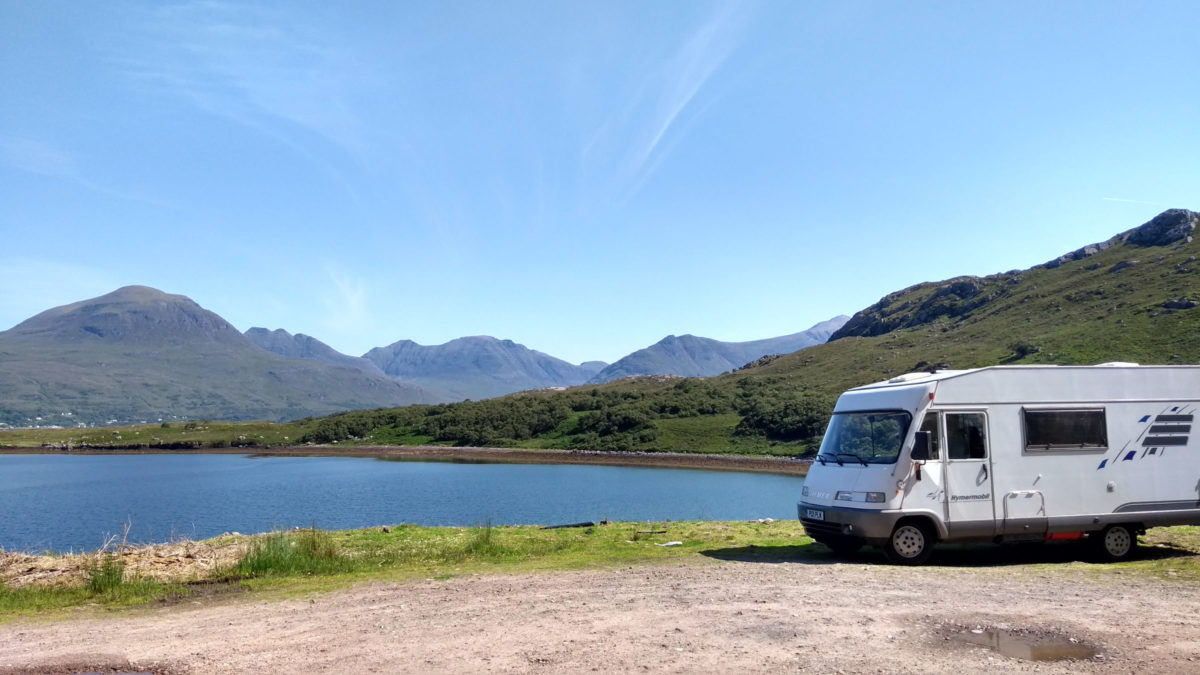 We eventually arrived at Sheildaig at 1pm and parked up next to Irene and Bill's caravan – Bill had used his car to keep a place for us! Sheildaig is a delightful little village hugging the shore of Loch Sheildaig. There is a row of houses right down by the shore and a scattering of other houses up the slope. The village campsite operates on an honesty box basis and provides a field and a tap. There are public toilets in a block at the bottom of the hill by the shore if you need them.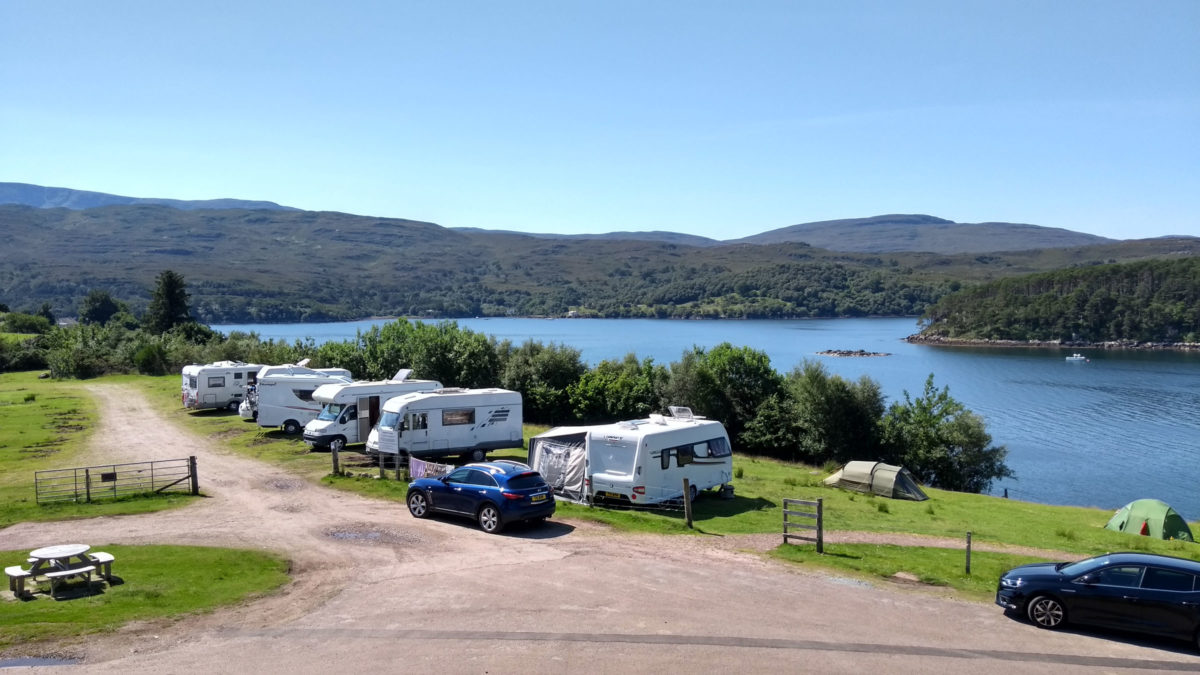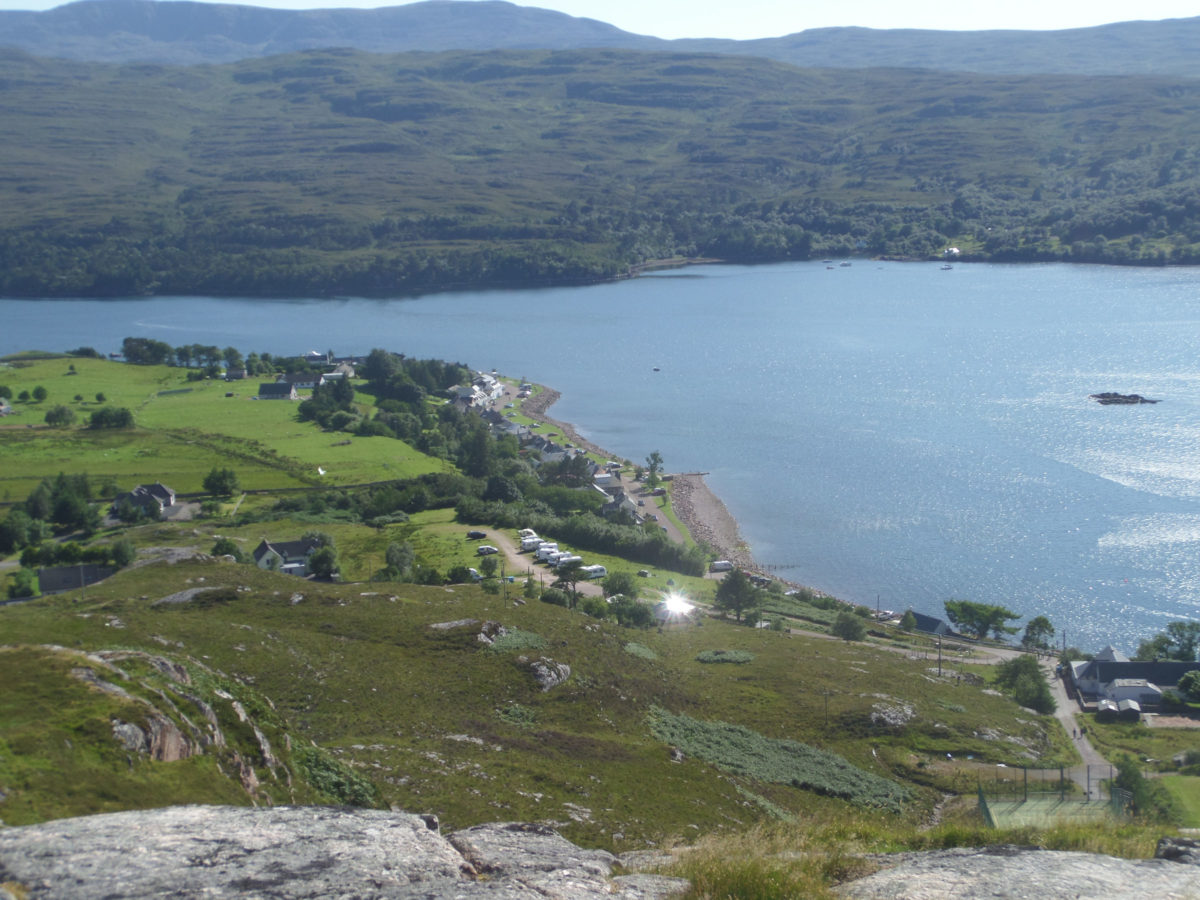 Hardly a Munro but the little hill behind the village was a stiff climb however the views were superb. The photo above shows the campsite and the little village winding long the shore line below. We can fully understand why Irene and Bill have fallen in love with this spot and come back here so often – despite the demanding drive from Sunderland!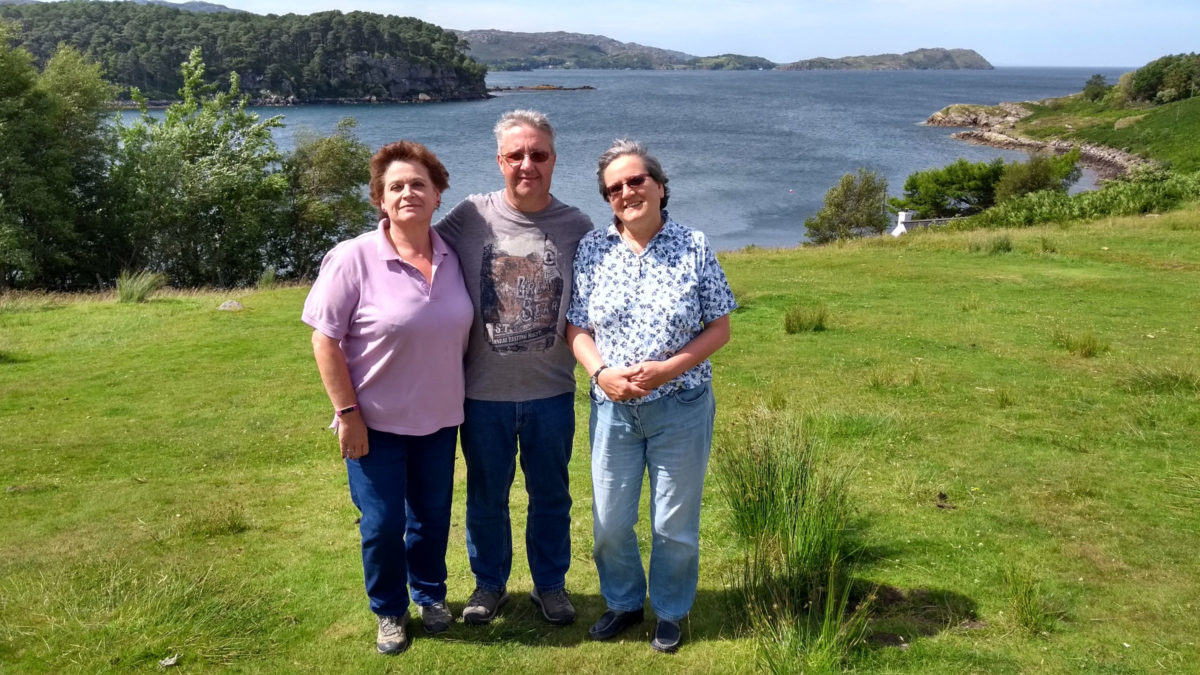 We had a lovely 24 hours in Sheildaig with Bill and Irene. Despite being cousins Irene and Eileen only found out the other existed in the last few years and this was only their second meeting! Needless to say much time was spent to catching up with family matters as both ladies are very interested in their family tree. Meanwhile Bill and I had an excellent walk down to the end of the Sheildaig peninsular which separated Upper Loch Torridon with Loch Sheildaig. The sun shone and views were stunning – I know I keep saying that but they were and I am running out of superlatives.
Next day we had a leisurely morning in Sheildaig with Irene and Bill starting for home at 2:30pm. On a whim we decided to take the long road around the Applecross peninsular. The road was very narrow but not busy and seriously senic. The main issue was the lack of safe places to pull over and enjoy those amazing views. Well worth effort though and another time I would take longer over it and perhaps stopover in the car park near Applecross.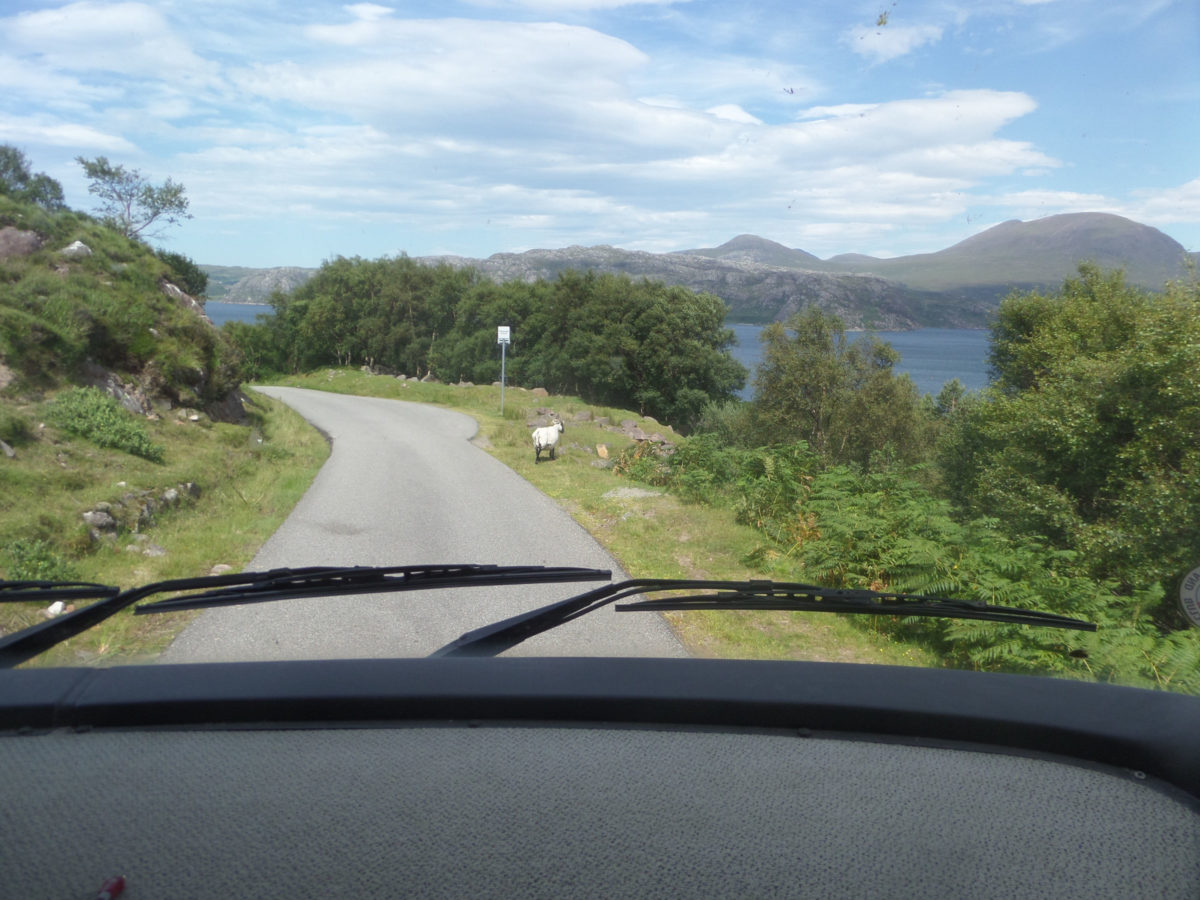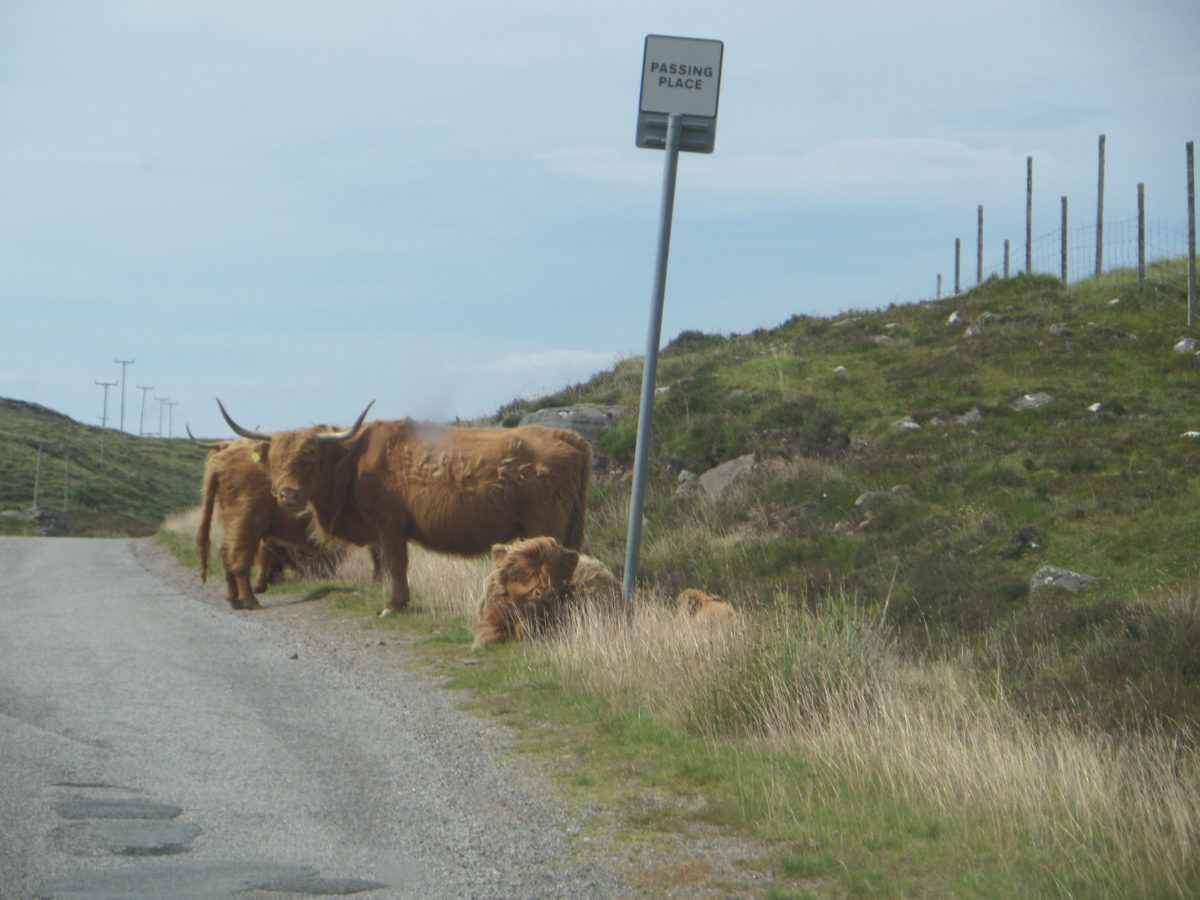 Just before the little village of Applecross itself we turned inland and started the 2,000 ft climb up to the Applecross Pass (Scotland's third highest road). On the seaward side the climb is steady but not too bad – the hairpin bends are all on the far side toward Loch Carron.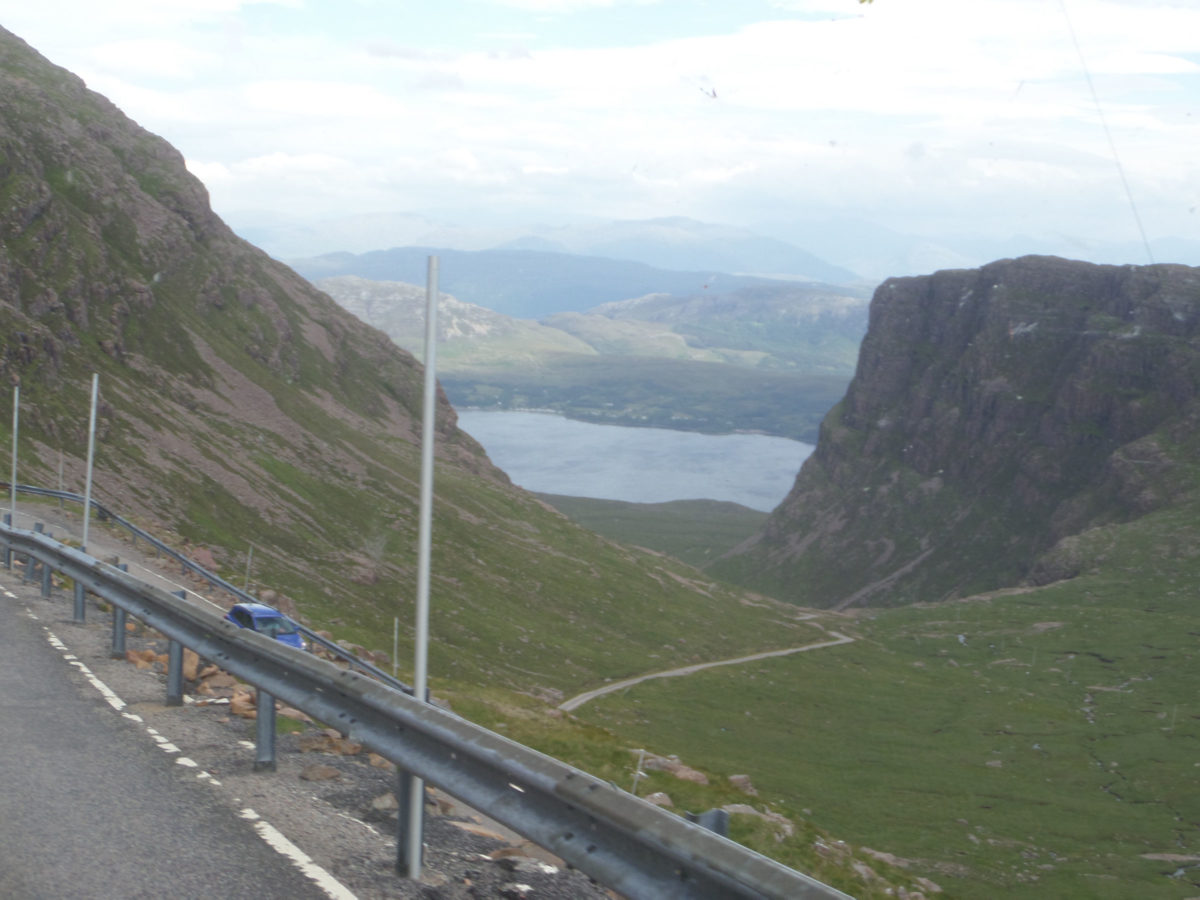 This road is seriously challenging. It is narrow, the surface is poor, the visibility is very limited and the passing places are quite small and quite far apart and the drops beside the road are not for the faint hearted – just do not think about them as you squeeze in to a passing place as far over as you dare!
The drive back to our stopover at Grudie was fine but somehow after Applecross it was an anti climax – just miles we had to drive. I think really we should have stopped on Loch Carron but time was pressing and we needed to be home tomorrow.
We arrived at Grudie at about 7:30pm – it had taken us 5 hours to drive 121kms (about 80 miles) and that was without any long meal stops. These are not roads you can hurry.
After a leisurely start on Thursday we left Grudie after 10 am and were home in Forres by 1pm. In all that time on the west coast we did not spot a single midge – not even sitting around the fire pit on Tuesday night with Bill and Irene.
| | |
| --- | --- |
| Mileage reading at end: | 130613 kms |
| Mileage reading at start: | 130240 kms |
| Mileage this trip: | 373 kms |
| Nights in Bertie: | 3 |
| Total Nights in Bertie so far | 93 |