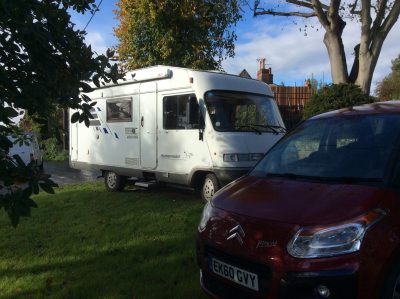 Bertie Buggie is Eileen and & Tim's 1997 Hymer B564. This is Bertie's blog which will help us to keep track of everything we do with Bertie; the places we go, the things we see, the stuff we get for Bertie and what works and what does not.
Tomorrow, Wednesday 14 October 2015, we are off to Devon for a week to attend an 80th birthday party. Four nights will be spent in Bertie – two nights going south and two nights coming back. We had already booked and paid for three nights in a hotel in Exeter long before we knew we would have Bertie! Tomorrow night will be our first night in a motorhome ever and we are booked in to the Camping and Caravan Club site at Horsley. We thought we would play safe and use proper campsites whilst we get the hang of this new way of travelling. When we have a bit more confidence and we know how everything works then we will try more basic overnights such as Certificated Sites, BritStops etc. (NB must buy the BritStops book!)
Today we are busy loading up Bertie, packing things away in all the lockers – I have already forgotten what has gone where! I have installed a couple of gas cylinders (on loan from a very kind neighbour as our Flo-Gas cylinder from Gas Deals has not appeared yet). Had a slight panic with the gas cylinders when I first connected them as there was a strong smell of gas which I traced to a leak at the top end of the pigtail. Ahhh – I thought I had a damaged pigtail but it turned out to be a loose union where the pigtail joined the regulator. Pheww!
Watch this Space!
Bertie's Blog – the launch