After a slow start this morning, Sunday 18th, and a leisurely hotel breakfast at the Holiday Inn Express at Exeter we set off to visit Berry Pomeroy Castle (English Heritage) near Totnes (now renamed Berty Pomeroy Castle for the duration of this post. We couldn't resist replacing Berry with Bertie!). I must say it seems a bit strange to be staying in a hotel whilst we have Bertie but these three nights were booked some weeks before Bertie came in to our lives, so here we are!
I am afraid Bertie has been a little poorly yesterday and today and we worried we might need to find some assistance with his waterworks (well he is not as young as he was and you know how it is with us older gents…!) so we made a note of the big caravan dealer by the M5 junction for Monday morning as we drove south on to the M5. What a difference with the lanes and narrow A roads of yesterday. I soon wound Bertie up to his preferred cruising speed of 88kph and switched in the cruise control -52mph and he is happy! All went well until we turned off the main roads after Newton Abbott. They got quite narrow but were quite passable for us but no chance of passing anything else. The views were wonderful though. We arrived at the gate of the road down to Berty Pomeroy Castle – eek! Bertie won't get through there will he?? I actually got out with a tape measure to check and yes Bertie could fit but only just. Just to make sure I rang the Custodian and explained our predicament. No room to park by the gate, that wasn't an option – it was squeeze through or give up. 'No problem', said Sam the Custodian – the gateway is the narrowest bit and if you fit that you can come down and park easily. Thus emboldened we squeezed Bertie through with Eileen outside to provide additional visual checks on the blind side. Then down a very steep hill in first gear (10kph) with the trees scraping the roof (Sam hadn't thought about low tree branches). Bertie is definitely the biggest vehicle that could get down there! Bertie was happily parked next to a McLaren in the carpark.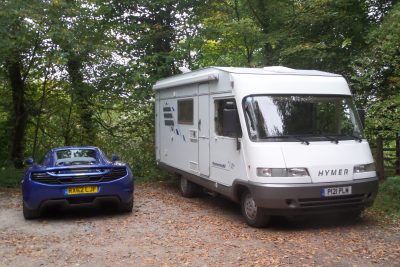 Berty Pomeroy Castle was a real treat – a mixture of late medieval castle and a ruined Elizabethan grand house wedged in to the side of the valley. We stayed here quite a while and loved the way that the old walls have been colonized by such a wealth of plants and ferns. There was a cafe right by the castle, serving Sunday roast dinners. Unfortunately we were unable to enjoy eating here as we were still very full of hotel breakfast. Glad to see this enterprise at an English Heritage site.
Before we left the car park I thought this would be a good opportunity to have a little look at Bertie's water works. We were parked in a quiet corner of the car park and the McLaren had gone so I thought no one would mind if he passed a little fresh water!  So we cleared the rear dinette seat and opened up the access to the water tank  – Eileen was quite impressed when she saw just how big his tank is! I withdrew the pump and ran off some water as the tank was rather full. Then tested the power cable connection with my meter to see if there was a voltage across the power supply to the pump. And the pump worked! I think that by pushing the meter probes in to the connector block I had realigned the spade connectors. Bertie is now flowing properly again and is much happier.
It was leaving here that we made a huge mistake in trusting Lucy (sat nav) to take us to visit Parke (NT parkland near Bovey Tracy). It should have been a quick easy drive of about 18 miles. The first eight of those miles were awful as we had ventured into a network of narrow and high-hedged lanes. Once we started we had to continue as there was no way to return. The first few miles were narrow, steep and twisty but there was a little room either side of Bertie and when we met other traffic it was possible use passing places carefully without too much reversing etc. However that all changed after Broadhelmston where the hedge sides were not so neatly trimmed and narrowed amazingly so that BOTH hedges rubbed against Bertie and both mirrors were pushing through the leaves! We drove over five miles like this – we were both far too stressed to try and film it although there is a still photo below of the lane before it became really narrow. Then suddenly we were out on the A30 dual carriageway and wow that was such a contrast. Suddenly we could make progress again – firstly to a fuel station for lots of nerve-calming chocolate. Never again will we trust the sat nav in Devon. As soon as I can I will upgrade to the special motorhome version of Sygic. I would have thought twice about taking my car along that route!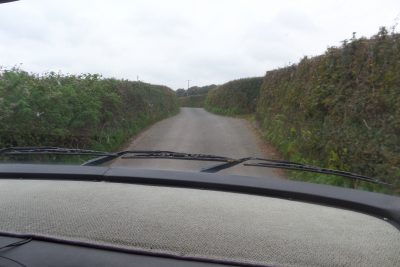 Parke was pleasant and we had a nice de-stressing walk along the young River Dart to the medieval weir. Then a nice meal in Bertie in the car park before heading back to Exeter for our  last hotel night.
The photo below is at Parke, a young tree on the riverbank in the afternoon light. The river water was wonderfully clear.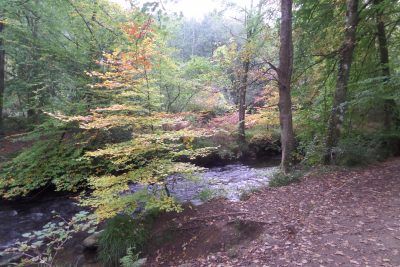 Total distance today (and yesterday!): 211 kms
Total distance this trip: 767 kms
Odomoter Reading: 112,489 kms