It was really scary driving Bertie off the ferry and on to the Belgian roads. I had not driven abroad for ages (2008 I think) and never driven left hand drive Bertie on his "proper" side of the road before. The driving felt fine but trying to work out what other drivers were up to and were expecting me to do was slightly more challenging. However we had set our sights very low today and all we were doing is the 10 miles from Zeebrugge in to a quiet car park on the edge of Brugges where we could park up for free beside a canal within walking distance of the historic centre of Brugges.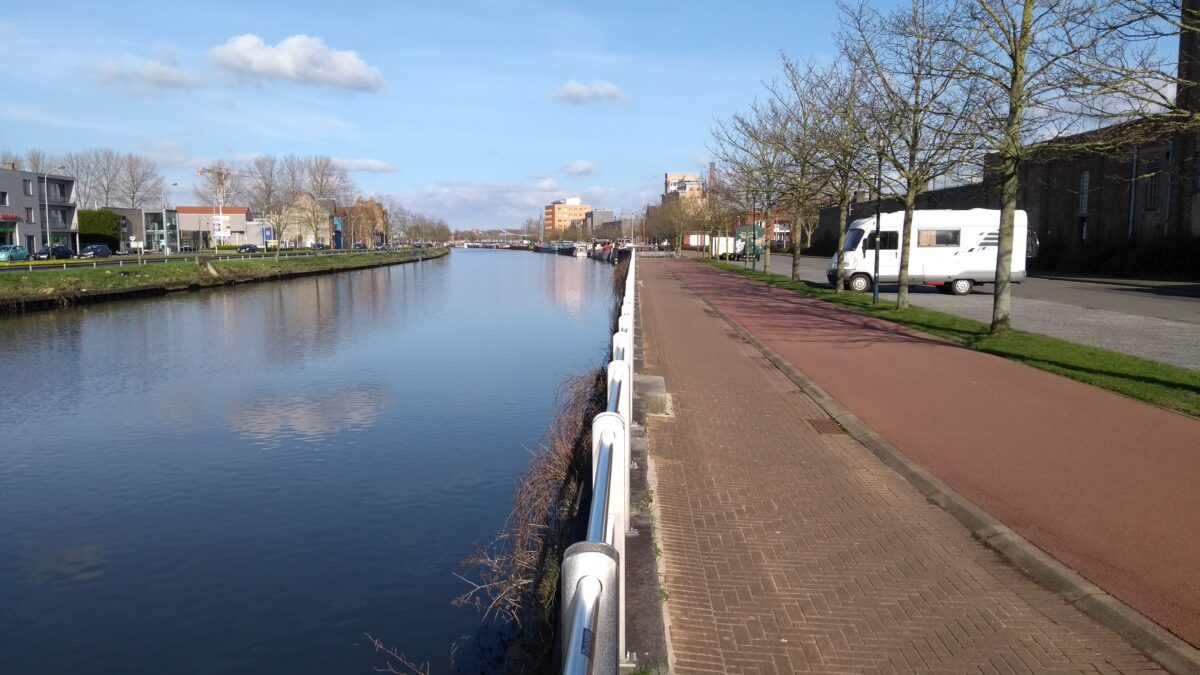 We were parked up here at 09:35 with a whole day to fill! After a cup of tea and a biccy (from the ferry!) we toddled off for a local walk to see what there was to see in the immediate area. Not much was the answer to that! This is a residential suburb and even the canal was very quiet. However we did find a yummy bakery and we bought a small loaf, a pain au raisin and a pain au chocolate (they did not call them that as this is the Flemish part of Belgium where they speak a form of Dutch rather than French).
Back on Bertie we had lunch and then off to explore Brugges. It was quite fun walking into the city through the suburbs with the modern housing giving way to older and older streets. Brugges was amazing with canals, a ancient houses, huge churches and several grand cobbled squares. In all we walked 3.7miles in two and a half hours.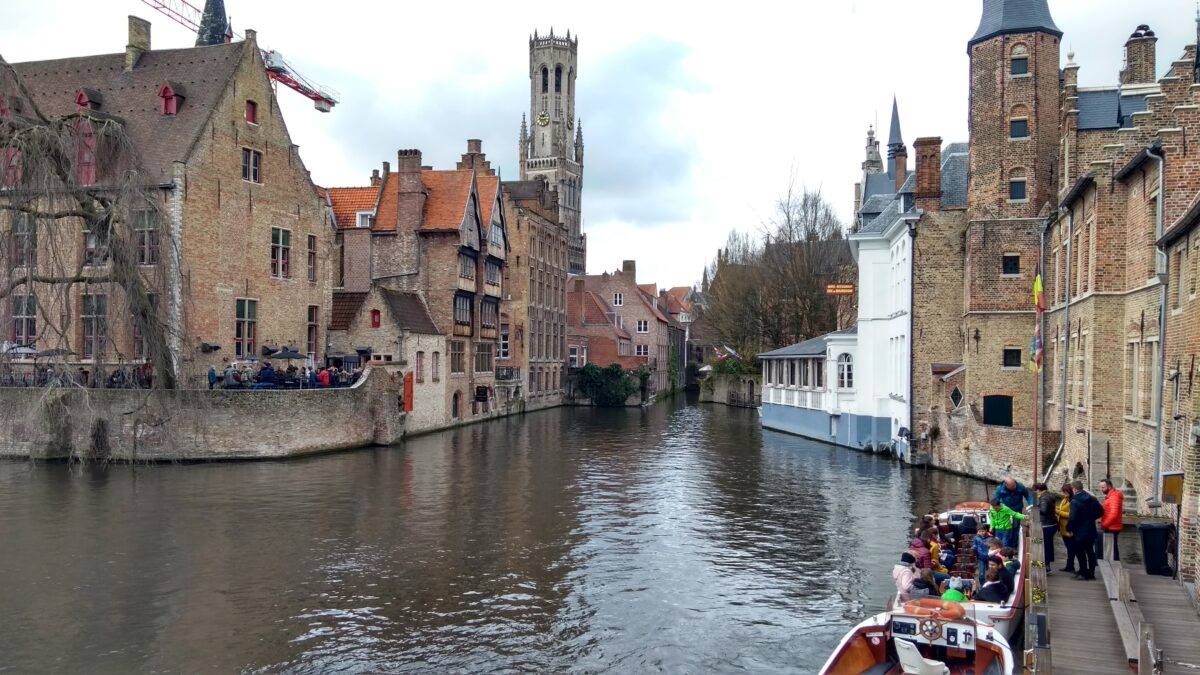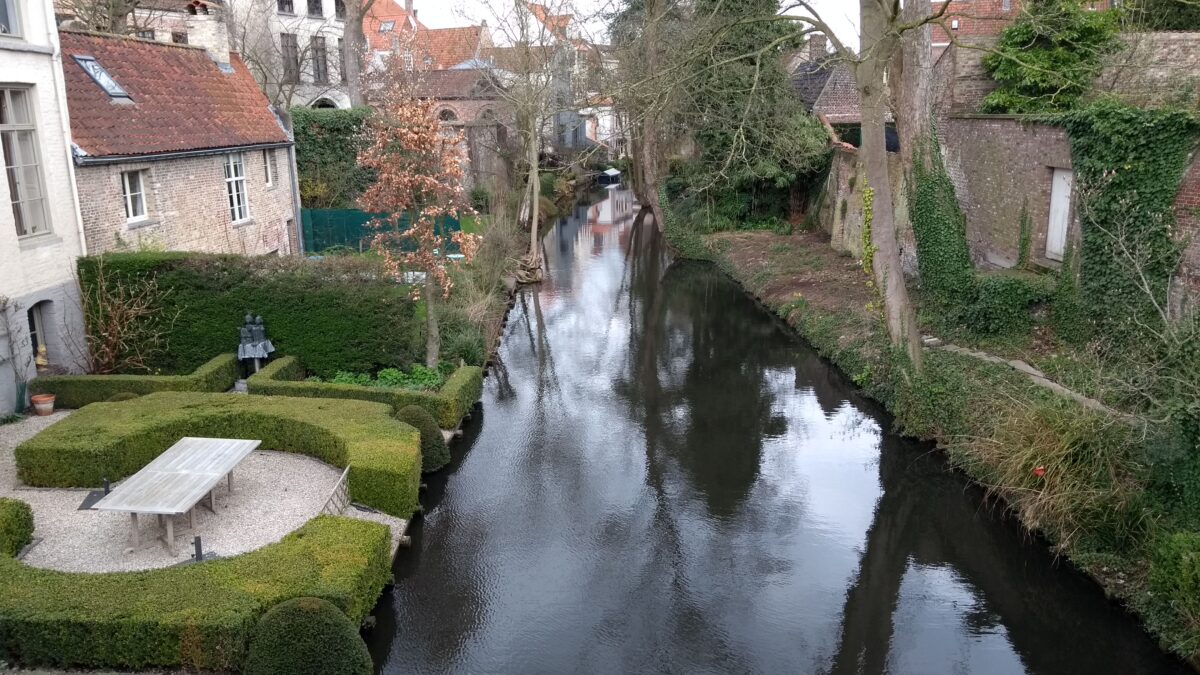 We had a quiet night on Bertie – no one else turned up and we had the whole car park to ourselves. The next we were up and moving in good time as our bodies still on UK time! We drove off at 09:30 judging that the morning peak should have passed. Actually it was still quite busy as we made our way through the edge of the city and on to the main Oostende to Bruxelles motorway and this was certainly busy and poor old Bertie was quite nervous about all those big heavy lorries whizzing past him so close! This is one of the great freight arteries of Europe with lorries heading from all over North, Central and Eastern Europe travelling and to and from the channel ports. I have myself driven coaches along here travelling to places as far apart as Croatia, Warsaw, Czech Republic and Italy!
Anyway we were all quite relieved to be able to turn off this busy road and on to ordinary two way roads as we head south out of "Flemish" Belgium in to the French speaking part of Belgium. There is quite a divide between the two areas of Belgium with the wealth concentrated in the Flemish north ( including Bruxelles, Ghent and Antwerp etc) and we could see that change happen as we drove along. We stopped at a Carrefour supermarket at Soignies not that needed much but wanted to see what they had and what the prices were etc. Decided that prices were quite high relative to the UK but this is a relatively small local supermarket with no local competition – maybe the big ones will be better (they were not!)
Our destination tonight is one of the waterways wonders of the world! We are on our way to the Strepy Thieu Boat Lift which was opened in 2002 and replaces four older lifts built in the 1880s. This new lift was the tallest in the world until 2016 when The Three Gorges Dam was built in China and it raises boats 73m in one go! It is marketed as a tourist attraction in its own right but we were too early in the season to be able to do a guided tour. Later in the year there will be boat trips going up and down both the old and new lifts.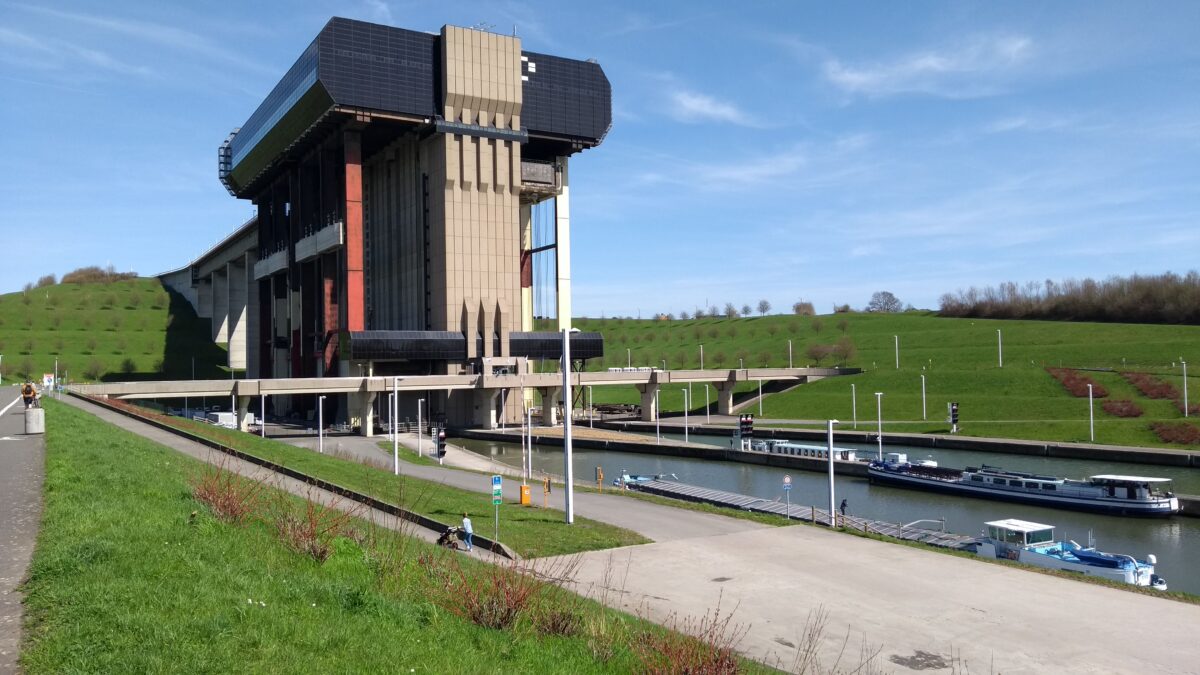 We parked up in a large area that used to be a wharf beside the Canal du Centre. No services but free parking and great views.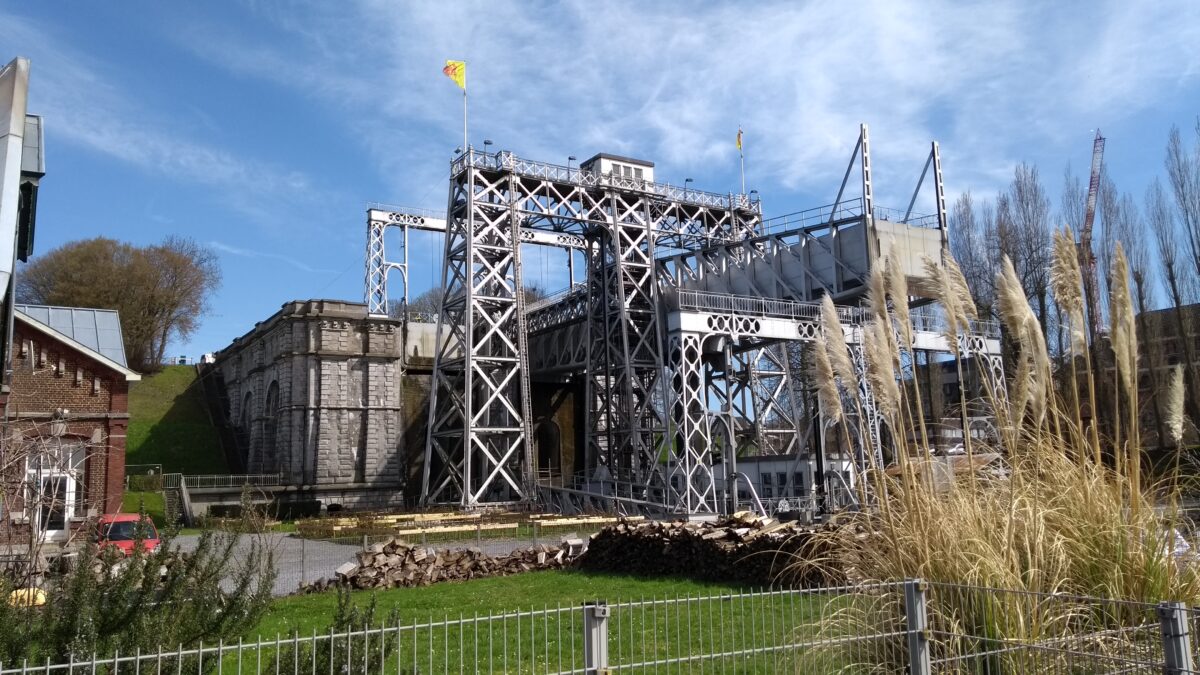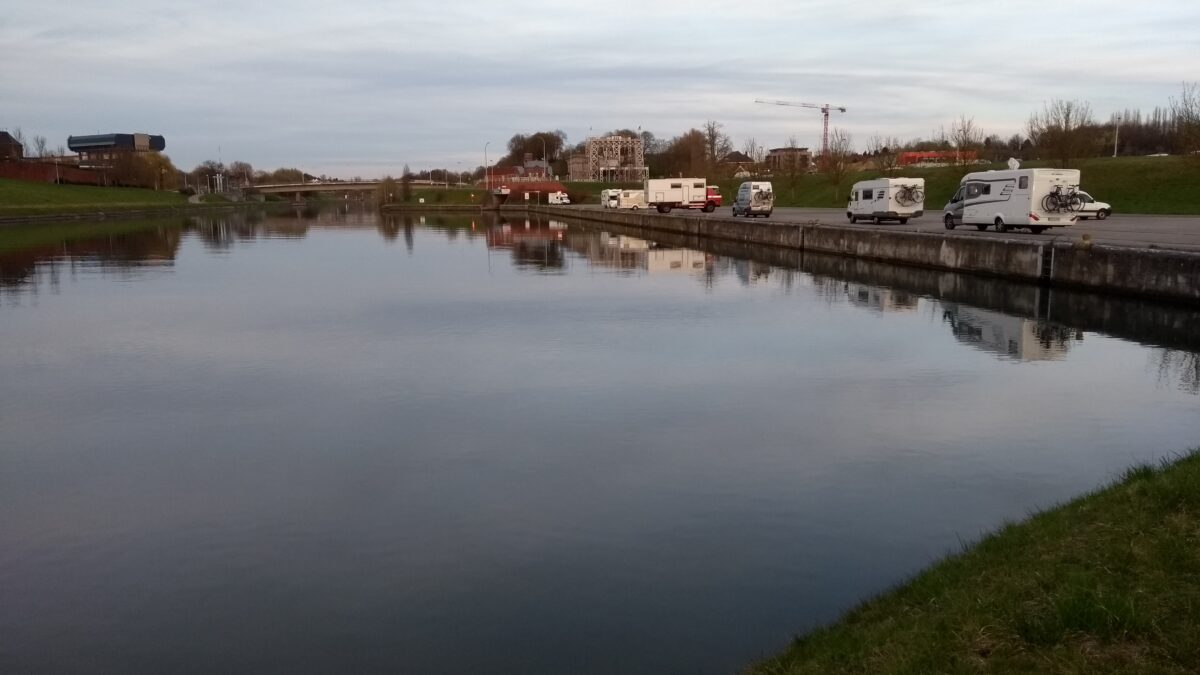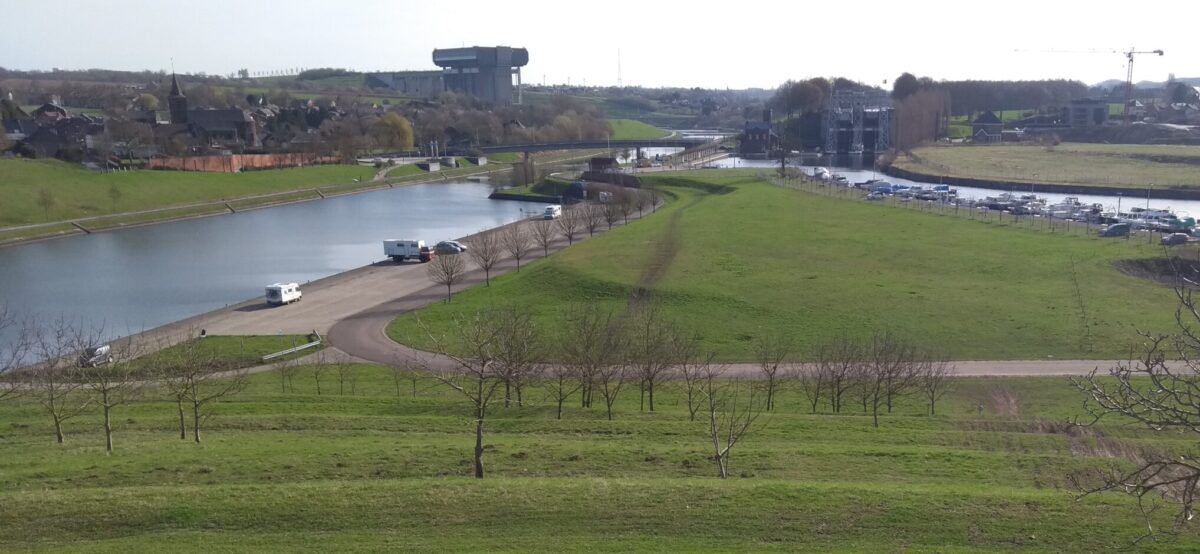 We were hugely impressed and I would love to come back again in the summer and do the boat trip – even though it is quite expensive!