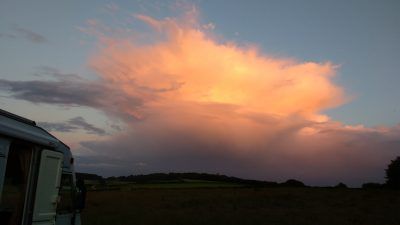 Robin and Jane Bradford arrived at Huddersfield to take over Debdale from us on Saturday 2nd July. After the usual car shuffle where Robin drove me to Sowerby Bridge to collect Bertie and leave his car, we loaded up Bertie and headed off at 2:30pm for the journey home. We had an easy drive through the hills on the edge of the peak district to an over night at Riber View Cafe and Farm Shop near Matlock (Britstop 531) where we were the only van witha whole field to ourselves. The views were lovely – open country and rolling hills all around. WE had a nice coffee and naughty piece of cake in the cafe just before they closed. Late that evening there was a lovely sunset behind the hedge but in th eother direction the light illuminated a large cloud which made a nice picture.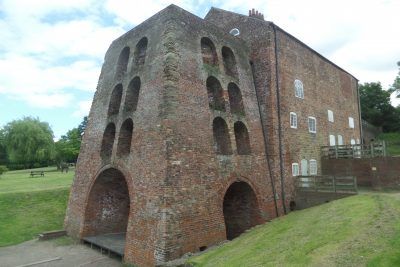 We had an easy start on Sunday and a browse in the shop we headed off to Moira where there is an old furnace (not unlike the one we saw at Bonawe near Oban a few weeks before. We had called in here some years ago but they were just closing so we did not get to see the full site. This time we had hours to spare and explored the site and walked along the canal to the new lock. This is an isolated stretch of the Ashby Canal which they hope to reconnect one day but there is much to do before that can happen.
Leaving Moira we drove to the interesting sounding Britstop at Highfield Happy Hens just west of Derby only to find that it was closed on Sundays – no mention of this in the Britstops book. Time was getting on a bit now and we were blocking a narrow lane with no where to go so drove on until we could find somewhere safe to stop and plan. Chose an alternative Britstop (515) at the Grange Garden Centre near Melton Mowbray which turned out to be a pleasant car park. We arrived shortly before the shop and cafe closed and departed just as they opened the next morning!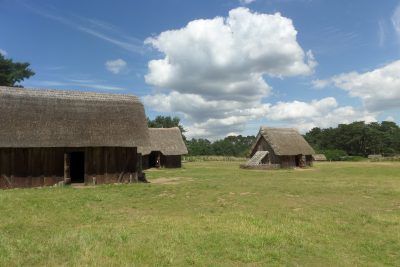 First job today (Monday 3rd August) was to fill up Bertie's fuel tank as he was felling quite thirsty. AA Fuel app identified a suitable filling station on the other side of Melton Mowbray which was only a short diversion so filled Bertie up before turning east. Our plan today was to visit the West Stow Anglo Saxon Village near Bury St Edmunds and then have our last night in a farem shop at Depden just south of BSE. West Stow was a bit of drive away and all on main roads so we go there in time for a late lunch. Great big car park (pay and display) with toilets where we emptied our cassette. The sun was shining and it was a lovely day. It is a really interesting place with some excellent displays and information and a number of recreated houses and other buildings built on the excavated sites of the original anglo saxon buildings.
We decided to play safe and ring the planned Britstop at Depden before we left the car park. No answer. Checked the website and it seems this place is closed on Mondays so another disappointment but at least this time we were warned. After much thought we decided we might just as well go home as that was only just over an hour away!
Arrived home about 6pm after an amazing 5 weeks and over 3,000kms staying on 8 Briststops, 1 Camping Club site, 1 wild campsite and a boatyard.
28th and 29th nights on Bertie