Sunday was an eventful day indeed! We slept in as Bertie is great for winding down and we find we settle down early and sleep well. Anyway we crept out of bed about 8:30 and put the heating on to warm Bertie up. The hot air vent in the showerroom does a great job at warming ones bare toes! After breakfast we took some time to film some video of Bertie inside and out which was quite fun.
Video done we went over to have a chat to our neighbours as our plan was to move Bertie alongside the services block and empty his grey water and toilet cassette and we though we ought to let them know. Our neighbours have a 20yr old 30foot Corando Pace Arrow, a massive American RV, which they bought on Ebay last year.
Disaster struck as I manouvered Bertie across the field toward the services block, making a U turn first to get the correct side nearest the drain. Bertie stopped and refused to move with his driver's side front wheel spinning uselessly in the mud. Ahhhh. We had read about the tendency of motorhomes to bog down, especially front wheel drive ones, but we had not quite realised just how easy this was. We pushed and pulled and tried stuffing mats under the wheel and our new friends helped too but no joy as Bertie was stuck. I walked around to the Garden Centre to have a word with Graham Makepeace, the site owner, to see if he had any suggestions. Graham first reaction was that was not a problem:  he would shut up shop and bring his 4×4 round and pull us back on the hard! Thus a few minutes later he turned up with his big motor and soon had Bertie back on hard standing – what a gent!
After a detour to Waitrose at North Walsham to stock up on lunch time goodies we headed for Horsey Mill (actually a Wind Pump) which is owned by the National Trust and is one of the iconic sites of the Norfolk Broads. As we drove back from North Walsham the sun disapeared and sea fog blew in off the North Sea and the last few miles to Horsey were really quite gloomy. This was rather a shame as the views from the top of the mill are one of its highlights. Being a windpump  – ie designed to lift water from the fields into the dykes – it lacks the machinery of a mill and is a bit empty inside. The sails have been removed for restoration and it will be another year before the mill is back in all its glory so all in all this was not the high point that I had planned for the end of our weekend!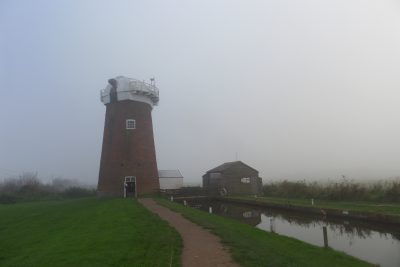 We left Horsey at 3:30pm and started for home. We had expected that once we turned away from the coast that the fog would lift but sadly this was not the case and we later found out that the most of England was under this fog which was forecast to get even worse.
We arrived home at 5pm after 200kms across Norfolk and back. As all ways a feeling of sadness emptying Bertie and making him ready to face the cold of winter on his own. I doubt if we will be away again in Bertie  until we head off to Thursford on the Hymer Club Rally on 4th December which seems ages away!
Total distance this trip: 203 kms
Closing odometer reading: 113,270 kms