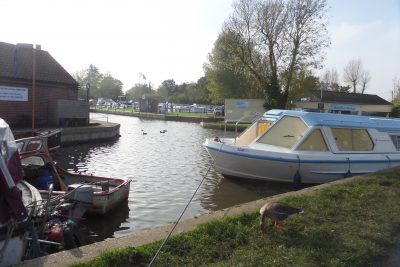 A lovely warm and sunny day. After a lazy start we tidied Bertie and went for a walk into the small town of Stalham. It took us around 20  minutes to walk  about a mile to Stalham along the old main road from Keeler's Meadow in Sutton. The town/village itself is quite small and mainly unremarkable with a narrow street of shops leading to a large Tesco by the bypass. From the town we walked down Staithe Road and crossed the busy bypass to get to the "boaty" bit of Stalham where the channel from the River Ant ended at the town wharf (called a staithe in these parts). There are a few moorings for visiting boats at the very end of the channel next to the Museum of the Broads. This last looked quite interesting but we were not really in "museum mode" so decided to give it a miss this time but it might be worth remembering for a future visit. Clearly the main business of the staithe is the boatyards which are huge and I expect that this area is really busy in the summer. From the staithe we walked past Richardson's vast marina with so many boats in several basins that one wonders what the rivers would be like when all these boats are out!
On the way back to Bertie we found a lovely path beside an old channel that is now cut off by the new road but has been kept as a nature reserve – moor lane. Saw a Jay and numerous other woodland birds. Lots of holly with red berries already and reeds growing under the oak trees.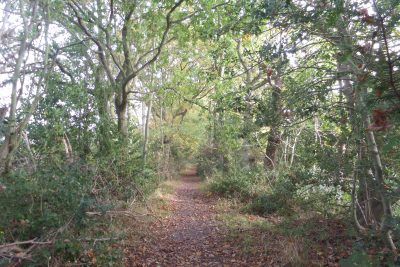 After lunch and some rest and recuperation after our first walk we set out in the  opposite direction to visit (externally only) Sutton Mill. Now closed and semi-derelict this nine storey tower mill has the tallest mill tower in Norfolk. Closed up and is a sad state now the mill must have been an amazing sight in its heyday.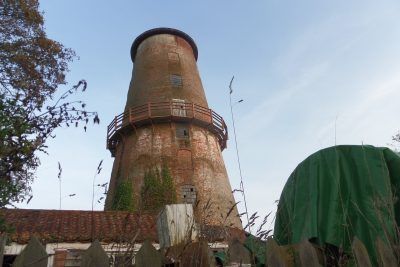 We walked along the Weavers Way past the mill and across the fields pausing from time to time to watch the sun setting. The big red globe dropped into the trees quite quickly and by the time we had crossed the field it had passed below the distant trees.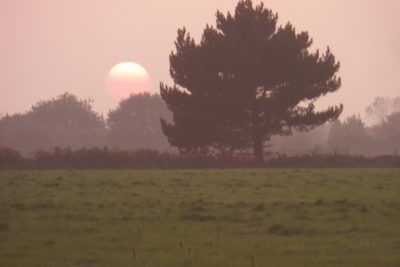 Once back at the campsite we are no longer alone. There is a huge American style RV which looks the size of a coach parked up beside us. For all that size it only seems to have two people aboard!
Tonight I shall have a nice warm shower on board Bertie as I am keen to tryout the shower since the new, more powerful, water pump was installed at St Neots.  Tomorrow I report back on how that worked out.
6th Night on Bertie