Bertie is now resting in the car park of the Holiday Inn Express in Exeter. He has had a very trying day!
We left the campsite at Verwood at 11am after a leisurely start. Another goodnight's sleep was had by both of us. Bertie was a bit chilly first thing but we put the Truma heating on and it warmed the air quite quickly. After breakfast we emptied the loo cassette – our first experience of this staple motorhomer's job. All went well. Then down to the service point and emptied the grey water and topped up the fresh water.
There was quite a lot of grey water to empty as we had both tried out the shower aboard Bertie last night. The shower was surprisingly good and did not use very much water at all. The shower room is by necessity quite small, but big enough in practice and the water hot.
We have now tried out all of Bertie's features and everything works well. I have not found anything on board that does not work properly.  That everything should be in such good condition on an 18yr old motorhome is testament to some first class German engineering.
The highlight of today was Kingston Lacy in Dorset- an amazing National Trust house, gardens and park. Eileen liked the old stableyard. We decided to visit here instead of Barrington Court as it is so close to the Verwood site. We arrived at 11:45 expecting to stay a couple of hours or so but ended up being one of the last ones to leave just before closing time of 5pm! The gardens were extensive and we took a midday guided tour for an hour which included a visit to the Japanese Tea Garden. Then we went back to Bertie for lunch before visiting the house in the afternoon.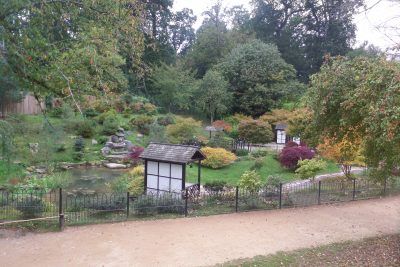 The drawback of spending so long at Kingston Lacy was that we had to then go straight to Exeter. The journey did not start well as within a mile of setting off Lucy (the sat nav) sent us down a road with a 6ft 6ins width limit!! Bertie is 7ft 6ins and would not fit down there! Lucy bravely attempted to route us around that limit (a narrow bridge we think) but in so doing talomg us on a tour of some choice Dorset lanes and eventually over a different bridge that mercifully did not have a width limit but looked as though it should have done!
The route to Exeter from Wimbourne is mainly along the A35 which runs roughly  parallel to the Dorset coast but a bit inland and is very much crossing the grain of the landscape as it plunges down steep hills in to deep valleys and climbs laboriously up the other side. Despite it being another overcast day there were amazing views my wife says but my eyes were glued to the road as I struggled to keep Bertie out of the ditch but within the centre line. Several of the hills were down to third gear with speeds as low as 40kph at the top – Bertie was not popular with the other vehicles!
Our over run at Kingston Lacy meant that the sun set with over 20 miles still to go – including some of the narrowest and twistiest bits of the A35.  Tomorrow we will retrace this route to Beer on the Devon coast near Seaton for Eileen's Mum's cousin's widow's 80th birthday party which was the whole reason for this expedition. After the party we will once again be tackling the western end of the A35 in the dark!
Total distance today: 155 kms
Total distance this trip: 556 kms
Odomoter Reading: 112,276 kms
Kingston Lacy and the challenges of Dorset lanes and hills