We spent a warm and comfortable night on Bertie. Our first night in a motorhome. Eileen was so warm and comfy this morning it took several minutes to encourage her out of bed! Gave Bertie a sweep out after breakfast and we were on our way to Hindhead by 9:30am.
Bertie braved the A3 tunnel at Hindhead but was glad to put his feet up for a few hours at the NT car park for the Devil's Punchbowl. We had several super walks and cooked our first on board meal and lunchtime. It took a bit of juggling and I had to be very careful to put things away as soon as I had finished with them. With practice I am sure I can handle meals OK although I think a Remoska is going to be on the shopping list soon.
We enjoyed several walks around the Devil's Punchbowl – the first took us along the southern rim and back via the valley floor which meant a steep climb out. We saw quite a few Exmoor ponies that are kept here by the NT to maintain the habitat. After lunch we walked in the other direction toward Gibbet Hill with amazing views despite the overcast day.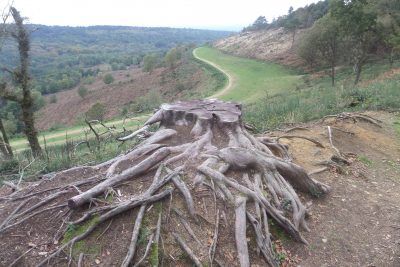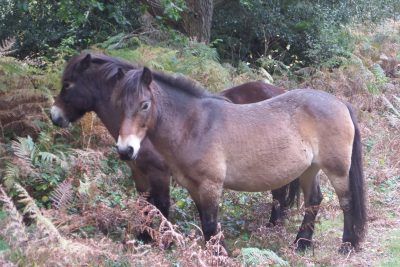 After an enjoyable drive through the New Forest we arrived at Verwood Camping & Caravanning Club site near Ringwood at 5:30pm. As we pulled in by reception there was a smart service point so whilst Eileen went to check in I decided to empty the grey water tank which was very easy, and then filled up with fresh water using our new hose for the first time. I think our decision to buy the cheapest hose and fittings was a serious mistake and I got quite wet!!
This is a very smart campsite and very very different from the Horsley site. The facilities are smart and new and very clean, the pitches being large and open with great views all around.
Tomorrow we head on to Exeter with a stop planned at Barrington Court near Yeovil.
Total distance today: 146 kms
Total distance this trip: 401 kms
Odomoter Reading: 112123 kms
2nd Night on Bertie
Devil's Punchbowl and New Forest