Before it got too dark last night we went for a little walk around the town. I had glimpsed the old bridge from the main road and wanted to investigate so we wandered down there and it was gorgeous, really narrow (too narrow to take a modern vehicle) and we walked across and then got a good photo from the far side. On our way back around the old town we found the MQS House and found that it would be open in the morning so promised ourselves that we would do that before we set off.
We had a fairly peaceful night although the traffic noise from the main road started quite early. We were at MQS House soon after it opened and enjoyed an hours visit. Whilst there is no firm evidence that MQS ever actually stayed there it is quite likely that she did. Jedburgh was important place to Mary and she was here for sometime after falling ill after a long journey to The Hermitage castle and back. The whole house is a museum about Mary Queen of Scots and it was really interesting to understand the whole story of this woman who struggled so hard to be a powerful woman in a time when men held all the power. It was also good to be able to bring together all the short mentions of the MQS that we have seen at so many castles and palaces in Scotland.
We had a good drive up to Carter Bar where we stopped for coffee and to say our farewells to Scotland which we might not see again for several months. It really is a smashing view back in to Scotland. I took a panorama photo (below) but I am not sure it does it justice.
From Carter Bar we drove down the A68 to Corbridge where we planned to have lunch and visit the Roman Site. We arrived in very good time and decided that we actually had time to go right through to Bridget's a day early. This would save us the £5 campsite cost and more importantly it would avoid having to park overnight on grass which could be tricky after the recent rain.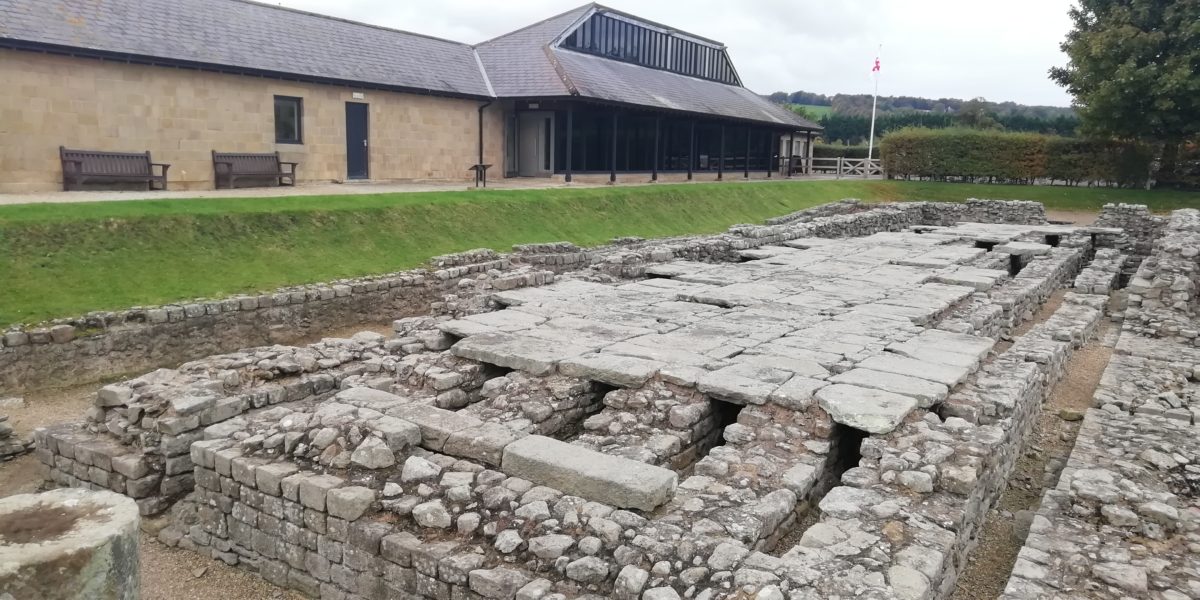 We had a our lunch and we had a rather quick look at the Roman museum which was rather good but we only had a quick look at the extensive outdoor remains. Must come back another time! We were on the road again about 2pm and had a very smooth easy run down the A1 to Tickhill and arrived at my sister's house at 6pm. We had a short coffee and panetone break at Wetherby Services and reminded ourselves that motorway services are easy to use but not very attractive stopping places.
MQS House and long day to Tickhill