Time to move on again! We serviced Bertie at the free services kindly provided by our hosts and were rolling down the road before 10am. A fairly short drive to Nîmes today but that 20 miles was quite interesting! The first section was interesting because of the huge plane trees beside the road. These were fine when planted over 100 years ago, vehicles were smaller and the trees were tiny. These days the trees are massive and are scarily close to edge of the road and the road does not seem very wide at all.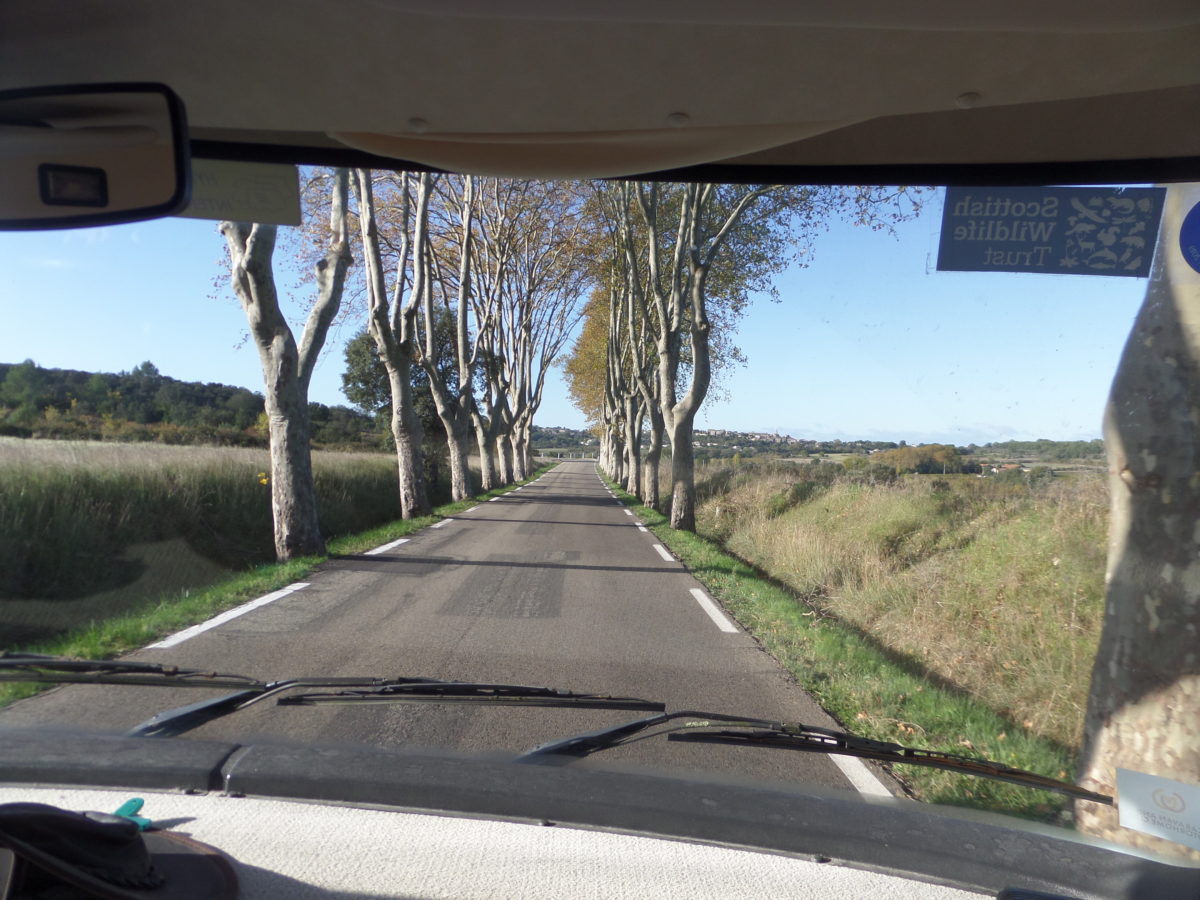 We made it through the trees to find ourselves in the Gardon gorge and the trees were replaced by overhanging rocks. Somehow I was happier with the big trees! I think the gorge was very scenic but I got little chance to enjoy it and nowhere at all to stop and get out and take a photo.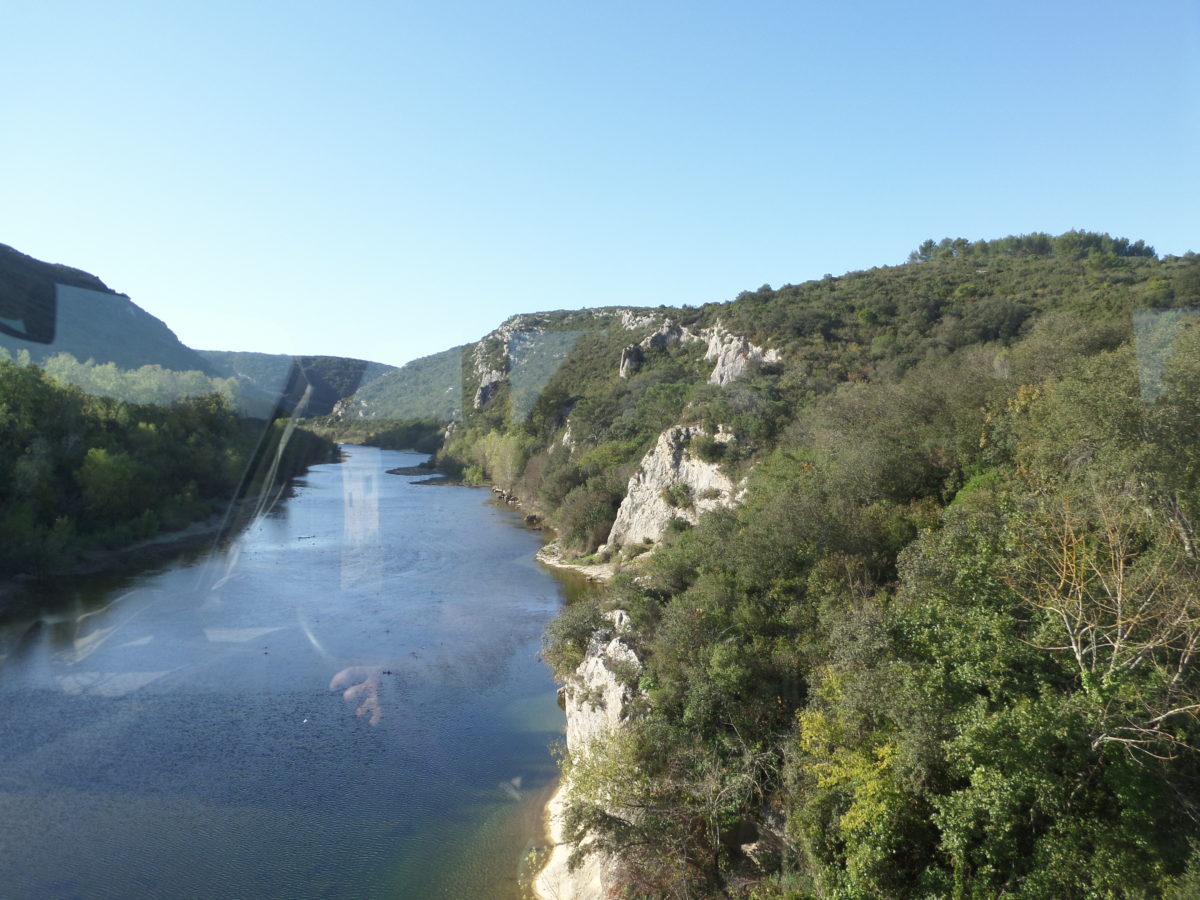 Soon we were driving in to Nîmes. I had picked a parking place for us from the Park4Night database that is the car park for a large shopping centre on the southern edge of the town. Of course that meant we had to cross Nîmes to get there. More scary traffic on tight roads. But Bertie handle it all with his usual style (ie very slowly) and we were parked up well before 11am.
We skipped coffee and walked up to the bus stop in the middle of the big dual carriageway! Our ride in to town was the 'trambus' which is a bendybus that runs on a dedicated track. Really good service with very new vehicles, automated ticket machine at all stops, screens on the bus to tell you where you are and what the next stop is. The return tickets for both of us were £5 (€5.80).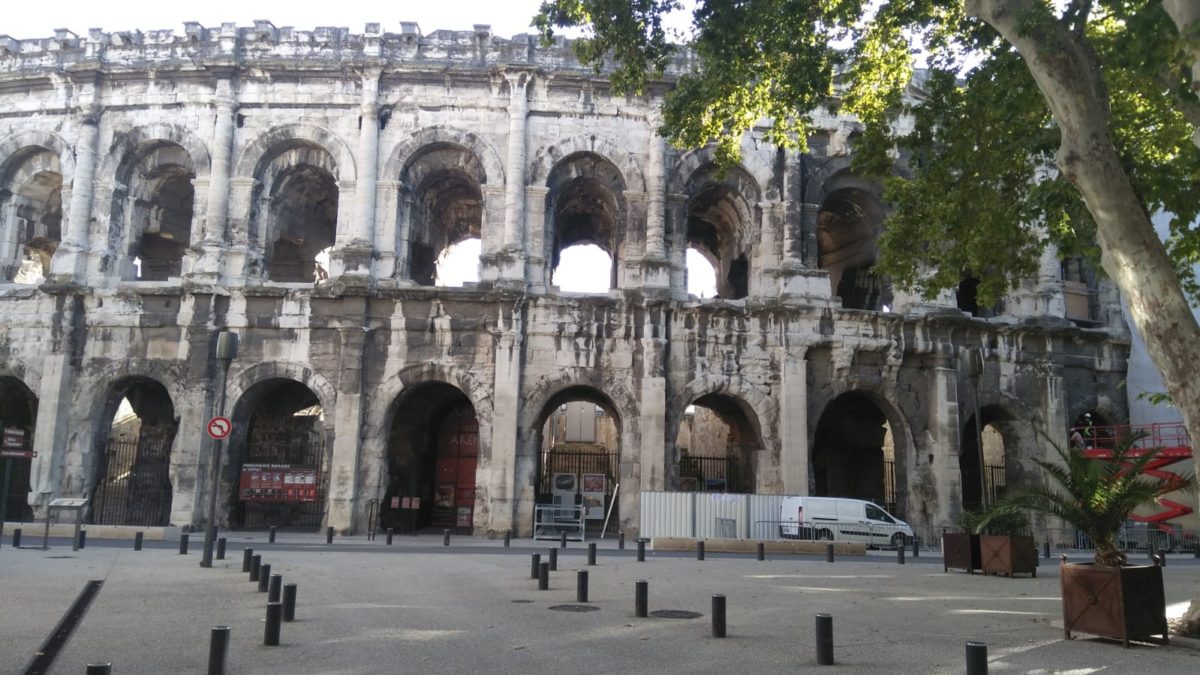 The bus dropped us at the Arènes stop right beside the Roman Arena which was what we had come to see.
This amazing building dates from the early second century AD and is the best preserved Roman amphitheatre in the world. It is largely complete and is still used for performances and big events in the summer months. We were offered free audio guides in English as part of the entry price but they asked for an ID card to be left as security! I gave them my Scottish bus pass which does look a bit like an ID card and they took it happily!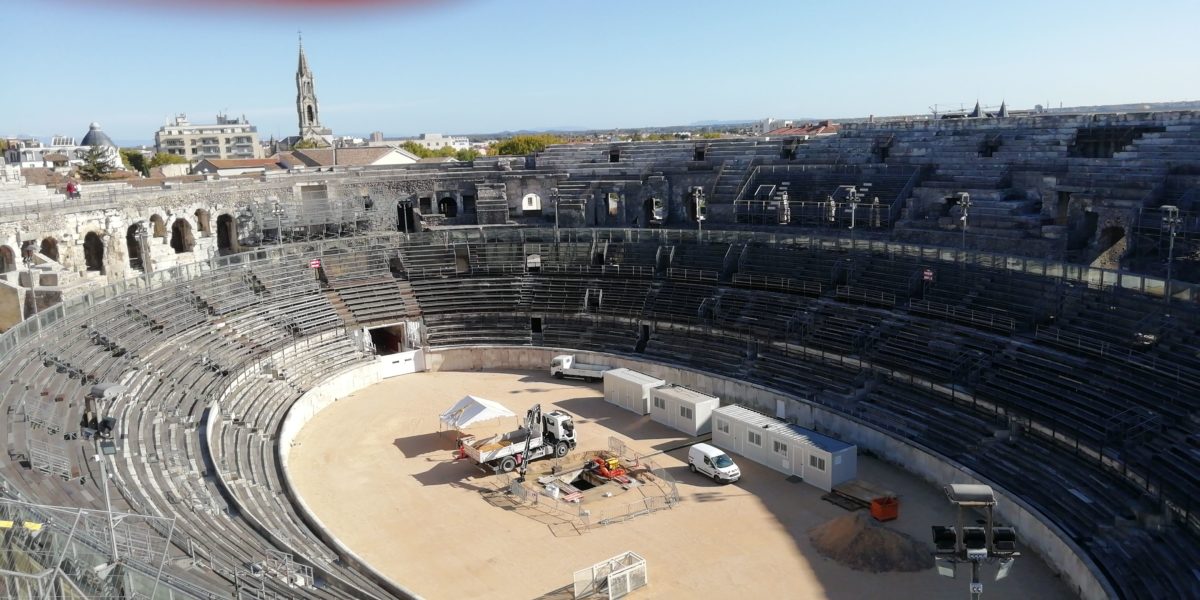 The audio guide was really good, well read in proper English and full of interesting information. It took us all over the building which is fascinating with a complex system of corridors and walkways at various levels giving access to the seating areas even right up on the very top where you can look out over the town. We had a happy couple of hours exploring this huge building.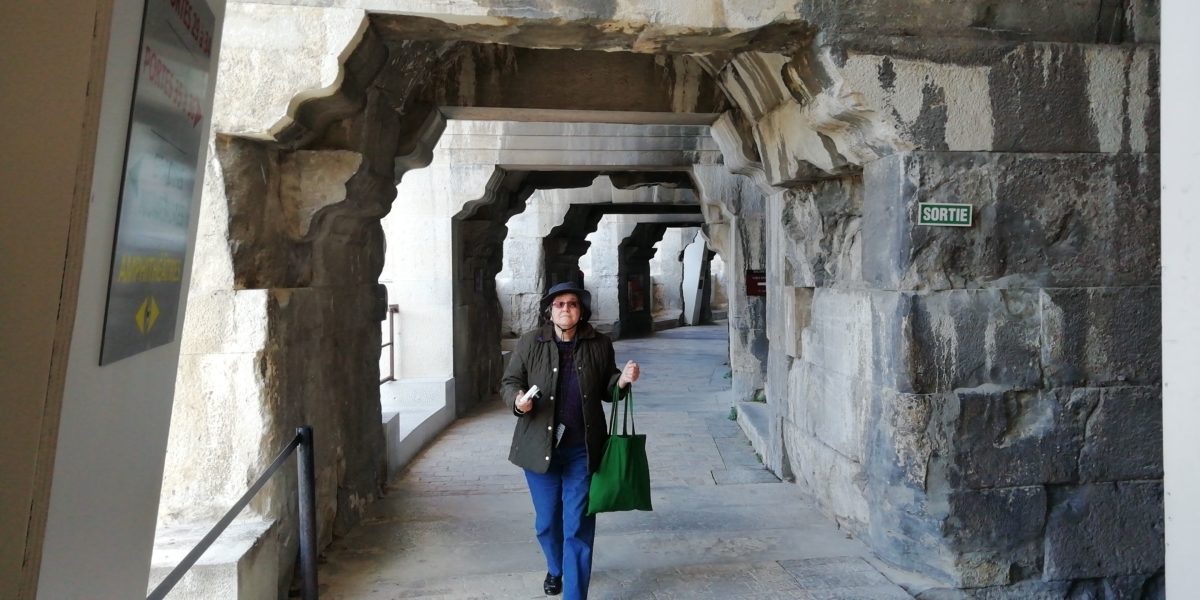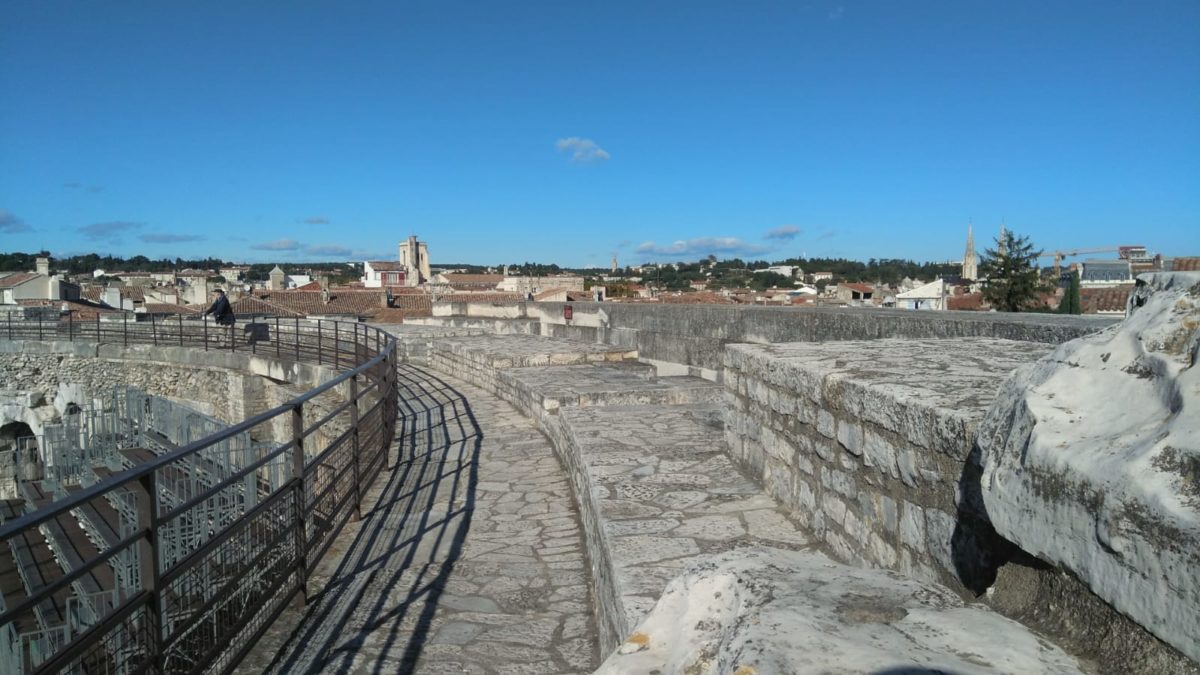 After we extricated ourselves from the arena we felt we needed a nibble. We found a tiny place selling hot sandwiches with seats on the pavement outside. It was actually rather good to just sit down and watch the world go by. The sandwiches and frites were good too. Our first frites this trip!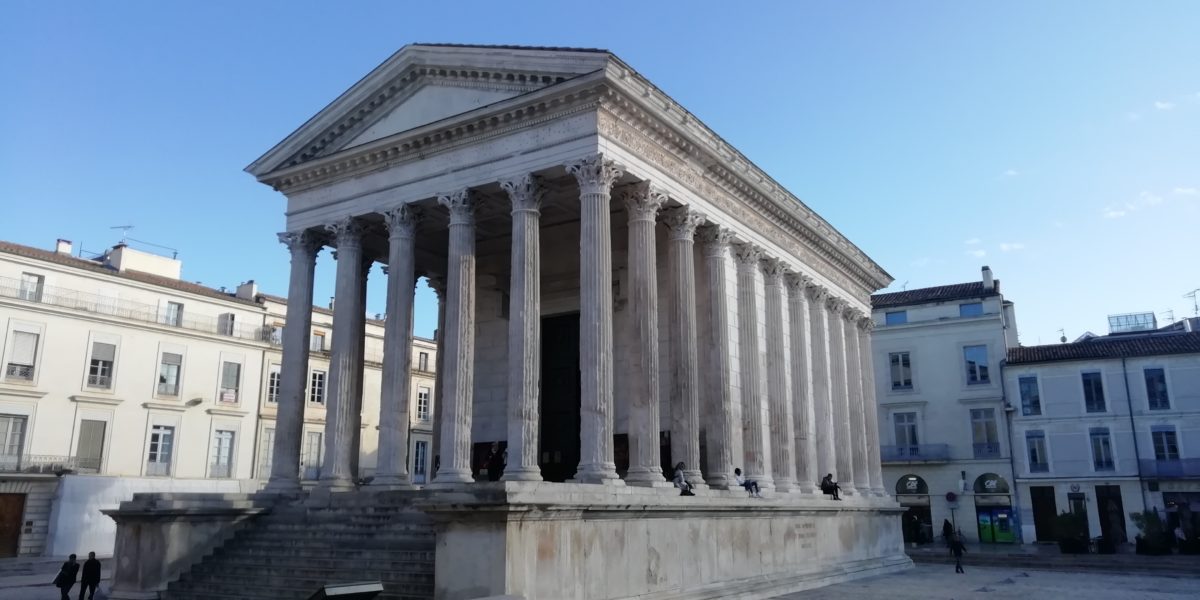 Suitably nourished we wandered on down to the Maison Carrée which is the only Roman temple to survive to the present day in its original form. Built between 2AD and 4AD it is still just as it was on its original plinth in its original location. The interior room has been emptied and is now a small cinema used to show a film about the founding of Nîmes which we watched as it had English subtitles.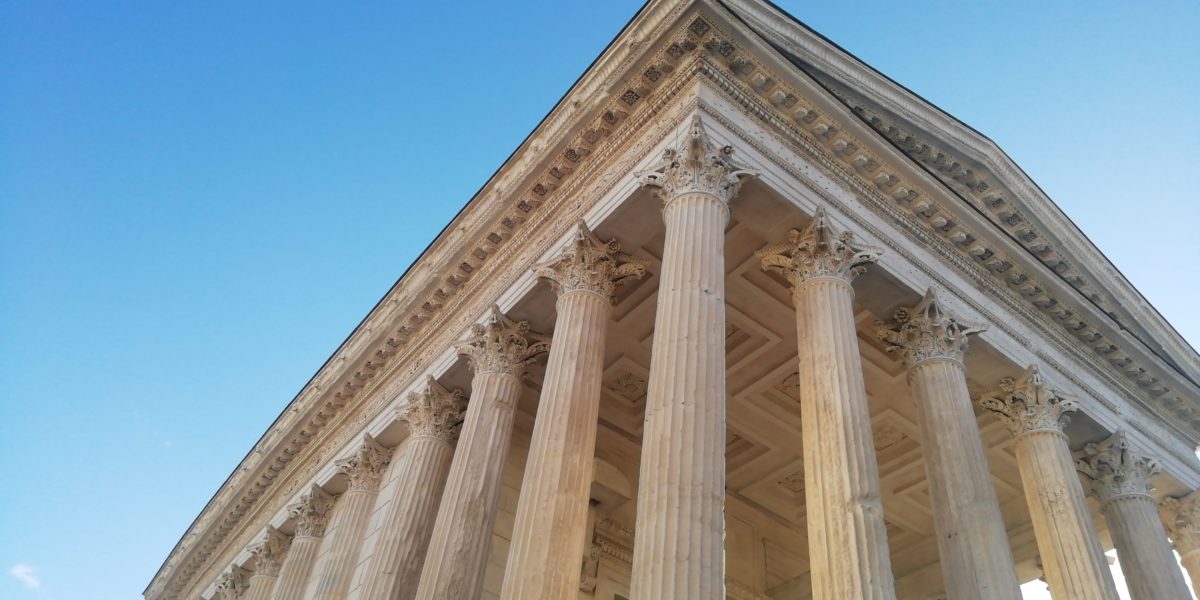 After the film we wandered through the tiny streets of the old town and picked up the return bus on the far side. This bus was much busier and it was standing room only!
After coffee on Bertie we went to explore the shopping mall and especially the Geant Casino hypermarket. That was vast and a little confusing as it is not a brand we are familiar with. We needed fruit, veg and treats. We emerged with a huge cabbage, some broccoli, a tin of choucroute, a box of muesli, four pears, a big pear and chocolate tart and what we hoped was a pot of cream! The tart was really nice but the cream was very runny so not that good. Finding the double cream was really difficult. Big fridge with all sorts of cream but mainly crème fraiche which is quite different.
This is just an ordinary car park although well reviewed in Park4night and since the mall has now closed we are alone in this huge car park. I had expected a few other motorhomes to show up but none as yet.