We woke to a HUGE bang that rocked the van! It was 07:15 in the morning! That was followed by an extended barrage of gunfire that lasted for several minutes before it slowed to a steady trickle of trickle of shots. It turns out that the lagoon might be within a natural park but it is also a National Hunting Reserve. I was aware of a number of vehicles arriving in the aire late last night. This morning the car park next door was pretty busy too. Grrr not much point sticking around to watch the birdies – there can't be many left.
Last night was quite warm and the outside temperature was 11C when we got up. I think that is the warmest morning of the trip so far. It seems that we have acheived our first objective – getting far enough south to be warm! The forecast for the coming week is lows of 11C or better and highs up to 23C and no rain. We can't have everything it seems as at 10am the wind suddenly started. It had been forecast but what really surprised me was that before 10am it was almost calm and about 10 minutes later the trees were bending and it was whipping crest on the waves in the lagoon. I had a little walk down to the viewing tower by the lagoon and quickly got quite cold with the wind chill. Eileen did not venture far from the van and was not interested in a walk. She finds wind very difficult as it upsets her already rather challenged eyes. So what with the wind and the hunters it was not worth staying here today as we had thought we might.
We had a slow start and then headed out about 11am. The plan was to drive about 120kms south to a council run aire in Castellon Le Plana. It was near the beach and had room for 40 vans and was also handy for the town centre. Might be a good place for a few days. This plan meant today was mainly on bigger roads. Once we were off the narrow bumpy delta roads that is.
Coffee stop was a large car park directly beside the sea just near Alcanar just south of the delat . It was good to see the sea again – our first proper seaside view from Bertie this trip. However the busy road was right beside us so no desire to hang around too long. We talked about another stop for lunch but decided that the 80kms to our overnight stopover was not too far to do in one stage and the earlier we get there the better since it is likely to be popular.  Once off the delta our entire journey, that was not actually in towns, was through orange orchards. Mile after mile of orange trees many of which were heavy with fruit.
We found our way to the Castellon le Plana aire as planned before 2pm. It has spaces for 40 vans. However there were 40 vans neatly parked there and a further 41st van less neatly squeezed on the end. There was no room for us and no sign of anyone leaving! We took the opportunity to park on the service bay and fill with water and drop the grey waste whilst we considered our options. The next nearest reasonable looking aire was behind a restaurant at Nules about 20 miles south. I also found two others as backup if this was busy too. So back on the road by 2:30pm and driving through the middle of Castellon le Plana which we are not now going to get to visit. Then through a few more orange orchards, on to the main road for a few miles and then back through some more orange groves to Nules which is also close to the seafront.
To our great relief the huge parking space behind the restaurant was almost empty. Just two other vans (one Dutch and one Italian) and space for another 30. What a complete change. We are parked in countryside with the little town between us and the sea. We can explore there tomorrow. The pressing thing to do now is think about food. I wandered in to the restaurant where a few people were eating but found no staff and no menu displayed so decided to eat on Bertie and think about a meal out tomorrow.
I had a nice meal planned so we decided to open the box of wine we had bought at El Masroig. Really nice but it went straight to our heads so no question of walkies or anything really. It took Eileen three sessions to do the washing up with long sit downs in between. We only had a small glass each – honest!
As I write this the sun has just set and the colours are wonderful. I have taken a couple of photos but they do not do justice to it. Not sure what we will do tomorrow – we could stay here and have a relaxed Sunday or we could head on to an interesting looking private aire near Gandia which is the other side of Valencia.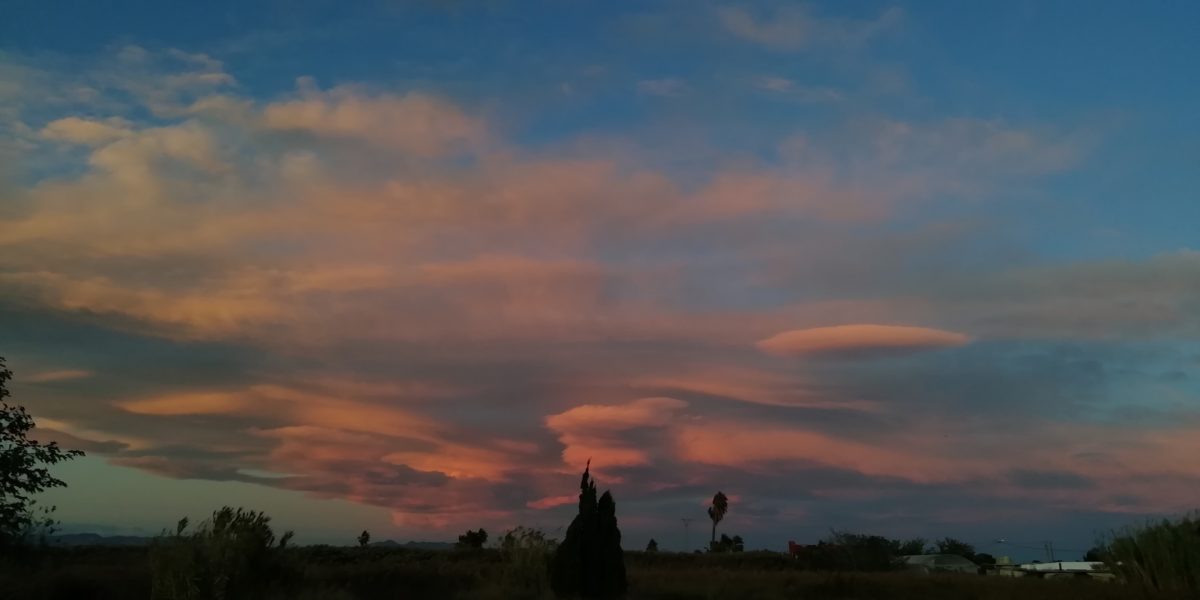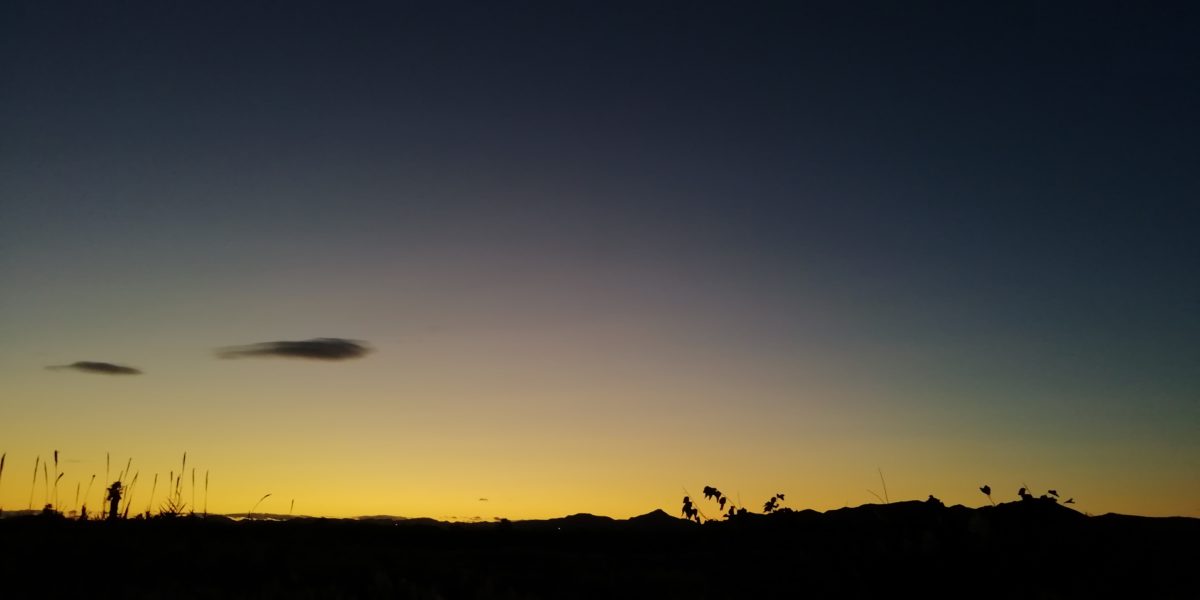 Oranges as far as the eye can see