I am going to write up several days in one blog post as I have got a bit behind. We had two days on a lovely free aire in Simat de le Valldigna which was great but had a dreadful mobile signal. Now we are parked up in a really nice, paid for, aire on the coast close to Gandia about 20 miles north of Denia. Free wifi and loads of mobile signal.
When I last blogged we had not long arrived at Platges de Nules and parked in the free aire behind the L'Aluqueria restaurant. Loads of space and countryside around us and views to the distant mountains. Just a handful of other motorhomes there. In the end we had two nights there as it was a great chance to slow down and have a break.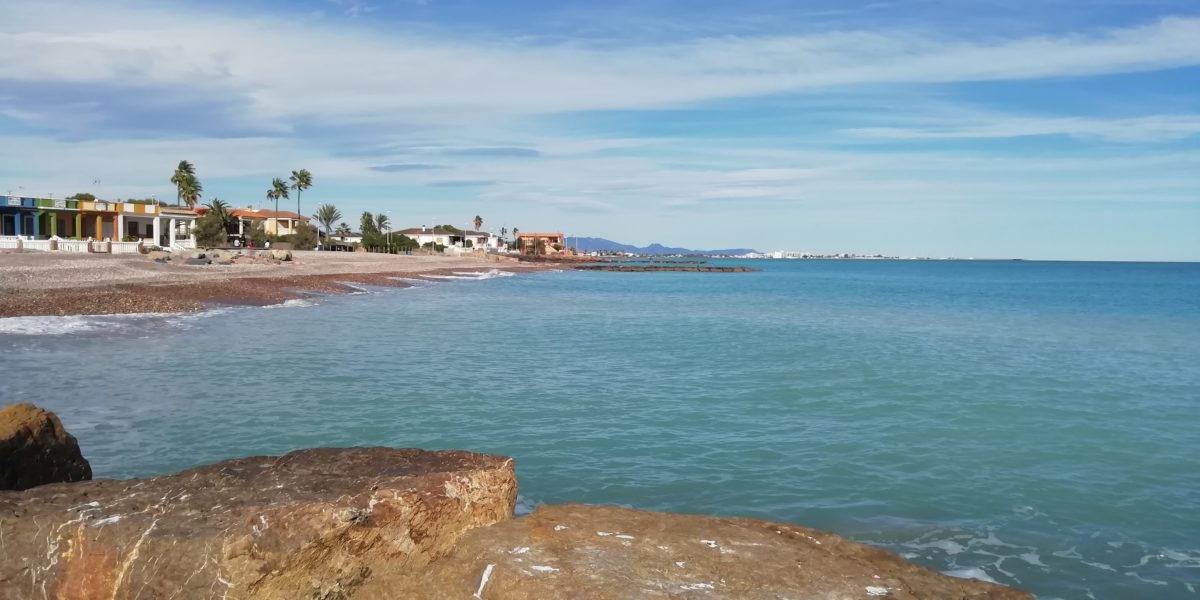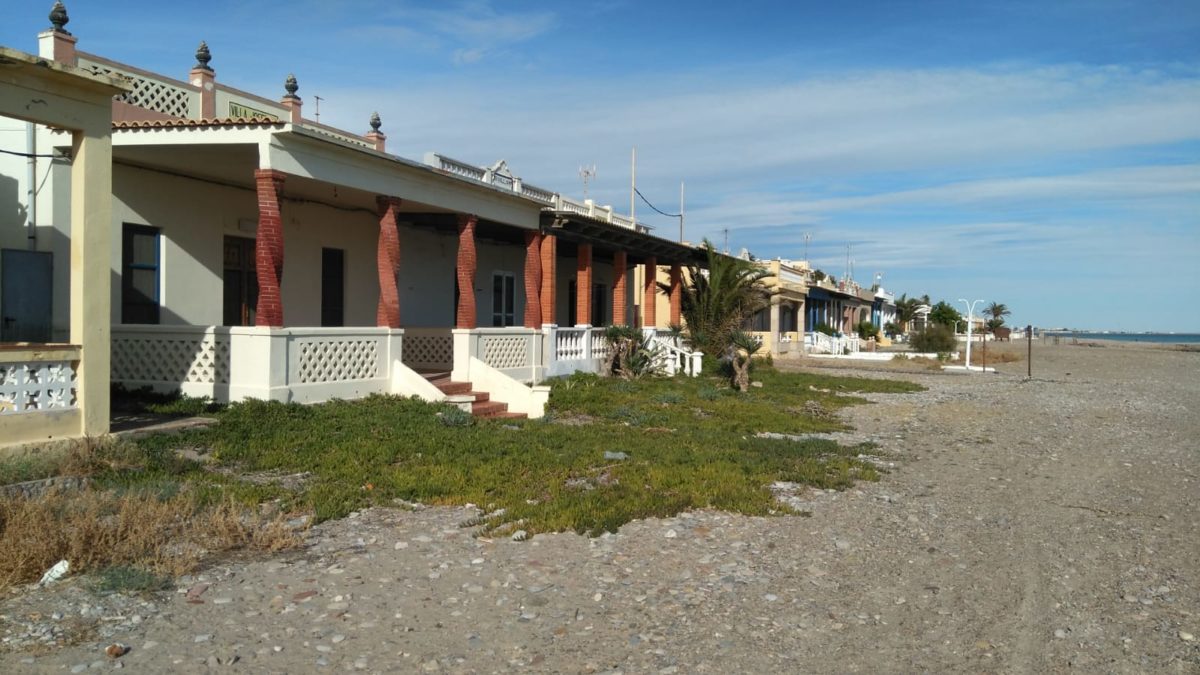 The second day (Sunday) we had a little walk down to the beach and around the little town but as it was Sunday there was not much going on. Quite a nice beach with proper, pebbly shingle but no sand, We felt that shingle with big pebbles was better than the coarse, gravelly sand at Pineda de Mar last week. The beach was empty save for a single fisherman line fishing off the beach. On our return from our walk we decided to investigate the food on offer at the restaurant. They spoke no English and we spoke no Spanish (or  Catalan) and was very busy with local people. However they went out of their way to help and printed us a special version of the menu translated by Google! To be honest it did not help much. However we ordered some starters (fried fish, patatas bravas, and squid cooked in its ink with onions) followed by some paella (I had seafood and Eileen had a meaty one) and we had some gorgeous desserts. The whole lot with drinks was 32.50 euros and was far more than we could comfortably eat! I was so stuffed I decided I could not manage to the write up the blog and I would do it tomorrow!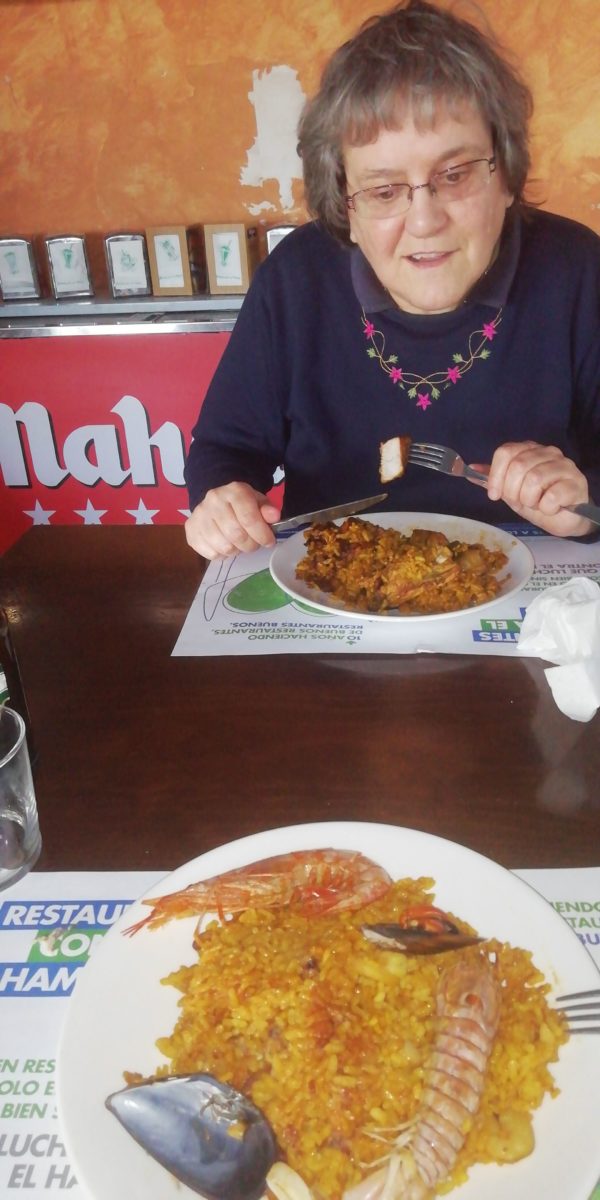 On Monday we decided to move and go back inland. Last night our electric step finally failed. It has been a bit unreliable for a year or two but we have always managed to get it to work before. This time it was clear the failure was permanent. That left us needing a proper caravan step to use instead. After much research we identified a caravan dealer in Valencia that appeared to have an accessories shop and we planned our route to call in there on our way to our next stopover at Simat de la Valldigna.
So back through the orange groves and on to the main road to Valencia. Then in to Valencia to find the caravan dealer. Valencia was quite an experience – not quite as bad as Barcelona but close! Somehow I managed to get in the wrong lane as we approached the turn off we needed to get to the caravan dealership. Normally this would not be a big deal as the sat nav works out a new route. In this case we were on a huge dual carriageway that had an enormous dry river bed as a central reservation! The south bank of the river had one carriageway and the other bank had the traffic going the other way. It tooks us 5kms to find a bridge, cross over to the other side and drive back up again to get to our shop. On arrival it turns out the dealershop was a motorhome hire office and they did not have a shop and did not speak English and were not vaguely interested in our problems Grrrr! Ho hum – no new step today.
We agreed to push on out of the city and park up in the first motorway services we came to and have a break and some (late) lunch. That allowed us to rethink a bit and we decided to head on down to to our original destination and see how we get on with our, rather small, folding step.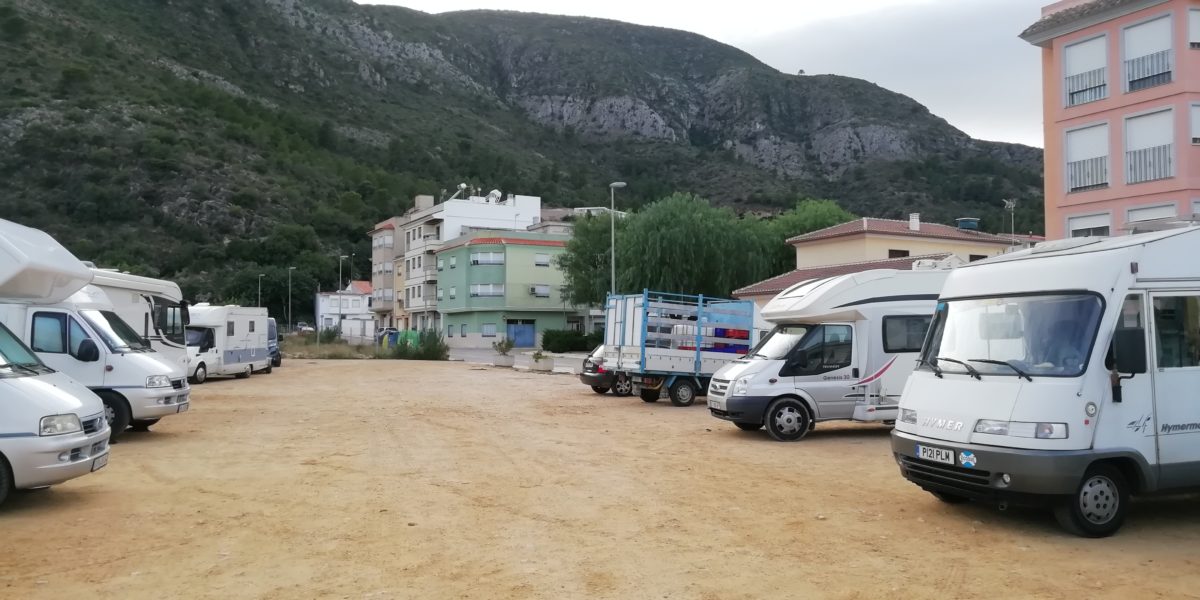 We arrived at the aire in Simat in mid afternoon. It was busy but not full and with a good mix or nationalities including some Brits. We filled up with water and emptied the loo and the grey waste. The aire is just a gritty bit of ground on the edge of town with a street on one side and orange trees on the other! All around us are massive hills rising steeply above the town making for glorious views in all directions.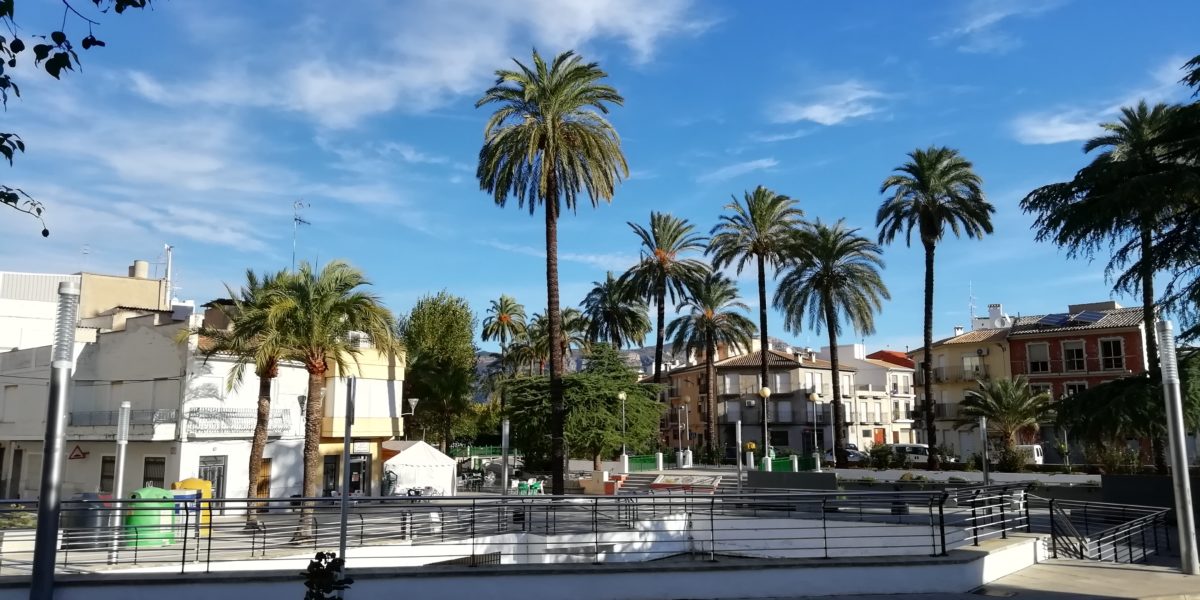 After a rest we headed out to explore the little town and see what it had to offer. Quite a lot is the answer to that. I love these "real" Spanish towns away from the main tourist routes. The town is quite small but has a number of shops and a number of historical features. The most notable of which is the Royal Monastery founded in the C12 and much extended and improved in the C16 but run down and ruined in the C19. It was bought by the Valencian government in 1963 and some restoration begun. A further round of restoration in the early C21 allowed it to be opened to the public and used as a venue of local events. We got there at 5:30pm and they closed at 6:00pm so this was something to explore tomorrow! Back at Bertie I got the laptop out planning to catch up on the blog  but was I unable to upload any photos at all as they kept timing out. Another day without a blog post – sorry!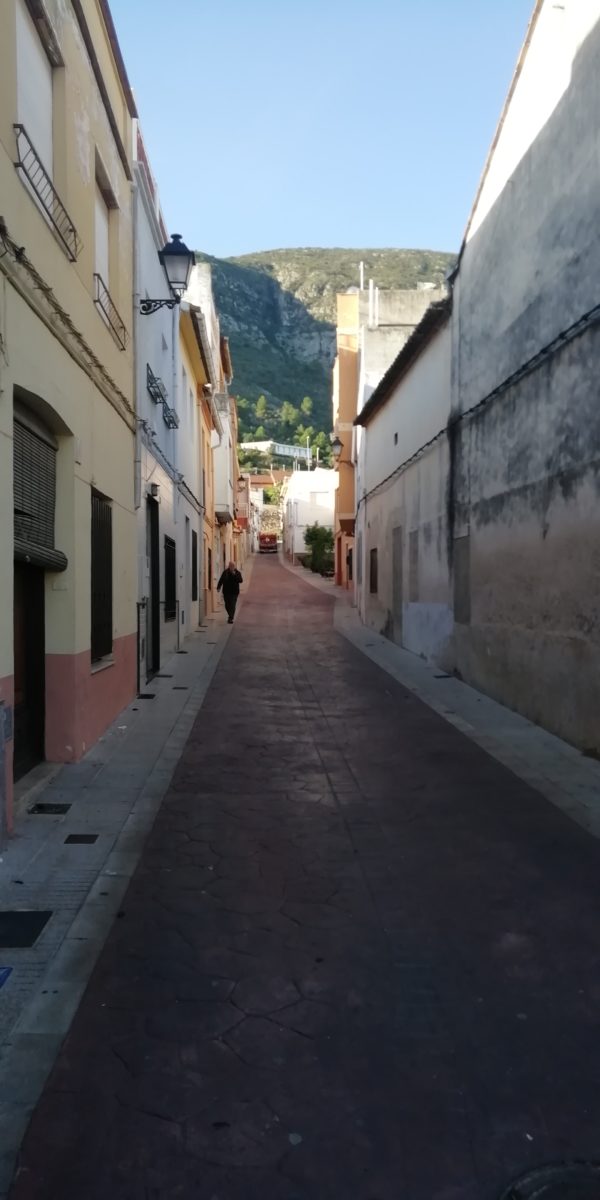 We had a peaceful but rather warm night and rose quite late on Tuesday morning. My first job was to get bread as we had finished our loaf last night. It was rather nice walking around the town in the morning say "Hola!" to everyone as it had that small town feel and most people smiled and replied. I found a small supermarket and had a look at their display of white baguettes. The cashier lady saw me looking puzzled  and said something to me. I do not know what she said but I heard the word "integral" which I knew meant wholewheat and I nodded enthusiastically and she went in to the back room and came out with a seedy brown baguette that was still warm. I think this was the morning delivery that she had not got around to pricing and labelling as she then printed off a label before scanning that label at the till to charge me the 51 cents.
After breakfast it was time to go see the monastery. We picked up an English guide leaflet and off we went – all free. There was an extensive exhibition and displays about it in the old Olive Mill building but that was only in Spanish and Catalan so quite hard going for us. Then we wandered about the big site looking at the ruins and trying to match them up with the details in our leaflet. We saved the main church to last as we felt this was the main attraction and indeed it was. Now empty it is still richly decorated and you get some idea of how grand it was in its royal heyday.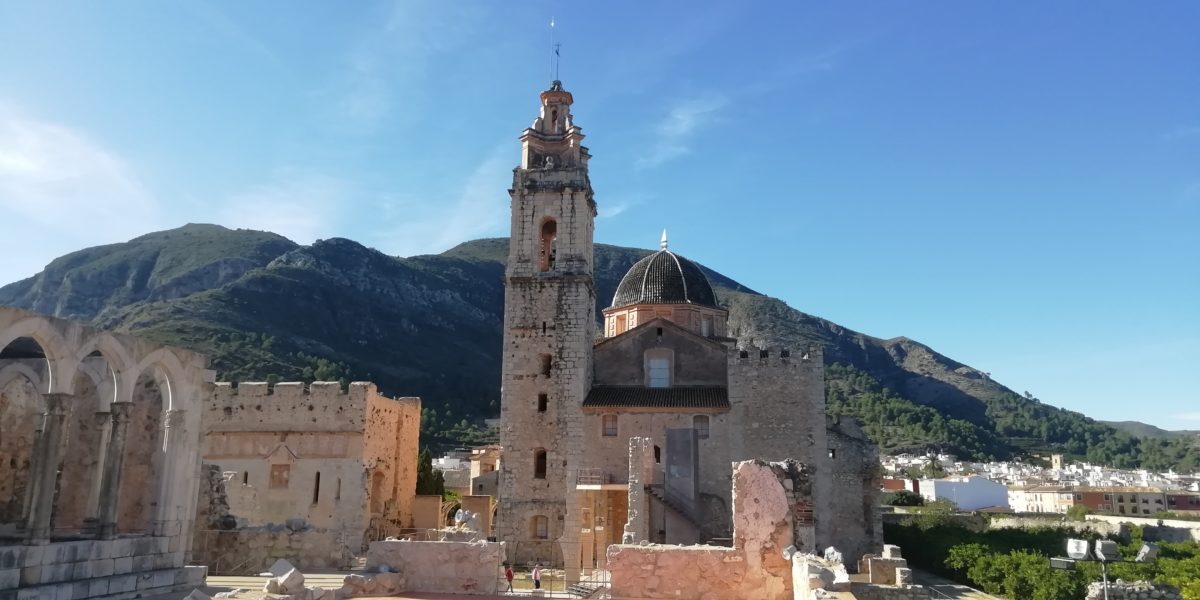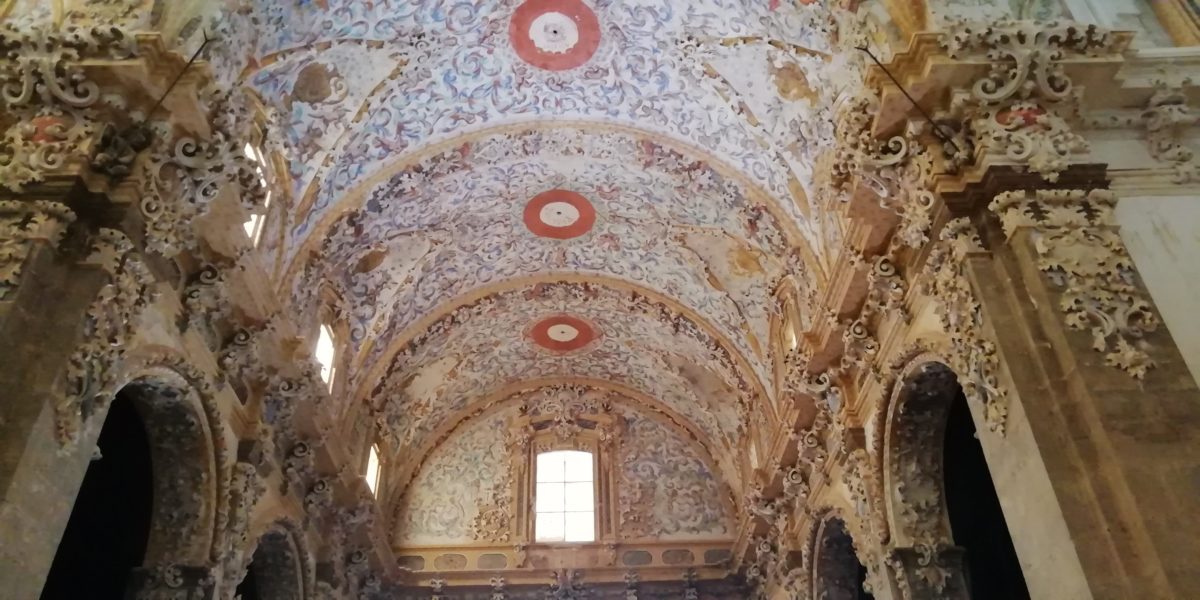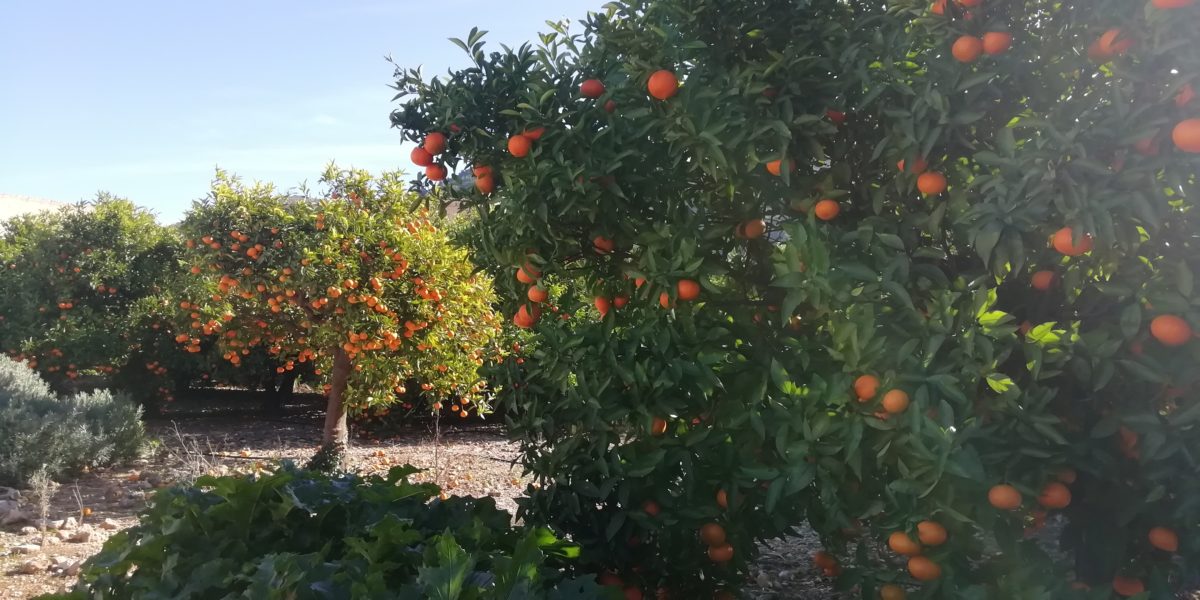 We had two nights in Simat and left on Wednesday morning but not until we had been up to find the weekly street market. This was mainly clothes and non-food stalls but there were two fruit and veg stalls and a stall selling olives, pickled stuff and dried fruit and nuts. We need veg so we got some huge tomatos, lovely looking plums, some courgettes and super cauliflower – all at well below supermarket prices. On the olive stall we bought a bag of mixed olives (having now tried these I wish we had bought more).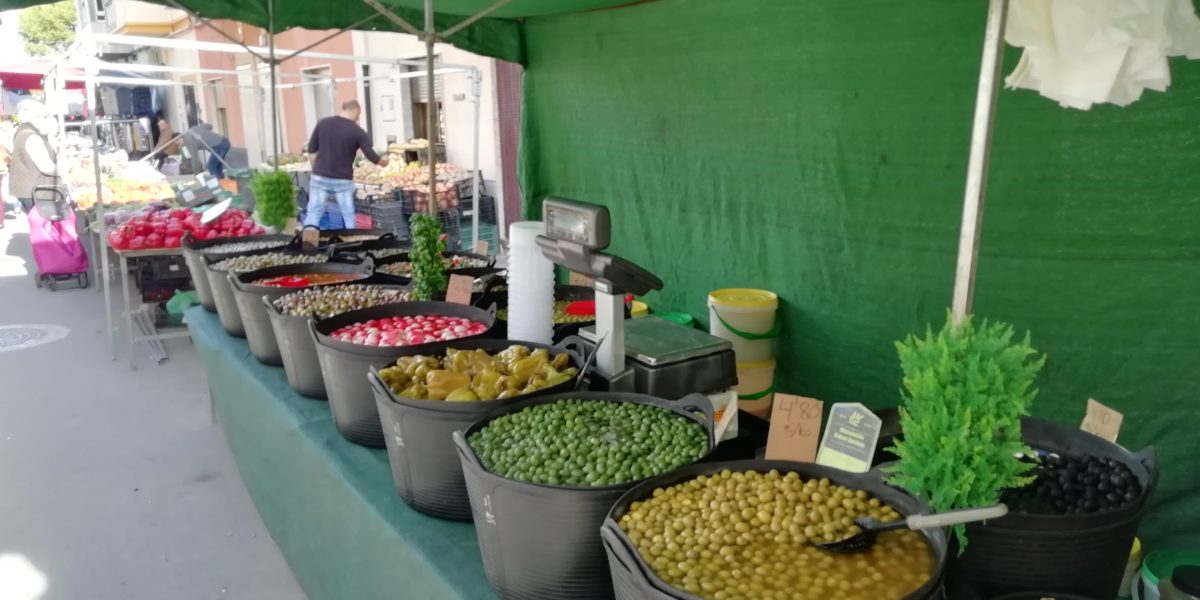 As we were getting ready to leave we realised that one of the motorhomes at the other end of the aire was not just British but Scottish!! We had to have a chat with them. Turned out they were based in Inverness having sold their place in Lairg in February, bought this motorhome in March and were now living full time in their Autotrail motorhome. They had been all the way up to the far north of Norway in the summer and were now heading down to Portugal for the winter although they need to be back for Ian to have treatment at the Raigmore in January so will not get to enjoy the full winter away. We have met some really interesting people on this trip and had some good chats. We had a good talk to to Luc from Antwerp yesterday and he waved us off this morning. Also this morning we got talking to our neighbours who arrived last night who are from Alicante and enjoying a two month sabatical  – they can save up some of their annual leave for three years and then take an extended break. Her English was not perfect but we had a nice chat.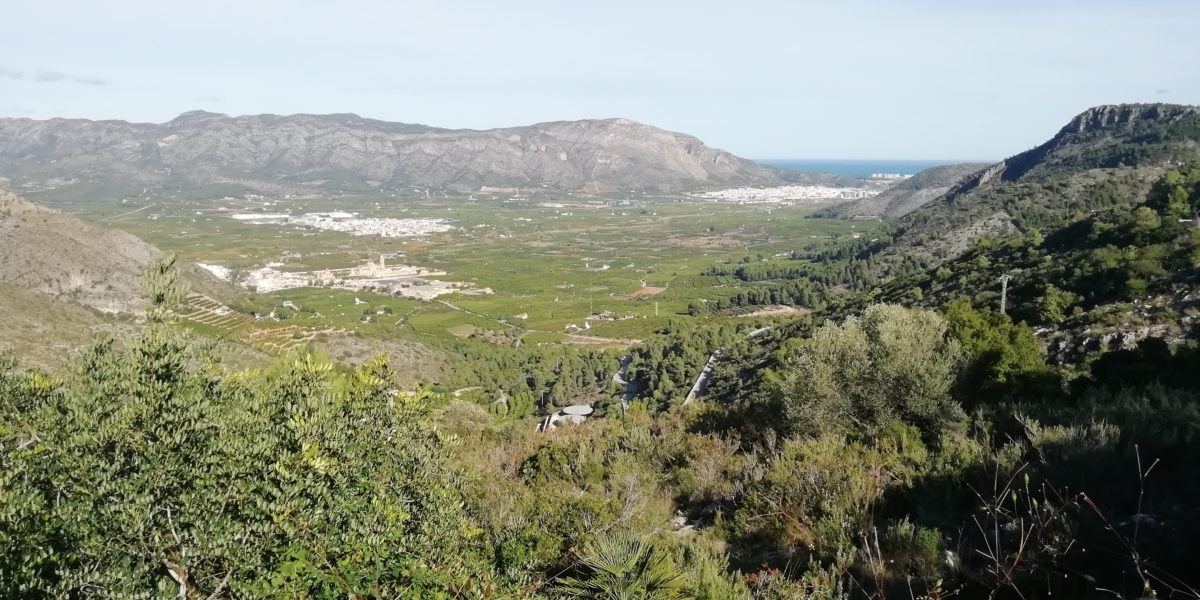 Quite a short journey back to the coast today but I chose a very scenic route that climbed up the mountain behind the town and then dropped down again into Gandia and then to Daimus where we are now. As we needed some fresh bread and things we called in at the big Consum supermarket on our way to the site. We spent an hour in the supermarket getting all sorts of things – including custard apples that we have heard of but have never tried before.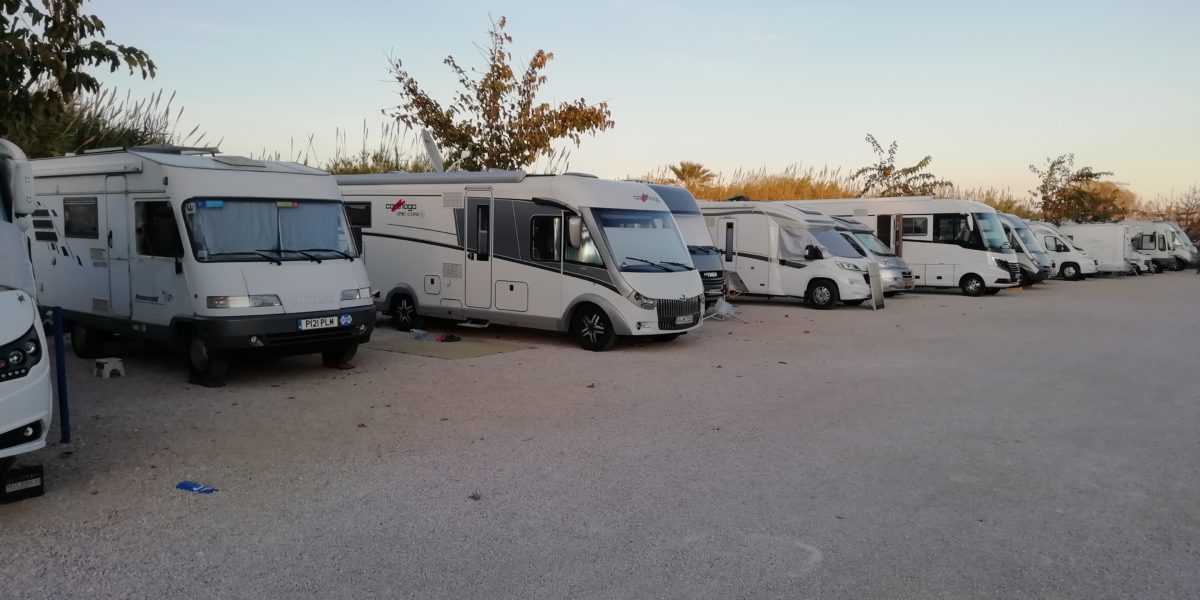 We arrived at the aire at 3:15 to find that it was busy but not full. It can take 50 vans but only has about 35 at the moment. The chap on reception said that he would usually be full at this time of the year and he is not sure why trade is a bit slow. He also said that quite a few of the vans are here for months at a time. I am not sure what we would do here for that long but I can see the appeal – you have all you need, the shops are a short walk away, there are good restaurants and the beach as about 15 minutes walk. Above all the sun is shining out of a blue sky! I think we will have a few days here, get the washing done, update the blog, have some walks and generally rest up.