We have been in one place for 10 days. I think this is the longest we have ever stayed on Bertie in one place! In some ways it has been really relaxing not worrying about where to go next, where to get fuel, where to service Bertie etc etc. It has also been good to have time to get to know other motorhomers and have time to chat and visit other vans. However I am begining to hunger for new places and new views so we plan to move on tomorrow.
Whilst we have been here we have had some truly awful weather with several inches of rain falling on Monday and Tuesday last week. In fact half the aire flooded to a foot and more when the little stream down one side of the site flooded and took a short cut across the end of the site!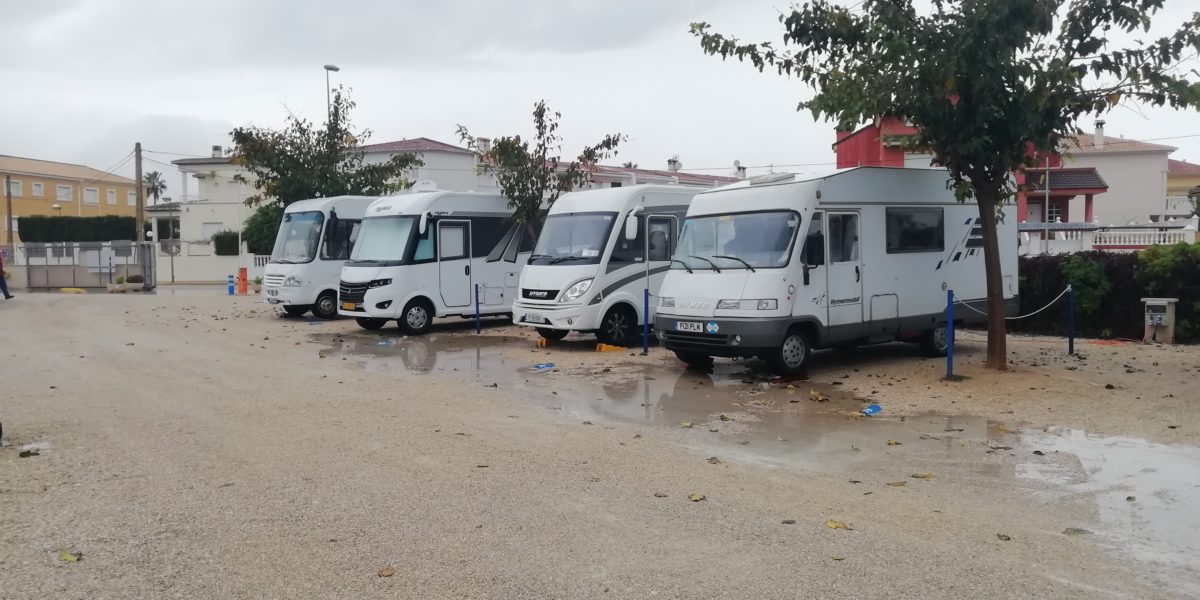 That patch of bad weather was part of the reason for our extended stay as I felt it would be better to be here plugged in to power with local resources to hand if things went wrong. The rain was well forecasted and we knew it was coming and that it would last for several days. Now the sun is shining once again and so it is time to think about moving on.
This aire is 300m from the beach and 500m from a supermarket. It is completely flat and there are loads of empty, straight roads that are a pleasure to cylce along. We can see the mountains that rise up sharply just in land and when we are on the beach we can see all the way down to the cape between Denia and Calpe to the south. To the north the view is blocked by the high rise buildings at Gandia port. The sandy beach is lovely with a soft, fine sand that is a pleasure to walk on in bare feet and the beach slopes gently in to the sea so you can paddle out quite safely. Well we could before the bad weather came bringing big waves and heavy surf. I might trot down to the beach again before we go to see if it is safe to paddle again.
Despite not having blogged for over a week I am struggling to think of things to say. The days have merged in together and I am finding it hard to remember what we did when. In fact we seem to have done very little but I guess that is what we are here for – rest and relaxation. We have met some lovely people and I hope we catch up with them again further down the road. David and Stephanie are just such a couple and their Horace is rather like Bertie only a few years younger. We spent a happy morning today exploring each others nooks and crannies and exclaiming at the similarities and unexpected differences.
Most of the people we meet are away for extended periods. All the Brits in this aire will not be home until well after Easter. One or two will not go back to the UK until the van needs an MOT! Some people will stay right here on this aire until Christmas at least. It has everything one needs either right on site or within a short cycle ride. A longer cycle ride through the orange groves will take you to the big town of Gandia one way or to the old village of Oliva the other way. There is a long long beach that is quite empty and great for a lovely walk. There are bars and restaurants close by. I am afraid we have been too careful with money to try any of these establishments but we have heard good reports of some.
The Friday before last there was a paella lunch on the site! A lady came in and cooked a huge paella and about 20 people sat down to have a chat (in various languages!) and share the paella washed down with sangria – all for 6 euros per head. It was quite fun. Sadly there was no paella this week as the lady who prepares it for us was flooded out in the bad rain. We are told that she lives in Barx on that steep road we drove along from Simat. They had over 8 inches of rain in one day and that ran off the mountains and funnelled down the valley and straight through the town causing huge damage. We are less than 10 miles from Barx so I guess the little bit of flooding here is quite trivial by comparison and I am glad we stayed here for the bad weather and we were not caught out up in the hills.
We are still in wonder at the exotic trees and plants here. The other day we were having a walk through the streets just back from the sea and found windfall dates on the pavement. I now realise that many of the palm trees we see around here are date palms and are full of dates. There are orange trees every where, pomegrante bushes, hibiscus, oleanders, olive trees, lots and lots of bamboo everywhere and even a few banana trees. Many other things that I do not recognise. All through the bad weather we had a huge grasshopper (or more likley a locust) attached to our fridge vent to take advantage of the waste heat. He was quite large and very pretty when you got really close. He appeared there on Sunday and stayed there until the sun came out on Friday. He hung on there through out all the wind and rain!