Time has changed it seems. Not just the change of time zone but also the change of location and a big change in our thinking. France is an hour ahead so that means darker nights but that is complicated by being almost 7 degrees south of home and 5 degrees east. Anyway sunrise this morning was 08:30 and sunset tonight is 18:30. The evenings seem quite dark now and will get even darker this weekend when the clocks go back. This gives us a minor problem in that we have to be careful how long we stay up with the lights on! Having installed a number of bright LED strip lights so that we can see easily onboard in the evenings I am now worried about the power we use. This is part of the second "time change" – we have slowed down. We are driving much less each day which means less time for the engine to recharge the leisure batteries. The shorter days as winter advances mean that the solar panel will be less effective too.
This morning we reluctantly crawled out bed after 9am. We comforted ourselves that our bodies thought it was 8am but that is slightly negated by the fact we went to bed on French time before 10pm. Anyway the sunshine was lovely and it seemed a shame to waste it. I wanted to go back in to town to take a photo of the château in sunshine and have another walk around the square.
It is not far today but we are a bit worried that our LPG tank might be a bit low as the guage is showing 4 lights when yesterday it was on 2 lights. Yes I know that is back to front but that is one of its little quirks – it shows full when empty and empty when full. I researched a local LPG garage on Google and put it in to the satnav and off we went. Garage was closed for new pumps to be installed! Never mind it was a minor detour so back to the plan and on to Cassel about 15kms away.
The idea about Cassel was to visit the Museum of Flanders in the town however the town had some surprises in store. Firstly the town is on a hill, quite a big hill (500 ft and more) in this land that is almost Dutch in its flatness. Secondly the only roads in to the town up the hill are paved with cobblestones. Bertie does not like cobblestones. Even at 20kph he rattles horribly. Finally on arrival the town was really busy with nowhere I felt comfortable parking Bertie in the square by the museum. We drove on to the car park that I had seen in Park4night which was fine but slopey. We could have walked back to museum but on the way as we did so we saw a sign to the panorama and town gardens pointing up a steepish slope and we were tempted! It was quite a short climb up to this lovely little park which occupied the whole of the very top of the hill with amazing views to North and South across the plains of Flanders. We could even see the high rise buildings of Dunkerque in the distance.
We spent a while in the park and decided we were not that excited about a museum but a cup of coffee on Bertie would be good. We had to move Bertie to a parking spot that was a bit more level first though.
After coffee we had another go at finding a place to get LPG. I installed a new LPG app on my phone (mylpg.eu) and found quite a few but the price range was from 99 cents per litre to 51.5 cents per litre. The cheap one was right on the Belgian border slightly out of our way but not too bad and only 11kms away. In fact the garage was immediately before the border but as it was on the wrong side of the road we drove in to Belgium and then turned around and came back on the right side of the road, thus chalked up another country on this trip! Bertie's gas guage had been rather pessimistic and we only needed 10.45 litres to fill the (30 litre) tank which was good news but also bad news as the cost saving on that little gas barely offset the extra diesel burned.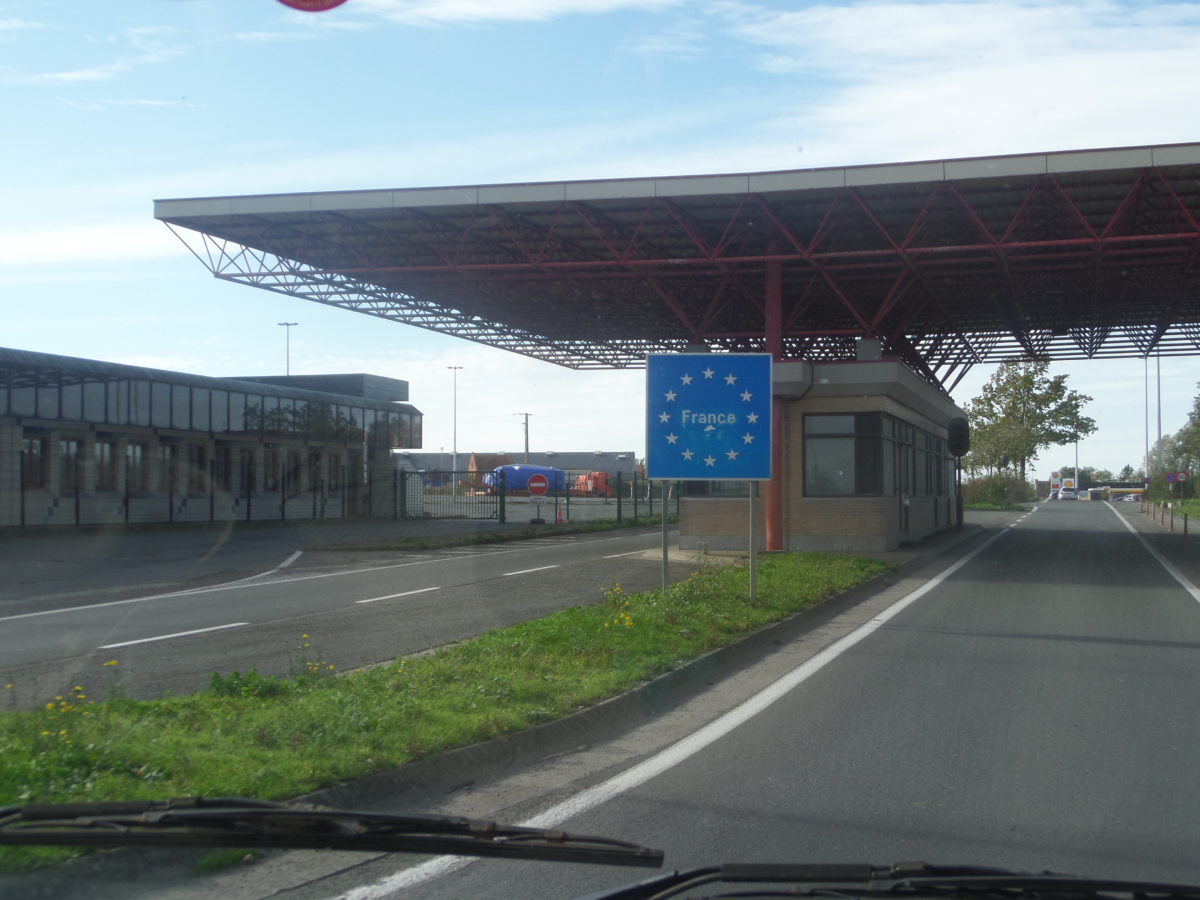 The route from here to our stopover tonight near Lens was through a number of small towns along mainly quite minor, but not tiny, roads. This made for slow going but interesting to see this area quite close up. It is not one of France's most scenic areas and little visited by tourists unless in transit on the motorways. Indeed I have driven through the area very many times either going east\west via Lille or north\south via Paris. The towns are exclusively brick built in the Flemish style grouped around a church that is often very large indeed with a tall spire. We encountered no more cobblestones which was a relief.
We arrived at the aire in Avion just south of Lens at 3:40pm after a day's journey of less than 50 miles. Time to get lunch, well almost an early supper really. We only had two meals yesterday as we were just not hungry and we will probably do the same today. Maybe the heat has something to do with that. As I write this now at 7.04pm it is still 18c outside. The warmest day we have had so far although the forecast is for cooler weather from tomorrow.
Slow roads across Flanders