Another driving day today as we want to get to Thaxted car park for tonight so that we can spend some time visiting some family history locations that Eileen is interested in. We also need to top up with LPG as the indicator is down to 1 green light. This indication turned out to be complete bunkum as it suggested the 50litre tank is almost empty when in fact it is still 75% full. We tracked down a good priced LPG garage at Buntingford and filled up with LPG and indeed we did not put much in at all. Grrr – what is the point of an indicator with only the most tenuous grip on reality?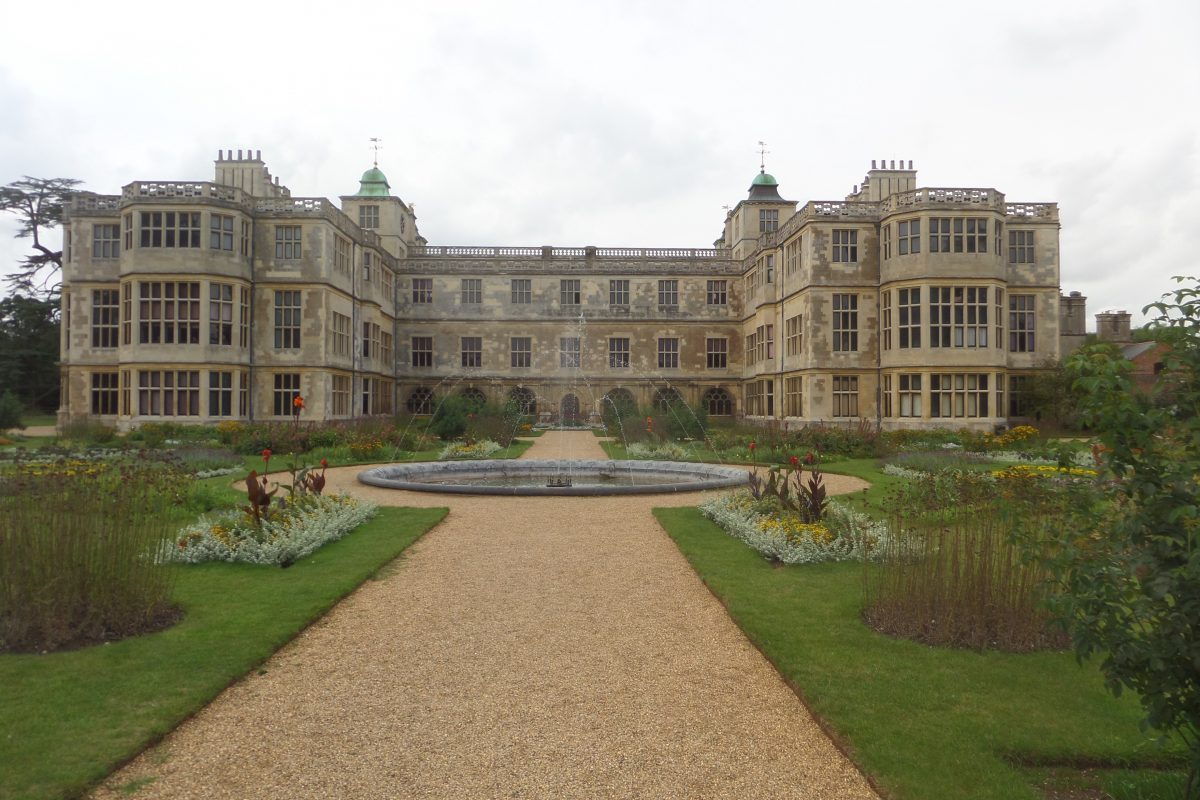 We decided to spend the bulk of the day at Audley End House (English Heritage) near Saffron Walden. We have been here a number of times over the years as it only a couple of hours drive from home and thus an easy day out. However in recent years those visits have been for special EH Member's Events and we have not been round the house for at least 10 years. However the first thing we had to do was get into the carpark which was not made any easier by a 3ton weight limit on the bridge leading to the house drive! Lucy the sat nav (actually Co-Pilot Premium on my phone) assured us that this is not a problem and we were fine taking our 3.5 tonne van over this bridge!! Lucy has been told what our height, weight and width are and she is supposed toi navigate us around all such obvious limitations – in fact I paid extra for this version of the software to do this. The traffic behind us was not impressed as we aborted our turn in to the road and made a much more roundabout approach via Saffron Walden to approach Audley End from the other direction.
Anyway we parked up in the overflow carpark as the house was very busy and found ourselves right beside a back gate and a little bridge across the haha which took us in to the gardens which meant we approached the house from the gardens where you can get a better idea of the sheer size of this house. In fact this is just a third of the orginal palace bult by Thomas Howard, the Lord Treasurer, to impressed King James 1 – in fact it impressed him so much that in 1619 Thomas Howard and his wife were found guility of embezzlement and sent to the Tower! Over later centuries two thirds of the house were demolished to its current size.
We left Audley End just as it was closing having spent almost 4 hours here – either in the house or in the gardens, stables and glass houses. We must come again earlier in the season when the gardenms are in full bloom amd the sun is shining.
It is quite a short drive to Thaxted but quite slow through narrow Essex lanes – not helped by the fact that the one way system at Audely End ejected us on to the main road on the wrong side of the 3 ton weight limit making us follow the detour again! Again Lucy SatNav (actually Co-Pilot Premium)  protested that it was much quicker to just drive over the bridge and why were we wasting all this time on a scenic tour of the environs! If she can't get it right in England how I can trust her when we stray further afield?
We tucked in to a corner of Thaxted car park reserved for large vehicles and we once again we gave silnt thanks to the town for providing and excellent free stopover for impecunious motorhomers.
| | |
| --- | --- |
| Mileage reading tonight: | 121329 kms |
| Mileage reading at home: | 119740 kms |
| Mileage today: | 145 kms |
| Mileage total: | 1589 kms |