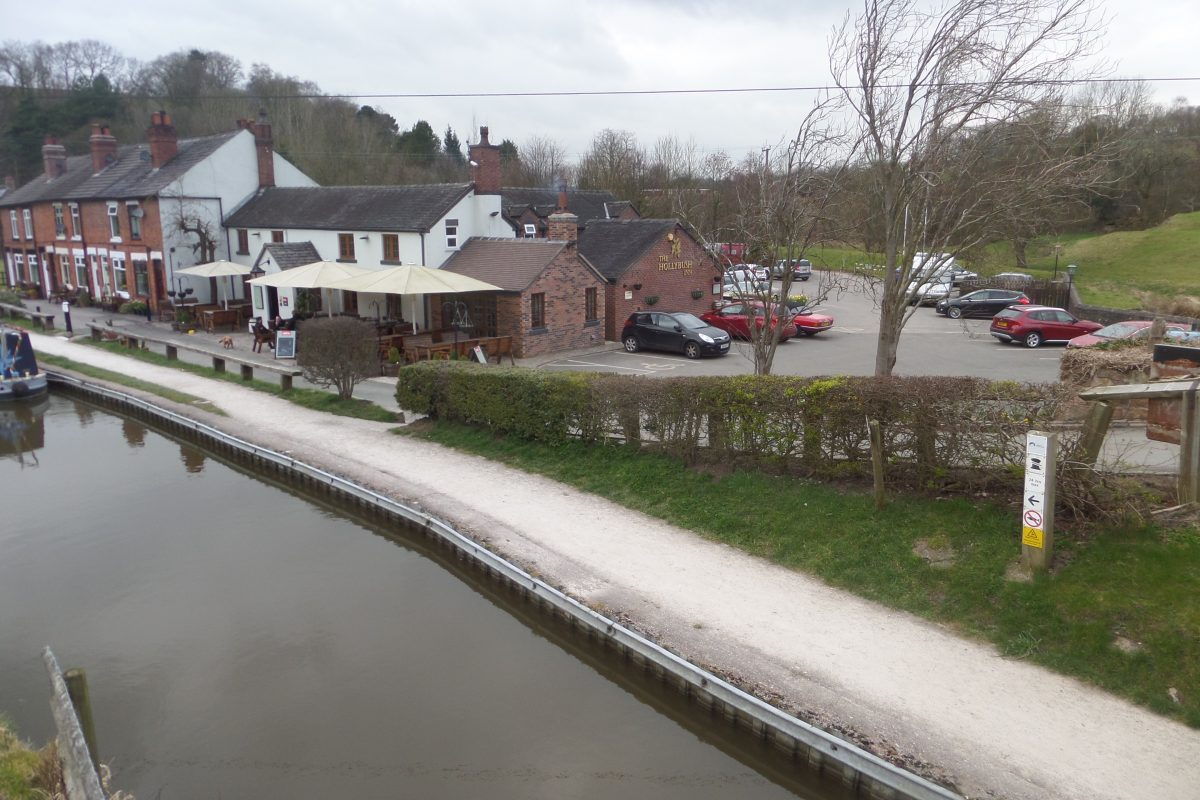 Tonight we are parked up in the car park of the Hollybush Inn which is right beside the Caldon Canal. We are here to meet our friends Charlie and Liz Cordeaux who also own a slice of nb Debdale. Thanks to searchforsites.co.uk for the telling us about this place – we know the pub but not that it welcomed motorhomes – in fact the Murvi Owners Club are here with 10 vans for three days on a mini rally after their AGM at Hope!
We drove here from Stafford via Uttoxeter which we had never visisted before – an interesting little town with some great buildings and a good range of small independent shops. Worth a quick visit if you are passing. From there we took the back road through Cheadle (there is one in Staffordshire too) and Leek. The whole route was through steeply rolling countryside with a mix of small red brick old industrial towns and almost moorland scenery with dry stone walls. Just out of Uttoxeter we passed the big JCB factory and near Cheadle we found another one – they must make a lot of diggers here! The final approach to the Hollybush Inn was a really steep narrow lane dropping down in to the Churnett Valley – great fun.
After an early lunch in Bertie we walked a short way back up that steep road to the Leek Branch of the Caldon canal and followed that back along the towpath to Hazlehurst Junction where Debdale was waiting for us. After a chat with Charlie and Liz and a detailed tour of all the bnew work done to Debdale over the winter at Stone Boatyard we set out down the the locks and along the Caldon canal back to the Hollybush Inn where Debdale will be moored tonight. It was really good to spend time on both Debdale and Bertie today – very strange to go on board Debdale whilst someone else is living aboard! Stone Boatyard have done an excellent job as always and we are all very pleased as once again we feel that Debdale has moved forward and is getting better and better every year.
We will have a meal with Charlie and Liz at the Hollybush Inn tonight and tomorrow we will head for the Iron Bridge Gorge and Blists Hill Museum.
14th night on Bertie
Hollybush Inn beside the Caldon Canal