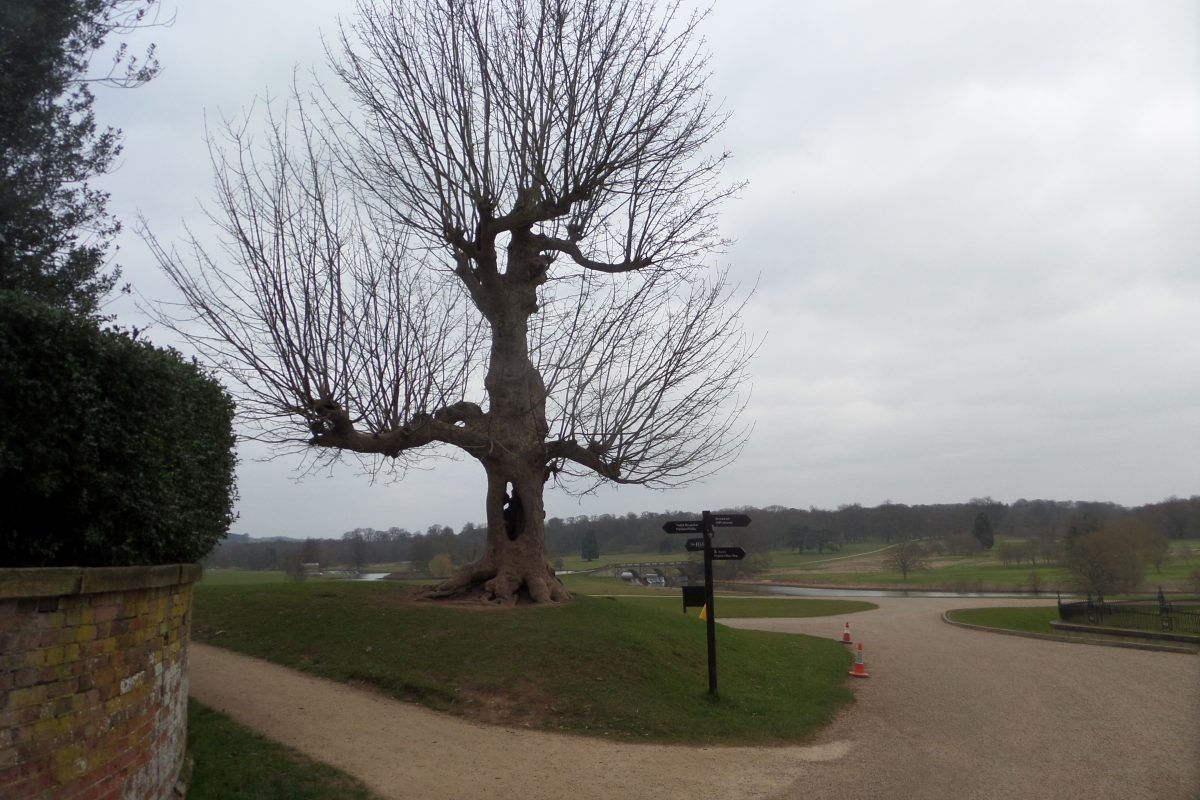 We had a lovely meal (basic pub grub) at the Hollybush Inn last night and a good nights sleep in the car park. Another grey overcast day today so although the countryside was wonderful we did not feel inspired to take any photos – it all looked too grey and gloomy. We left the Holly bush about 10am and headed for Sudbury Hall (NT) which should have been open for guided tours only but actually it was closed all day. It was a good drive though over the end of the Peak District through Ashbourne. At the A50 roundabout new Sudbury there was a huge grey bird perched on top of a high street light. It was at least the size of a buzzard but was quite the wrong colour being grey and white. After looking at the RSPB website my best guess is that this was a goshawk as that is the only possible bird that is the size of a buzzard but grey and white. We did see a buzzard later that afternoon as it flew across the road right in front of us very close indeed!
After the disappointment at Sudbury Hall we decided to go to Kedleston Hall as it as only 11 miles away according to the NT app. We did not realise at the time that that was a direct line measurement and we actually clocked 18 miles getting there. Some more amazing and rather narrow roads followed as the satnav brought us into Kedleston Hall via the "direct" route rather than the "approved" route!
We loved the ancient pollarded willow tree outside the hall. Kedleston Hall itself is very grand and home of the Curzon family out to prove they were the real deal – so totally blinged up! We spent a couple of hours here and did not see everything. We had lunch in Bertie looking out over the parkland – lovely.
From Keddleston we headed for a Britstop on the top of Cannock Chase beside an iron age hill fort. Our route there took us over much the same roads we had covered earlier today and yesterday. However the last few miles after we turned off near Rugeley were especially exciting – steep, twisty and very very narrow!
We arrived at the Park Gate Inn in good time and were warmly welcomed by Lee who showed us where to park etc. We had time to have a walk around the huge iron age hill fort (260m across) which is close by. On a nice day this would be so much more impressive as it is right on the top of Cannock Chase with terrific views in all directions.
Another nice meal rounded off a busy day. Tomorrow we plan to head a bit south for Kinver and Kidderminster and a proper campsite at the Camping Club site – we need showers, laundry, loo emptying and all the services!
15th night on Bertie