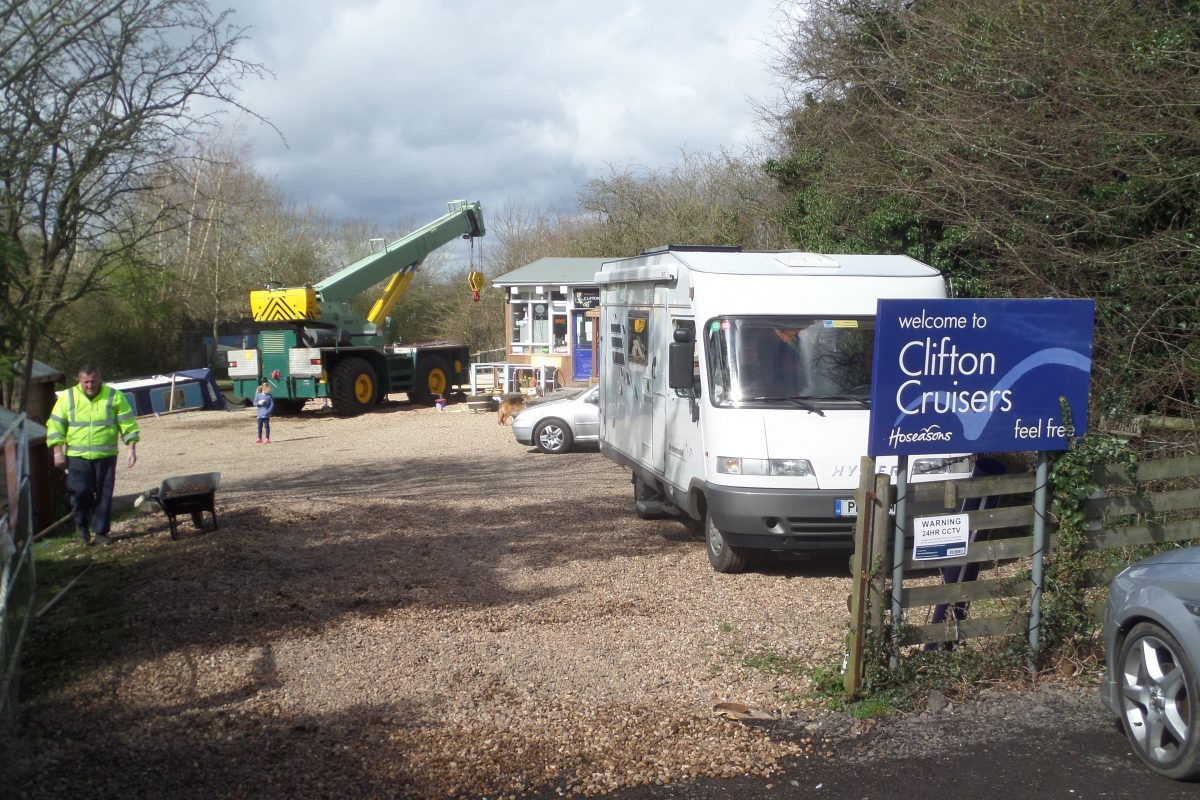 We had a peaceful night parked up at the Clifton Cruisers Boatyard near Rugby – another Britstop. They also have a cafe and this morning we treated ourselves to a leisurely full cooked breakfast – really nice, quite cheap and freshly cooked there and then. We will be back.
After the horrible day yesterday we were quite surprised to wake to sunshine. In fact it stayed dry much of the day although we drove through a band of heavy rain and gusty winds around Huntingdon that was unpleasant. We had intended not to drive too far today and thought we might try out the "aire" at Bury St Edmunds but in the end we decided we might as well go right through and make it home in one go and thus avoid the truly awful weather forecast for tomorrow.
We left Rugby and made small detour north to stay off the main roads as we were in search of a letterbox! This brought us unexpectedly on to our usual "Debdale" route at Lutterworth at the "Whittle" roundabout – with the dramatic sculpture celebrating Frank Whittle a local lad who built the first jet airplane.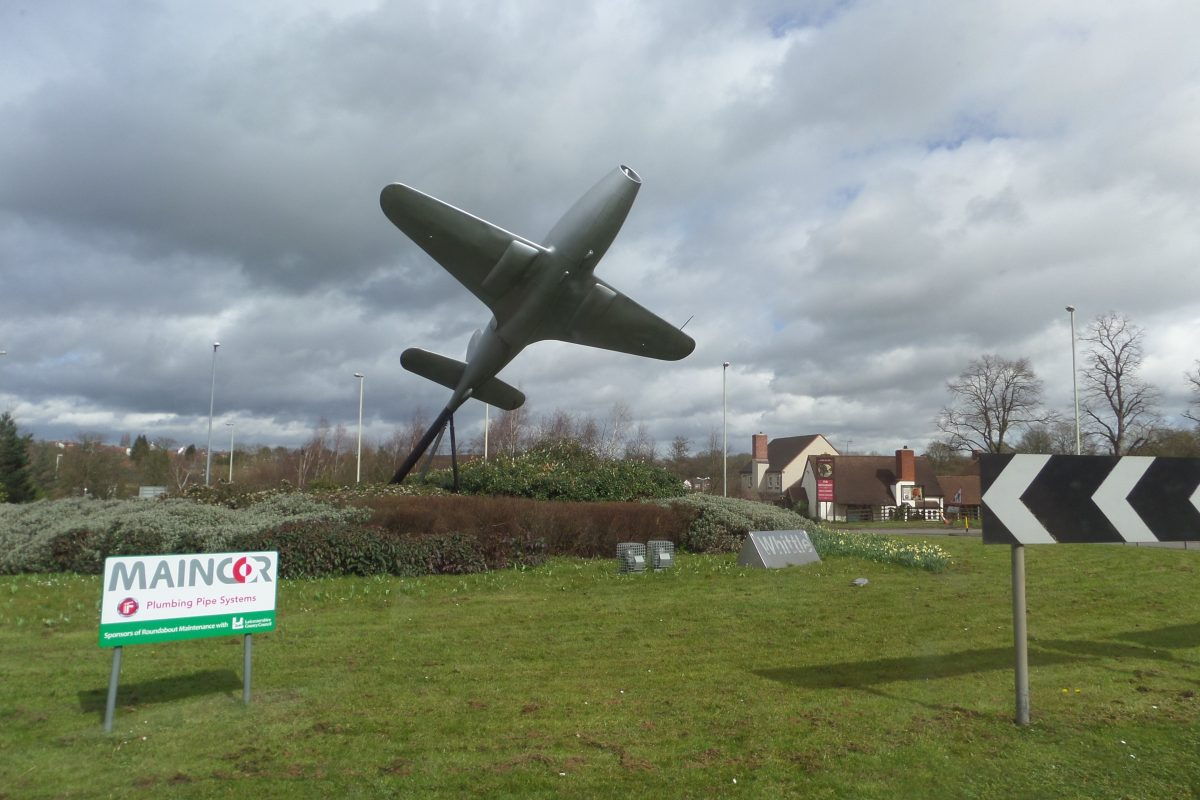 We missed the first letterbox at Walcote and as it was lovely day decided to follow the A4304 along the ridge to Market Harborough and on to Corby thus cutting out quite a long stretch of the A14. This is clearly an old route as it follows the high ground and links the market towns of Lutterworth, Husbands Bosworth and Market Harborough. I love these old routes as there is so much more to see in terms of buildings and landscape. The going was quite slow but that does not matter and being Easter Sunday the traffic was very light. We finally found ourselves on the A14 at Thrapston just in time to catch the rain and for a little while it really really rained but Bertie managed to steer a fairly straight path despite the blustery sidewind and his three big wipers were well able to clear the screen!
Getting tired of the dual carriageway I slipped off the A14 at Quy and followed the old road through Newmarket. We had a break for a cup of tea and an eccles cake in the layby at the top of the hill just east of Newmarket. Bertie may be a bit slow and less refined than a modern car but it is nice to be able to pull over and have a proper break anytime you feel like it! I think we are starting to get in to a rhythm of travel in Bertie – it is different from the car and needs a slower approach
After Newmarket we seemed to break free of the rain although it was clearly not far away to the north as we followed a rainbow most of the way home – we kept getting tantalising glimpses of it. Eileen tried very hard to get a good photo of it but somehow photos of rainbows never quite capture the intensity of the colours.
To make a change we decided to tackle the A1120 from Stowmarket rather than the easier A143 which we normally use. The traffic was light and the sun shone so it was glorious ride along the twisty road. The height of the ride in Bertie allowed us to enjoy the views far more than we do in the car.
We rolled home at 5pm having covered 1092kms in 11 days and circumnavigated Birmingham! We are now mainly unpacked and what is left can be sorted out tomorrow. Now that we are home with unlimited fast broadband I will go through the video and post some clips to youtube and also draw a Google Map of the trip. Watch this space!