TastePerthshire had plenty of space and a reasonable restaurant. However it was a bit close to the A9 so traffic noise was an issue – even late at night. I have to say this was my least good night's sleep this trip! The biggest surprise in the morning was just how hot the sunshine was – I could feel it through the front curtains as I lay in bed at 7:30am so we did not lie in quite as long as we might have done!
Smooth get away at 9:30 and headed north about 25 miles to park at House of Bruar to do the short (but steep) walk up to the Falls of Bruar. The sun shone from gloriously blue sky but its warmth was tempered by a brisk northerly breeze (more of that later!).
We had a glorious hours walk up to the gorge with its various waterfalls and rapids. The birds were singing and we were sheltered from the wind but still enjoying the sunshine. The glimpses of rushing water bekckoned us on despite the climb! The sides of the gorge are heavily wooded and this restricted the views of the water but in several places there were great views especially from the two bridges.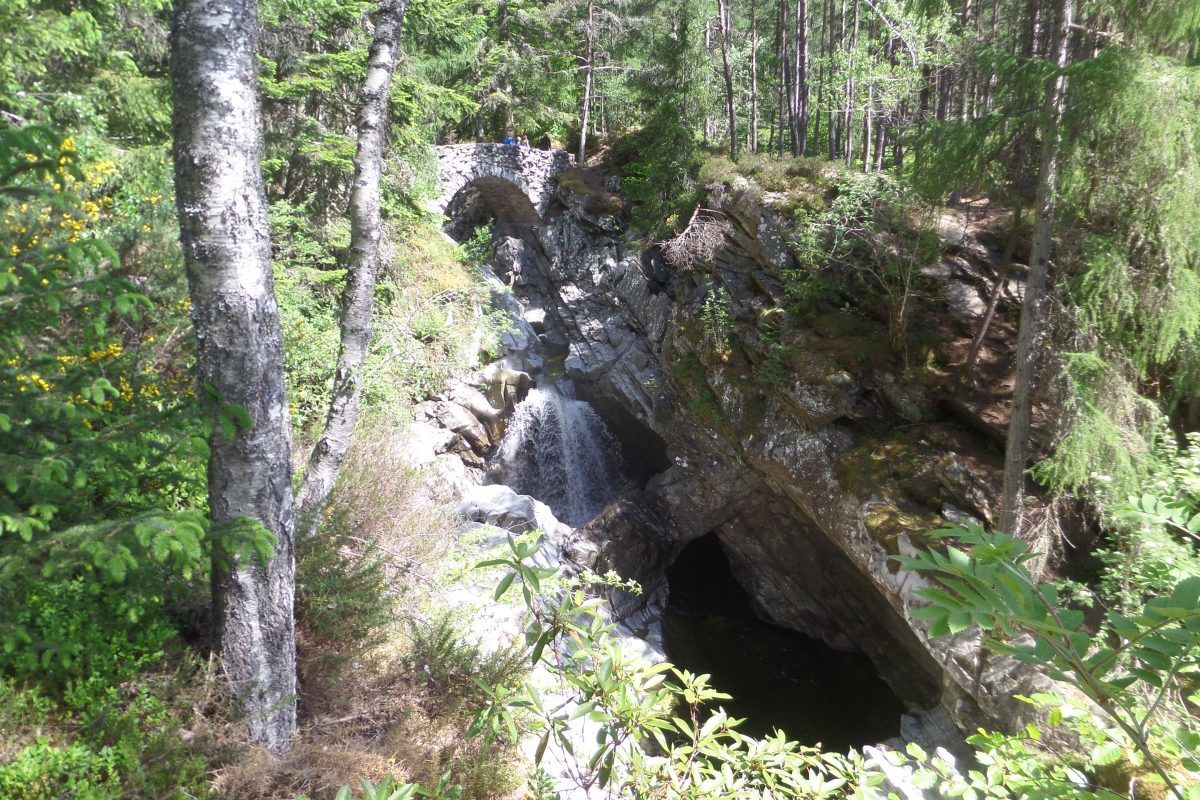 Returning to Bertie at midday we decided to postpone our morning coffee to a quieter spot as the House of Bruar car park is less than beautiful – not to mention hot and busy too. We retraced our route as far as Pitlochry and then turned east intending to link up with A93 route via Braemar, Glenshee and Grantown on Spey. This is my favourite route across the mountains and a much more interesting drive that the busy A9 via Aviemore.
The hills started as soon as we turned east out of Pitlochry and within 10 minutes we were well up above the hustle and bustle of the A9 corridor. As soon as we spotted a safe  and level spot we pulled over to have a quick coffee and finalise our plans.
We decided that pretty though the spot was it was not a good idea to stay there too long as it was not possible to get right away from passing traffic. The drive along the picturesque Strathardle on the A924 was glorious but it got even better when we turned off that road onto the even smaller B950 to cut across the ridge to the A93. Several miles of single track road with passing places made for some interesting driving and some lovely views. Sorry no photos as my navigator and photographer was holding on very tight indeed.
We finally found a large level parking spot with a superb view at the very top of the Cairnwell Pass – Scotland's highest road – with a fantastic view back down toward Spittal of Glenshee. The surprise came when I got out of Bertie to open the gas locker and switch the gas on to so that we could boil a kettle. The wind was ferocious and quite cold and Bertie was rocking noticeably!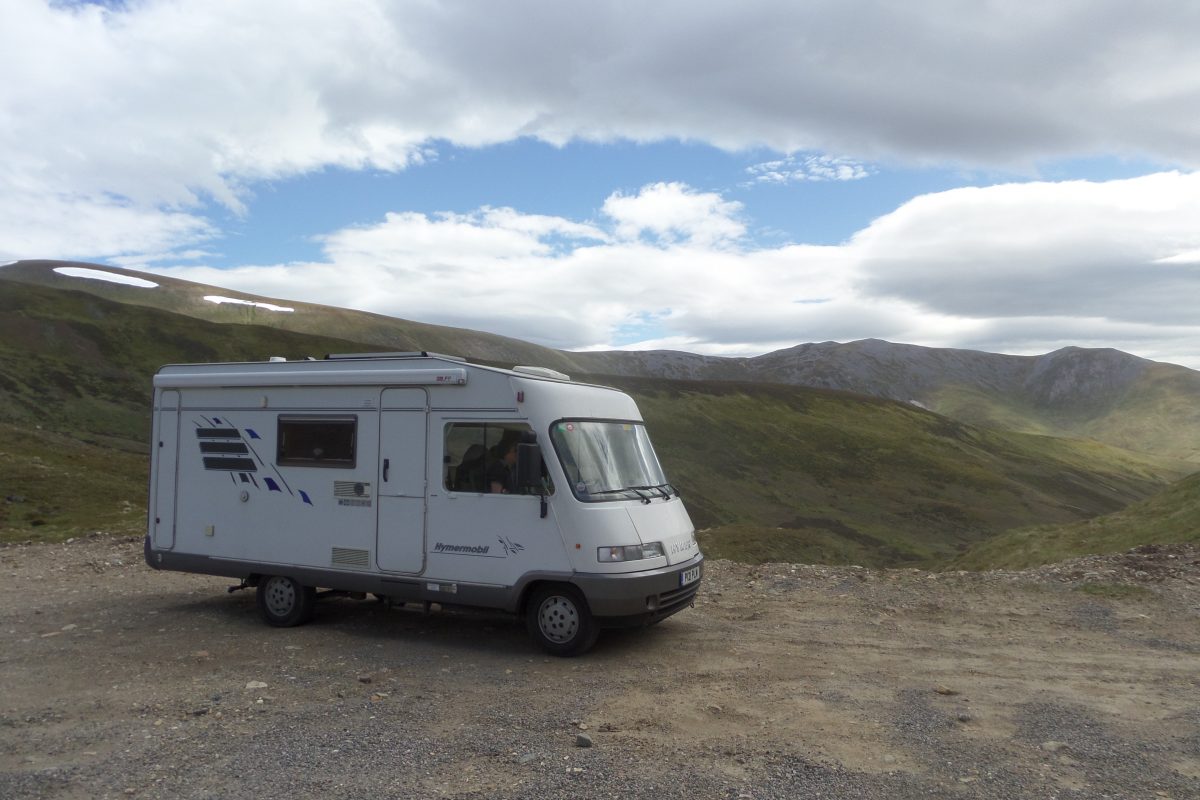 From Cairnwell Pass and onwards the weather deteriorated and we did not see much more sunshine at all. Bertie battled bravely up some very high and steep hills and down some long steep and sometimes twisty descents. It is a magnificent road and I love travelling it but I have to admit my Citroen Picasso handles it with ease and whilst Bertie tackled it with fortitude there was no denying this was asking quite a bit of him! All three of us (Eileen, Bertie and me) were quite tired when we rolled in to Forres 2 hours and 76 miles later and parked up at our little house at 66 Anderson Crescent. It had taken four days and four nights and we had travelled 1120kms but here we were – time to off load and sort out.
Mileage Reading: 116198
Travelled today: 238kms
Travelled total: 1120kms
Over the Grampians to Forres