We woke this morning to bright sunshine and a clear blue sky. The first blue sky for over a week and very welcome. Compare the scene below with a similar view last night!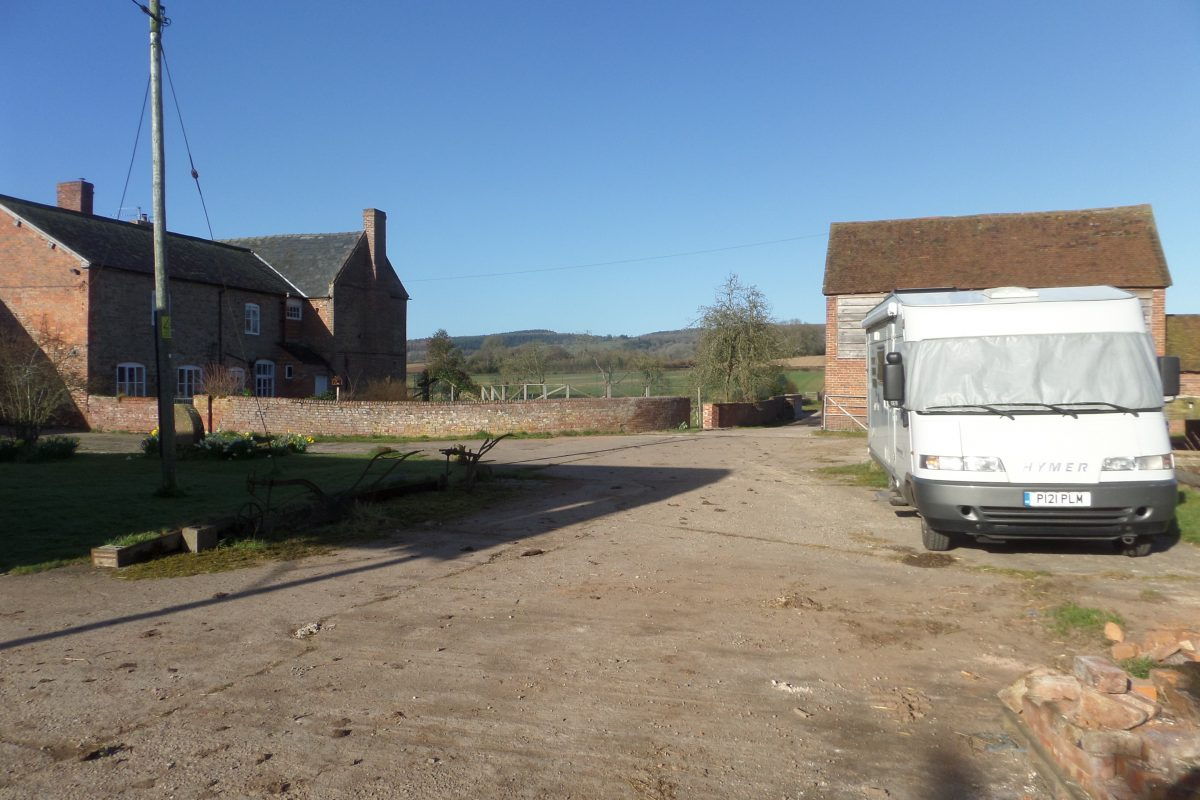 After breakfast we walked across the fields to the next door farm to see their range of Berkshire Pork. We found everyone hard at work in the prep room packing the days orders. We bought some sausages, bacon and some chops all of which are now safely packed in Bertie's freezer. It was lovely walking the fields in the sunshine with birds singing all around us and buzzards soaring above. One of the things we are noticing everywhere since we left Wolverhampton is the mistletoe – so many trees are hosting large balls of mistletoe. It was interesting in the orchard at Bilbury Farm to see some mistletoe in an old apple tree within easy reach.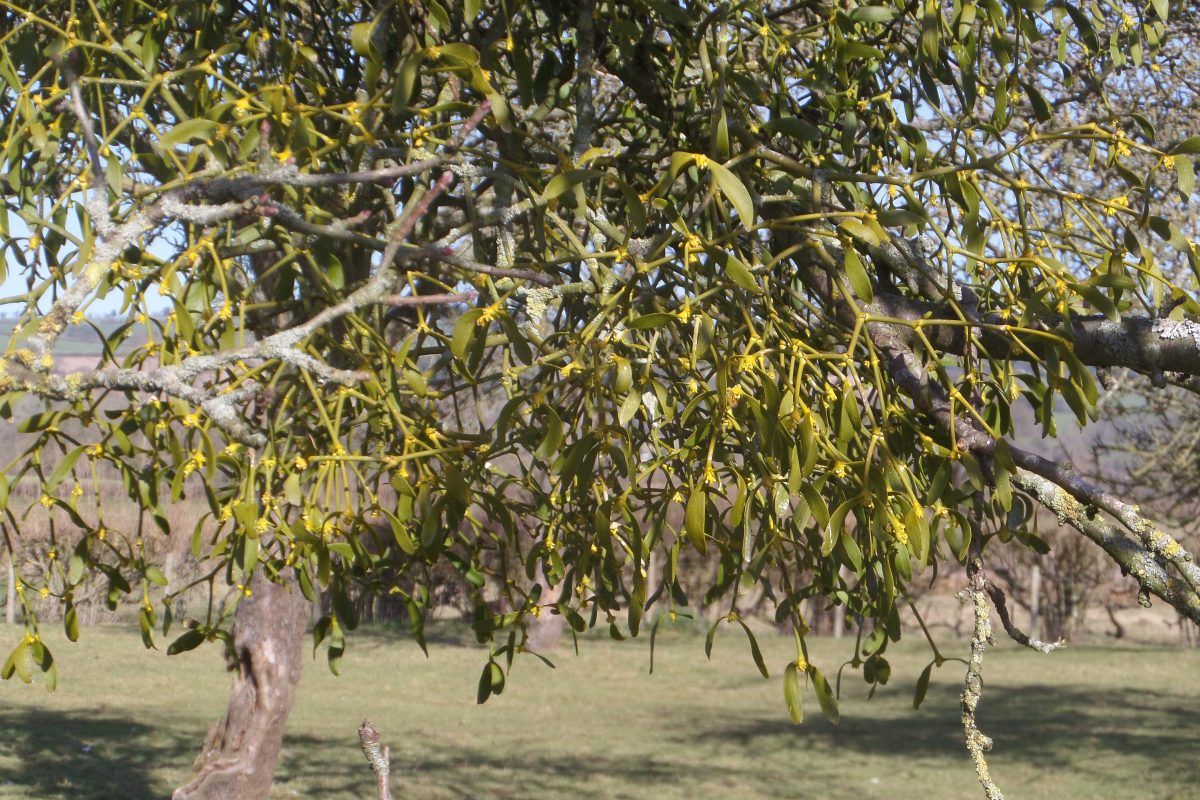 We thanked our hosts and left at about 10:15 heading for the Brockhampton Estate (National Trust) near Bromyard about 25 miles away. Another really scenic rollercoaster drive through glorious countryside made all the better by the sunshine.
Brockhampton is a 1,700 acre estate left to the National Trust in 1946 complete with the medieval moated manor house. We arrived here just as they opened and joined the queue to show our cards. Being a sunny Good Friday (did I mention how nice it is to see the sun?)  the crowds were out but even so the place was big enough to absorb them comfortably. The house is lovely and the restoration has been done to show off the original timber frame features. After having a good look around the house and a chat to the room guides we went back to Bertie for lunch. The sun was so inviting (we are really enjoying the sunshine) that we were tempted to do one of the waymarked walks around the estate. 4kms did not sound far but we had forgotten that this is not Suffolk and there are hills here! It took us a over an hour to struggle round the route but it was worth it as the views over the rolling countryside were lovely and the buzzards were circling over head much of the way.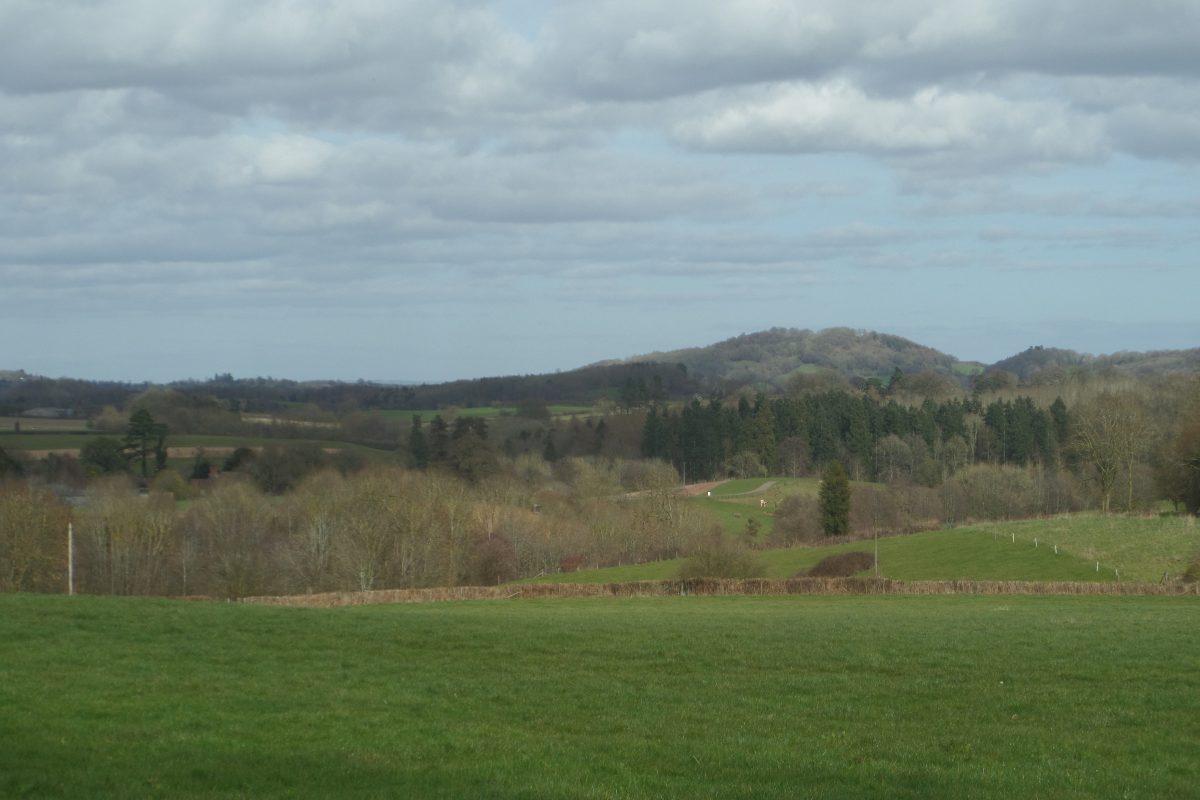 We left Brockhampton a bit before 4pm and headed for our next Britstop at the Stag at Redhill just outside Stratford on Avon. They showed us to a grassy (but firm) area behind the hotel well away from the busy road. We had planned to have a hotel breakfast here but they do not serve until 9am which is a bit too late for us so we will have an evening meal here instead and have breakfast on Bertie.
18th night on Bertie
Sunshine over Herefordshire